It can take an awful lot of time and resources to create a new contract once the previous one has ended.
You're often starting from scratch even though it will be almost a carbon copy of the contract that went before.
So, why not extend it instead?
In this article, we're going to show you the most effective ways to extend your contracts, making sure you keep them valid and legal.
We'll cover what a contract extension is, how to carry on out, and how PandaDoc can help you.
Key takeaways:
Contract extensions are a simple way to increase the length of a contract without having to draw up a whole new agreement.
The serve as addendums to an existing contract rather than an alteration of the original document.
Efficiently extending a contract requires examining the existing document and evaluating its performance.
Contract management software helps streamline the entire process.
What is a contract extension?
A contract extension is an agreement created by the parties to a contract to extend it for a certain amount of time. Sometimes, it's as simple as moving the contract end date.
It can also be a good opportunity to review and change some of the contract's terms.
Generally, the creator of the original contract will produce an extension agreement (or contract extension addendum) to be signed by all the parties involved.
This will have all the details of the extension, including the proposed new length of the contract.
Alternatively, if there are possible changes to discuss, a contract extension letter may be sent to the other party, who will then send an acceptance letter when they're happy with the changes.
This tends to be done by email in 2023 as this is quicker than waiting on the post.
A contract extension agreement isn't the same as a contract renewal, which involves the creation of a whole new contract and may be more suitable for individuals or companies that want to completely renegotiate the terms.
For example, a retailer may take on seasonal employees on a temporary basis.
If they're happy with a particular employee's work, they may decide to extend their contract.
There would be minimal changes needed in this case, so the retailer could simply send their employee a contract extension letter explaining how long they wished to extend their employment for.
The importance of properly extending a contract
It's essential to remember that a contract is a legally binding document, so you must be careful when making additions.
If you're not confident creating documents that use legal terms, you should look at our standard business document templates to give you an idea of what kind of language to include.
A contract extension is an addendum i.e., a document to be added to your original contract. What you're not doing is altering the original.
All changes must comply with the essence of this, or you're at risk of voiding the whole thing. A null and void contract is the same as having no contract.
Note: You can't extend a contract after its expiration as, legally, it doesn't exist anymore. However, you can create a new contract using the existing terms. There's also the option of backdating a new contract, so there's no gap between the two.
How to extend a contract efficiently: A step-by-step process
On the surface, contract extensions are pretty simple; you want your contract to be extended, so you create an addendum to the original document that allows you to do just that.
It's a little like overtime in a basketball game.
So, in essence, it's straightforward, but you still need to follow the correct procedures when carrying out the process.
Contract extensions must be implemented properly and be compliant with your local jurisdiction.
Let's look at how to implement one efficiently, one step at a time.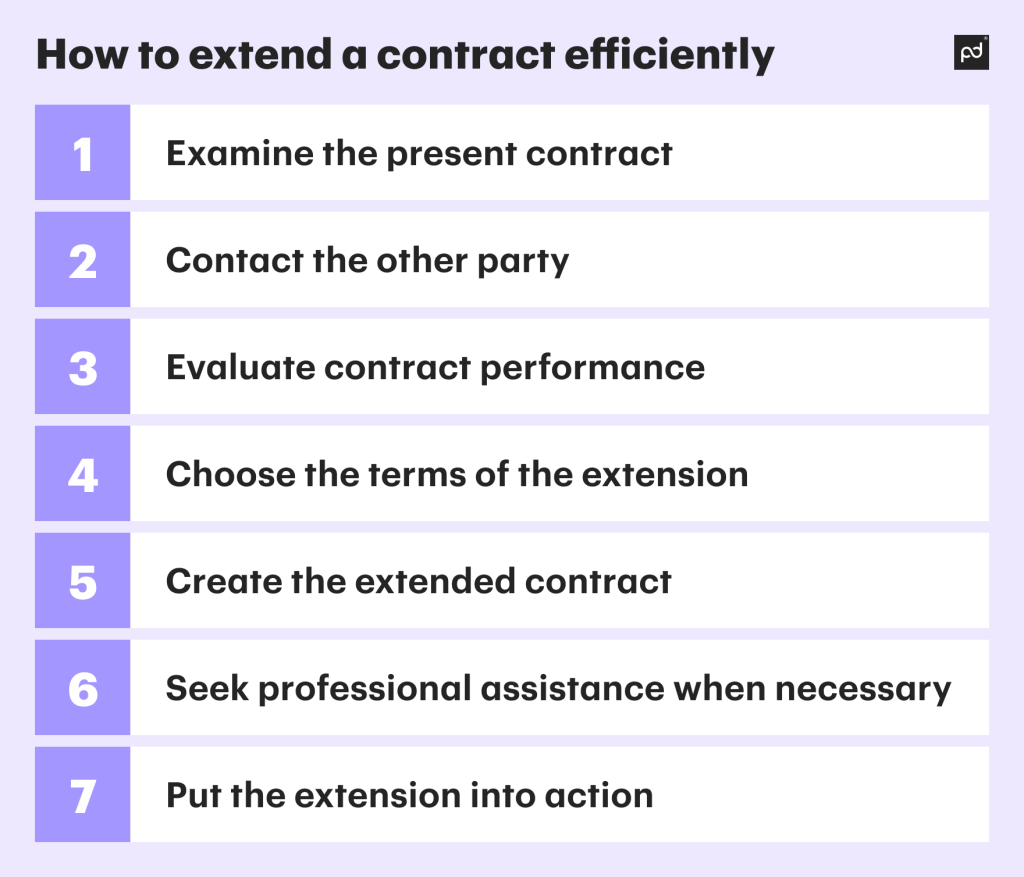 1. Examine the present contract
Before you create your extension agreement, read through the original contract and identify any changes you want to make.
Are the terms and conditions up to date? Is there anything in the contract that's now irrelevant, or is there anything missing from it?
When you extend a contract, you may as well use it as an opportunity to update the terms and/or make additions to the contract that may be beneficial to the parties involved.
You might even want to remove a clause or condition that you feel is no longer needed.
Also, look at the duration of the original contract.
Do you want to extend it by the same amount of time? You may be happy to extend it for longer now you've built up trust with the other party.
2. Contact the other party
All parties to the contract must be contacted to okay a contract extension. Not only do they need to know that they've been given the option to extend the term of the contract, but they should have the chance to discuss any changes. Remember, an addendum to a contract needs to be signed by all parties.
3. Evaluate contract performance
Before you decide whether to extend a contract, consider how the original contract performed.
This will give you an idea of any updates or additions that should be included in the contract extension agreement.
To evaluate contract performance, look at:
ROI
Contracts should be beneficial to all parties. You both give something to receive something back, whether it be payment, goods, or your time.
Contracts that are worth the return on investment should be extended, but if one or both parties aren't happy, it may be best to let the contract expire.
You could always consider a contract renewal in the future, but it may be better to create a whole new contract instead.
Punctuality
Time is of the essence for many contracts. Look at whether the terms of your contract were met by the date agreed up. If they weren't, why was this the case?
It's possible that unrealistic deadlines may need to be adjusted moving forward (or that one of the parties is unreliable and not worth contracting with again).
Consistency
It's also important to look at the consistency as well as the quality of the work done under the contract.
Both parties may be happy with the results of the contract now, but to extend your relationship you need trust.
One way to build trust is by having seen that the other party has been consistent in following the terms and conditions of your contract.
This also shows they're organized and care about the original contract and fulfilling it satisfactorily.
4. Choose the terms of the extension
The main role of an extension is to extend the end date of a contract, but you can also use it to remove irrelevant parts, update terms and conditions, and make additions.
Be sure to add any new terms with care, as they can't go against the overarching purpose and idea of the original.
Doing so could render the contract null and void.
As mentioned earlier, reading through the original contract will help you choose the terms of your extension.
5. Create the extended contract
Once you've chosen the terms of your extension, you'll need to create a contract extension agreement or an addendum to the contract.
This will be a separate document from the original.
When looking at how to write an addendum to a contract, these are the essential elements you need to include:
The original contract, including start and end dates.
The duration of the new contract, including the end date.
Names and details of signatories, including their signatures.
Proposed changes, including additions and deletions of the original terms of the contract.
You should always refer back to the original contract in your addendum.
This makes it obvious which parts you're referencing when making any changes.
Look at the language of the original contract and try to mirror this in the contract extension agreement.
This will ensure consistency across your documents.
6. Seek professional assistance when necessary
It's a good idea to get a professional to look over any legal documents you've created before anyone signs them.
This could be your company's legal team or a lawyer who works in contract law.
This will ensure your agreement complies with the laws and regulations of your jurisdiction.
They should also be able to check the agreement doesn't go against the original contract.
7. Put the extension into action
Depending on the nature of your contract, putting your extension into action can vary in terms of how it looks.
If the parties involved are within your company, you may just be able to create an extension agreement to be signed in person.
If you're dealing with clients or other businesses, however, you may need to create a contract extension letter to send out.
The other party can then reply with an acceptance letter if they're happy with the new terms.
Many companies choose to use emails and eSignatures to save time and resources.
Each party to a contract should have a copy of the extension agreement. It's also important to send a copy to any relevant departments in your business, including HR.
Streamline the contract extension process with PandaDoc templates
Now you know the most effective ways to extend a contract, you need a system to manage this properly.
You must keep track of contract expiration dates and have updated terms and conditions ready to go. You should also consider using templates.
At PandaDoc, we've created a contract extension addendum template to help you streamline the contract extension process.
This makes it easier to create your contract extension agreement and ensures the correct legal jargon is included too.
What are you waiting for? Take advantage of our free trial today!
Disclaimer
PandDoc is not a law firm, or a substitute for an attorney or law firm. This page is not intended to and does not provide legal advice. Should you have legal questions on the validity of e-signatures or digital signatures and the enforceability thereof, please consult with an attorney or law firm. Use of PandaDocs services are governed by our Terms of Use and Privacy Policy.