Having a vacant position requires immediate action from the Human Resources (HR) Department. Typically, whenever a new position (or a new job) is available inside a company, the Talent Acquisition manager starts seeking the best candidate.
Job seekers always search for new job postings on different platforms.
Whether we are talking about a full-time position or a part-time one, we always need a detailed job description, allowing potential employees to get a better understanding of your company's expectations.
When it comes to creating a proposal document for a new job position, many recruiters come up with the same complex question: How do write effective employment proposals that will stand out on the job market?
On the other side, candidates seeking new working opportunities always wonder How to pitch a new job position?
These two questions can be easily answered by getting an in-depth understanding of what a job proposal template looks like and which are the most important sections of a job application, from a hiring manager's perspective.
→DOWNLOAD NOW: FREE JOB PROPOSAL TEMPLATE
Key takeaways
Reviewing the job requirements and company culture is the most vital thing before writing the proposal.
Start with a clear, concise executive summary that outlines the purpose, and benefits.
Outline the job's duties and responsibilities, as well as any necessary qualifications.
Explain how your skills and experience make you a good fit for the position.
Provide a detailed breakdown of the proposed compensation package, including salary, benefits, and any other perks.
Address potential objections or concerns the employer may have and provide solutions to overcome them.
Conclude the proposal with a call to action and the next steps.
Polish and proofread the proposal carefully to ensure it is professional and error-free.
Why is a job proposal important?
Job proposals are the key to new and beneficial collaboration between free job experts and companies. Businesses encounter different issues which need immediate solutions.
You are aware of the fact that company owners will not come to your door, knock and offer you a paycheck. After all, why would they choose you?
Surely, you have already thought about several reasons why you should get an interview for a company but now you have to focus on convincing the hiring manager to see your real value.
How to write a job proposal effectively for a new position
There is no magic recipe to create the perfect proposal letter for a new hire. It all depends on the company's approach and business model.
Usually, staffing campaigns generate a handful of time-consuming tasks that the HR Department has to take care of. Writing accurate job descriptions which actually help people understand your business plan takes a lot of time.
However, the amount of time spent on writing these proposals will reduce significantly if using a simple yet effective template.
In spite of the fact that many job seekers usually think that sending their CVs via e-mail is enough to get an interview for a new job, business owners always seek more.
Spending extra time to give the final touch to your job proposal will usually make you stand out from the crowd and offer you better chances of getting hired.
Job proposal outline example
Writing an effective job proposal can be easily compared to a movie. You have to identify the gap in the workflow, forecast a potential solution and start working towards fixing the problem.
The outline of your proposal should make your potential employer want to find out more about you and your skills. What is more, using an effective outline usually results in an increased level of readability.
The text should not be too complicated and should not require more than one or two complete reads to get a full understanding of even the smallest details.
One great example of an effective job proposal outline includes:
The company's challenge
The actual value of the position
The responsibilities
Your qualifications
Your history with the company
After getting your outline ready, we do highly recommend putting everything into a simple yet effective template.
But before polishing things up, let's find out what exactly you should include in each section and more importantly what you should not include in your job proposal.
Step 1. Define the company's challenge
Identifying problems is one of the most important parts of the decision-making process. A solution optimized for a misidentified issue will end up being useless.
Moreover, spending time and money to fill a gap that does not actually exist in your company will eventually have many negative consequences over time.
Maybe they struggle with a low conversion rate. Turning leads into actual customers happens fewer and fewer times.
The cash flow drops significantly and the management team can figure out why those things happen.
This is one of the worst-case scenarios where a company can be.
This section should answer the following question: Why should the company spend money on this type of service?
Step 2. Emphasize the value of your position
If you have identified a potential issue related to your area of expertise then you should explain it with as many details as possible.
Offering your potential client an overview of why they should hire you is great. However, getting into details and offering an in-depth explanation of a potential collaboration's benefits will skyrocket your hiring chances.
Let's face it: no one will hire you if they do not need you. This is why it is very important to emphasize what benefits you can bring to their company.
For example, say you are an experienced web designer and you have found a website that lacks mobile compatibility and does not have a user-friendly navigation menu.
Based on your experience, poor design results in lower chances of turning leads into customers. Therefore, you might want to explain these correlations to your potential customer so they can easily understand why they should go the extra mile to resolve this problem.
Having great marketing skills will help you convince potential customers of your value. You might have to put in a lot of effort to properly explain why they should hire you instead of anyone else.
Moreover, some leads may not understand the actual value from the first time. Including pre-defined answers for some of the most frequently asked questions your potential client may ask will significantly increase your chances of persuading them of your value.
Filling this section with the appropriate content will reveal the answer to the following question: Why is this position so important?
Step 3. Clarify the responsibilities
Having clear responsibilities will help you focus more on what you have to do to reach your goal. We highly recommend using bullet points to create a comprehensive list that includes all the tasks you are able to perform for the company.
Many sample job proposal letters use simple and understandable terms to explain what the candidate is able to do. This helps the hiring manager figure out in what position that person would be the ideal candidate.
If you are not sure what a duty list should look like, that is perfectly fine. Here are some examples of responsibilities one may include in their digital marketing-related job proposal:
Research thoroughly and come up with interesting and relevant topics for blog posts
Identify, assess, and suggest keywords that should be approached in articles
Perform on-page and off-page S.E.O
Keep track of the blog insights, determine and implement the best strategy to increase the number of visitors
Step 4. Explain your qualifications
This is where many candidates mess things up. A job proposal is not your CV. When writing a job proposal for a company you should always make sure the qualifications you mention are relevant to the management team.
Moreover, including skills that are not related to your area of expertise may sometimes do more bad than good.
For example, if you are a copywriter and you include great programming skills (C# and Java) in your job proposal, the business owner may assume you are not a focused person and you try to approach as many income sources as possible.
This will dramatically lower your chances of getting hired, especially considering that companies nowadays require real expertise, instead of people that have just a brief idea of how to get the job done.
Having many years of experience will not necessarily make you look better in the hiring manager's eyes. However, being capable of performing complex tasks with great performance will surely put the highlight on your proposal.
Before writing the job proposal, we highly recommend taking a quick glance at what skill set helps you perform in your domain.
Based on the most popular skills you can find out what makes you stand out from the crowd and emphasize that specific aspect. For example, when offering digital marketing services, some of the most popular skills are:
Storytelling
Strategic thinking
Persuasivitiy
Another interesting aspect you might want to include in your proposal is related to the hard skills and soft skills you possess.
Being flexible, punctual, and communicative brings you extra points when applying for a position that requires working in a team.
What is more, being able to properly communicate in a foreign language will give you more credit if you are about to join an internationally-formed digital marketing team.
Make sure you support your hard skills with the appropriate certifications. Any officially issued documents which attest to the fact that you have a specific skill will only increase your chances of getting an interview.
Step 5. Describe your history with the company
Keeping an existing client is five times cheaper than acquiring a new one. Therefore, working with a repetitive customer is a great way of reducing your operational expenses.
If you have previously worked with a specific company, then you are more likely to get hired compared to a freshman that has just submitted their first cover letter.
Make sure you include all the projects you have worked on with that company (yes, even the ones that were not so successful). Being honest about your performance is a great way of gaining your potential client's trust.
Posing as the ideal candidate while only being an average-performance freelancer will not bring you any good. Say you claim to be an expert in web development and you convince a business owner to pay you a couple of thousand dollars for a completely new and improved website.
However, you only have basic web development skills and you spend two weeks creating a boring site. Think about it from your client's perspective: do you think they will hire you ever again?
Working with the same company again has many benefits. You both know your working style, you already understand their business approach, and the business owner knows how to explain potential issues identified with the final product.
However, nothing lasts forever and collaborations are no different. At some point, you will have to find new clients and go through the entire acclimatization process with them.
Step 6. Create a written proposal
This is the most complex step you have to perform when applying for a job or offering a collaboration. Putting all your thoughts into a great writing form requires many sessions of tweaking and trying.
Before creating the actual document you want to send to your potential client, you might want to write a sample letter so you can get accustomed to how to approach the situation.
→DOWNLOAD NOW: FREE JOB PROPOSAL TEMPLATE
Concluding your proposal, you should definitely include a budget and an estimated deadline. This will allow your potential customer to determine whether their company is able to gain access to your services. Many startups have limited budgets and this is why collaborating with experts in different areas is a complex issue.
However, extending the deadline, reducing the number of revisions, and even lowering the number of responsibilities are factors that are often associated with a reduced price.
Another crucial thing you should include in your written proposal is a call to action. This can be literally anything: a button, a headline, contact information, an invitation, social media information, etc.
The only thing you have to take into account is to do your best to persuade your potential client to get in touch with you. Getting an interview is generally harder than convincing someone to hire you. Especially when you think about the fact that any hiring manager gets at least a dozen application letters every week.
Make an attractive cover page and make sure you include the job title on the first page. This way you can get the business owner's attention within a few seconds.
Fonts and headlines are important too. Using the right color for your text and including appropriate images will increase your chances of getting an interview. After all, getting hired is your ultimate goal.
After sending the job proposal, you should be ready to wait. And wait. And wait. Up to 7 calendar days. According to a recent survey, 44% of applicants hear back from their employers within a week of applying.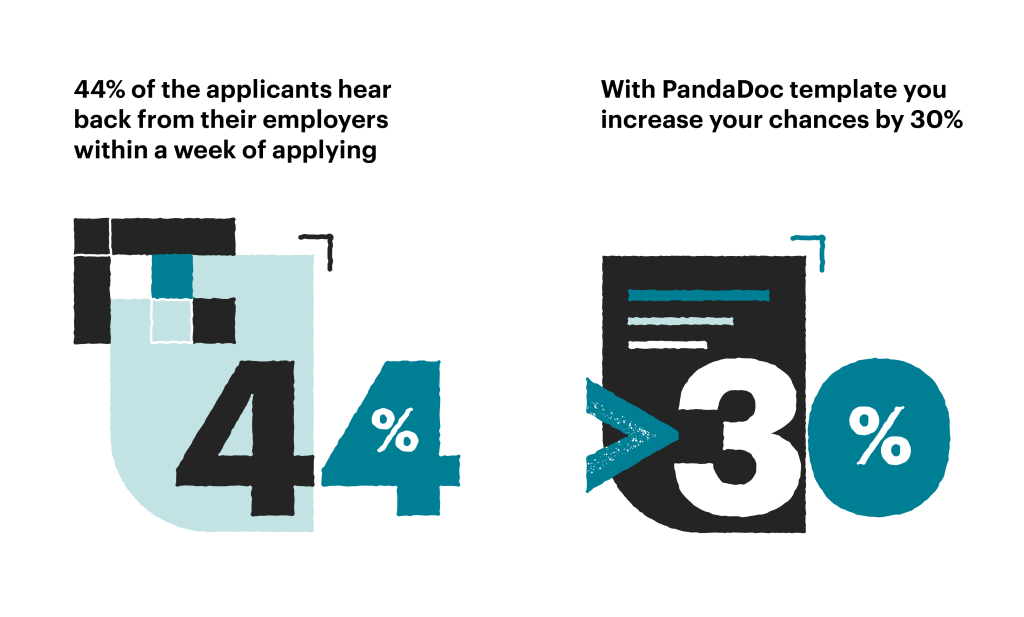 Therefore, make sure you are ready to wait patiently. However, if even after 7 days you do not get an answer from the hiring manager, it may be a great idea to send a follow-up email.
Many email platforms have integrated functions that remind you of the messages you have sent and remained without an answer.
For example, Google Mail (GMail) pops up a reminder 3 days after sending an email and not getting any reply from the recipient. This way you make sure you do not forget about any job proposal you have previously sent.
Using job proposal templates
If this is your first time writing and sending a job proposal, then you might want to stick to a previously created template. One of the most popular templates available on the market is the PandaDoc Job Proposal Template.
It can be found on the official website, under the Templates section. The template is fully customizable using the online editor. Moreover, all you have to do in order to take advantage of it is to create a free account on the platform.
You can either register using an email/password combination or by connecting to your Google or LinkedIn account. There is no need to add a credit card in order to use this business proposal template.
Regardless of the template, you are planning on using, here are some of the key aspects you have to take into account:
Be honest: No hiring manager wants to put the wrong person in the wrong position.
Point out the previously identified issue: Make sure you explain why the company needs help on overcoming a specific problem.
Explain your value: Emphasize the benefits of hiring you and why the business owner should spend a fraction of the budget on paying for your services.
Showcase your skills: Soft skills, hard skills and even other competencies (but make sure they are relevant to your potential client).
Call to action: If you do not persuade the business owner to contact you then you have already wasted both your and their time.
Final thoughts
Now that you're aware of how an effective job proposal looks like, it is the perfect time to write one for yourself!
Psst… we have got an extra tip for you! Using the new and improved PandaDoc Job Proposal Template, writing a business proposal is just a piece of cake. But you do not have to take our words for granted.
Convince yourself by trying it out!
Originally was published in October 2021 and has been updated for comprehensiveness in April 2023
Frequently asked questions
A job proposal generally has up to 7 sections, as follows:

Introduction
Previously identified issue
The importance of the position
Responsibilities
Detailed skillset
Previous projects
Proposal

Depending on the complexity of the addressed issue, there may be extra sections or even fewer.

A job proposal is an offer made by an individual to another individual or to a company. It generally comes up with a solution to an issue that has been identified by the job seeker. A business proposal may come in many formats but some of the most popular are e-mail and application letters.

Writing a simple proposal is not the smartest move, especially when you deal with mid-sized and large companies. We do highly recommend going the extra mile and writing a complete proposal that includes all the appropriate sections. However, if you prefer sticking to a simple business proposal, you can use the following outline:

Issue (What?)
Solution (How?)
Qualifications (Why me?)
Proposal (How much?)