I'm sure you will agree with me when I say managing all partners, customers, and potential customers all at once as an SMB is challenging.
Yet, if you are using CRM software, you can make all this work easier. In fact, using a CRM has become almost mandatory for many companies.
Today, we will discuss Salesforce, its benefits for small and midsize businesses, and how to get started.
Let's dive in!
What is Salesforce?
In a nutshell, Salesforce is a cloud-based customer relationship management (CRM) platform created to manage all interactions between a company and its customers and prospects.
The goal is simple: strengthen customer relationships and grow your business.
To that end, it allows you to track, manage, and automate your sales, marketing, and customer service channels.
With the right tool, you get a complete view of the entire customer lifecycle, resulting in more sales, better customer service, and higher profitability.
According to Salesforce: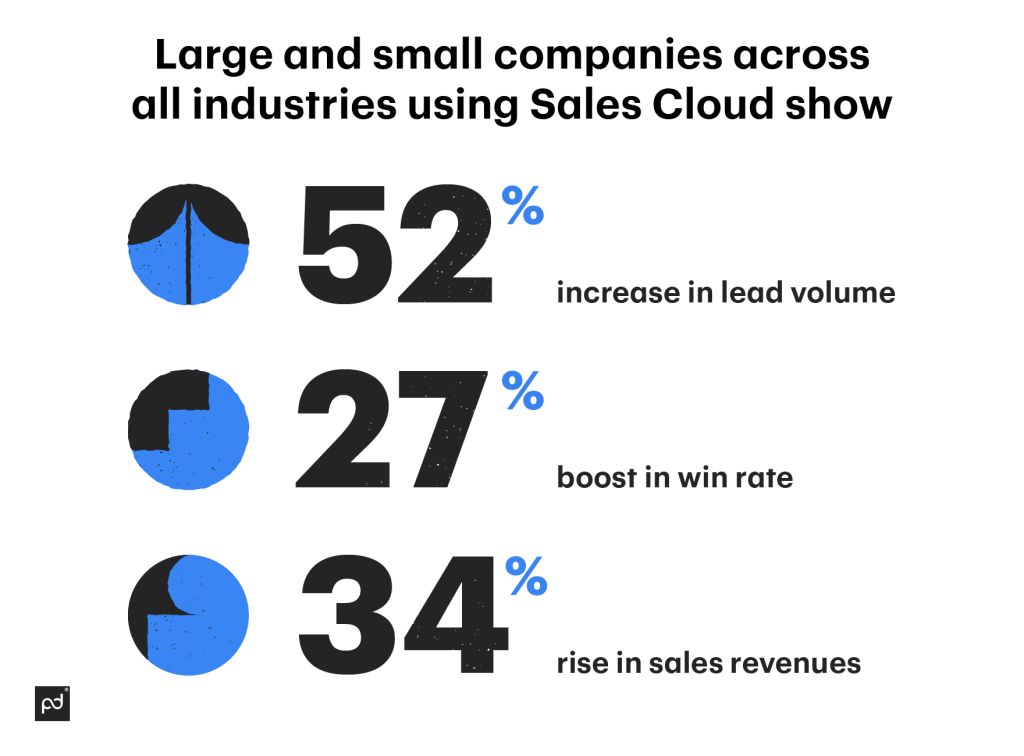 With all this in mind, having a good CRM is essential to develop your business, especially for SMBs. But is Salesforce the right tool for your business?
When it comes to CRM vendors, Salesforce has seen its numbers, and its popularity, consistently grow — that's because the company stands out for its comprehensive CRM solutions, adapted to many industries and any size of business.
According to Statista:

Why Salesforce for small and midsize businesses?
Even though Salesforce is mostly used by large companies, it also provides relevant features for small and medium-sized businesses.
Let's have a look at them.
1. Plans designed for SMBs
Salesforce may be popular; however, ultimately it's the price that is often the crucial factor in choosing a CRM.
That's why Salesforce has tailored four plans for SMBs.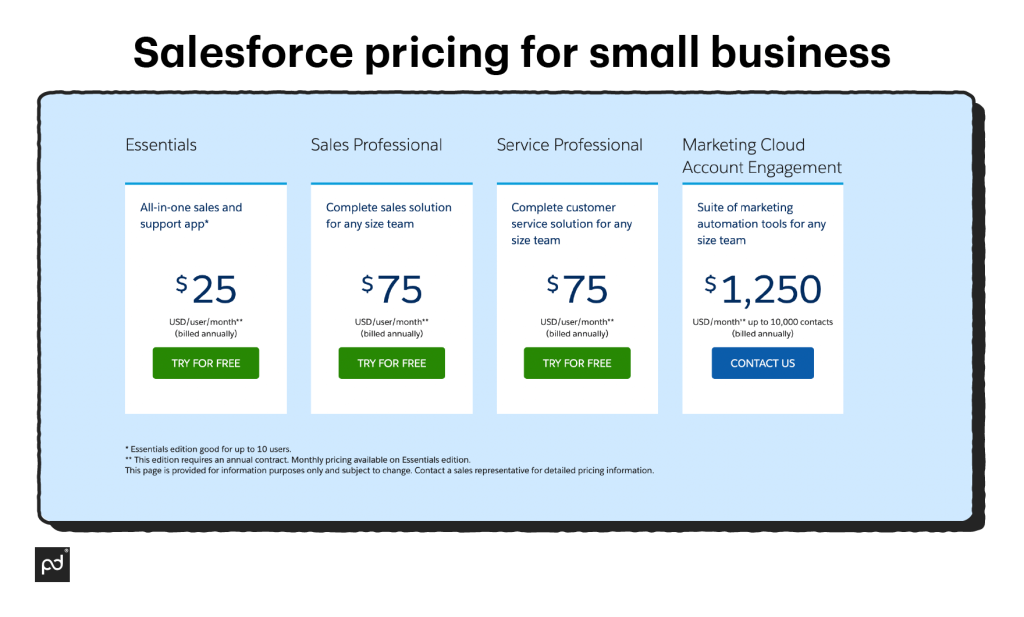 Let's dive into more details and find out which one is the best fit for you.
Essentials
Salesforce Essentials Edition is designed to help your team get started quickly with only the features you need.
With this first plan, users access a simplified version of Sales and Service Clouds.
Here are some of the key features of the Essential Edition that you can benefit from:
Lead management: It helps you to identify and track your prospects.
Campaign management: You are able to set up your sales workflow and track every step of the sales cycle.
Pre-build reports: You can easily keep track of your progress and convert your reports into straightforward graphs and charts to see how much money each transaction can bring in.
Email Integration: You can integrate both Gmail and Outlook on your platform to collect customer data and boost your sales channels.
Connect your social networks: Interact directly with customers via the Salesforce platform and improve your customer experience.
Automate sales activities: This helps you reduce workload with Einstein, a built-in artificial intelligence (AI) to sell faster and smarter.
Use on any device: Your team members can carry out the same tasks on their smartphones thanks to the Salesforce mobile app.
Price: $25 per month for a yearly subscription (maximum 10 users). There is also a $35 per user monthly payment option. You can try it out for 14 days.
Sales Professional
This plan not only includes the Essentials plan features as listed above but is more extensive and aims to increase your sales volume and your SMB sales team efficiency.
Here are some of them:
Pipeline and forecast management: You will be able to see how your business is doing in real-time. Custom signals, KPIs, and other tools can help you forecast better.
Register your leads: Salesforce web-to-lead tool, you can create a form on your website to collect and store your data leads.
Account management: With the Person Account feature, you get a complete view of customers as individuals, including activity history and service and sales engagement.
Create and track quotes and orders: This means your teams can manage the pricing of your company's products and services.
Price: $75 per month per user (no limit on the number of users). Your trial period is 30 days.
Service Professional
This offer gives you a 360-degree view of your customers to provide faster, more flexible, and more personalized service for your company.
Service Contracts Management: You can keep track of and manage particular maintenance agreements, subscriptions, or warranties.
Case Milestone Tracker: Your support agents can prepare for support deadlines with the assistance of the milestone tracker.
Set Up and Manage Assets: Your support team can quickly assess the product's history by linking assets to maintenance plans, entitlements, work orders, and more.
Work Order Management: Make use of cutting-edge tools like smart scheduling assistants, parts and inventory management, mobile apps that let you update from anywhere, detailed work order histories, product databases, and more.
Price: $75 per month per user (no limit on the number of users). Your trial period is 30 days. This program offers a variety of customer service solutions to help you meet your needs.
Marketing Cloud Account Engagement
The Marketing Cloud Account Engagement plan helps you to align marketing, sales, and services around a single view of your key accounts.
It is a perfect plan to engage your customers and get better results from your marketing efforts.
Email Marketing and Personalization: It will help you create targeted advertising campaigns to reach prospects who look like your best customers.
A/B testing: You can test your email and landing pages, and your team will see how prospects will move through your campaign in real-time.
Create Automation Rules: It helps your team to automate time-consuming tasks like lead assignments and lists.
Subscriber Profiles: You can quickly identify your most promising customers by keeping track of what each person interacts with throughout your online campaigns.
Price: $1250 per month for an annual subscription (up to 10,000 contacts).
2. Extend your CRM with AppExchange
One of the strong features of Salesforce is the AppExchange.
Simply put, it's an online marketplace where end users can access, download and install software applications.
In 2022, the number of apps and add-ons for Salesforce on AppExchange reached 4,600 and 10 million installs.
You can find free and paid applications organized into four categories:
Solutions by Type: You can search among five types, namely Apps, Components, Bolt Solutions, Lightning Data, and Flow Solutions.
Product Collection: You can find specific solutions for Sales Cloud, Service Cloud, Marketing Cloud, Commerce Cloud, Platform, etc.
Industry Collection: Communications, Education, Financial Services, Government, Healthcare & Life Sciences, Manufacturing, Media, etc.
Top Categories: Including Finance, Human Resources, Enterprise Resource Planning, Sales, Customer Service, IT & Admin, Marketing, etc.
It's also worth mentioning that the AppExchange Platform provides many resources and tutorials.
You can easily get in touch with developers and consultants who will help you get started with the applications.
Let's have a look at the most popular applications you can find on AppExchange:
Cirrus Insight: It allows you to synchronize emails, tasks, and calendars directly to Salesforce so you can track your sales activities from your inbox.
ClearSlide: It allows you to search, view, and pull in name and email information from Salesforce into your ClearSlide activities so that workflows are streamlined and accurate.
ZoomInfo SalesOS: This app helps you Identify and reach your next best customer using data-driven insights and buying signals that reveal ready-to-buy companies.
If you are concerned about security issues, all the apps go through a security process to ensure they meet Salesforce security standards.
So customers only get trusted apps running on an always-available cloud platform.
Simply install the solutions into your environment — and your users will have immediate access.
3. Perfect for scaling
SMBs think of one thing: Growth.
And growth means constantly evolving.
And for that, you need the right tools to adapt fast, those providing solutions for every stage of development.
Salesforce makes it easy to grow your business in terms of Sales, Service, and Marketing.
For example, in terms of sales, you can automate and connect business processes to create personalized sales journeys and see what matters with reports and dashboards.
Go from close to cash quickly and accurately.
On the other hand, with the service, you can provide individualized support and resolve issues across all channels to help customers help themselves faster by providing information on a single screen.
Also, you can easily automate your marketing and accomplish more with less by creating email campaigns and using smart lead nurturing to close deals quickly.
Get real-time alerts about prospects.
And don't forget that AppExchange lets you add a lot of extensions and find solutions to sustain your growth.
No need to worry about servers, patching, or upgrades because everything is hosted in the cloud, so you can focus on what matters.
How to use Salesforce
Now that you have a better understanding of what Salesforce is and what it can do for your business, it's time to put it all together.
This guide will help you maximize the potential of Salesforce's features.
Step 1. Set up with live help
Once you choose your pricing plan you are ready to set up!
If you're new to Salesforce, it can seem complicated at first.
Salesforce provides in-app help and chat options in the application to help you set up your platform faster.
Step 2. Integrate all your apps
With Salesforce's AppExchange, you have access to over 3400 applications, both free and paid, to solve your business problems.
Here are just a few applications we recommend for SMBs to consider:
PandaDoc: a solution to create, share and track all your e-documents. Plus, as a Salesforce partner, PandaDoc integrates perfectly with the platform.
MailChimp: a free marketing automation platform designed and developed for businesses using email to reach out to their target markets.
Agile Accelerator: a customizable and free Agile project management tool to organize your teams and manage sprints, backlogs, user stories, etc.
Sales Analytics: Best Analytics App for Sales: provides an interactive dashboard to track pipeline movements and changes.
For AppExchange, we have created an article that will help you grow your small and medium-sized business more easily.
Step 3. Learn with a huge community
Another strong point for small and medium-sized companies who want to use Salesforce is its large number of users.
You can count on a large community to further develop your skills on the platform. Here is a list of the most famous ones:
Trailhead knowledge hub.
Trailblazer Community.
Dreamforce Community.
Step 4. Now you are ready to scale up
One last thing, depending on your industry: Salesforce also offers investment and startup accelerator programs for promising companies.
Here is an overview:
Salesforce Ventures: an investment arm of the company that funds promising cloud-based startups to create the world's largest cloud computing ecosystem.
Salesforce Accelerate: a three-month virtual program where Salesforce assigns you a mentor to accelerate your business success.
Final words
Now that you are more familiar with the features of Salesforce's CRM for small and medium-sized businesses, you're even more well-equipped to tackle the SMB world.
And PandaDoc is here to help. Go get 'em!
Disclaimer
PandDoc is not a law firm, or a substitute for an attorney or law firm. This page is not intended to and does not provide legal advice. Should you have legal questions on the validity of e-signatures or digital signatures and the enforceability thereof, please consult with an attorney or law firm. Use of PandaDocs services are governed by our Terms of Use and Privacy Policy.