ShareFile is one of several virtual data room (VDR) solutions on the market.
Let's take a look at what its benefits are and how it stacks up against other solutions.
What is ShareFile Virtual Data Room?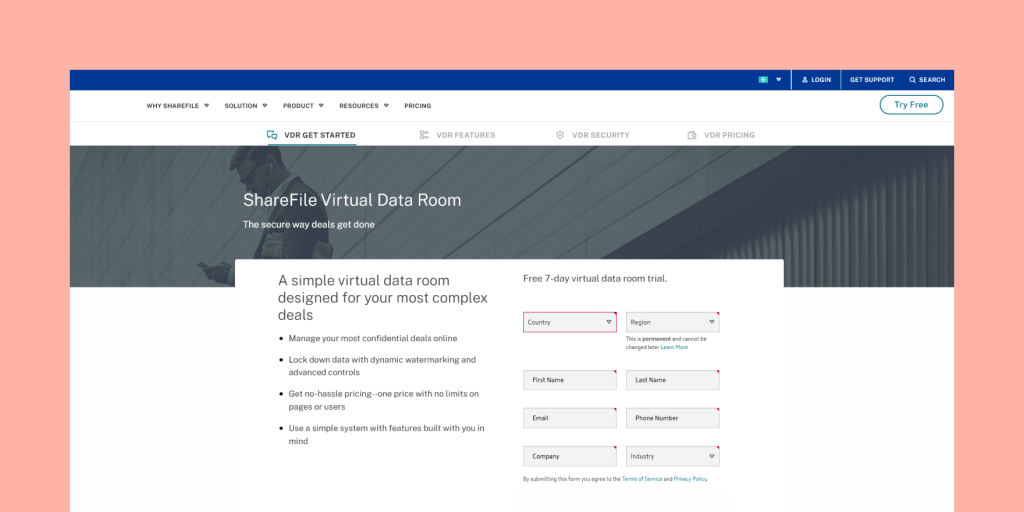 ShareFile Virtual Data Room allows users to share, track, and control access to confidential documents.
This is essential for complex procedures like acquisitions, due diligence, and financial audits.
Options for GDPR and HIPAA compliance make ShareFile capable of handling the most sensitive data.
That's backed up by security features like two-factor authentication (2FA), dynamic watermarks, and click trails.
All this is available from web and mobile interfaces. Features like Q&A, "view-only" mode, and the Data Room Index try to make collaboration on these documents as easy as possible.
ShareFile Virtual Data Room features
So what does ShareFile do for you? Let's take a look at some of the features.
1. View-only access
One of the most important features of any virtual data room is permissioning.
You need to have granular control over which collaborators can do what with your documents.
With that in mind, ShareFile offers a "view-only" mode.
When your clients or collaborators are in this mode, they're prevented from editing or downloading documents.
It's a very basic solution for permissioning, but with this feature, you know that your documents aren't being taken away.
For instance, it's unlikely that someone is going to save and sign a draft document thinking that it's the final version.
2. View a document
ShareFile's document viewer is compatible with several file formats: PDF, Word, Excel, PowerPoint, and more.
Just be aware that file size limits apply. 100MB for PDFs, 20MB for Word, 20MB for Excel, and 52MB for PowerPoint.
3. Watermarking
If one of your private documents leaks, it's simple to trace its source with a watermark.
With digital documents, it's easy to create personalized watermarks for every user's "version" of a document.
If you share a document with John Smith and Jane Doe, you'll find one of them named in the leaked copy's watermark.
The watermark can contain more than a name. With ShareFile, your watermark can contain some or all of the recipient's:
First name
Last name
Email
Company
IP address
Access date
Access time
This is all dynamic and automatic.
You just set up your preferences, and ShareFile can watermark your documents accordingly.
4. Question and answer
ShareFile's Question and answer feature helps employees talk about content in their folders.
The data room admins can respond to questions related to the documents.
Every folder can have its own Folder Q&A, which keeps the information available where it's needed.
Clients can click the Folder Q&A link to see all the public questions and answers.
If they don't find what they're looking for, they can ask one of their own.
All folder admins get an email with the question, so if someone is available, you can answer client questions within minutes.
That information is then stored in the folder for all future clients to see so you won't get asked the same question twice.
Just be mindful of the character limits for questions and answers. 400 for questions, 1500 for answers. 400 characters isn't even twice as long as most tweets.
This might be an issue if your collaborators have detailed questions about contract terms and the like.
5. Data room index
A data room is most useful in big, complex transactions like corporate mergers.
In these cases, you could be dealing with hundreds or thousands of documents (contracts, financial records, itineraries, etc.).
The ShareFile and virtual data room plan helps you navigate many documents in one room.
You can quickly sort documents by name, type, date, and other criteria. You can also sort documents into folders and sub-folders, just like on your computer.
ShareFile can also produce a "data room index", similar to a sitemap for a website.
This report can give you a full picture of all the folders, sub-folders, and files in your data room.
This makes it easy to review what you've got and summarize it for collaborators.
Just be aware that you can't generate a report for folder structures with more than 10,000 items.
If you're handling all the documents for a big merger, ShareFile might not be able to fit them all in.
6. Click trails
One of the most important parts of a secure data room is the audit trail.
This shows you a record of everything that's happened in your data room, when it happened, and who did it.
If your documents have been improperly accessed, you'll know about it.
They even track unsuccessful attempts to break the "rules", so you're aware of potential threats before they happen.
ShareFile has a version of this called Click Trails.
Click Trails tracks how users have accessed and interacted with documents.
It'll show which pages they've viewed and all other interactions they've had with the document.
Audit trails are good for your own security.
They're also good for compliance. GDPR and HIPAA are in large part about how user data is stored and who has access.
Audit trails give you evidence that the proper protocols have been followed at all times.
Audit trails are nice to have outside of a security context. For example, you might use your data room to provide due diligence material securely.
Your audit trail will show where investors have been looking, which you can use to tailor your pitch in your next meeting.
7. Advanced analytics
Audit trails are just one of the things you can track for analytics. These can give you a better idea of how people are using your data room.
ShareFile's analytics include views and downloads per day, your most viewed documents, and your most active users.
That could be across the last 7, 14, or 30 days.
It collects this information on every folder in your data room, not just the room as a whole.
And if you want to get all the views and interactions for one user, just select them to see everything they've clicked on in their journey.
Like the audit trails, this is a great way to understand the security of your files.
Like a site owner tracking user behavior, this can also show you if external collaborators are getting lost in the folders.
ShareFile virtual data room pricing plans
Unlike PandaDoc, ShareFile virtual data room has no free tier, just a 7-day free trial.
After that, you'd be choosing one of their paid plans: Standard, Advanced, Premium, or Virtual Data Room. Let's take a quick look at each of those.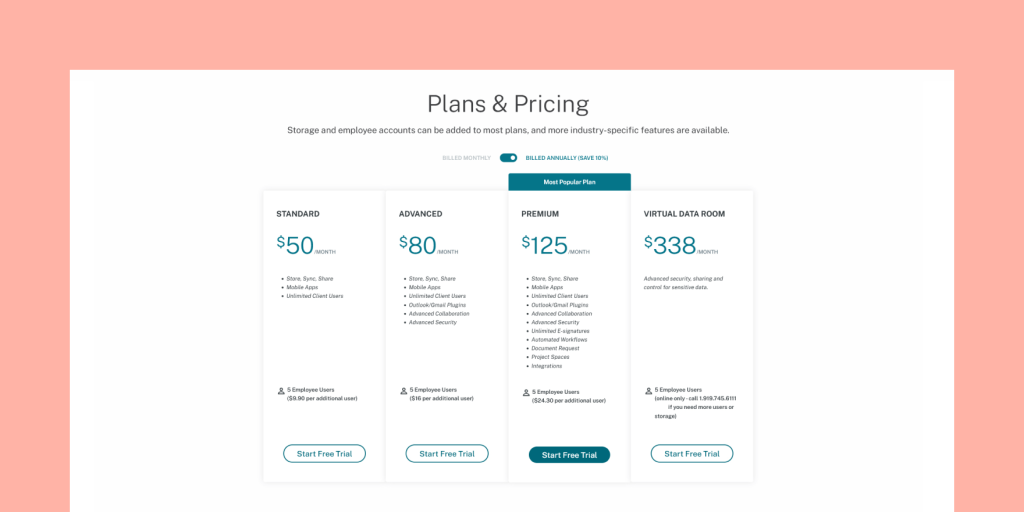 Standard
ShareFile's Standard plan starts at $50 per month, assuming you only need it for five members of the team.
It'll cost you $9.90 per user after that, so you might want to look into the higher-pricing plans.
At this Standard tier, you can share files and collaborate with an unlimited number of "external" users. This plan also includes unlimited storage and the ability to customize the app to your brand.
That'll impress your clients while making them feel like they can trust this software with their sensitive documents.
Advanced
ShareFile's Advanced tier includes features for more complex business needs. Some of those are:
Office 365 co-editing, workflows for feedback, and approvals.
Encrypted email and other security features.
Plugins for Outlook and Gmail.
Premium
On the Premium tier, you mostly get more of what's come before:
Custom workflows
Unlimited eSignature
Accelerated workflows for client onboarding.
Virtual Data Room
Finally, the Virtual Data Room tier — the most expensive by far at £338 per month for five users – gives you some of the advanced security features you'd expect from a professional VDR solution.
5GB storage
Outlook and Gmail plugins
Dynamic watermarking
View-only mode for external users
Click trails
Introducing PandaDoc VDR as a ShareFile alternative
With PandaDoc, your VDR room is just one part of a whole suite of document automation tools.
In our hundreds of templates, we have a document for every occasion, ready to pick up and customize to your needs.
You can use PandaDoc for free forever.
If all you need is unlimited eSignature, you can have that premium ShareFile feature on us.
Our Free tier even includes a payments option for you to do business on any device.
And our plans are happy to scale with your business.
There's no limit on the number of users you can have on our Free, Essentials, Business, or Enterprise plans.
With our new PandaDoc Forms, you can collect all the information you need from clients in easy-to-use self-service forms.
PandaDoc also integrates with tools like Salesforce and Zapier, improving the way documents work for you all across the business.
A better virtual data room experience than ShareFile
With PandaDoc, you get unlimited eSignature on any device for free, forever, for as many users as you need.
If you need fully compliant audit trails, that's included in our $49/mo Essentials tier.
Our online data room gives you better value for money than ShareFile, and it's just one part of our end-to-end document solution.
With automated workflows and integrations, PandaDoc is here to improve the way documents work for you, no matter how you work.
Disclaimer
PandDoc is not a law firm, or a substitute for an attorney or law firm. This page is not intended to and does not provide legal advice. Should you have legal questions on the validity of e-signatures or digital signatures and the enforceability thereof, please consult with an attorney or law firm. Use of PandaDocs services are governed by our Terms of Use and Privacy Policy.