DocHub, as a product, relies on extremes.
That's to say, there are some customers that are absolutely in love with the solution and are die-hard loyalists.
Whereas others have said they truly hate this product. Case in point:
Here's another example to illustrate our point: On Capterra, the product has a solid rating of 4.7/5, whereas on Trustpilot, it has a measly rating of 1.8/5.
Like we said, DocHub reviews are reliably far away from center (in both directions).
So, with this article, we plan not to be either too harsh or too kind, and give an unbiased review of DocHub.
Let's get right into it!
Review summary
DocHub is an extremely easy-to-use product that, unfortunately, produces many error messages.
With those two factors in mind, if you're looking for a free solution that has PDF editing and e-signing capabilities, it might be the right fit for you.
Our rating
Overall: 3.8/5
Pricing: 4/5
Ease of Use: 3.5/5
Features: 4.5/5
Customer Support: 3/5
Value For Money: 4/5
Review methodology
To understand the product in and out, we created an account on DocHub to try out the solution for ourselves.
Aside from that, we also extensively analyzed editorial reviews written by publications, as well as ratings and customer opinions on:
Social platforms like Reddit, Twitter, LinkedIn, etc.; and
Peer-to-peer review sites like G2, Trustpilot, Capterra, GetApp, and more.
The credibility of the opinions was analyzed based on website authority, review source, the dialogue used, and personal judgment.
| Pros | Cons |
| --- | --- |
| Excellent usability and features, even with the free option. | No template library for forms or PDF documents available. |
| The product is extremely easy to navigate. | The product is not compliant with industry security standards like HIPAA, PIA, and PII. |
| It's received plenty of positive user ratings on many platforms (4.7/5 on GetApp, 4.6/5 on G2, and 4.7/5 on Capterra). | The UX is a little clunky and could benefit from a few updates. |
| | Not many options available for integrations. |
| | You cannot extract data to Excel sheets or CSV files. Many users confirmed that gateway errors often occur. |
General overview of DocHub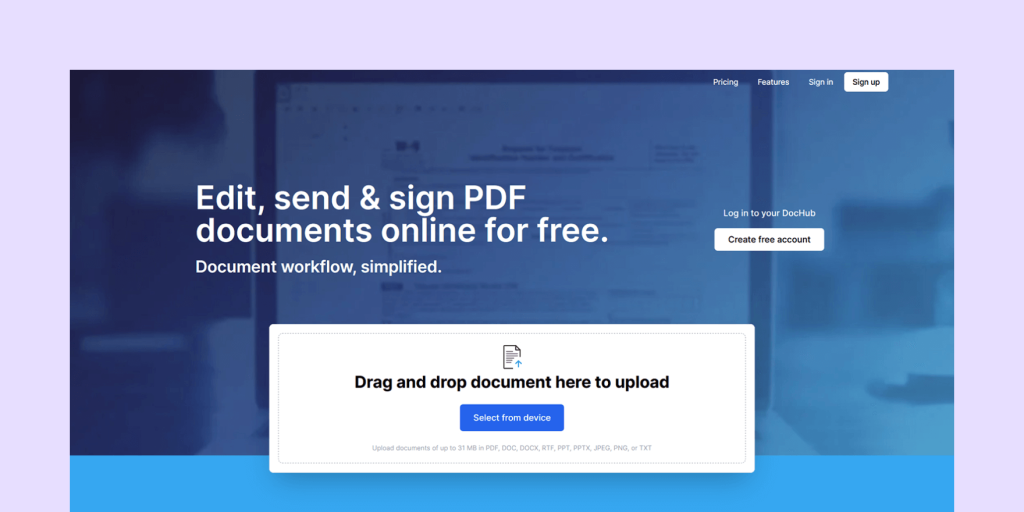 Trusted by more than 91 million users, DocHub is definitely one of the most sought-after solutions in the PDF editing and document signing space.
For the most part, this solution is geared towards enterprises (to contextualize, employees from Shopify, Indeed, Netflix, Costco, Groupon, etc., trust this solution).
However, they also have a free plan which can be used by individual users.
Due to its booming popularity, the company was recently acquired in 2022 by AirSlate (a document workflow solution).
Although the team is small (we could only find 11 team members on their website and 15 on their LinkedIn), the impact they've made for businesses is huge, with more than 92.5 million customers using their solution.
Product pricing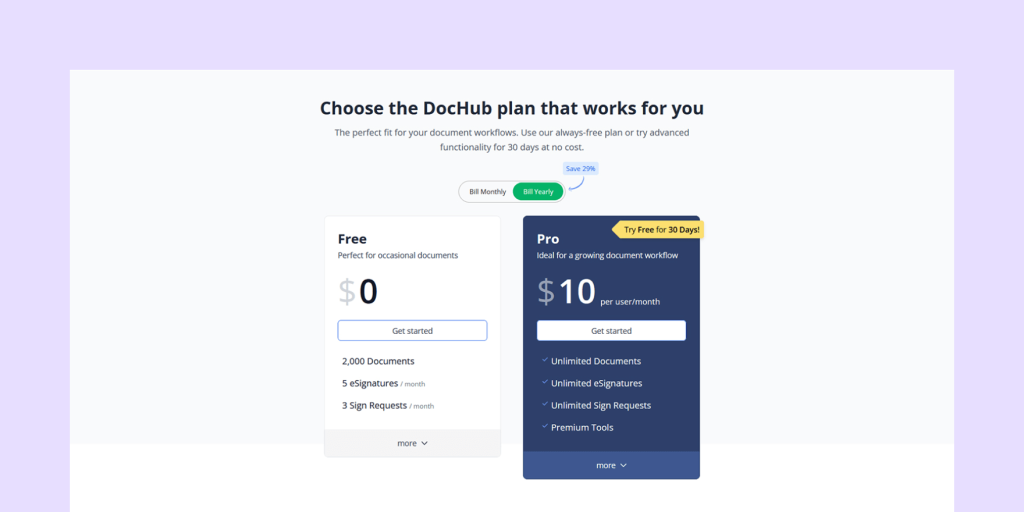 Two pricing options are available on the company's website: Free and Pro (available at $10/user/month with the annual plan).
The Free plan places a limit on 2000 documents, 5 e-signatures/month, and 3 sign requests/month.
The Pro plan, on the other hand, allows users to access premium tools, create unlimited documents, send unlimited signature requests, and e-sign unlimited documents.
The latter also provides a free trial period of 30 days.
To facilitate easy payment, DocHub offers different payment options, such as direct bank transfers and payment through checks, so you're not auto-charged on your credit card.
Side note: The company will only create invoices for check payments if the billing amount is over $100, and users will get a 30 day timetable with which to make the payment.
Key features
1. PDF editing
DocHub has plenty of editing and annotation capabilities, including (but not limited to):
Stamps (600+ stamps with customizations available with the Pro option)
Adding text
White redact
Media addition
Drawing tool
Commenting
Form field tools (such as dates, checkboxes, paragraphs, etc.)
Flattening and rasterizing documents (only available with the premium version)
2. Forms and templates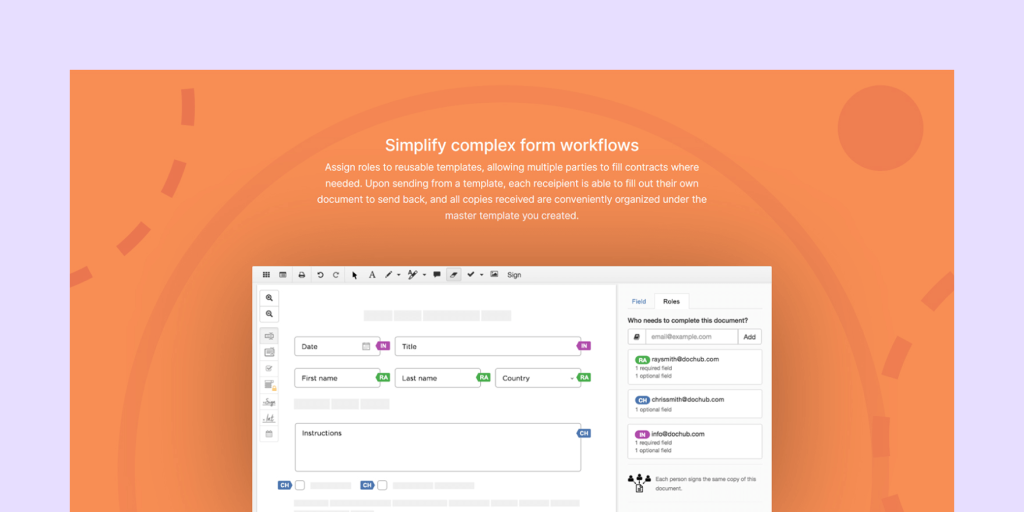 You can also easily create, edit, and fill PDFs, including native and linked fields — and it's all an extensively interactive experience.
For example, if you wish to add dates to your document, you can simply select the "Date" option from the dropdown menu, select the space on the PDF document where you want it to be, and add dates.
You can also share these forms privately (on email) or publicly (with a URL).
All the data added to these forms, whether publicly or privately, will return back to you. Additionally, for easier collaboration, you can also assign roles.
3. E-signing capabilities
Not only can you review and sign your DocHub documents, but you can also send them to other parties to receive their signatures.
DocHub promises to walk recipients through all form fields so that they know what they're signing.
Lucky for you, DocHub is also compliant with the ESIGN Act, so all signatures are legally enforceable and have audit trails available.
Side note: DocHub is also releasing a bulk e-signing tool in the near future.
4. Other features
Some additional features/aspects that we thought deserved a mention:
The solution can only be integrated with Google products. If you plan to integrate your PDF editor with your tech stack, please know that DocHub might be of limited use in this case, as it can only be integrated with Google Drive and GSuite.
Your documents are secured with 256-bit SSL encryption.
Support and ease of use
While DocHub has been widely regarded as being extremely easy to use, there's probably one thing that has received considerable criticism, and that's the "Save" option.
According to many DocHub users, the company either saves everything every microsecond or doesn't save anything at all (and often produces error messages in the middle of working).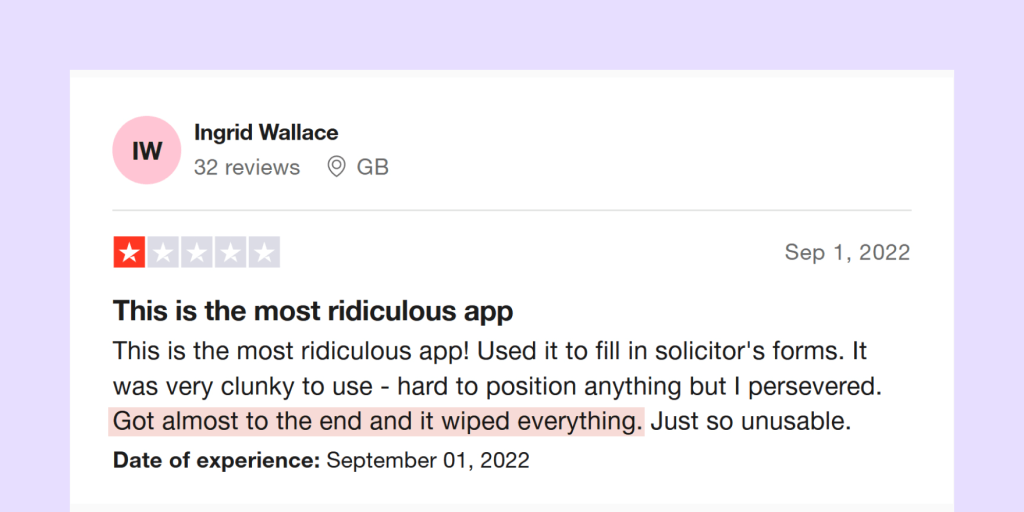 However, when we personally reviewed the solution, we didn't face any problems with saving — and many users on other sites (like G2, Capterra, and GetApp) didn't face this issue either.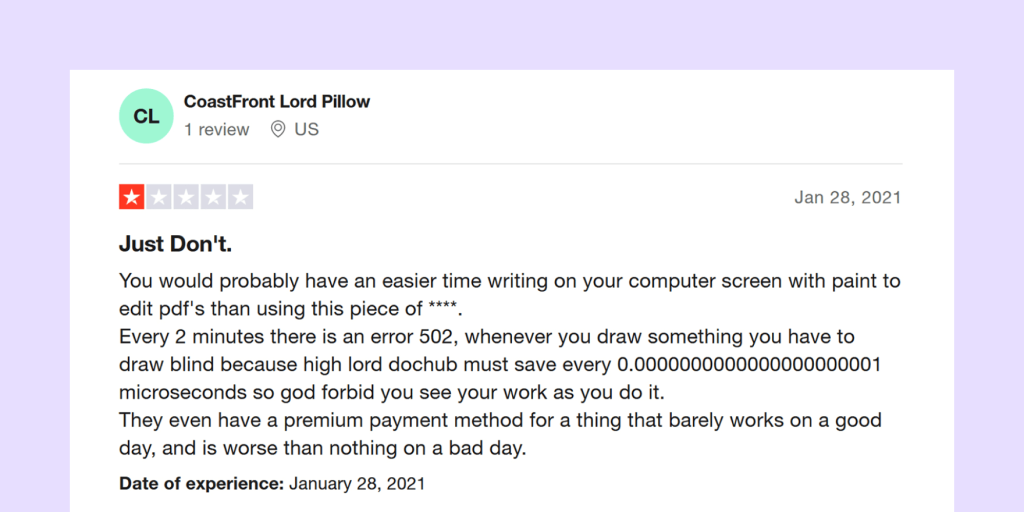 This leads us to believe that DocHub only occasionally goes through errors like these.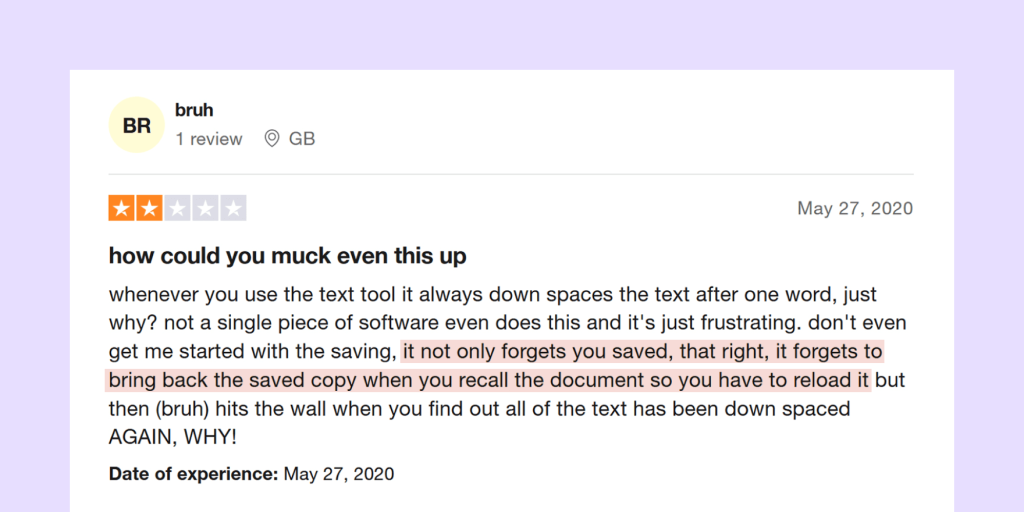 On the flip side, many users on all peer-to-peer review sites agreed that the solution could improve its user experience (UX) a little and can be more intuitive. Other than that, it's extremely easy to use.
As far as support is concerned, you can either submit tickets, contact them via mail, or access the knowledge base.
However, it might take some time to receive answers to your question from customer support.
How does PandaDoc compare?
While there's no doubt that DocHub is an excellent product, it's also quite clear that its capabilities are pretty limited.
To recap, it doesn't have the integrations needed, it's not compliant with leading industry standards, it often posts an error message, and it has a limited number of features.
PandaDoc, on the bright side, provides:
Unlimited document uploads
Multiple integration options (incl. Zapier, Salesforce, Microsoft, HubSpot, etc.)
Compliance with HIPAA and SOC 2 standards
An extensive feature list
A template library with more than 750 templates
No cases of randomly producing error messages
So, if you need a solution that can cater to all those needs, then perhaps PandaDoc is the right software for you. Talk to an expert to see what PandaDoc can do for you and your team.
DocHub — to use or not to use?
As far as features and usability go, DocHub (in our opinion) provides an excellent free version that's extremely user-friendly.
But, given the number of negative reviews the product has received, it may not be the right move to purchase the Pro option of DocHub.
Instead, you might benefit from a solution that has garnered more positive reviews from customers — we have a rating of 4.5/5 based on an aggregate of 4,000+ reviews.
Click here to see how PandaDoc compares with DocHub. Alternatively, why not get some first hand experience using our product? Sign up for a free 14-day trial now!
Frequently asked questions
According to users, DocHub often produces Error 502 (bad gateway error), Error 500 (internal server error), or "down for maintenance" messages.

Peer to peer review sites are trusted websites that host reviews by product users for potential users. You can also authenticate profiles on these websites.

Yes, DocHub is safe to use, considering it provides SSL encryption and uses AWS (Amazon Web Services) to host data. You can learn more about their security standards here.
Disclaimer
Parties other than PandaDoc may provide products, services, recommendations, or views on PandaDoc's site ("Third Party Materials"). PandaDoc is not responsible for examining or evaluating such Third Party Materials, and does not provide any warranties relating to the Third Party Materials. Links to such Third Party Materials are for your convenience and does not constitute an endorsement of such Third Party Materials.