Effective collaboration starts with clearly defined expectations and everyone agreeing to the terms for working together.
And that's exactly what a statement of work is all about.
A statement of work explained
A statement of work, also known as SOW, is one of the first project documents created between a client and a service provider (be it an agency, a freelancer, or even an internal team operating in a different business unit).
It's a formal agreement that outlines what's going to happen inside a client/vendor relationship — the scope of work and the timeframe of the project.
Usually, it covers more details on how the work will be delivered, such as special requirements, acceptance criteria, communication rules, payment terms, and more.
It includes all project stakeholders and makes sure everyone is on the same page to mitigate the risk of confusion and misunderstandings around what and how tasks should be done.
In this article, you'll learn how to write a statement of work that makes a powerful project management tool. You will also get access to an excellent statement of work template prepared by our team at PandaDoc.
If you want to customize, negotiate, and eSign an SOW with your business partner, check out our contact management features — they will ensure your process remains as speedy as it is painless.
What are the components of a statement of work?
An SOW includes all sorts of project details that are important for stakeholders and their understanding of the project's success.
Let's start off by defining what is typically in a statement of work.
The primary elements include:
Project objectives
They define the why. This first section sets the marketing and business objectives of the undertaking and describes how the project completion will lead to achieving these goals.
Scope of work
It tackles the what and how. The scope should clearly define what needs to be done to achieve the project objectives and how they should be executed.
Timeline
It's a schedule that includes all milestones and tasks, together with due dates and task dependencies.
Milestones
When a project is long and complex, it's broken down into major progress points that must be accomplished to ensure successful delivery.
Accomplishing milestones allows progress tracking and easier cost estimation.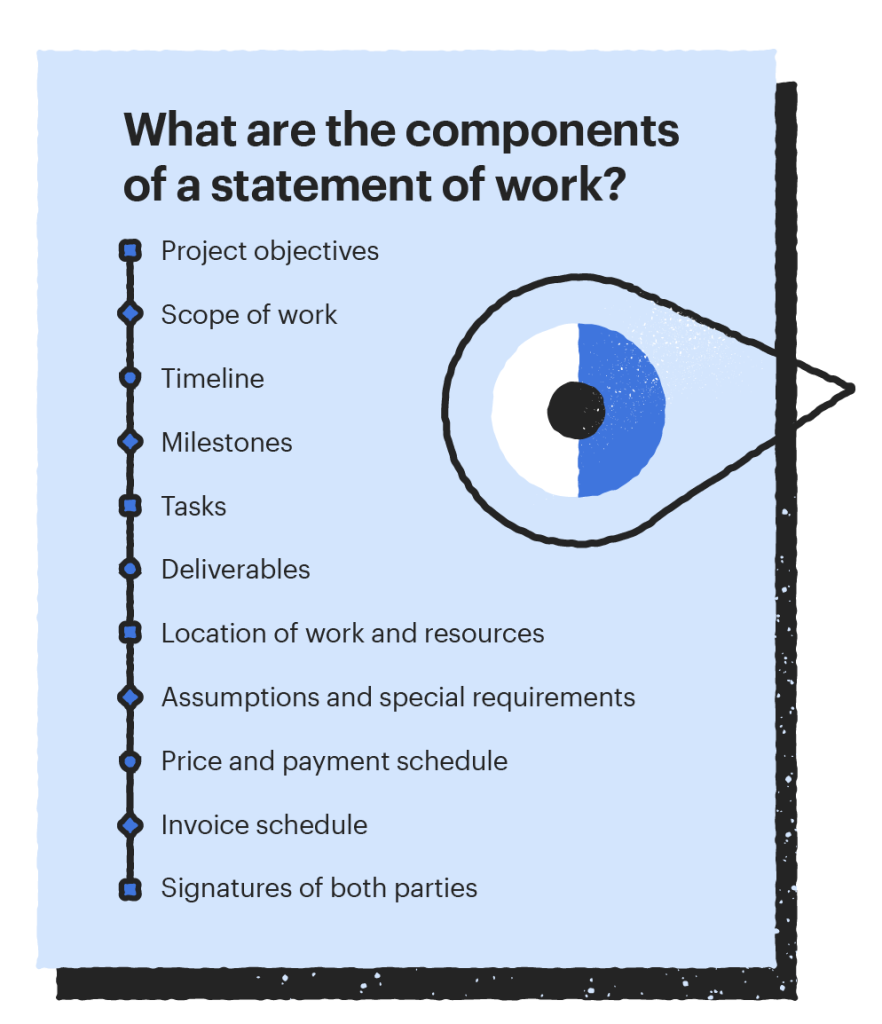 Tasks
They are straightforward, actionable steps that must be performed to accomplish the milestones and, finally, the project objectives.
The tasks should be clearly described and include acceptance criteria. They are usually being assigned to team members during the project.
Deliverables
They define quantifiable products and/or services that must be delivered upon the completion of a project. Deliverables are what's in scope and out of scope.
They help project managers to verify whether a project is on the right track and doesn't detour from the initial objectives.
Location of work and resources
This defines where people, tools, and equipment will be located.
In some projects, it may be important for some team members to be located on-site or be available during working hours according to different time zones.
Assumptions and special requirements
These consist of any requirements that don't fit into the categories above but remain important for the project completion.
They may be related to software, hardware, decision-making process, languages used in project-related communication, etc.
Price and payment schedule
This part includes the rates and estimated cost of project completion.
It specifies which costs, like travel or software licenses, are covered by the service provider and which remain on the client-side, and when.
Very often it mentions the maximum cost cap, so-called not to exceed (NTE) amount.
Invoice schedule
It defines the billing cycle.
Signatures of both parties
Pretty self-explanatory, the agreement comes into force once it's signed by both the client and the service provider.
When to write a statement of work
To prepare a statement of work you need to know the scope of work requested by the client.
Therefore, the best time to start working on the document is after the client decides what they want and before the project kickoff.
That being said, you can adjust your client acquisition process to make it easier to write an SOW and save some time later.
To do that, you'll need to ask the right questions and make notes from the beginning.
Think through and ask about the project objectives, process, and requirements from three points of view: your client's, the product/service end-users, as well as your team.
Based on that, you'll be able to create a project charter — its high-level, non-legal overview.
The next step will be to break it down into details as you become more familiar with the client's needs.
At the end of negotiations, you should have most of the input for the statement of work-ready and organized (if you kept the notes as suggested at the beginning of this point).
Step 1. Introduce the project
Make sure that the project is clear to all its stakeholders – the client, the provider, and their team, and any other parties involved.
To work efficiently, everyone involved needs to understand:
The overall goal of the project
Initial requirements
The expected outcome
Their role and responsibilities
It's also crucial for everyone to understand what an SOW is — and what it is not — and how it will be used throughout the project.
It should be clear the statement:
Doesn't authorize project members to spend the budget or assign the resources — these are established by a project charter.
Isn't equal to a contract, which is signed as the last step of the negotiations, once the statement of work is approved.
Is a project management document used to specify the details about the project and its execution, serving as the one source of truth about what, how, when, and by whom results should be delivered.
Step 2. Define the project objectives
Describe, in detail, the problem(s) that the project is going to solve. Doing so helps explain the strategy behind how all parties achieve that solution.
The objectives are important actions that will lead to the completion of business KPIs, such as increasing the revenue, reducing the cost, improving productivity, developing new business capabilities, etc.
Looking at an example, if your project is supposed to increase the number of marketing leads, the objectives could be to:
Increase online form completions by 7%
Launch landing pages dedicated to three key products
Shorten average response time to 12 hours.
Set goals by taking into consideration all project stakeholders and their KPIs, but don't forget about the end-users.
The objectives should be driving all decisions made throughout next steps and when dealing with any doubts during project execution.
Step 3. Define the scope and deliverables
The scope provides a high-level description of what the project is all about. It establishes the boundaries of the project and defines the delivery process (both the methodology and approval path).
This part should specify:
What's being delivered (in scope)
What's not being delivered (out of scope)
How it will be delivered (methodology).
The deliverables refer to what should be produced upon project completion, for example:
Live company website
Website wireframe
Keyword research report
Branded document template
Complete user journey map.
This part should not only list the deliverables but also specify all relevant details, such as when they can be expected, how they will be provided, in what amount or quality, etc.
Step 4. Break the scope down into milestones and tasks
Based on the scope and expected deliverables, define what elements need to be created along the way and divide the workload accordingly.
An established set of criteria helps all parties understand how their individual performance completes the journey.
Milestones are significant progress points that are composed of smaller and specific tasks. Successful completion of a set of tasks will lead to achieving milestones.
Such a division is especially important to track progress and stay motivated while working on longer projects.
Step 5. Allocate resources
Consider roles, skills, and availability of your resources.
You don't need to assign every task at this point, but you have to estimate how much work and which skills will be required at every part of the project delivery.
This helps determine which roles should be assigned to the project, how much of their time should be booked, and what will be an approximate cost of their work.
Step 6. Set the timeline
Based on the above information, create a schedule that covers the entire project from start to finish. A well-drafted timeline should not only organize tasks but also inform about:
When each task and milestone is supposed to start and finish
Project milestones or phases
Dependencies between tasks
How overdue tasks affect the overall project delivery date
Who is responsible for the delivery of each task
Be careful with task dependencies and make sure you include time for client feedback, improvements, and some additional buffers.
Step 7. Include assumptions and special requirements
Make sure you mention all the requirements (the client's and yours) in the statement of work so that all the rules are clear from the very beginning.
The requirements may refer to different aspects of the project and its deliverables, such as:
Product functionalities
Usability of a system
Criteria used to approve project deliverables
Expected uptime of a system
Mobile devices used by manual testers
Language used in project communication
Time-zone for team meetings
Branding guidelines
And anything else that is important but wasn't mentioned in other parts of the SOW.
Step 8. Adjust, accept, and sign
Ensure that all the parties involved understand the contents of your SOW and agree to work accordingly.
Use eSignatures to simplify and speed up this last step of contract creation.
Use a statement of work template
We wouldn't really be helping if we hadn't come up with a battle-tested statement of work template of our own. It may be just enough for standard projects, or a good starting point for further customization.
An important piece of advice is to find a sweet spot in terms of how detailed your SOW gets.
You want to be precise enough to make sure all stakeholders share the same understanding of the scope of work and project management, but not spend weeks crafting the perfect agreement.
A statement of work is a tool, therefore it should be above all functional.
If you feel that detail-heavy documents and micromanagement are crucial for your project success, maybe you haven't yet found the right business partner?
What makes a good statement of work?
It's a matter of trial and error until you come up with an optimal statement of work.
Don't waste time on reinventing the wheel – start with a good template and build on that until you find out what works for you.
Make sure your statement serves its purpose. It should define, align, and document the project's expectations.
Simply put, it's the single source of truth when you're wondering whether something is in scope or out of scope. And to be effective it has to be easily accessible and clear to all the stakeholders.
Frequently asked questions
The best way to create, negotiate, and sign an SOW is through an online collaboration tool that enables commenting, edits tracking, and eSignatures. Managing all the processes in one place saves time and avoids confusion, especially when many people are involved in the process.

The size of the SOW depends upon the project's complexity. It can be 5-pages long in the case of straightforward assignments, such as a simple website creation; 10-15 pages for medium projects, like the MVP of a mobile application; and 20+ pages for a full-scope project.

The statement of work is signed between a client and a service provider, such as an agency, consultancy, freelancer, etc. It's not compulsory to sign it, but it's an extremely important document used in project management to define the scope of work, establish rules for successful cooperation, and solve disputes.

It's a matter of trial and error until you come up with an optimal statement of work. Don't waste time on reinventing the wheel – start with a good template and build on that until you find out what works for you.

Make sure your statement serves its purpose. It should define, align, and document the project's expectations. Simply put, it's the single source of truth when you're wondering whether something is in scope or out of scope. And to be effective it has to be easily accessible and clear to all the stakeholders.

A notarized document validates the identity of parties signing the contract, as well as their signatures. Many business and family contracts do require a notary by law (buying a house, making out a will, etc.), but a statement of work isn't one of them. Nevertheless, it's possible to sign it with a notary's presence to ensure an extra layer of security about the statement being enforceable in courts.