Building an effective scope of work guarantees that the project is properly outlined, which results in higher revenue and better productivity. Using a well-organised scope of work (SoW) template can help you to agree on project details. In other words, it becomes a touchstone for all parties involved.
With our customizable scope of work template examples, you can save time and effort by quickly creating professional and comprehensive project plans that can be easily shared with clients, contractors, and team members.
SoW Templates By Type
Are you a project manager, distributor, or contractor? You can use a scope of work sample. The main point is to pick the right one.
Construction SoW
The document is intended for executives, architects, or engineers. It has blocks to reveal basic project information (e.g. project number, job area, and contractor name), a top-level project overview, a timeline, and a statement. Once completed, it needs to be signed by key stakeholders.
Contractor SoW
This template encloses space for the task name, ID number, company name, physical address, and more. Make sure to use the breakdown system in a scope of work form to mention all contractor duties and obligations, including possible restrictions. Set the touchstones and the end result expectations.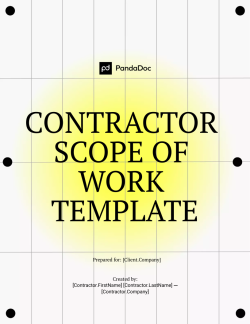 Contractor Scope of Work Template
Use our free, customizable contractor scope of work template to create your Project outline for the Contractor and ensure everyone is on the same page
Use Contractor Scope of Work Template
Consulting SoW
This document describes the range of work covered by a consultancy project. It requires the task name, number, high-level goals, and effectiveness measures. A breakdown structure allows you to spread all tasks between companies and/or individuals.
Project Management SoW
An all-purpose instrument for different specialists to present the scope of work, measure customer feedback, explain exclusions, and other policies. In the Approvals and Comments section, you should have signatures from the project owner, manager, sponsor, and other parties involved.
Software SoW
The document is intended for a tech project. Its main purpose is to describe the software development lifecycle as it determines other project nuances like cost, deadline, etc. Whether it comes to system software, application software, or other types of products, this free scope of work template is perfect for describing the delivery process.
Website SoW
Use this template for planning the web development projects. It ensures that customer needs and web designer understanding remain in alignment. In the Organization section, you need to write down the customer's contact information. In the Summary, Scope of Work, and Project Deliverables sections, you mention the project details, from strategic goals to delivery terms.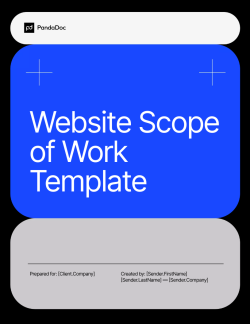 Website Scope of Work Template
A Website Scope of Work Template outlines the tasks, deliverables, and responsibilities required for a successful web development project.
Use Website Scope of Work Template
How to Write a Scope of Work Sample
Scope of work document templates help you organize the work from the very beginning. We provide a proven document framework for you to deliver high-quality projects on time and within budget. To write one, you need to keep the following in mind.
Provide an overview of the project and its goals. This should include a brief description of the project, its purpose, and the expected outcomes.
Fill it out only with the essential information.
The final record must have all the work-related details that matter to the final result.
All agreements, as well as the time and cost terms, should be spelt out clearly. Don't leave any space for potential misunderstandings later on.
Your sample scope of work template should be clear yet easy to read. Ensure its grammatical and contextual accuracy.
Take your time to write out all the considerations. If your customer or partner objects to any of them, then you will be able to revise the document so they agree to sign it eventually. If done well, you will guarantee a seamless business process until the final result.
FAQ
A scope of work template is a document that helps you clarify the terms and conditions on the project delivery, no matter what industry you are operating in. It serves as a legal paper that contains the amount of work and other partnership nuances pre-agreed by both parties.
A scope of work is the information block in a legal agreement that aims to describe the project in detail. It comprises nuances of how to complete the essential tasks in accordance with the time, cost, and other requirements. It must be agreed by all parties that put their signature on the final version.
A scope of work template should include the project purpose, an overview of goals, deliverables, tasks to be completed, a timetable from start to finish, and key touchstones. It may also contain information about the payment method, cost assumptions, and acceptance conditions (e.g. examination, validation, assessment, etc).
To create a scope of work free template with PandaDoc, you need to pick the template or use the search tab to find the one that suits your needs most. Then, you can customize it by entering all the necessary information. Once it is completed, feel free to download it in PDF or send it to the intended person online.