Loopio is a leading RFP response software designed to help businesses respond quickly to requests for proposals.
The platform employs a formidable list of features, including automation tools and a content library to drastically improve the time it takes for sales teams to generate proposals and send them back to potential customers.
But even though Loopio is a good tool, it's not the only show in town. Here are 13 Loopio competitors that you should consider if you want to get more out of every proposal.
Let's take a look!
How we sourced our data
We take pride in providing our readers with high-quality objective information, which is why we closely examined over 30 different online resources to compile these details.
This includes reputable peer-to-peer review websites, online articles, as well as SaaS websites of each solution mentioned in this comparison piece.
To ensure smooth and convenient data sourcing, we've split the data into four different cohorts, based on the amount of unique monthly website visitors:
>250.000 visits;
100.000 – 250.000 visits;
50.000 – 100.000 visits;
<50.000 visits
Websites from the first quarter enjoyed a higher score because of better authority and were given priority in this comparison article. Lower cohorts received less priority and were additionally vetted to ensure maximum informational integrity.
Relevant sources we cited and explored during our research and data sourcing process include:
Bear in mind that we used the above-mentioned sources to gather objective, factual information such as features, integrations, and pricing. All conclusions and thoughts in this article have been given by our hard-working team of experts.
01. PandaDoc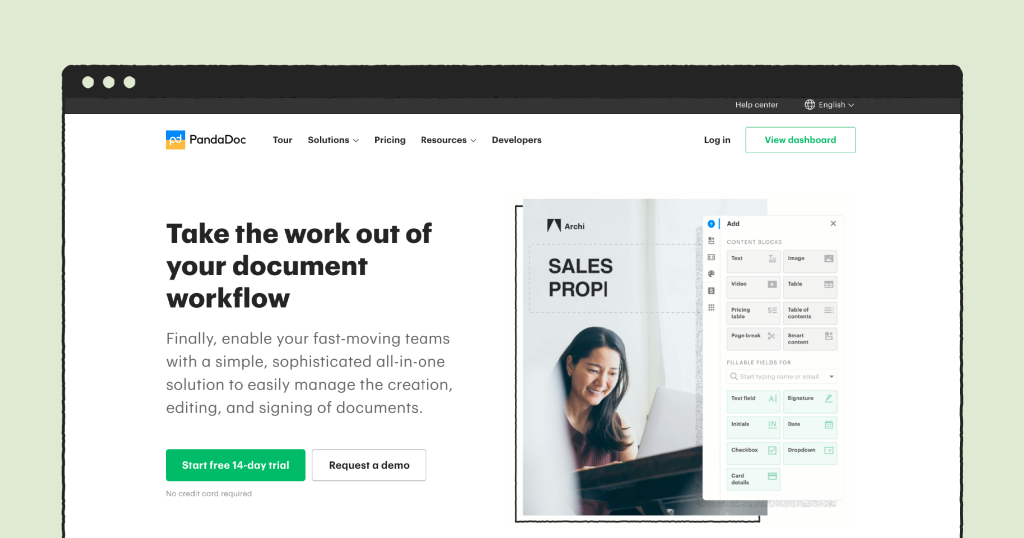 Ease of use: 4.6/5
Functionality: 4.8/5
Support options: Email, knowledge base, chat, training, account manager, template conversion
Free trial: 14 days. Free plan also available
If you're looking for an all-in-one RFP response and proposal software all rolled into one, PandaDoc is a great place to start.
Equipped with powerful content management tools, PandaDoc makes it easy to create and customize proposal templates, handle all forms of contract management, and more while optimizing your RFP response process.
PandaDoc handles acts like an RFP automation software tool through the use of the content library, which allows you to build blocks of content and quickly insert them into your proposal response.
This helps you generate responses to RFP questions quickly and easily.
Most proposal automation tools would stop there, but PandaDoc brings more to the table. Using PandaDoc, you can integrate with your CRM so that you can manage your documents and integrate customer profile information at the same time.
PandaDoc also handles all aspects of contract management, from document generation all the way to payment processing, which can streamline your sales operation and help your teams close deals more quickly.
Want to give it a try? Click here to sign up for a free 14-day trial with the PandaDoc Business plan.
How it's different from Loopio
If you're comparing PandaDoc to Loopio, there are some significant advantages and disadvantages in both directions.
Loopio has a big advantage in how it uses automation software to help teams answer RFIs and RFPs.
When an RFP is uploaded to Loopio, the platform AI will search the document and then offer answers from the built-in content library that you've already prepared.
While you can customize these answers, adding them to the document is fast and easy and can help to save your team when they've answered the same security questionnaire or due diligence questions in the past.
While this is a manual process with PandaDoc, you can still pre-load your answers into the content library and add them to your RFP response in short order.
However, PandaDoc shines in other ways. As an RFP software solution, PandaDoc brings onboard electronic signature and payment processing tools, as well as the ability to collaborate with procurement officials through in-document commenting and negotiation.
This means that any outstanding questions or issues can be solved quickly. Deals can be signed and payments can be processed without ever leaving the document.
Like Loopio, PandaDoc also offers document and team analytics tools so that you can use metrics to monitor output and results on every proposal.
Both apps integrate with Salesforce and Microsoft 365, but PandaDoc offers additional integrations for CRMs, payment, storage, and productivity.
2. RFPIO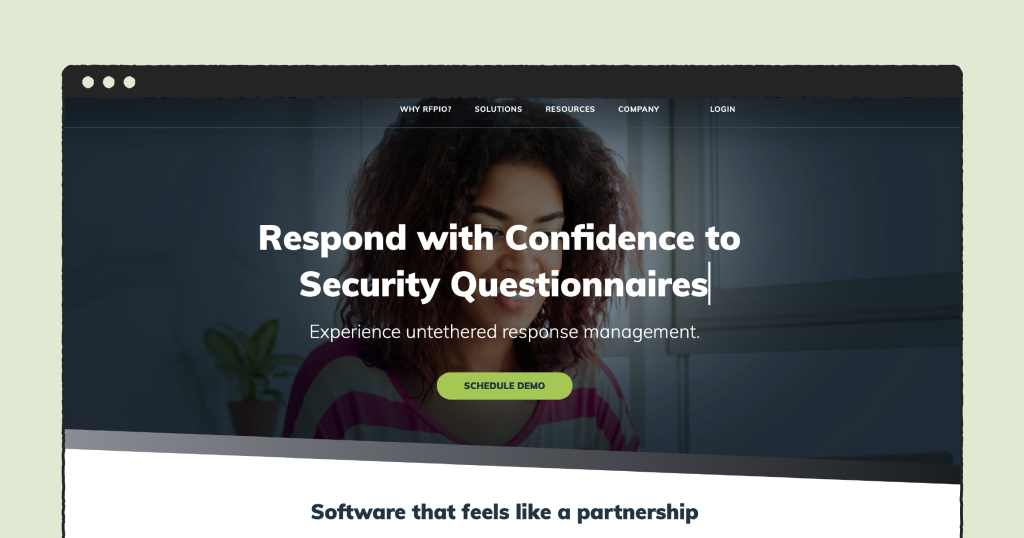 Ease of use: 4.5/5
Functionality: 4.5/5
Support options: Email, knowledge base, chat, phone, training
Free trial: No
An RFP response software designed for high-performing teams, RFPIO works by allowing you to consolidate the expertise of your SMBs into your RFP response workflow so that project managers and sales teams can respond quickly and push to close deals in record time.
In cases where you've already added unique and winning content to your library, onboard automation tools can automate responses so that your team has more time to focus on training, development, and building strong relationships.
When SMEs aren't available, proposal and project managers can also access the knowledge database to complete proposals on their own, eliminating unnecessary delays when trying to respond quickly.
These and other capabilities inside RFPIO are critical for teams who want to deliver top-notch customer service in record time.
How it's different from Loopio
Both Loopio and RFPIO approach RFP management from a similar angle. In many ways, it's down to preference rather than a clear winner.
RFPIO offers additional features, including risk scoring and the ability for 4th-party assessments — features that you don't see in Loopio at all.
The interface is simple and straightforward, which makes proposal management simple and easy from the start.
On the other hand, while Loopio isn't as feature-heavy, its template features and answer library are top-notch.
When comparing both products equally, the similarities between them make RFPIO an obvious contender for individuals who are looking for something similar to Loopio without straying too far from a familiar piece of software.
3. Qvidian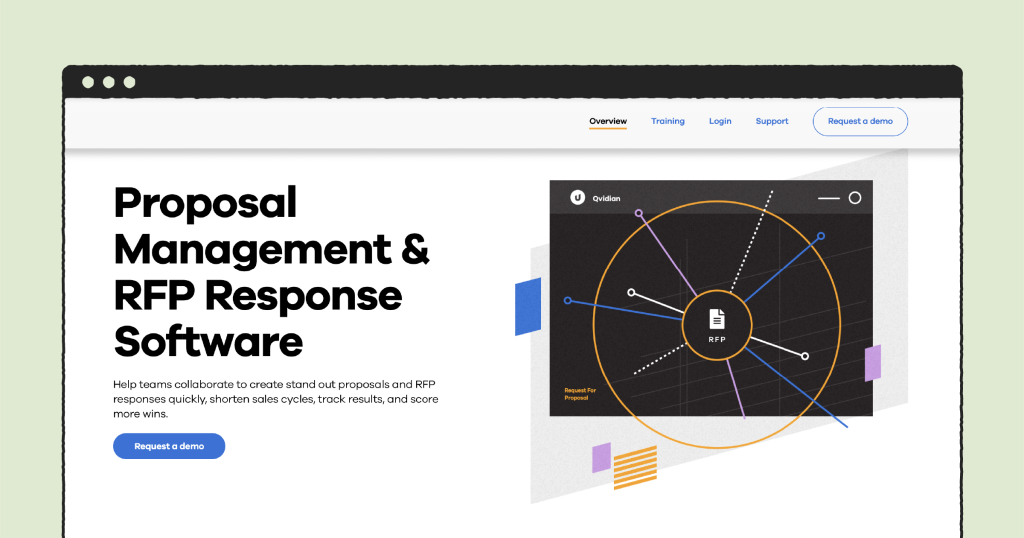 Ease of use: 3.8/5
Functionality: 3.2/5
Support options: Email, knowledge base, chat, phone
Free trial: No
Qvidian is an RFP management software that offers powerful automation tools and a cloud-based content library for all RFP-related answers and messaging.
Many of the RFP question and answer processes are automated by AI-driven document parsing, meaning that the software will do most of the heavy lifting for you when it's time to complete the RFP.
Of course, Qvidian doesn't stop there.
As a proposal and CPQ software, this platform gives you the ability to transform your RFP responses into a customizable proposal, offering real-time document previews so that you can adjust layouts and formatting on the fly.
You don't even have to start from scratch, thanks to the onboard template library.
Once your content is sent, you'll have access to analytics and dashboards so that you can track the status and performance of your proposals and build custom reports from those results.
How it's different from Loopio
Qvidian is part of Upland Software, an organization with an arsenal of business tools aimed at multiple facets of the corporate market.
As a result, Qvidian offers a sense of scale that targets it more toward enterprise-level organizations rather than small- to mid-market businesses.
While that doesn't mean that Loopio is an inferior product, it does indicate that Qvidian is part of a more robust family of products and services that may be able to support you beyond RFP-related needs.
Overall, Loopio is generally seen as easier to use, with a greater selection of functionality and tools available for sales teams attempting direct response for RFPs.
While Qvidian is definitely something to consider if your organization is looking to scale, it may offer a smaller feature set when compared to Loopio, which stands alone as a single-product solution rather than as part of a product family.
4. RocketDocs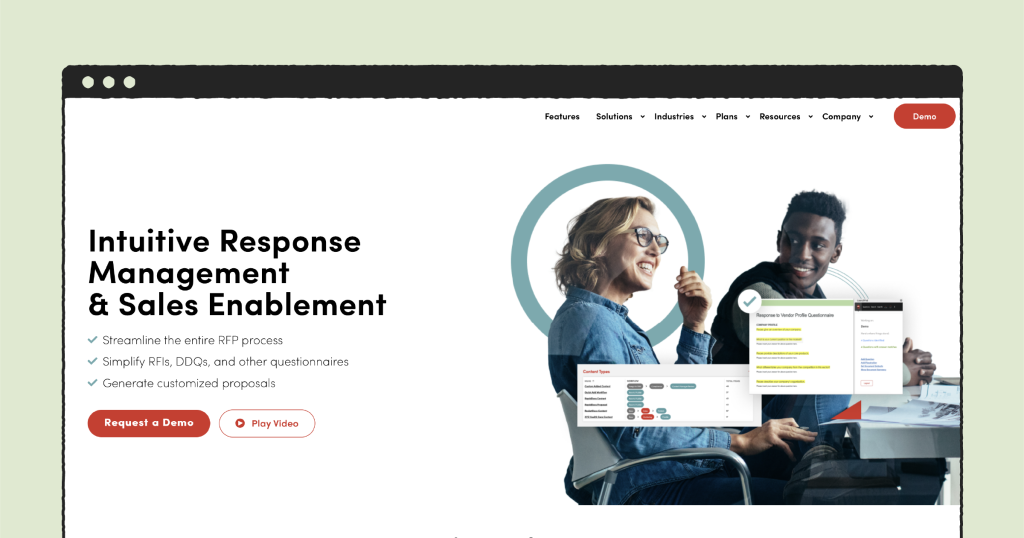 Ease of use: 3.9/5
Functionality: 3.9/5
Support options: Email, knowledge base, chat, phone
Free trial: No
RocketDocs bills itself as the leading collaborative response management platform for quickly completing RFPs.
Like many of the other options on our list, this application leverages an online content management system, automated-AI tools, project management dashboards, and more to keep everyone on the same page when filling out RFP responses.
With a searchable content database, integrations for Microsoft Word and Excel, and Salesforce, this platform aims to meet you where you are so that you can do work on your own terms.
Of course, if you'd like additional help when it comes to formatting and designing your sales proposals, RocketDocs can help with that via the RapidDocs Proposal Generator, an add-on that leverages your content library to generate proposals and other sales materials.
How it's different from Loopio
Overall RocketDocs and Loopio are quite similar. They offer a selection of comparable tools that can help everyone from startups and small businesses to larger teams quickly streamline their RFP response workflow.
But RocketDocs takes a slightly different approach when it comes to what's actually offered, and that seems to be the case for everything from data security all the way to proposal generation.
While RocketDocs does offer many similar features, they seem to be split between RocketDocs and the RapidDocs generation platform.
To truly complete, you'll need both, which is why RapidDocs is included in the RocketDocs Enterprise plan.
At the core level, which is aimed at smaller users, you'll still get response automation, but you'll be working primarily in Microsoft Word with the add-in tool.
It's also worth noting that RocketDocs offers add-ons and upgrades like customized onboarding. Loopio offers self-guided training that seems more robust than what you'll see with RocketDocs, however.
5. Proposify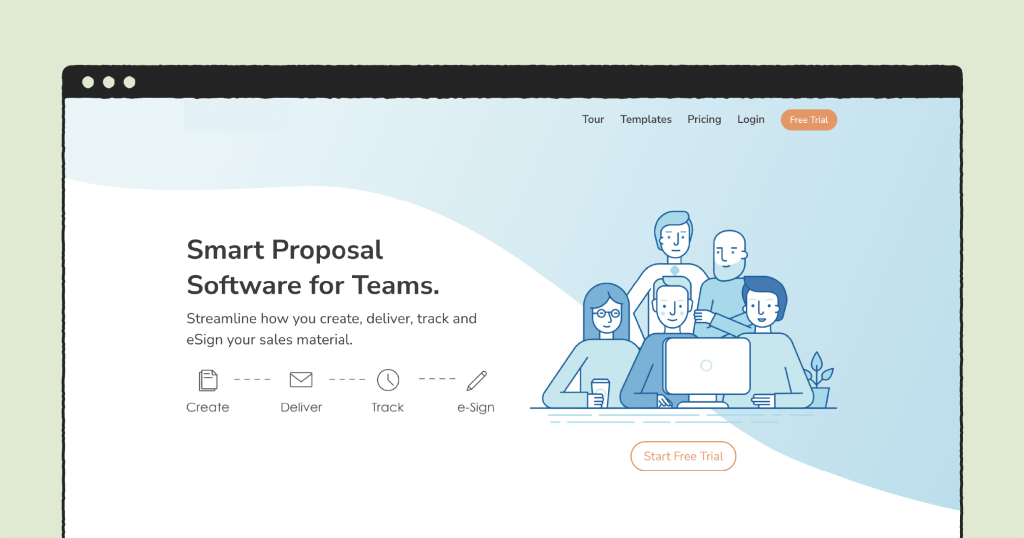 Ease of use: 4.3/5
Functionality: 4.4/5
Support options: Email, knowledge base, chat, training, template conversion, phone support
Free trial: Yes
Proposify is a proposal management tool that helps users create, track, and manage proposals for their business. The tool is designed to be easy to use and intuitive, so you can focus on what matters most: winning new customers.
With Proposify's drag-and-drop interface, you can easily add new sections and other elements to your proposals.
You can also customize the look of your proposal with a variety of fonts, colors, and other visual elements that reflect your brand's style and identity.
When you're done creating your proposal, Proposify will store it in your cloud-based database so you can access it from anywhere at any time.
This gives you the flexibility to share documents with partners or clients whenever necessary.
How it's different from Loopio
Compared to Loopio, Proposify is designed more for proposal generation than for RFP response.
While the platform does offer a content library and a robust collection of document management tools, you won't find a ton of automation when it comes to answering DDQs or security questionnaires.
On the other hand, Proposify offers payment collection and e-signature tools, so you'll be able to consolidate documents more easily and with more user-friendly tools, rather than relying on rudimentary proposal generation like what you're more likely to see with Loopio and other RFP generation tools.
Similar to PandaDoc, Proposify will bring a collection of features designed to help your sales team move beyond RFP response.
It might not be the best fit when you're trying to minimize the amount of time you spend dealing with RFPs, but if you're looking for more of a middle ground between RFP optimization and proposal generation, Proposify is a good fit and definitely worth a look.
6. Conga Composer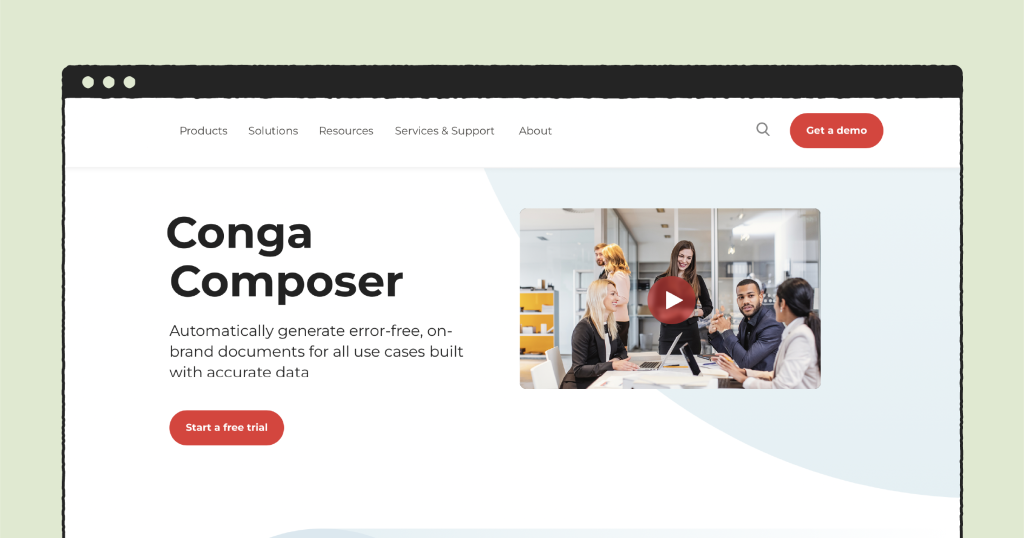 Ease of use: 4.3/5
Functionality: 3.8/5
Support options: Email, knowledge base, chat, training, phone
Free trial: No
Conga Composer is a complete document generation solution that provides you with the ability to build and publish documents from scratch.
Using Conga Composer, you can generate documents based on your business processes and customize them to meet your unique needs.
You can also automate common tasks, like adding fields to forms or generating reports, so they're ready when they're needed.
But Composer is just one slice of a much larger software lineup, which includes 13 separate products to help businesses succeed.
With Conga Composer, you'll be able to generate customized proposals and sales documents with ease, so that RFP response is fast, simple, and easy.
How it's different from Loopio
The key difference between Conga and Loopio really comes down to the tools available for automating RFP response.
If you're looking for a more traditional, AI-based solution around RFPs and RFIs, Loopio is probably a better choice.
Much like Qvidian, Conga becomes more viable at scale because it's part of a much larger family of products that can all work together to help your team achieve more.
However, even if you're using the entire Conga umbrella, you still won't see automated parsing tools that will help you build custom proposals in the same way that Loopio does it.
Conga can do a ton of great things, especially around document automation and customization. How Loopio and other specialized RFP-response tools work to automate RFIs is unique in that regard.
As you move toward more robust or wide-ranging software solutions, it's possible to lose some of these unique features.
7. Ombud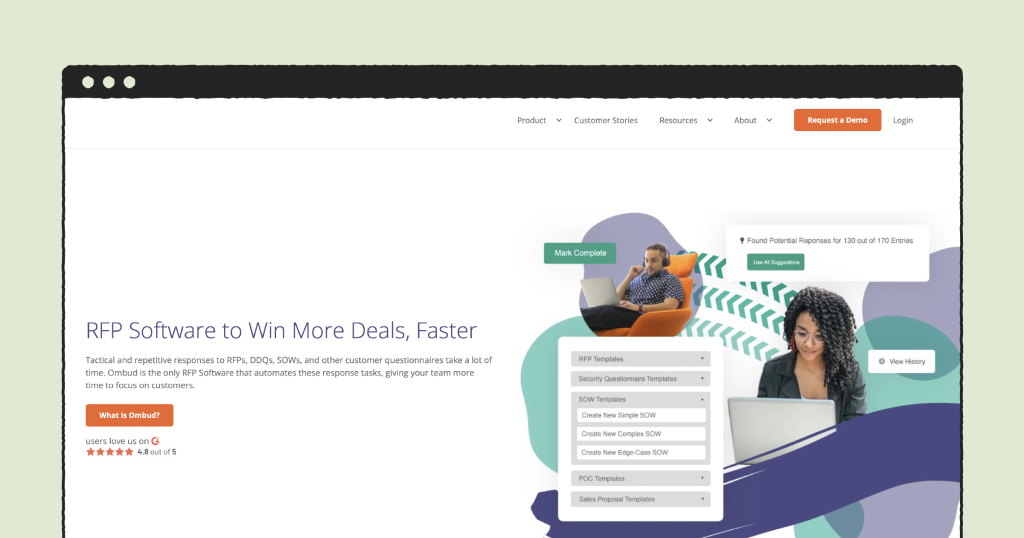 Ease of use: 4.6/5
Functionality: 4.8/5
Support options: Email, knowledge base, phone
Free trial: No
Ombud handles automated responses to RFPs, DDQs, SOWs, and other questionnaires that tend to be a major timesink for your team.
The content library can handle everything from personalized responses to rich media, videos, and branded content to help you put your best foot forward with each and every proposal.
When it's time to create a sales proposal from your RFP responses, Ombud switches from RFP response to proposal personalization and tracking, utilizing custom variables and templates to make responses simultaneously faster and more targeted to potential customers and their unique needs.
Plus, with powerful analytics tools, you'll be able to track reader progress and see where users are focusing and what matters most to them.
How it's different from Loopio
Even though Loopio is the more established brand in this sector, Ombud is no slouch when it comes to RFP response.
The tool offers many of the same features that you'll find in Loopio, including machine learning that allows the automation tool to take the first pass on every RFP request in order to further decrease response time.
Special emphasis is also placed on the ability to handle proofs of concepts, statements of work, and similar documentation that can feel redundant when it needs to be recreated.
While Ombud does have a different look and feel, its approach is similar to Loopio in terms of execution and anyone coming from Loopio into Ombud will find a similar toolset at their disposal.
8. QorusDocs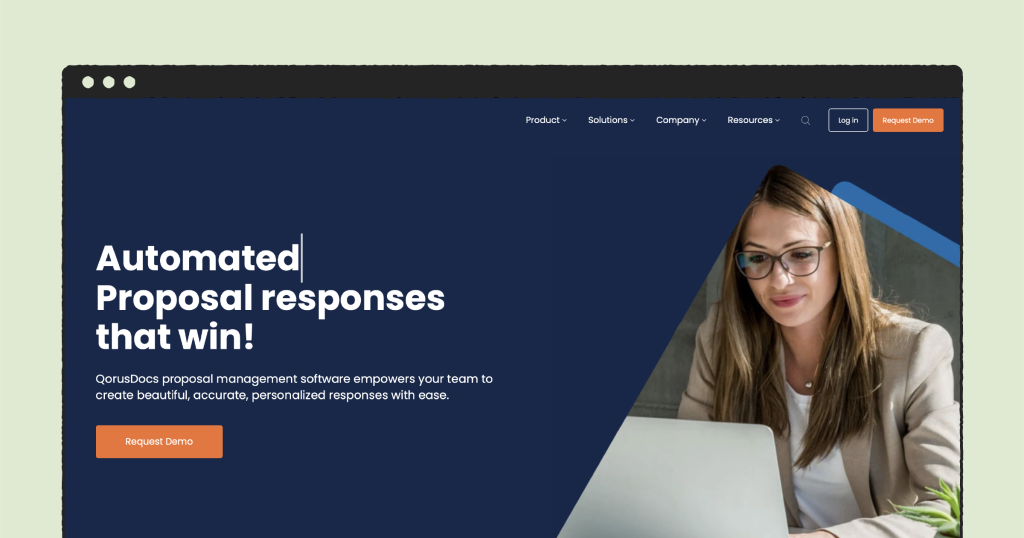 Ease of use: 4.2/5
Functionality: 4/5
Support options: Email, knowledge base, chat, training, phone
Free trial: No
QorusDocs tries to find that perfect balance between RFP response software and proposal generation.
The platform is equipped with RFP automation tools and auto-answer technologies, along with proposal tools that integrate easily with the entire Microsoft Office suite.
Like most of the other Loopio competitors on our list, this platform is primarily aimed at providing a turnkey solution that expedites the RFP and proposal generation process, but that extends beyond pressing a few buttons and getting a branded proposal.
QorusDocs is also equipped with tracking and reporting tools, as well as CRM connections and API access that make it stand out both from the perspective of functionality and workspace integration.
And access to those extra tools can be a game-changer for the right organization.
How it's different from Loopio
Compared to Loopio, QorusDocs is aimed more toward an enterprise market segment.
The tools are designed to scale with a vast number of users, and the integration with Salesforce and Microsoft makes this solution a great fit for many brands.
QorusDocs puts extra emphasis on proposal generation when compared to Loopio.
RFP response automation definitely plays a major role in how documents are generated, but it's important to note that the Q&A, as well as the collaboration that follows, happens entirely in Word, Powerpoint, and Outlook.
In this way, QorusDocs meets your team where they are, using tools that they're most comfortable with.
The platform also implements some form of machine learning and will improve your content over time in order to help you drive engagement and boost your win rate.
It's a cool feature that, along with the ability to handle statements of work and security questionnaires, makes QorusDocs a great Loopio alternative.
9. Qwilr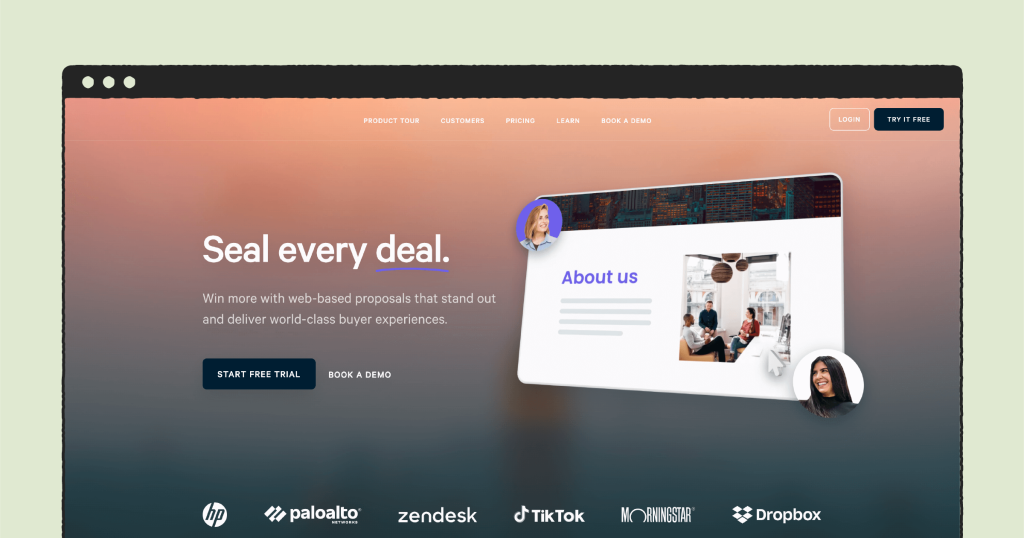 Ease of use: 4.3/5
Functionality: 4.4/5
Support options: Email, knowledge base, chat, training, account manager, template conversions, phone
Free trial: Yes
Qwilr is unique among proposal software solutions because the premise of the platform is to help users design web-based proposals that look great and work well on any device.
You won't find as much about RFP response here — although the platform does offer a content library for fast and easy responses.
Instead, you'll find a battery of design and layout tools geared toward helping you generate sleek proposals that are easy to read and understand.
Depending on your business model and how you operate, Qwilr could be a proposal tool that feels like a breath of fresh air or one that you rule out immediately when searching for the perfect RFP response solution.
How it's different from Loopio
Probably one of the most unique solutions on our list, Qwilr is vastly different from Loopio both in terms of its approach and its overall objective.
While Loopio is focused on RFP automation and response, Qwilr is aimed at creating web-based proposals that look and feel great when viewed through any web browser.
Despite that key difference, you'll still find a ton of overlap here.
For example, both platforms offer a content library, collaborative editing options, analytics and tracking, and the ability to integrate with Salesforce and other apps.
Qwilr also allows for PDF export and white labeling, which can be essential if you need to email your RFP response rather than send a web link — Qwilr's preferred approach to handling all proposals.
If you're looking solely for RFP automation, Qwilr probably won't be the right fit for you, but it's still a formidable proposal software tool for companies looking to offer great-looking proposals in cutting-edge formats.
10. Dealhub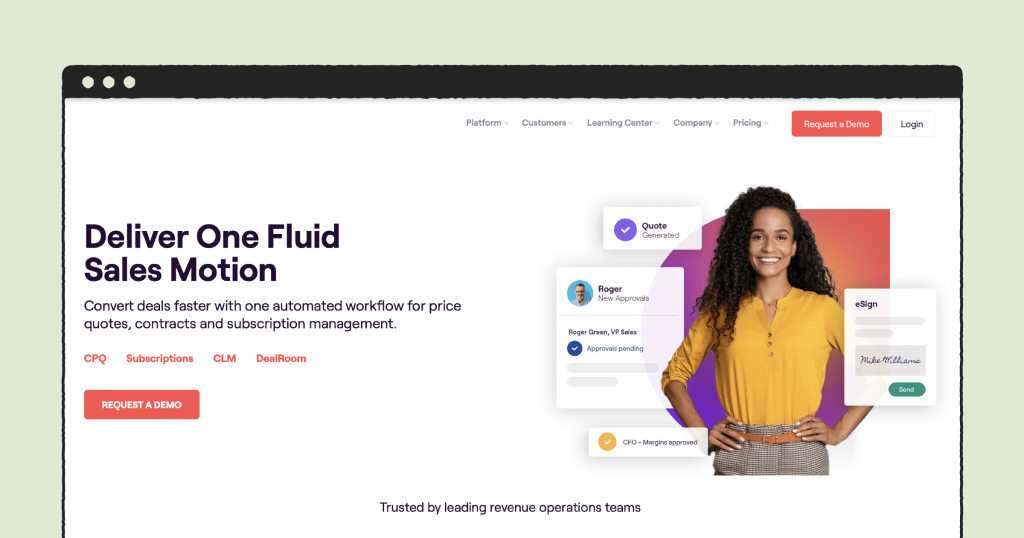 Ease of use: 4.6/5
Functionality: 4.3/5
Support options: Email, knowledge base, chat, training, account manager, template conversions, phone
Free trial: No
Because Dealhub is designed as an end-to-end revenue solution, it's often a good fit for users looking for help with RFPs.
The software comes with everything from guided selling playbooks and contract lifecycle management tools all the way to analytics and CPQ solutions that can help you get deals over the finish line.
Dealhub lacks response automation, but it makes up for that with a battery of tools designed around moving deals forward in ways that more focused RFP solutions simply don't cover.
On top of all that, Dealhub is particularly adept at subscription management.
From automated renewals to billing APIs and discount management solutions, the platform is chock-full of features that are aimed specifically at RMR and SaaS businesses.
If you fall into that category, Dealhub can easily become far more than an RFP response solution.
How it's different from Loopio
In many ways, Loopio is more specialized than DealHub, both in features and functionality.
Loopio handles RFP response very well, and the tools that it brings to the table are centered around transforming RFPs into proposals and sending them out as quickly as possible.
Even though DealHub is more generalized in its approach, it still has many of the same features.
You can generate sales proposals from your content or resource library, build effective and branded templates, and collaborate your team to formulate excellent responses.
But beyond that, DealHub just keeps going.
Data collection from forms, sales and deal rooms for negotiation and finalization, e-signing solutions, and even more allow DealHub to step out of its role as an RFP-only software and give your sales team the ability to handle a much broader range of contracts.
That's a powerful solution, and a necessary one if you ever think you'll need to generate a proposal without an RFP.
11. Avnio RFx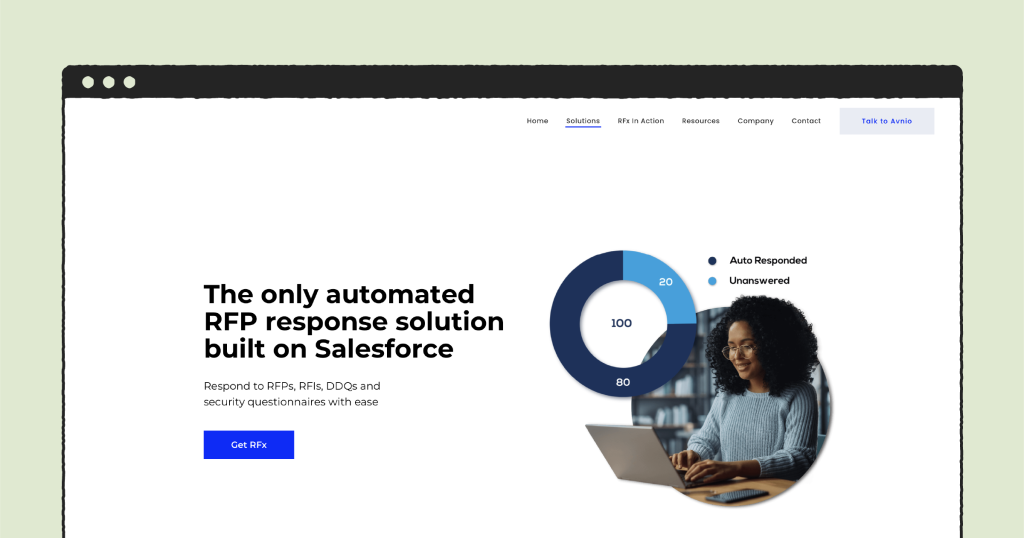 Ease of use: 4.8/5
Functionality: 4.9/5
Support options: Email, knowledge base, phone
Free trial: No
Avnio RFx bills itself as a single source of truth for your business, especially when responding to RFPs, RFIs, DDQs, and security questionnaires.
The app is an interesting take on automated response software because, while it still utilizes a response library and go/no-go decision making when it comes to RFPs, it's built on top of Salesforce and 100% integrated with the platform.
That has some upsides and downsides compared to similar software solutions.
A Salesforce subscription is required, of course, and this app isn't operating as an independent platform in the way that other Loopio competitors might.
On the other hand, Avnio is well-integrated, so using it within Salesforce just feels like a natural extension of your Salesforce interface anyway.
If your team already relies on Salesforce, that tight-knit integration might make this platform the perfect solution for you.
How it's different from Loopio
The biggest difference between Avnio and Loopio is simply that Avnio is so closely integrated with Salesforce.
While Loopio does allow you to use Salesforce data in order to automatically create, track, and report on Loopio projects, it's not as closely integrated as Avnio.
You can add any type of document to Avnio, which will parse and upload it into your Salesforce account.
From there, Avnio will automatically fill out content and then send out notifications to team members so that they can review the automatically generated content.
This is similar to Loopio's Answer Magic, where the AI draws from your resource libraries and answers questions automatically.
But it's all happening inside Salesforce rather than through another platform or outside of your CRM workspace.
Lastly, Avnio comes with Avnio Assistant, a messaging tool that integrates with Teams and Slack. This tool helps to push your team along through the response process.
Your team can ask Avnio Assistant questions, and the tool will get back immediately with answers that your team can use to formulate technical responses, allowing them to quickly close the loop on outstanding RFPs and get to close even faster.
12. Catapult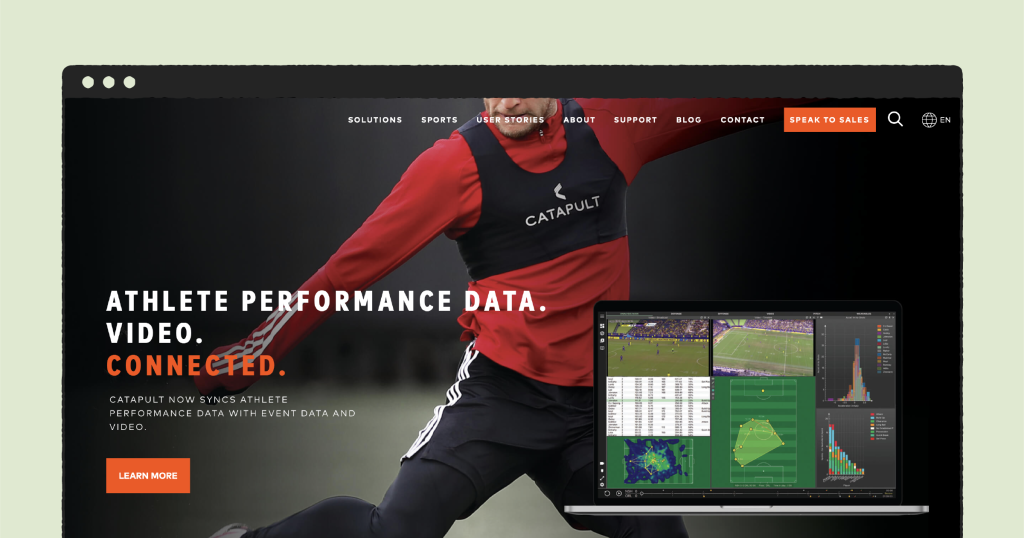 Ease of use: 4.4/5
Functionality: 4.6/5
Support options: Email support, knowledge base, chat, template conversion, phone support
Free trial: No
Catapult seeks to eliminate time-consuming processes and transform your RFP workspace into something a little more standardized.
The tool can generate RFP responses based on pre-existing answers, report on RFP progress, and help you launch your RFP response platform with templates designed for every industry.
In addition, you'll have access to great document analytics and insights to help you better understand team priorities as RFPs move through the response process.
At higher pricing tiers, you can also take advantage of responder automation, CRM integrations, and custom branding that you won't see on the basic team plans.
All of these features can expedite and scale your response process across your entire organization.
How it's different from Loopio
While both Catapult and Loopio offer similar features, Loopio brings quite a bit more to the table at the lower end of the pricing tier.
With Catapult, the ability to leverage pre-built industry templates and responder automation tools won't take place until you're on the business plan.
This is fundamentally different when compared to Loopio, which offers more robust automation tools and review tools early on.
That's not to say that Catapult is subpar in any way. The app offers a slew of standardization and automation tools to help any business build a stronger RFP process.
However, you may need to step into the higher tier before you see many of those basic features at scale.
13. Expedience Software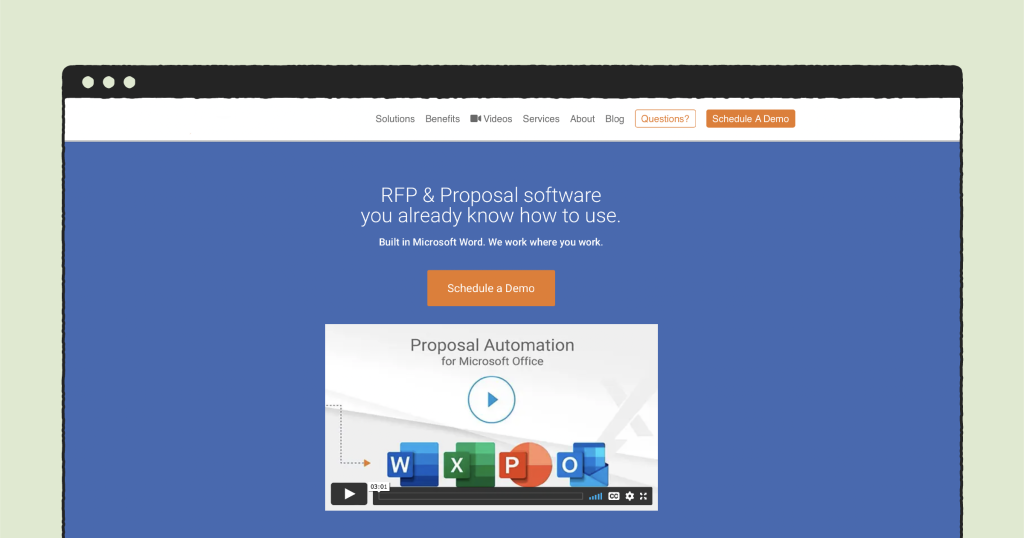 Ease of use: 4.8/5
Functionality: 4.7/5
Support options: Email, knowledge base, chat, template conversion, phone support
Free trial: No
While Experience offers many of the features you'll see from other Loopio competitors, it's got one distinct feature that sets it apart from all the rest.
While most of the RFx software you'll see on the market today is purely based in the cloud, Expedience is designed exclusively for Microsoft Word and Microsoft Excel.
You don't need to upload your proposal to an online portal or learn a completely different interface. Instead, all Expedience tools are built within Word and can be easily accessed through the ribbon at the top of the interface.
That's huge because it means that all of your critical content responses never leave your control. You don't need to upload proprietary and critical information to the cloud. Instead, you can keep it within your network and out of harm's way.
The extra security, combined with the customization, makes Expedience a solution to note if you're more interested in working with Microsoft Word rather than through online platforms.
How it's different from Loopio
Expedience's Word-centric focus sets it apart dramatically from Loopio and other RFP proposal software tools.
While the app does lack some of the AI-based autofill tools, it works hard to strike a balance between security, speed, and automation.
Proposal writers can still select key answers from a content library.
Plus, the fact that the proposal is developed in Word means that it's easy to customize and personalize any proposal in a way that feels genuine to the customer.
As you might expect, Loopio's position as an offline sales tool also restricts some of the collaboration and finalization tools that you might see with other proposal software options.
Just like Loopio, Expedience doesn't offer a great way to handle e-signing or payment collection. You also won't see much in the way of analytics and reporting.
Instead, this software is built to optimize your RFx workflow by meeting workers where they are and using software that they already know quite well.
So what's the best Loopio alternative?
With so many options to pick from, finding the best Loopio alternative for your business can be a major challenge.
That's especially true because every organization is a little different. Many of the Loopio competitors on our list provide similar services to what you'd see in Loopio.
Figuring out where they're different and how those subtle changes affect your business workflow really comes down to trial and error.
With that in mind, RFP response solutions don't offer a free trial where you can test drive the software and see if it's right for you.
Fortunately, that's not true for PandaDoc.
While you can certainly sit down with us for a software demo, it's not a required step if you just want to test the software and see if it's right for you.
Sign up for a free 14-day trial with our Business Plan and see for yourself how PandaDoc handles RFP response and proposal automation.
We think you'll be thrilled by what you find.
Disclaimer
Parties other than PandaDoc may provide products, services, recommendations, or views on PandaDoc's site ("Third Party Materials"). PandaDoc is not responsible for examining or evaluating such Third Party Materials, and does not provide any warranties relating to the Third Party Materials. Links to such Third Party Materials are for your convenience and does not constitute an endorsement of such Third Party Materials.