When it comes to tasks like preparing contracts or other business documents, it might seem like there's no alternative to having employees spend hours repeatedly drawing them up.
Wrong! This isn't just boring and repetitive — it's also bad business sense. Instead, you should use automated templates to optimize the contract creation process.
In this article, we will look at what automated templates are, their essential elements, how to create them, and why you definitely should.
Key takeaways:
Make document creation and management more efficient by using automated templates.
Achieve an improved collaborative process by integrating your templates into a larger automated workflow.
Produce documents quickly, increasing productivity and leading to better consistency.
Simplify your operations with solid contract management software.
What are automated templates?
You probably already use some form of template to speed up your operations, but automated templates are optimized to work in an automated workflow system.
These pre-designed documents are perfectly tailored to make document creation, customization, and management as efficient as possible.
An automated template includes the necessary content and formatting, with placeholders that can be replaced or customized to meet your specific requirements.
With most legal documents featuring similar content, this can save businesses a lot of time.
Using a template also means that departments without legal expertise can easily add the relevant data to legal documents, allowing contracts to be produced without always needing input from specialist team members.
What really makes automated templates shine, however, is that you can integrate them into a larger automated workflow using workflow automation software.
This enables businesses to link their templates to other documents and leverage features such as approval workflows and multi-person editing — making for a more efficient collaborative process.
Key elements of an automated template
While you're probably already aware of the main parts of a contract or other business document, here are the critical elements of an automated template that allow you to simplify the contract process.
1. The main content
A lot of your legal documents will be populated with identical copy (think about the boilerplate terms and conditions that make up the majority of NDAs, for instance).
While you have to be careful to leave space for any specific differences to be added, the most significant part of an automated template is its repeatable primary content.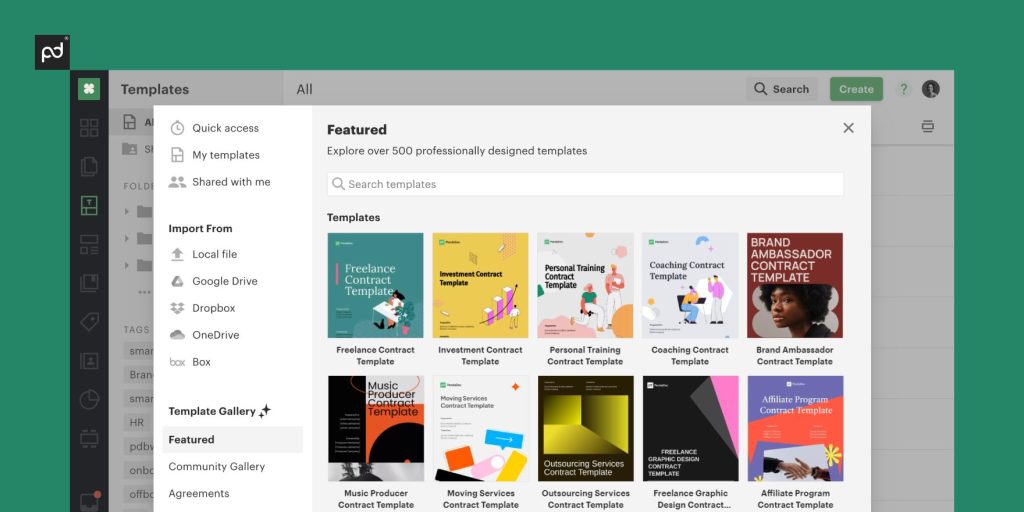 2. The variables
The parts of a contract that need to be unique to each version are called smart fields.
These will usually include changeable factors such as dates or the names of the parties involved in the contract.
To make automated templates as simple as possible, smart fields should be formatted so that users can easily fill them in.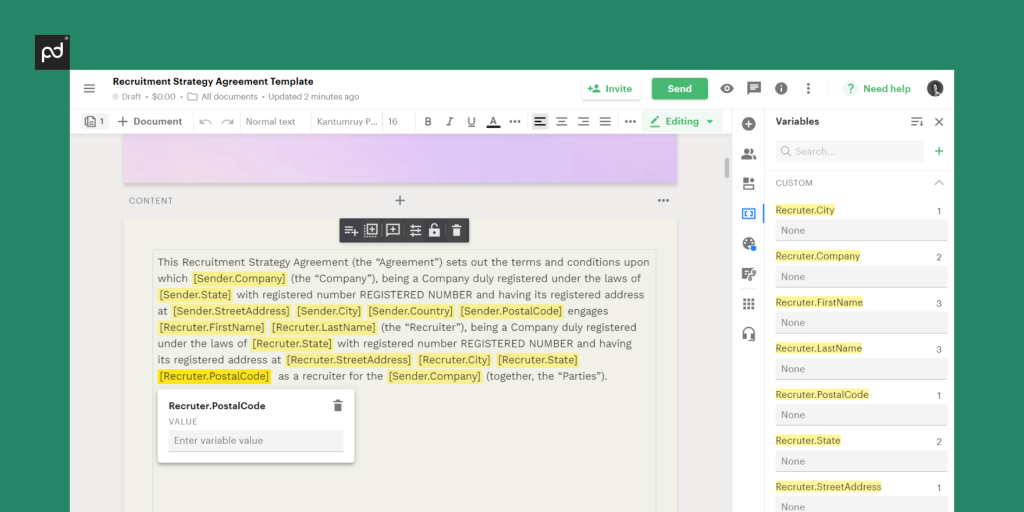 3. Smart content
With smart content, you can set rules that automatically update the content or fields to your customers' needs with minimal mistakes.
You can ensure that the correct information is added to your documents without wasting time searching for content.
PandaDoc, for example, has conditional logic built into its templates which pull in the necessary content and information.
Dynamically populate content library items based on variable values when generating a document from a template.
How to create automated templates
With automated templates vastly improving the speed of the contract creation process, it's no surprise that more and more organizations are trying to work out how to create effective document templates.
Fortunately and with the right software, this can be a straightforward process.
1. Find the best tools for the job
There are several different automation platforms available to use, so it's crucial to find one that fits your company's requirements, culture, and budget.
You might consider using a platform like PandaDoc, which includes extensive document editing tools to meet your every need.
2. Design your template
Once you've got the right software, you have to design a master document. Start by outlining the basic structure of the contract, separating it into different sections and headings.
Remember that this document will be used as the basis for multiple contracts that your partners and clients will read, so make sure it's formatted correctly and uses professional fonts and stylings.
3. Incorporate your variables
When you design your template, use placeholders in areas where specific data will need to be entered.
These can be simple placeholder phrases or programming variables that can be automatically altered with the correct code.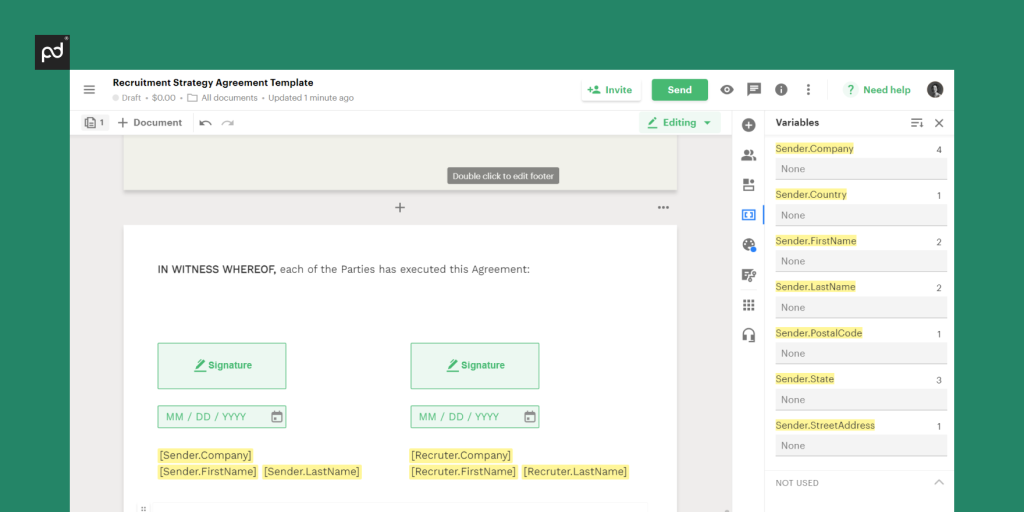 4. Define and integrate data sources
If you want to fully automate the document production process, you can connect your template to external data sources.
This might include using CRM systems or databases to populate your template with the correct data automatically.
Sometimes, you might want to integrate data sources that operate on a different platform to your template.
This may mean using APIs to support data convertibility.
5. Test your automation process
The last thing you want is to waste time producing documents that are full of errors or the wrong data, so it's crucial to test the automation process before you begin to use it in your day-to-day operations.
6. Distribute the template and train your team
Once you're confident that you've got an accurate and effective automated template, share this with your team.
The original will usually continue to be owned by legal so they can make any necessary adjustments, but it should be accessible to anyone who needs to use it.
Of course, not all employees will know how to automate documentation, so it's vital to provide training on this if you want your new tech to be as effective as possible.
How automated templates can help streamline your workflows
There's no doubt that automated templates can make your company run much more smoothly.
With documents produced quickly and accurately, you'll see rapid productivity increases and improved consistency across your documentation.
You'll be able to send contracts to clients in minutes rather than days while also ensuring that your legal team is much more dynamic as they're free to focus on more demanding tasks.
The upsides of using automated templates can be enhanced even further by integrating them into a wider automated workflow.
This will streamline your organization to the nth degree and allow you to make the most of automation technology.
Benefits of an automated workflow
So, what are the benefits of using automated templates as part of an automated workflow?
1. Efficiency
As well as making the document creation process more efficient, a fully automated workflow allows elements of your company, such as task assignment and approval workflows, to be streamlined.
This reduces the time spent on these simple tasks and improves productivity.
2. Accuracy
Regardless of how skilled your employees are, human error is an unavoidable risk inherent in any task performed manually.
When you produce documents individually, you also inevitably have inconsistencies. An automated workflow reduces the chance of mistakes and improves consistency.
3. Visibility
Document tracking and reporting features are usually built into automated workflow software.
This allows managers to track performance in real time and ensures your workforce is being effectively optimized.
4. Collaboration
One of the biggest benefits of document automation is the ability for multiple team members to work collaboratively on the same document simultaneously.
With all work taking place on one platform, employees can easily collaborate, whether in the office or working from home.
5. Scalability
When business operations are dominated by manual tasks, company growth is limited by your human capital.
With an automated workflow, however, you can better adapt to a growing organization, with automation software easily accommodating increased amounts of data and a greater volume of tasks.
Help streamline your workflows with PandaDoc automated templates
If you started this article unsure about how to create an automated document, you should now be much more confident about automating one of the most inefficient and time-consuming tasks in your organization.
By finding the right automation software, designing your documents with placeholders and variables, and testing your automated contracts, you'll soon see the benefits of an automated document process.
This will help you to vastly simplify your operations and send out documents more quickly, boosting productivity, cutting costs, and building your company's reputation.
So, how can you start automating your workflows? PandaDoc's automated templates offer a simple and easy-to-use tool for your company.
Whether you want to write a contract from scratch or customize an existing template, you can use PandaDoc to produce and edit documents that can be easily inserted into your streamlined workflows.
This includes access to collaborative tools so that multiple team members (e.g., both legal experts and salespeople) can work together to produce documents that work for everyone in your organization.
There's no doubt that automation is the key to more streamlined workflows — and there are few better places to start than with the help of PandaDoc.
Disclaimer
PandDoc is not a law firm, or a substitute for an attorney or law firm. This page is not intended to and does not provide legal advice. Should you have legal questions on the validity of e-signatures or digital signatures and the enforceability thereof, please consult with an attorney or law firm. Use of PandaDocs services are governed by our Terms of Use and Privacy Policy.