Contractors working on particular projects may be required to sign a confidentiality agreement or a non-disclosure agreement (commonly referred to as NDA).
These two terms are mistakenly used interchangeably sometimes. However, they refer to two distinct concepts, each having its own particularities.
To make things simpler for you, we have decided to prepare an article explaining all the differences between a confidentiality agreement and an NDA, as well as brief instructions on how to create each of them.
After analyzing over 1 500 written agreements sent using the new and improved PandaDoc, we have noticed that parties that trade secrets tend to make some mistakes when it comes to creating the document.
One of the most commonly encountered issues is related to the involved parties not fully understanding the need for an NDA, without a confidentiality agreement being involved.
What is a confidentiality agreement?
A confidentiality agreement is a legal contract usually signed by two inequal parties (for example employer and employee).
The main purpose of this agreement is to require one of the parties to maintain a certain information secret. Depending on what exactly the two parties agreed, there are particular confidentiality clauses.
For example, an employer may include a firing clause that allows them to immediately fire that particular employee if certain business information is shared with other people.
One of the most common situations where a confidentiality agreement is used is related to enterprise-level businesses.
Multinational companies working operating all around the Globe have certain secrets that must be maintained safely. Therefore, people that are put into key positions must sign secrecy agreements.
Depending on the object of the contract, the time period can vary.
If you have an employee that is hired on a pre-determined period (for example 6 months), the agreement can last that long. On the other hand, you can also come up with a contract that includes a time-related clause.
Example:
The parties agree not to share any business information about all the projects conducted within the organization for an undetermined period of time.
The above-mentioned clause states that the employee is not allowed to share anything that happens inside the organization for as long as the contract is up and running.
When it comes to canceling the contract or making changes to the terms, one of the parties must forward a solicitation in order to inform the other party about their intention.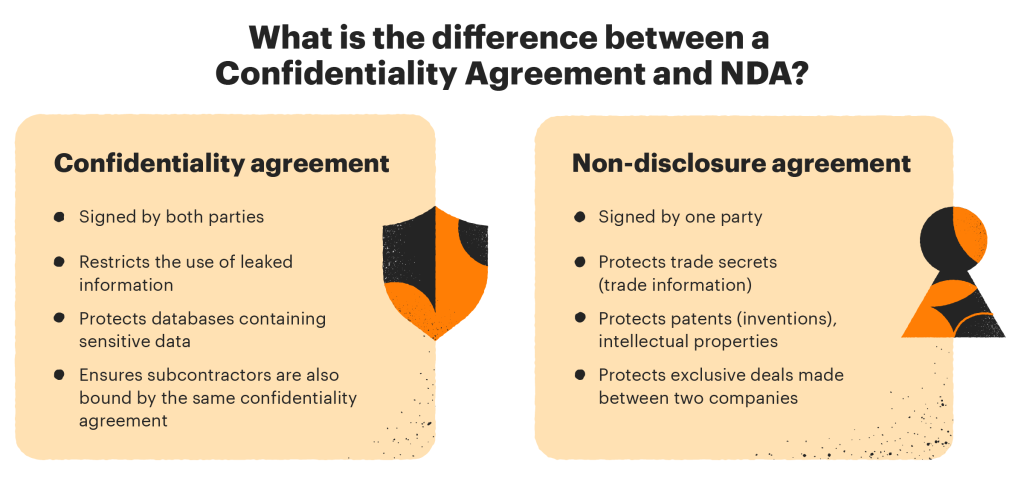 What is a non-disclosure agreement?
A non-disclosure agreement or an NDA is a legal document that maintains the security of the information shared with one of the parties. To be more specific, it is commonly signed by enterprise-level companies and their contractors.
For example, one big company offering services in the Marketing field works on the release of a particular project that was not announced to the public yet.
The owner of the business decides they need a contractor to deal with the digital marketing issues recently encountered but is afraid that key information about the project will be revealed to the public (or to the competitors).
Therefore, they decide to sign an NDA in order to maintain some rules regarding the disclosure of confidential information.
In the unlikely case when the receiving party (the contractor) performs an action against the confidential disclosure agreement, it may be legally attacked by a law firm regarding the proprietary information of the other party.
Another quite common situation where an NDA is preferred over a confidentiality agreement comes into play when potential investors put their trust in startups that are not yet launched.
These partnerships involve sharing of sensitive information or private information about a particular project. By sharing this information with a third party, the quality of the final product may be negatively affected. Therefore, confidentiality is required.
How to ensure your information is secured?
When it comes to making sure all the information you share with other parties involved in your project, is better to protect your intellectual property using legal documents.
Therefore, it is very important to be able to properly discuss, create and sign an NDA or a confidentiality agreement, depending on your company's operational needs.
Because the subject business relationship is quite a complex one, our experts have come up with a set of brief instructions on how to properly create a confidentiality contract. However, please note that this article does not represent legal advice.
Step 1. Identify sensitive information
The first step you have to perform in order to protect sensitive information is to identify it. You can not possibly take care of something without previously knowing what you are looking after.
Therefore, you must find out what type of information would make a difference if it would be shared with the public. Depending on your company's field of activity, key information may be different.
For example, if you are the director of a soda company that has been very successful during the past years, maybe you should protect the recipe behind your success.
One similar example includes restaurants that offer certain specialties that include secret ingredients. They would surely be mad if competitors found out what their secret ingredient is.
On the other hand, if you are the business owner of a car manufacturing company, you might want to stay silent about certain portions of your production process.
Otherwise, your competitors will surely benefit from knowing how you got such a powerful engine with the lowest cost on the market.
If you are not sure what type of information and exclusions you should include in your confidentiality and non-disclosure agreements, it is better to keep things very general.
For example, you can use the following phrase to use a comprehensive approach:
The parties must not share information about current processes.
This phrase will surely get a lot of things off your head and might save you from troubles one day.
Step 2. Create a written agreement
After deciding what exactly you should protect, it is time to come up with a written agreement for your joint venture collaborator.
Generally, an NDA and a confidentiality agreement contain basically the same information. Some of the required pieces of information that must be included in both contracts are:
The definition of the parties: Clearly explaining what parties are included in the contract (company name, representative name, business location, etc.).
The clauses: What responsibilities must be taken care of by each party.
The time period: Defined or undefined period of time that the contract is enabled.
Signature of both parties: Mutual acceptance by both parties.
Business owners that draft their own NDA or confidentiality agreement usually have to deal with a large volume of information.
Moreover, when having so many legal aspects involved in a process, it is very easy to misuse terms and make your contract unviable.
Hopefully, using a legally-accepted NDA template or a confidentiality agreement template will resolve the majority of the issues you may encounter.
For this part, you might want to use a document management tool. These tools work like a charm, especially when it comes to creating official documents and sharing them formally.
Some tools offer you the opportunity to use templates while others only let you create documents from scratch. However, most of them allow you to take advantage of many useful functions, such as eSignature, document tracking, and sharing capabilities.
Given the multitude of document management tools available on the market, making up your mind about what software to use can be a tough choice.
Create a written agreement with PandaDoc
PandaDoc is our best bet when it comes to creating, editing, sharing, and tracking digital documents. All these functions are available and can be successfully used by anyone who decides to pay for a subscription plan.
Depending on what exactly your company needs, there are 4 distinct pricing plans.
One of them is free and allows you to electronically sign as many documents as you want to, upload tons of text files and process payments digitally.
The other 3 subscription plans come up with particular benefits. For example, the first paid plan includes hundreds of templates you can use to create documents.
The next level includes Zapier and Customer Relationship Management (CRM) integrations. The most advanced pricing plan lets you enjoy an unlimited number of team workspaces as well as Salesforce integration.
Essentials
Business
Enterprise
$19 per month per user
$49 per month per user
Custom pricing solution
1. Unlimited legally binding eSignatures with audit trail
2. Unlimited docs and templates
3. Rich media drag and drop document editor
4. Real-time tracking and document insights
All the Essentials plan features plus:
1. Unlimited documents and eSignatures
2. CRM integration for HubSpot, Pipedrive and more
3. Content library
4. Custom branding
5. Approval workflows
All the Business plan features plus:
1. Single sign-on (SSO)
2. Salesforce and Zapier integrations
3. Team workspaces and custom user roles
4. Redlining and versioning
5. Performance reporting
Start a free trial
Start a free trial
Contact sales
However, the actual price of each plan gets higher and higher, depending on how many benefits your company needs.
NDA and confidentiality agreement templates
When it comes to working with written agreements, the physical distance and the limited time make us seek digital solutions.
A contract management software tool can save you hours (or even days) in terms of workflow. You can take advantage of pre-defined templates or create new ones. This helps you generate a contract within a few seconds.
One thing that complicates every company's workflow is the approval process. Smart and transparent workflows help your business become more effective and time-efficient.
Therefore, one thing to consider if you want your company to grow as rapidly as possible is to always adjust and optimize your workflow by eliminating bottlenecks.
Take advantage of the useful functions
The integrated chatting function lets you communicate effectively with all your collaborators without having to rely on third-party apps.
Say you have a digital marketing company and you have different subcontractors for web design, content writing, and search engine optimization.
Would you prefer to use different instant messaging apps or e-mail to get in touch with each collaborator? Or would you prefer an integrated chat function that allows you all to actively communicate with each other?
If you are not sure whether you should opt for a document management software tool, we highly recommend trying out all the functions yourself.
Fortunately, you can try out PandaDoc for as long as 14 days without a credit card. On the other hand, if you want to see the tool used at its maximum capacity, our experts would be happy to offer you a free demo anytime.
Step 3. Share the initial draft of the contract
The third step you have to perform is to share the draft of the contract with the other party. The proprietary information agreement must include all the terms negotiated with your collaborator.
Whether you use a confidentiality disclosure agreement (CDA) or a non-disclosure agreement (NDA), the things you have to include are basically the same: terms, conditions, and clauses about the disclosing party.
There are subtle differences between the two types of NDAs but that comes more to the legal field.
Also, it would be a great idea if you could track the document you send to your collaborator. This helps you make sure your draft was received, analyzed, and edited (if necessary). Fortunately, most contract management software tools offer you such functions.
Another quite interesting function offered by PandaDoc is commonly referred to as Contract Renewal.
It notifies you when one of your confidentiality agreements is about to expire and automatically prepares a new version that awaits parties signature.
This helps you prevent any issues or inconveniences that your company may encounter due to such a situation.
Fortunately, PandaDoc allows you as a business owner to share the initial draft of the contract within a few minutes. Thanks to the integrated NDA templates or confidentiality agreement templates, you can now reach this third step in no time.
What is more, the efficiency of your workflow will enjoy a beneficial effect, given the fact that the templates offer you a great point to start with.
No more legal aspects overlooked or typos. Simply fill in the required data and send your contract right away.
Step 4. Sign the document
The last step requires both parties to actively sign the written agreement.
Just like the previous step, the templates included in PandaDoc let you enjoy a faster and more effective workflow. These drafts include signature placeholders, where both you and your collaborators can sign digitally.
After making sure you have everything you need in matters of terms and conditions, it is time to validate the contract.
If you are currently using a document management tool as powerful as PandaDoc, you can take advantage of the eSignature function.
Thanks to the legally-binding electronic signature feature integrated into PandaDoc you can easily sign documents without having to worry about physically meeting your collaborator.
Even if you are on the go, you can simply make use of the mobile-based application (both Android and iOS) to sign documents. This works for both Word and PandaDoc documents so you do not have to worry about file compatibility.
What is more, the integrated tracking solutions let you know when your collaborator has received your signed contract.
Besides this, it actively notifies you when there is a change in matters of the status of the agreement. For example, if the other party requires the change of a particular clause, you will be notified right away.
The electronic signature saves you up to 12h per week and helps you increase your company's close rate by up to 28%. Moreover, the time required to create a document goes down dramatically by up to 65%.
Therefore, working digitally saves you tons of time and lets you focus on what exactly is important to you.
Conclusion
To put everything in a nutshell, confidentiality disclosure agreements (CDA) and non-disclosure agreements (NDA) are two similar concepts that have few subtle differences.
Depending on what exactly your company needs from such an agreement, you should stick to one of the two options.
If you are not sure yet whether such a tool would be really helpful for you and your business, we highly recommend trying out the 14 days trial kindly offered by PandaDoc.