You've probably heard the term shrinkflation bandied about over the past year, and you've definitely felt its impact at the supermarket.
Shrinkflation: When products like dishwashing soap or a bag of chips shrink in size or quantity or reduce in quality while the price remains the same or increases.
But what does shrinkflation have to do with virtual data rooms?
Shopping for a virtual data room (VDR) supplier can feel like shopping for groceries these days.
You're paying a lot but getting the same amount of product — maybe even less or a watered-down version.
VDR room prices can differ wildly across products and packages.
You want to get the most from your investment, so to help you narrow down your choices, we're going to take a thorough look at Firmex pricing to see how it stacks up in the VDR marketplace.
How we sourced our data
To break down the ins and outs of pricing for Firmex, we went right to the source—the Firmex subscription plans, what they offer, and how much they cost.
We decided to forgo customer reviews and review sites, instead opting for just the facts in one packaged article you can digest easily.
If you want customer feedback and reviews, that information is out there, we're just not focusing on it. We think you can make the best decision for your company based on the facts right from Firmex themselves.
In fact, we sourced all of our data for all the companies mentioned from their own sources, so you know exactly what you're getting from each VDR offering.
Firmex pricing overview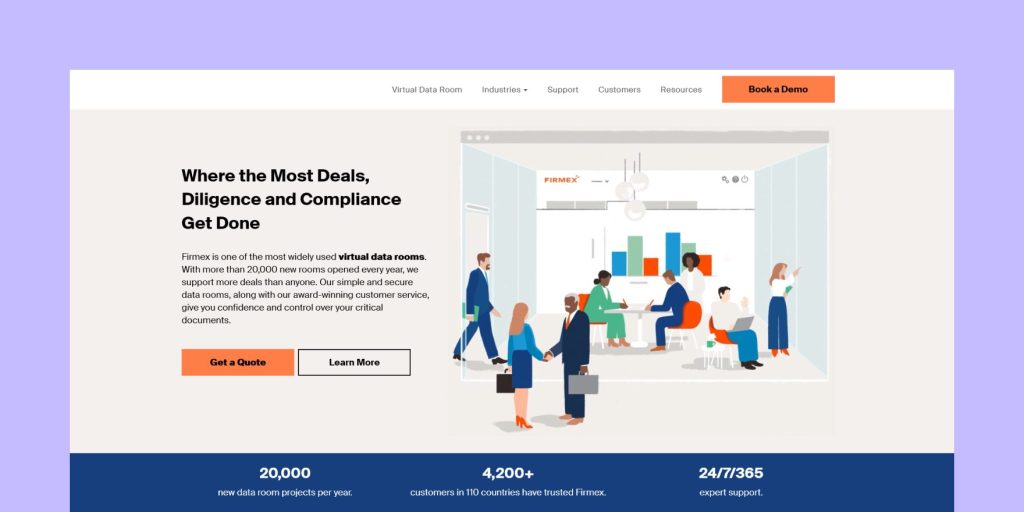 Firmex offers two packages: One annual plan and a less flexible short-term plan.
The short-term plan is only available for three months and up, so if you're looking for a one-month plan, you're out of luck.
Additionally, you can't sign up for a storage package of less than 1GB.
If you need an archive backed up on a USB, that's also going to cost you extra; $250 extra, according to review site datarooms-rating.org.
Moreover, every additional USB you need will cost you an additional fee.
For a fixed amount of time, between three and nine months, you can sign up for a Firmex plan that covers unlimited internal and external users and the use of one virtual data room.
Here's the virtual data room price plan breakdown for Firmex:
Three months and 1GB of storage: $2,500
Six months and 1GB of storage: $4,000
Nine months and 1GB of storage: $5,500
With an annual Firmex subscription, costs are based on the number of internal users or seats and the amount of storage needed.
With other virtual data room providers, like PandaDoc, there's less emphasis on storage and the number of users you can have and more focus on features.
PandaDoc offers a free plan with unlimited eSignatures and document uploads.
Once you enter into the tiered pricing plans, which start at $19 a month per user, you get features like 24/7 email and chat support and document analytics.
Between those two solutions, there's quite a difference in what you're paying and what you're getting when it comes to features that will streamline your workflow processes. 
Firmex data room pricing plans
With a Firmex free trial, you can test all of their features, but you may find there are missing tools that you want in your VDR solution.
Luckily, other VDR providers offer more tools that give you the complete VDR package.
Below are some of the features offered by Firmex and alternative providers, including mobile phone application abilities.
Keep in mind that these are all features available on Firmex's paid plans, which start at $2,500.
That's a steep price point just to get started with a VDR.
Most, if not all, of Firmex's competitors, start at much lower, accessible prices and include the same features.
| Company | Collaboration Tools | Access Controls | Version Control | Audit Trail | Customizable Branding | Mobile Use |
| --- | --- | --- | --- | --- | --- | --- |
| Firmex | Yes | Yes | N/A | Yes | N/A | Yes |
| PandaDoc | Yes | Yes | Yes | Yes | Yes | Yes |
| DealRoom | Yes | Yes | N/A | Yes | N/A | No |
| SecureDocs | No | Yes | N/A | Yes | N/A | No |
Let's dig into these features a bit.
As you can see, only a few offer mobile support.
With flexible teams becoming increasingly common, having a VDR solution you can use on the go is critical, especially when you're looping in external parties to sign time-sensitive documents.
You want to be able to say to a client or prospect that they can use their preferred device to sign something because your VDR provider supports iPad or mobile support.
On top of mobile support, you want a VDR provider that lets your company shine through and manage documents efficiently.
For example, with PandaDoc, you can customize your branding so all of your communications through PandaDoc match your company branding.
Once everything looks coherent with customized branding, you can count on PandaDoc to organize your documents with robust version control.
With version control, you don't have to worry about corralling all of your document duplicates.
They'll be organized together in one single, secure location, with your most recent version easy to find and access.
Introducing: PandaDoc data room
Before you share content, collaborate, or negotiate a contract, you'll need a room.
Creating a virtual data room with PandaDoc is pretty easy.
If you know what you want (maybe you've been in other virtual data rooms before), you can create your own room from scratch.
If you're not sure or new to VDRs, you can choose from one of PandaDoc's many room templates. Once you've created your room, you can share its existence via email or link.
Once your emails and links go out, you can start uploading documents and content.
If you're working on a sales process, you can create your own unique sales flow, guiding your prospect or client through promotional materials before you send out their personal invite.
Once the deal is complete, any documents can be reviewed, signed, and approved in your deal room—even with multiple docs and signees.
In a PandaDoc data room, you can rest easy knowing your paperwork is exactly where you left it.
You can keep all of your data, videos, sheets, and documents in one place and share them with anyone you need to.
Change user permissions as needed to make sure only the right people see each piece of content.
On top of all you can do in a PandaDoc data room, you'll also have access to all the other features and services PandaDoc offers. Here's a quick look at some of the services you can expect:
Create on-brand, legally-approved documents from scratch or templates
Collaborate on documents with internal and external participants with a variety of user permissions
Manage approval workflows and version tracking with ease
Sign documents electronically
Track who has opened, viewed, and signed any documents
See who hasn't opened, viewed, and signed documents
Get real-time alerts on everything happening with your documents
Access a document repository that lets you store, organize, and find documents all in one place.
With the PandaDoc data room and everything else PandaDoc offers as a document workflow solution, you don't have to worry about shrinkflation.
You'll get dozens of great features, cloud-based capabilities, and a secure, easy-to-use platform in one affordable package.
Weighing the right pricing plan: Firmex or PandaDoc
Firmex isn't a bad choice for a virtual data room, but it's not your best choice.
With the Firmex pricing model, you have to consider how many users need to use virtual data rooms and how much storage they need.
PandaDoc doesn't saddle you with the same limitations.
Looking at the two, it's clear that with Firmex, you're getting the same box of cereal but with less cereal inside.
Choose PandaDoc for your virtual data room needs, and never look back.
Disclaimer
PandDoc is not a law firm, or a substitute for an attorney or law firm. This page is not intended to and does not provide legal advice. Should you have legal questions on the validity of e-signatures or digital signatures and the enforceability thereof, please consult with an attorney or law firm. Use of PandaDocs services are governed by our Terms of Use and Privacy Policy.