An effective consulting proposal can be the difference between securing a contract or losing out on a prospective client, but not everyone recognizes the impact a consulting proposal can have.
What's the formula for writing a winning consulting proposal? We're glad you asked!
What is a consulting proposal?
A consulting proposal is a formal document a consultant sends to a new client that outlines the consultant's roles and responsibilities on a project.
Proposals set the tone for your budding relationship. When done right, your formal request will turn into a new client.
A proposal works similarly to a sales pitch, as it manages the other's expectations and declares that you can align with your potential client's needs.
It should include all relevant information regarding the project, like how you'll address the client's problems.
While a consulting proposal is typically focused on pitching the proposed project, it can include a contract or scope of work document to fast-track the process and close the deal in a single agreement.
→DOWNLOAD NOW: FREE CONSULTING PROPOSAL TEMPLATE
Business proposal vs. consulting proposal: What's the difference?
Since consulting proposals are frequently used in business, consulting proposals are often confused with business proposals.
The two documents are not worlds apart, but there are some differences.
A business proposal persuades an organization to buy a product or service. You would also write a business proposal a little bit differently.
For example, if you were writing a business proposal, you most likely would include similar information to what you would put in a bid, estimate, or quote in a more formal fashion.
A consulting proposal, on the other hand, is more focused on highlighting your prospect's problem and positioning you or your business as the solution in the process.
How an effective consulting proposal can increase your revenue by 600%
A consulting proposal is both a pitch and a resume, as it includes extensive information about the project and your experience.
Since consultants are considered experts in their field, prospective clients want to ensure the consultant has what it takes to complete the project.
A consulting business usually creates a single consulting proposal template that helps the consultant outline the project scope, project schedule, payment terms, and final deliverables.
To attract new clients for your consulting business, you need to start writing effective consulting proposals. Here's why you should use professional consulting proposal templates to get started.
Top-notch consulting proposals help prove you're an expert
If clients will still hire you without a proposal, what's the point of writing one? In a formal setting, professionalism takes center stage.
If you show up to your proposal meeting without a written proposal or even a contract, you're presenting yourself as untrustworthy, unorganized, and worst of all, unprofessional.
Having a proposal to share with the client shows you are prepared to address their business needs and have done all the required research to do so.
Consulting proposals clearly lay everything on the line
The best thing about a project proposal is its ability to summarize the scope of a specific project.
But keep in mind that you have to adjust your consulting proposal template to fit your potential client's needs.
If it's too generic, your clients may be confused about your services.
Consulting proposals can get you more clients
Clients expect a proposal to reflect their product or service while also accurately presenting a consultant's value proposition.
If either of these fails, they'll reject the proposal as ineffective, an outcome you don't want after spending all that time preparing it. Instead, what you want is to present a good proposal to seal the deal.
In fact, Consulting Success, an eLearning company that teaches consultants how to create profitable consulting firms, found that a well-written proposal can increase your revenue by 600%.

This number was pulled from the thousands of case studies they collected for their business.
The key elements of a consulting proposal to win a client's business
You need to know the "must-have" elements of a consulting proposal before you start adding the secret sauce that will take it from a 7 to a 10.
That means you'll need to get specific.
A great consulting proposal will include the following key elements, from project details to consulting fees to a project summary.
1. Cover page
A cover page is the front page of your proposal. It can make your proposal look professional.
2. Contact information and date
A formal letter or project proposal should include the date, your name, and the company, and the prospective client's name, role, company name, and company address on the cover.
3. Introductions
An introduction, greeting, or about section will address the client directly. It will act as the cover letter for your document.
Use this space to thank clients for choosing your consulting services.
4. Executive summary
The executive summary will briefly outline the project scope while also serving as a place to show off your proposed solutions.
Your consulting proposal template should include:
A summary of the problem in one sentence
The client's problem and why this problem is present
A list of solutions the potential client can choose from
The proposed start date
The proposed fate of completion
The total cost of the project
You should also add a disclaimer that the proposal was made with the information the client provided. This will prevent the client from adjusting the project's scope without your go-ahead.
5. Project objective or outline
Similar to the executive summary, in this section, you'll go into much more detail.
You'll also give new clients measurable insights into your end goals. For example, "improve ROI by 30%."
6. Deliverables
This section describes the scope of your consulting services and what you'll deliver to the client. Use this section of your proposal template to describe the end goal of the project.
7. Project fees and timeline
Use this section to break down what the project will cost and how long you expect it to take.
8. Consulting background
Any good consulting proposal will include a section that outlines the consultant's background, credentials, skills, and experience.
Big-ticket contract clients will typically only work with highly-skilled professionals, so you need to showcase your strengths as you would with a regular resume.
9. Terms and conditions
Some consulting services will create a proposal that includes the project fees and timeline in their terms and conditions, while others will use this space for the legal terms of the agreement.
For example, this SaaS sales proposal template separates the project's terms and legal terms.
10. Conclusion
All winning proposals end with a conclusion that thanks the potential client.
You should also invite your prospective clients to contact you. Add your number if it isn't on your cover page.
11. Signature
Unlike a verbal agreement, a written proposal will ensure the project's terms are clearly outlined and agreed upon once the client signs it.
As soon as both parties sign, you can start the project.
How to write a consulting proposal that stands out in 5 simple steps
The process of writing a winning proposal doesn't have to be complicated.
In fact, we can create an incredible consulting proposal that your prospective clients are sure to love in 5 simple steps.
Step 1: Talk to your client about the project
You won't know the extent of your prospective client's needs if you don't book them in for a discovery call. Ask your clients about the project's end goals, listen attentively, and take detailed notes.
Interruptions should be limited except for questions that clarify their business goals. Active listening makes you more likable and will help you create a value-based proposal.
For example, if you know your client wants you to boost their social media traffic significantly, you should show specific, relevant examples from other clients you've helped.
Don't expect prospects to see through fluff or decode a secret message. State it plainly.
That advice applies to your process, too. While we don't recommend giving away your trade secrets, you should show your client your process.
This helps them understand your project's timeline and builds trust in the relationship.
Key takeaways:
Practice active listening.
Take detailed notes.
Share relevant examples.
Shed light on your process.
Step 2: Judge a book by its cover
You only have one chance to make a good first impression, so start your consulting proposal off right with an attention-grabbing cover page and other design points.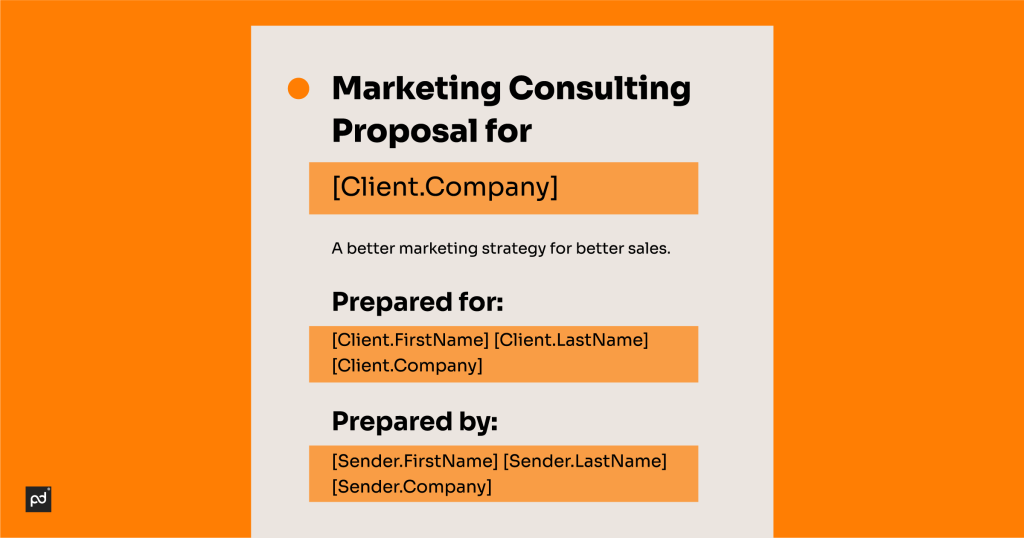 Besides the essentials like the client's name, company name, and address, make sure to include other relevant details (like their title), your brand colors, and your logo.
When your prospective client flips the page, they should be met with an introduction that:
Thanks to the prospective client for considering your services
Assures that you'll provide value to the client, thanks to your expertise
States why you're writing this proposal (in less than one page)
Assures the client that they can expect X, Y, and Z from your services
You can adopt a more casual tone in this section because it can establish a down-to-earth image that makes you approachable.
Keep in mind that your introduction shouldn't define the problem, so keep it brief. Use the space you have to respond to everything the client told you in the initial project meeting.
Key takeaways:
Add your brand colors and logo for an eye-catching opening
Inspire confidence with professional assurances of what the prospective client can expect
Keep it short and sweet; save the nitty-gritty details for later
Step 3: Define the problem
Your executive summary is where all the magic happens. It's where you demonstrate to your clients that you've done your research and diagnosed the issue correctly.
An effective executive summary pulls the client into your world and solidifies that you're the best person for the project. This part of your consulting proposal should start succinctly but grow in detail as you get to the project objective or outline page.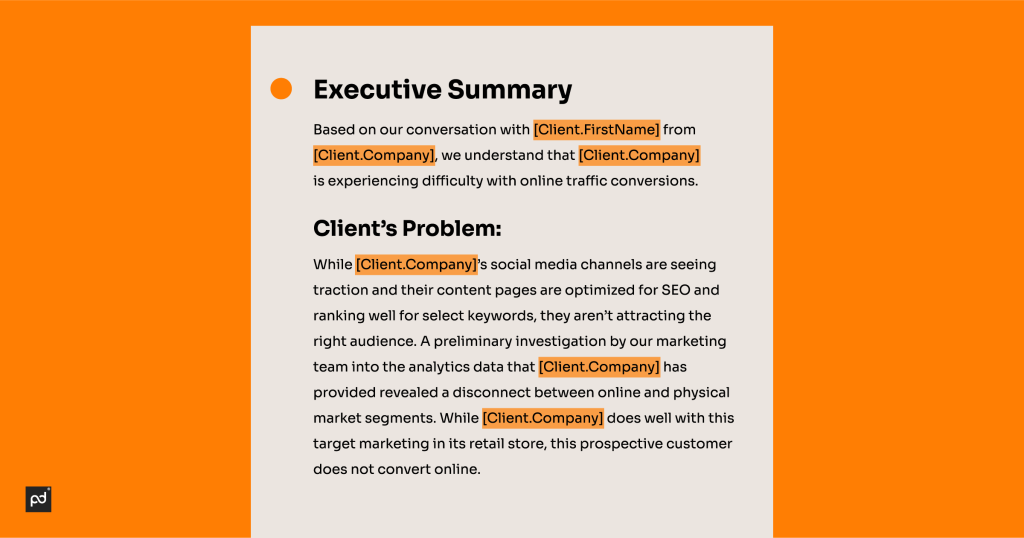 A project proposal summary should be placed at the top of the page. Here's an example:
"Based on the conversation with (client name), we understand that (client company) is experiencing difficulty with online traffic conversion."
This was pulled straight from our marketing consulting proposal template. This consulting proposal example is effective because it's short, sweet, and right to the point (you can also use it for free if you'd like!).
Once you've defined the problem, you can start being more specific. For example:
Say what they're doing right to inject confidence in their business strategy (i.e., they're attracting an audience with traditional ad spending, but not the right one).
Say what you discovered when you investigated the problem (i.e., the client is using the wrong keywords and is thus attracting the wrong market).
Say why their tactics aren't working (i.e., these keywords would attract buyers in a similar niche, but not the exact niche the client is selling to).
Now that you've described the problem in-depth, we can move on to a potential solution.
Key takeaways:
Demonstrate your research by identifying their problem
Give clear examples of what's working, what's not working, and why it's not working
→DOWNLOAD NOW: FREE CONSULTING PROPOSAL TEMPLATE
Step 4: Give a specific solution
At this point, your clients should agree that you've represented their problems perfectly and feel confident in your familiarity with the situation.
Now, they're more aware than ever that they need to come up with a plan to solve their businesses' pain points.
Your consulting proposal should list detailed steps that you'll use to reach your client's goals. However, you shouldn't go overboard here.
Suggesting a course of action with 3 to 5 steps can make your proposal less intimidating.
Here's an example of what the solution section in your executive summary may look like:
To solve (clients name) traffic conversion dilemma, we've come up with the following solutions:
Conduct a review of (client name) analytics and look at the potential market gap
Commence a content audit on (client name)'s social media and website
Rework (client name)'s SEO strategy, so it attracts the right audience
Develop a content strategy that blends content marketing with SEO
Incorporate branding throughout (client name)'s products and services
Now, you have to help your clients imagine what their business will look like with your help.
For example, you could say that based on the data you've collected from previous clients, your services will generate up to 200% more visitors by the next quarter.
Finally, state what your deliverables are (exactly what you'll give to the client over the course of the project) and outline the proposed start date, date of completion, and total costs.
If your project is more detailed, you can create a project objective or outline page that talks specifics. While you won't need this page for most small projects, large projects that take months or even years to complete will require an in-depth project proposal template, like this one from PandaDoc.
Key takeaways:
Suggest a 3-5 step action plan that will solve the problem
Demonstrate the value this action plan will generate with data if possible
Clearly state important items like deliverables, start and end date, and total costs
Step 5: Draw them in and knock them out
If you followed the steps above, your proposal has done its job, and your prospects should be ready to sign on the dotted line. But, there's no harm in giving your clients one last little push.
The final section should include your consulting background, relevant skills, credentials, and experience. It should state why the members of your consulting firm are the best people for the job.
All of this should help drive the point home that your client would be losing out if they don't choose you!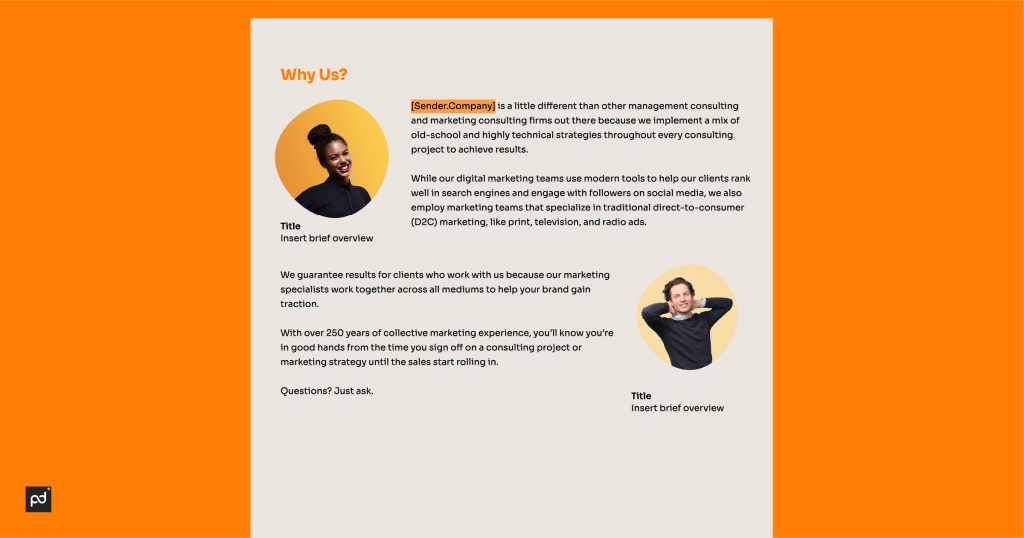 These last few pages might include a pricing table, project milestones, and a scope of your work if you didn't already add this information to your executive summary or your project objective page.
You should set up your terms and conditions section like a contract. For example, state what governing law will apply during a dispute or what will happen during a minor dispute.
Finally, end your proposal with a conclusion and a call to action. State clearly what steps your prospective client should take to reach you if they need more information.
Make sure that all parties sign the proposal or a separate contract before formally starting the project.
Key takeaways:
Sell, sell, sell yourself with your history of results, special skills, and credentials
Wrap up with any necessary information you haven't already added like pricing or terms
End strong with a clear call to action that drives the prospect to make a decision
3 Best consulting proposal templates that are free to use
If you want to start generating leads and closing deals right away, we suggest using one of our templates as a shortcut to a surefire consulting proposal.
The following examples are just what your prospective clients are looking for.
Template 1: Consulting proposal template
Writing a winning proposal is a lot of work, but this sample consulting proposal example can help you get to the finish line faster.
This formal document can protect you and your business in case of a dispute.
Сonsulting agreement template
In this simple consulting proposal template, you'll be able to outline your consulting projects and your proposed solutions in a clear, logical structure.
If you're a consultant that isn't in a specific niche and you need to write something up quickly, use this free consulting proposal template.
Template 2: Marketing consulting proposal template
Marketing agencies can write the perfect consulting proposal with this template.
If you want to learn how to write the perfect marketing proposal, start by looking at this optimized template.
Marketing consulting proposal
In this sample, you can fill out a summary, outline the client's problem, and come up with a proposed solution.
This can show clients you've done your research. Whether you're a web developer, SEO expert, or marketer of any kind, use this entire document for your next proposal.
Template 3: Recruitment proposal template
Our last sample consulting proposal template is perfect for government agencies, startups, and nonprofits looking to use a recruitment agency to find talented employees.
Recruitment proposal template
With this proposal, you can write a brief overview of your company and show clients a complete list of your services.
You'll also find information like payment structures, payment terms, and pricing samples all on the same page, which makes your services easier to understand.
Final thoughts
Whether you're looking to attract more prospective clients or develop a stronger working relationship with a potential client, a strong consulting proposal can take your results to the next level.
Successful consultants need an arsenal of the right tools to build trust in their clients.
As far as consulting proposal tools go, you can't go wrong with our document management software.
Not only can you complete 87% more documents every month, but you can also send and receive signed proposals instantly from our ESIGN and UETA-compliant platform.
But don't just take our word for it. Sign up for a free 14-day trial and see for yourself!
Disclaimer
PandDoc is not a law firm, or a substitute for an attorney or law firm. This page is not intended to and does not provide legal advice. Should you have legal questions on the validity of e-signatures or digital signatures and the enforceability thereof, please consult with an attorney or law firm. Use of PandaDocs services are governed by our Terms of Use and Privacy Policy.