In an era dominated by email and instant messaging, international faxing remains vital for global communication.
This medium of transferring files and messages offers a secure communication channel that reduces the risks of fraud or hacking.
That's why businesses and public agencies rely on it for sending information to recipients abroad.
And, obviously, faxing documents internationally significantly increases the speed of delivery compared to sending them by regular mail delivery or other postal services.
This article explores the intricacies of international faxing.
Want to find out the benefits and formats of international fax codes? Read on!
What is international faxing?
International faxing refers to sending documents between different countries or regions.
It involves transmitting printed documents over telecommunication lines to a receiving fax machine, where they are reproduced on paper.
While traditional faxing uses physical machines and telephone lines, modern online solutions allow users to send documents digitally.
Sometimes, they make it possible to send multiple pages from your mobile devices.
International faxing enables individuals and businesses to exchange contracts, invoices, and other written communication across borders.
You can use a faxing solution to file your taxes, even from another country.
Why send faxes internationally?
Here are some reasons why faxing is still a thriving means of communication for international and multinational companies:
Security
While email and other online communication channels can be vulnerable to hacking and data breaches, faxing offers a more secure means of transmitting confidential information.
This is especially crucial when dealing with regions exposed to security issues and fraud risks.
Legality
Certain countries consider faxed documents the only legally acceptable form of evidence in court. In the US, you might need to provide a physical copy of your tax returns to the IRS.
Accessibility
You can send documents from anywhere if you can find a working machine.
And even better, you can now use digital faxing solutions to send essential documents from your laptop or mobile device.
Remote-friendliness
Piggybacking off the accessibility point earlier, international faxing is the perfect addition for companies with remote employees.
And even though they are in remote regions with limited internet access, they can wire documents via physical devices.
Productive communication
International faxing allows for seamless communication and document exchange.
By increasing the speed of delivering documents to recipients, your business can reduce the timeframes and shipping costs involved.
In general, you need international faxing if you want to share and receive documents with people outside your geographical location.
For that, you'll need a dedicated international fax number.
What does an international fax number look like?
An international fax number contains a code for international dialing, followed by the country code, area code (or city code), and local number.
It's important to note that the specific format varies based on the country you are dialing from and the destination country.
For instance, when someone in London is faxing to an international number in NYC, the number would resemble this format: [+ or 011] [country code]-[area code or city code]-[local number].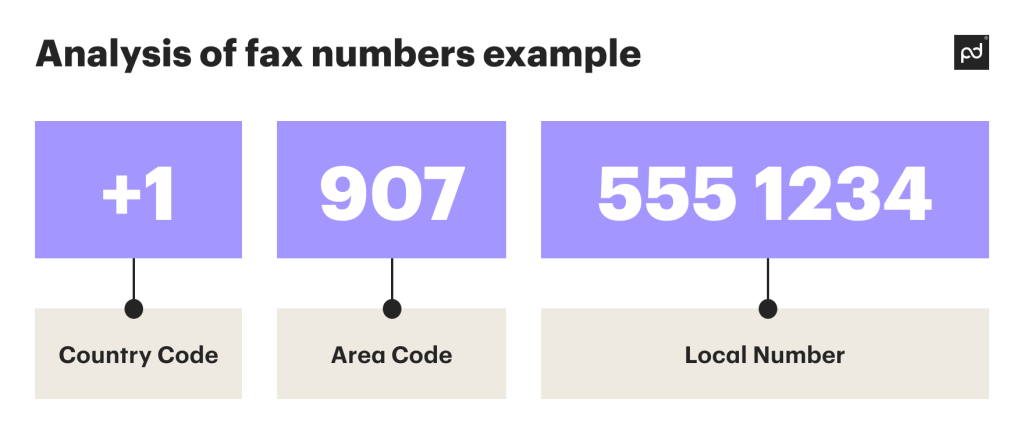 A fax number for correspondence with a U.S. number might appear as +1-907-555-1234.
You typically don't need to enter a dial-out code if you are dialing from a home or small office without a switchboard.
However, it's advisable to double-check the code as some numbers may already include the necessary prefix or country codes.
To know the exact code you need to use, you must figure out the international number zone the intended recipient resides in.
International number zones
Different regions and countries have assigned country codes within various numbering zones.
Here are the standard number zones and country codes you should know for international faxing:
Zone 1 – North American Numbering Plan Area
Countries within this zone are assigned faxing international codes as if they were all within one country.
+1 – Canada
+1 – USA, including U.S. territories:
+1 684 – American Samoa
+1 787 / 939 – Puerto Rico
+1 – Many Caribbean nations
Zone 2 – Africa
+20 – Egypt
+230 – Mauritius
+234 – Nigeria
+27 – South Africa
+299 – Greenland
Zones 3/4 – Europe
+33 – France
+34 – Spain
+380 – Ukraine
+44 – United Kingdom
+49 – Germany
Zone 5 – Latin America
+509 – Haiti
+52 – Mexico
+54 – Argentina
+55 – Brazil
+57 – Colombia
Zone 6 – Southeast Asia and Oceania
+60 – Malaysia
+66 – Thailand
+61 – Australia
+685 – Samoa
+64 – New Zealand
Zone 7 – Eurasia
+7 – Russia
+7 6xx / 7xx – Kazakhstan
Zone 8 – East Asia
+81 – Japan
+82 – South Korea
+850 – North Korea
+852 – Hong Kong
+86 – China
Zone 9 – Central, South, and Western Asia
+91 – India
+966 – Saudi Arabia
+92 – Pakistan
+974 – Qatar
+971 – United Arab Emirates
Obviously, this list is abbreviated; you can get a comprehensive list of zones and codes from online repositories.
How to get an international fax number
Obtaining an international fax number is a straightforward process.
First, contact your provider to request an international number for personal or business use.
Then, they will assign you a number based on the dialing codes specific to your country, state, and local municipality or section of the city.
This ensures that your number aligns with the appropriate geographic location.
Next, complete the registration by providing identification details, including your name, Social Security number (SSN), and email address.
Finally, follow the instructions provided by your provider to verify and link your email address to your newly acquired international fax number.
Although not compulsory, this step ensures seamless communication and lets you send and receive documents electronically.
How to send an international fax
Here are two ways of sending a fax internationally:
Using a fax machine
Having a dedicated fax line helps prevent interruptions during the transmission, eliminating the need to resend the document and accumulate additional long-distance minutes.
While this method may require a machine and a dedicated line, it is still a viable option.
Just know that when sending international fax using a machine, you will incur long-distance charges from your phone company.
If you can't find a fax machine near you, you can pop into a public library, the local post office or a mail and shipping outlet (UPS or FedEx store) to ask them for assistance.
These locations usually have faxes on standby.
Using digital solutions
With online fax services, there is no distinction in cost based on destinations. Instead, you pay based on the number of pages your plan determines.
This method is cost-effective and convenient, especially for businesses engaged in frequent communication with international contacts.
By integrating an online fax solution, you can save both money and time since you no longer need to buy ink, paper, or machine parts — or run around looking for them. Incoming messages go to your inbox, while you can send out faxes directly from your laptop.
Some services even offer the option to send documents directly from Gmail, allowing for seamless communication.
Choose a reputable online service like PandaDoc's Online Fax to get international coverage and a free eSign account.
Conclusion
Faxing is a relevant communication medium, especially when transmitting sensitive information to regions vulnerable to security issues.
It decreases the chance of fraud and provides an additional layer of protection compared to email, which is susceptible to hacking.
Besides, its persistence across cultures and recognition as legal documentation admissible in a court of law highlights its value in international business.
Whether through offline methods or online services, international faxing offers a reliable and secure communication channel for global interactions.
Frequently asked questions
When docs require faxing internationally, you can utilize online services that work in several countries. Simply log into your account, enter the recipient's number with the country and area codes, and follow the instructions provided by your chosen service.

The international fax code is a number that includes the international dialing prefix, country code, area code, city code, and local number. The code format may vary depending on the country you are dialing from or sending the document to.

Yes, international faxing typically costs money. The charges vary depending on the service provider, the destination country, and the number of sent pages. Some online services offer pricing plans that include a specific number of pages or offer additional pages for a fee. Other online services also offer free faxing solutions for sending documents across borders.

International faxing provides a higher security level than electronic methods like email. Fax transmissions are less vulnerable to hacking and manipulation, making them the preferred choice for transmitting sensitive and confidential information across borders.

No, you do not necessarily need an international fax number to send documents internationally. Many online solutions allow you to send transmissions internationally without requiring a dedicated number. Simply enter the recipient's number, country code, and area code.
Disclaimer
PandDoc is not a law firm, or a substitute for an attorney or law firm. This page is not intended to and does not provide legal advice. Should you have legal questions on the validity of e-signatures or digital signatures and the enforceability thereof, please consult with an attorney or law firm. Use of PandaDocs services are governed by our Terms of Use and Privacy Policy.