If you've been in sales for any length of time, you will probably have heard of a selling sheet, sell sheet, or a sales flyer.
These tightly designed, high-quality documents are used to inform potential customers about your business or specific new products or services and are sometimes used as promotional sales aids by company representatives.
Today, we're going to take a closer look at sell sheets, why they matter, and how to make a sales sheet using PandaDoc.
Let's jump right in.
What is a sales sheet?
A sell sheet (sales sheet, selling sheet, or sales flyer) is a single-page document designed to provide business, product, or service information to a potential customer.
Prospects can glance at the one page sell sheet and get an immediate understanding of the product or service on offer.
In addition to business, service, or product details, a sales sheet can provide branding, contact information, taglines, and a strong benefit statement for customers.
At the same time, a sell sheet isn't a simple sales flyer or a discount coupon. It may not provide pricing information, focusing instead on product features that make the item unique or appealing to prospects and potential buyers.
This makes it strategically different from any of the other marketing materials or strategies you might implement at the top of your sales or marketing funnel.
When done correctly, a strong sell sheet design highlights key business information, service details, or product features and elevates your brand by building trust and appeal in the eyes of the customer.
But it doesn't stop there.
Great sales sheets don't stop with just the basics.
Savvy companies can use a strong sell sheet as a powerful marketing tool by incorporating copywriting and graphic design elements to deliver critical details in a visually appealing way.
Sell sheet examples
Let's take a look at some sell sheet examples that you can utilize for your business.
Business sell sheet
A business sell sheet — sometimes also known as a company sell sheet — is a more refined version of your full company brochure.
Where your brochure may give an overview of your business as a whole — going into detail about each area of your company — a business sell sheet is a condensed version that is easier to scan.
It's designed to focus on a specific aspect of your business, such as:
Your products
Company history
"About" your business
Industries you serve
Client reviews/testimonials.
This can be used for B2B and B2C.
It's common for businesses to create a business sell sheet to gain interest from potential buyers who may be on the fence about choosing the company.
The sell sheet is designed to inform and persuade buyers as to why they should use your business.
Product sell sheet
A product selling sheet is more specific than a business selling sheet.
This is because it's created to give potential buyers a deeper insight into a specific product or range that your business offers.
It allows buyers to learn more about your products and can be a precursor to sending them a full-fledged sales proposal.
Product sell sheets typically include information like:
Product features
Pricing
Benefits of using the product
When the product was first brought to market
Product reviews.
This may help prospects in making their decision when it comes to buying a product from your company.
Service sell sheet
Like product sell sheets, service sell sheets are focused on presenting specific information.
This time it's about the services that a company can offer.
This may include information such as the customer care offered to clients or a look into exactly what your services entail.
A service sell sheet may include information such as:
Service benefits that come with choosing your business
Client onboarding information
This may be particularly applicable if you offer an ongoing service to your clients.
For instance, if you sell hardware to other businesses, you are responsible for ensuring it is in good working order.
So you may offer a quarterly maintenance service for customers.
What is a sell sheet for a product used for?
The purpose of a sell sheet for a product is to give potential buyers as much information as possible about that product.
It can be useful for businesses that have a brochure to further break down the products with their own product sell sheets.
A brochure can be overwhelming and sometimes time-consuming to thumb through.
A sell-sheet allows you to concisely portray all the information you want about your product.
If this is a new product on the market, then you'll need to include information such as:
Product specifications and benefits
Market research (if applicable)
A little background on your business.
If your product has been on the market for some time, you may also wish to include customer testimonials.
This way, buyers get an idea of how well-received your product has been with other buyers, and may persuade them to make a purchase.
Many B2B and B2C buyers require detailed product specifications before they make a purchase, especially in technical industries.
This means that a buyer can determine whether your product can meet their needs before making the purchase.
It can be useful for enticing potential customers at the early stages of the buying process, to get them asking more questions about the product, and piquing their interest.
Planning and distributing your sell sheet
Before we get into the logistics of actually creating a sell sheet, let's touch on how to use and distribute one.
Why?
Because the channel you use to distribute your sell sheet will have an impact on the final design and layout you use to create it.
Here are the three main ways you could distribute a sell sheet.
1. By hand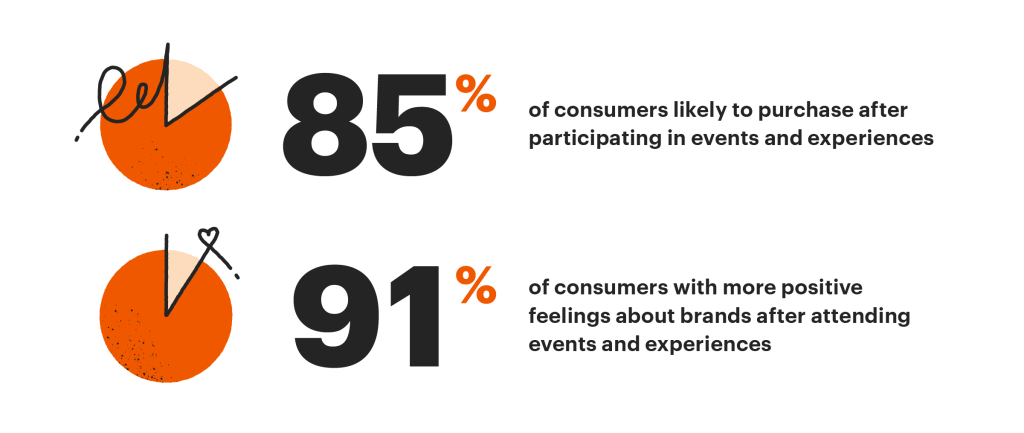 Pros: Open-ended design; a tool for assisted selling.
Cons: Limited distribution capabilities. Not greatly cost-efficient (printing costs, etc.).
Traditionally, sell sheets were printed as sales flyers and distributed by hand.
This is less viable in today's market since foot traffic to storefronts and retailers is typically lower, but it's still an option, where possible.
Albeit, a potentially quite expensive one.
Research suggests that customers are more likely to purchase after participating in events and experiences, so combining that with marketing and distribution efforts can increase the value of your sales sheet.
To execute this strategy correctly, you'll need to print off copies of your sell sheet and give them to your customers in person.
This may appeal to some customers, but isn't hugely cost-effective and also isn't environmentally friendly.
A physical sales sheet does, however, give reps something to leave with potential customers as a reference point.
When used in this way, your sell sheet acts as both a visual aid and a marketing tool.
2. By mail
Pros: Good for local marketing; delivers to a physical location.
Cons: Traditional distribution method; low conversion rates; high costs.
You've probably received a sell sheet for real estate in your area or a flyer for your local dentist or specialty shop.
This is an example of distribution by direct mail, and it's a common tactic for small businesses that target local customers.
To distribute your sell sheet through the mail, you'll need to design and print off copies and mail them to prospects.
Keep in mind that delivery by mail may also come with certain restrictions, including sheet size and weight, for a specific cost.
You may also partner with a company that can assist with content creation and bulk shipping (for a cost), but the distribution method is mostly the same.
While mail isn't entirely a thing of the past, many companies do now favor digital sell sheet distribution. Speaking of which.
3. By email and social
Pros: Widest distribution capabilities; ease of use; messaging flexibility and automation opportunities.
Cons: Designs can be restrictive.
Electronic distribution is also an option with sell sheets, and any kind of electronic distribution is always popular.
Both B2C and B2B marketers agree that email is still one of the best distribution platforms out there today.
You need to make sure potential customers you email have consented to receive email from your company so that you don't violate anti-spam laws.
You'll also need to design sell sheets that look good on a variety of mobile devices and in a number of email delivery clients.
Because you need to take these steps, it might also make sense to combine your sales sheet with other sales emails or marketing campaigns rather than sending a single, one-off email.
It's also possible to deliver sell sheets via mass distribution on social media or through paid, visual advertisements.
Whichever method you choose, be sure that you know how you plan to distribute your sell sheet before you create it.
The distribution method will influence how you design the sell sheet.
The 3 secret ingredients for compelling sell sheets
1. Stunning design
The design of your sell sheet will vary based on your business, the product or service that you want to sell, and the features you want to highlight.
The illustrations and layout you use should make it easy for potential customers to quickly scan the sheet.
Resist the urge to use small fonts or to pack as much information as possible onto the page.
Instead, focus on clean design with strong product highlights that make your sell sheet both informative and visually appealing.
For small businesses without a designer on staff, a design service or a freelancer can help you create an effective layout.
In this video, we walk you through the onboarding part on how you can use compelling templates, customize them, or even import any existing sell sheet documentation into PandaDoc and make changes from there.
Check this out and get things automated with ease!
2. Engaging copy
From social media posts to advertisements, good sales copy needs to fit the relevant space in order to be effective. It's no different with a sell sheet.
Craft copy that highlights the features of your product and explains how it benefits potential customers.
Utilize short sentences and bullet points so the copy is easy to read.
And remember, your copy doesn't always need to read like a sales pitch. You can also highlight product features that appeal to your target audiences, like affordable pricing or financing options.
And you can even include customer testimonials to build trust and credibility.
Small business owners without a dedicated copywriter can take advantage of freelance or agency services to create the copy needed for a sell sheet.
3. CTA
A potential customer has seen your sell sheet, and they're interested in purchasing or learning more. What do they do now?
This is where a powerful call-to-action (CTA) can make all the difference.
A CTA provides the next step to interested customers.
Your excellent design and compelling language can give people a reason to buy, but if you don't explain how to acquire the product (or, at least, what the next step is), you're missing a crucial piece of the puzzle.
Depending on how you plan to distribute your sell sheet, your CTA may change.
When sending via email, your sell sheet may have a button or a link that directs customers to your website, for instance.
Before you put the finishing touches on your sell sheet, make sure that it includes a powerful call to action to drive buyers forward through the sales process.
Here are a few examples of a CTA you could include:
Invite potential customers to call you to receive an initial 15% off on your services – "The first 50 customers to call us will receive 15% off."
Customers can email your business to receive a free demo of your product – "Contact a customer service representative to schedule your free demo."
Potential customers can follow the link to view examples of your work online – "If you're interested in seeing more examples of our work, you can check out our website."
How to create a sell sheet with PandaDoc (tutorial)
Now that we've talked about what a sell sheet is and what you should consider before you get started, let's talk about how to create one.
This sample sell sheet was written for a fictional company, BirdHaüs, that is focused on selling birdhouses for corporate campuses.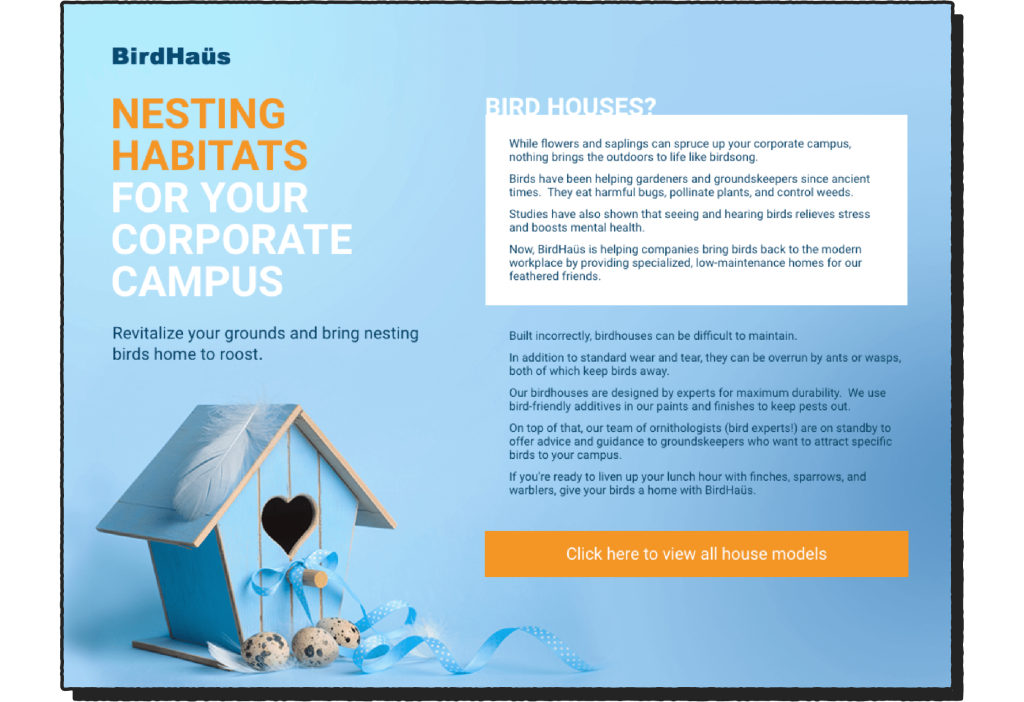 Below, we'll use this sales sheet example to show you how to create your own content with PandaDoc.
Using the PandaDoc editor, it's possible to design and distribute marketing materials in minutes.
Before you begin, you'll need the following:
Relevant images or graphic elements
Compelling copy
A strong CTA
Once you have these elements in place, you're ready to begin.
1. Create a cover page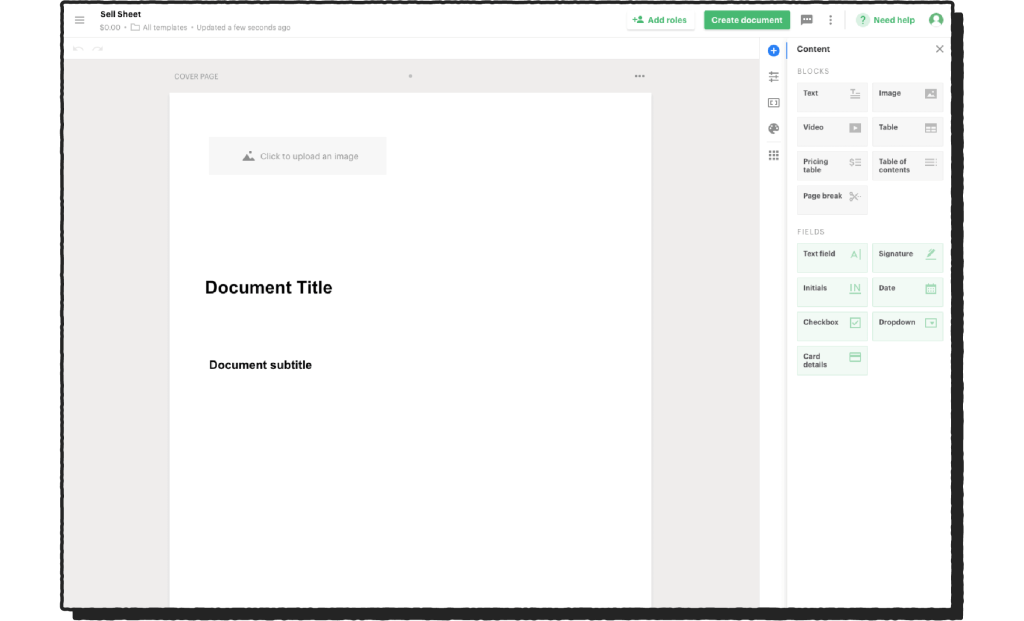 When you first open the PandaDoc Editor, the blank page you see is actually a content page.
This is a page designed for the inside of a proposal or sales contract.
This page type isn't well-suited for designing or creating a sell sheet.
Instead, we want to use a cover page. Cover pages unlock the full potential of the design editor and allow users more flexibility when arranging content on the screen.
Navigate your way to the gray dot at the top edge of the document.
Click the + sign, and here you'll see the option to create a cover page.
Select that option.
The new page will form above your existing page.
Scroll down to the content page, click the three horizontal dots just above the right side of the document and select "Remove page" to delete the content page.
2. Set the page layout (optional)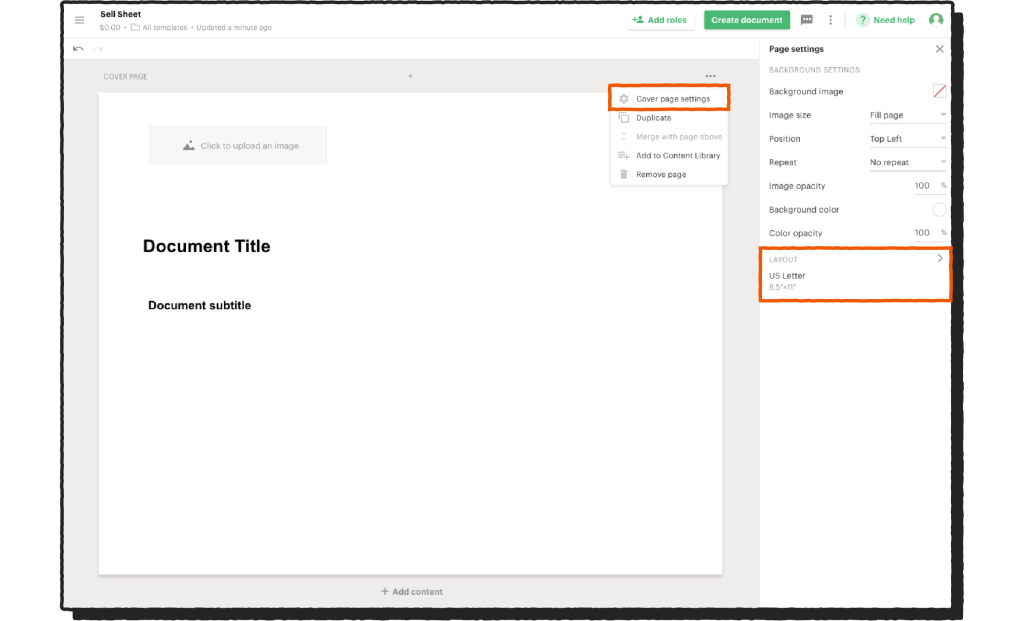 By default, PandaDoc Editor 2.0 will create a vertically oriented document using either US Letter or A4 sizing.
While these are perfectly acceptable when creating a sell sheet, it's also possible to change the page layout from vertical to horizontal.
To do this, click on the three horizontal dots above the rightmost corner of your cover page and select "Cover page settings".
From there, you can select "Layout" and change the orientation from "Portrait" to "Landscape".
You can also adjust the margins to give yourself more room to work.
Before you start designing, be sure to adjust the page layout according to your preferences.
3. Add and arrange design elements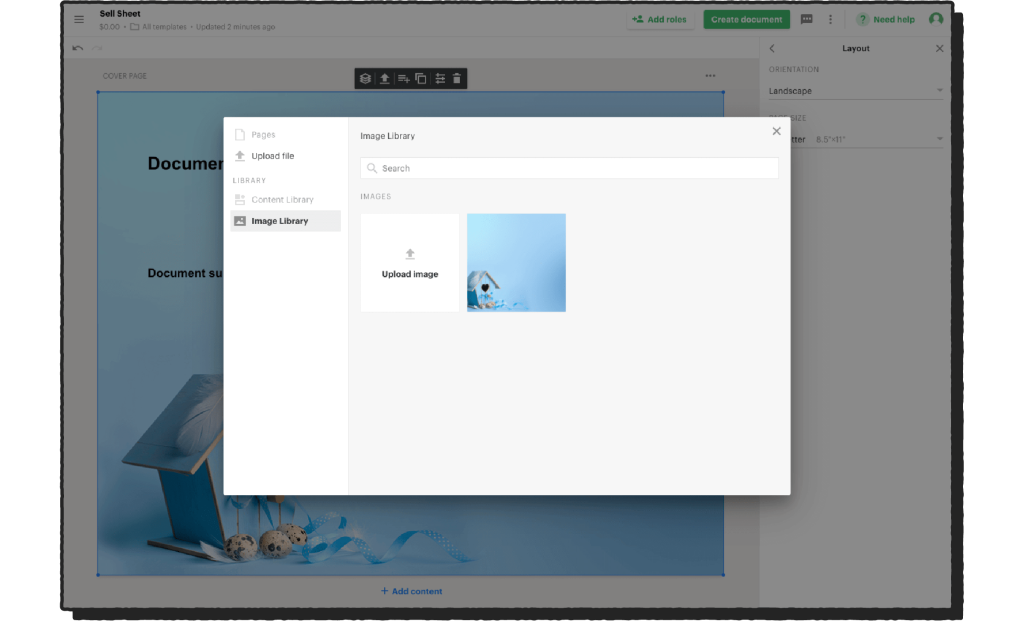 You can upload your own images to best reflect your business or the service or product that you're trying to sell. You can then also save these images to your image library for future use.
Once you've loaded your image into the PandaDoc editor, you can resize it to suit your needs.
You can even arrange multiple images into columns to create a small gallery.
Here are a few details on how to resize and reshape your images.
While it's possible to use more than one image, keep simple design principles in mind.
Don't go overboard with graphics and illustrations.
4. Add and arrange your copy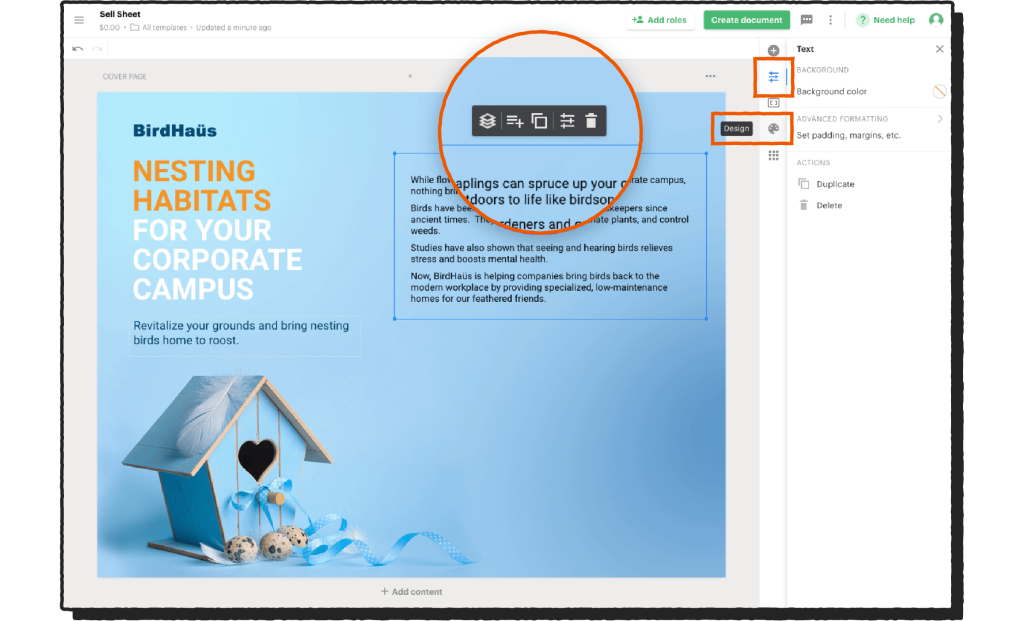 Drag a text content block onto your page and add your copy.
You can arrange and reshape the text by adjusting the size of the text block.
It's also possible to use the "Design" tab and the text properties options to change things like the font size and the background color of the text box.
Once you've added the text, drag the box into position alongside your marketing image and design elements.
Keep in mind that you can use multiple text boxes if you want to arrange the text in a distinct way.
5. Add CTA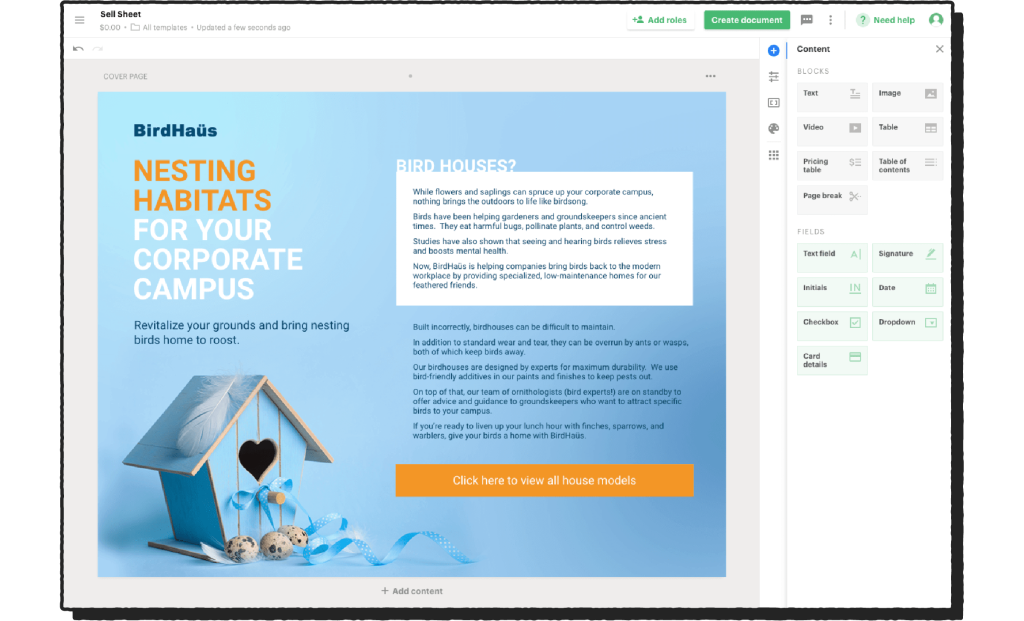 Lastly, you'll want to add your CTA to the bottom of the page.
This is the element of your sell sheet designed to spur the reader into the action you wish them to take.
You could create a CTA image of your own and upload it as described above.
Or, you could simply add your CTA as text with a text block.
In the case of a text CTA, you can use the text properties along the top toolbar to enlarge the font, change the color, and more.
Your call to action may be something like "get in touch to find out more".
You can add a link to this sentence that sends readers to a website landing page where they can find more information.
In this instance, that might be the "contact us" page of your website.
Be sure that your CTA stands out and that it provides clear next steps for potential buyers.
Take your selling sheets to the next level with PandaDoc
While it's true that you could use a dedicated design program in order to create your sell sheet, using PandaDoc allows you to take distribution to the next level with document analytics.
When you're creating and sharing digital sell sheets — and let's face it, in this day and age you almost always will be (have you seen the price of printer ink and postage stamps?!) – once you've created your sell sheet you can send it directly to your prospects with PandaDoc.
PandaDoc will notify you when a prospect looks at your sell sheet and how long they spent with it.
If you then want to re-use the sheet in the future, be sure to save it as a template.
Your sales team can follow up, get an early start on their interactions, and use the details within the sales sheet as an icebreaker or conversation starter.
Give your team the tools they need to jumpstart their sales conversations with PandaDoc.
Schedule a demo, and start creating your next great sell sheet today!
Disclaimer
PandDoc is not a law firm, or a substitute for an attorney or law firm. This page is not intended to and does not provide legal advice. Should you have legal questions on the validity of e-signatures or digital signatures and the enforceability thereof, please consult with an attorney or law firm. Use of PandaDocs services are governed by our Terms of Use and Privacy Policy.
Originally published May 19, 2020, updated January 26, 2022