The more your business customers are happy interacting with your product or service, the better.
This is a fact.
The first crucial part of this happiness is your product or service itself and how well it is aimed at the needs of your customers.
But we're going to focus on the second part now — your team's ability to satisfy the needs of your customers in terms of adequate communication.
And the key to it is a piece of knowledge about the product or service you have and are transferring to your customers.
A survey by Google claimed that 85% of respondents consider better product knowledge an important factor in promoting positive buying decisions.
In this article, we'll shine some light on the concept of product knowledge, types of product knowledge, and its elements.
We'll also find out the reasoning for its importance and show how to use it for increasing sales volume.
What is product knowledge?
Let's start with definitions of the terms we're speaking about.
Despite the fact product knowledge seems obvious at first glance, it's highly important to be sure we're on the same page here.
First, product knowledge is the information required for clarifying the product or service details to a customer.
Second, this is also the skill of your employees, especially your sales development representatives (SDRs or sales reps), to effectively explain the product, its features, pros and cons, to potential customers.
Product knowledge training is an educational course for salespersons.
It is aimed at achieving a better understanding of a product or service they're working with.
It's also important to understand how product knowledge and product expertise concepts correlate.
Simply put, these definitions are synonymous: product expertise is just a thoroughly deep and comprehensive level of product knowledge.
Importance of product management
The Google survey mentioned above is far from the only sign that good product knowledge is a way to succeed among customers.
Another survey conducted by Qualtrics XM claims that 94% of US-based consumers are highly likely to buy from a business delivering a good customer experience (where product knowledge is one of the main parts).
Let's briefly review the benefits of great product knowledge.
Sales boosting
This is the main conclusion from the above-mentioned statistics.
The better your salespeople educate potential buyers on your product or service, the fewer doubts over the purchase remain. This results in higher conversion rates.
Product experts can't just detail the product and explain how it works; instead, they must also communicate its features in terms of the needs of a certain customer.

By answering customers' questions confidently and comprehensively, your sales reps can assure potential customers that you, your team and your company act as one, all clearly understanding your product or service.
By communicating about customers' needs and desires, your salespersons show that your product or service is aimed at solving those problems and achieving the results desired.
Higher customer satisfaction
Customer support is always tied to answering their questions.
If your support team member is a product expert, customers will be more likely to be fully satisfied with the answers they receive.
Otherwise, it can lead to frustration and dissatisfaction with the product or service as a whole, resulting in a loss of customers.
Using your product or service in the right way
Well-educated staff can efficiently educate users as well.
As a result, your clientele will use your product or service in more appropriate ways and with better outcomes.
With a better customer experience, customers are more likely to buy your product or service and stay with it for a longer time.
Increasing personal performance of your employees
Once educated salespersons become better at communicating with customers, their level of personal performance is higher, too.
As a result, each staff member brings more effort to the business, which makes it possible to pay them more.
What are the types of product knowledge?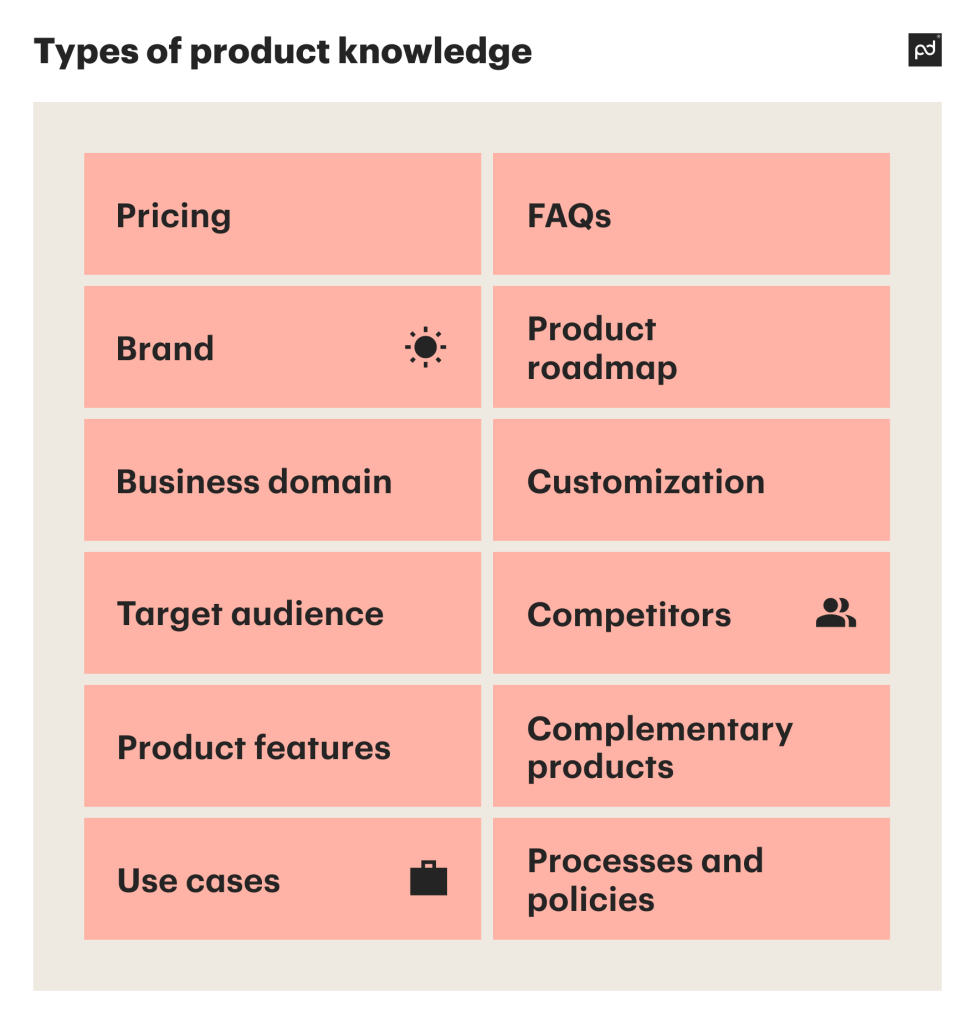 Pricing
Cost is probably the first thing customers want to know about any product or service they come in contact with.
For B2B products, the price is closely tied to potential return on investment (ROI): how fast the money spent on a product or service will return with the revenue it generates.
Brand
Knowing all the nuances of the brand you're selling is extremely important for sales efficiency.
Today's customers are often interested not only in the product or service itself but also in your brand. For example:
How mature is the company?
What is its policy related to the environment and ecology?
What's the official company position with respect to diversity?
It's crucial for your salespersons and other customer-oriented staff to be ready to answer these questions.
Business domain
Being aware of current industry trends puts you on the same page as the people from the same or similar business sectors.
For those customers who are unaware of the current landscape across the industry, your domain knowledge helps create the desired reputation of an expert.
Target audience
Product experts must have all the answers about the target audience at the tip of their fingers:
Who are the potential customers of a product or service?
How does the product or service solve their issues or help them achieve their goals?
What expectations do they have for your product or service?
With these pieces of knowledge, salespersons can easily determine which prospects are potential customers and which aren't.
Product features
A deep and comprehensive understanding of the features your product or service has is a must for every professional salesperson.
Otherwise, sales will turn out to be highly inefficient and hardly predictable. Most often, the knowledge of product features is crucial for sealing the deal.
Use cases
One of the best approaches to sales is to provide potential customers with some real usage examples.
Showing the most similar use cases to your customer, especially armed with numbers, is a powerful way to leverage closing the sale.
Frequently asked questions
Once a support team of any product or service is experienced enough, they always know the most frequently asked questions.
Having quick and exhaustive answers to such questions is a must if we speak about the required scope of product knowledge.
Product roadmap
Sometimes both potential and existing customers ask about the future development of your product or service.
Knowledge of planned features and their release dates comes to the rescue here.
Customization
Some products and most services are flexible enough to be customized to the customers' needs.
A well-trained product expert must clearly understand where the customization is available and where it isn't, and how much these customizations might cost.
Competitors
An ability to compare your product or service with that of your competitors is one of a salesperson's handy tools.
A potential customer can ask at any moment how your product is better than the one produced by Company X.
And having no answer here looks, in the eyes of your customer, like evidence that your product is worse.
Complementary products
Selling smartphones, you must have substantial knowledge about the cases, memory cards, headphones, etc., that the devices require and/or support.
The same is true for any other products or services which have any complimentary accessories tied to them.
Processes and policies
This type of product knowledge covers aspects of internal processes and policies employed within the company.
Among them are warranty rules, refunding policy, terms and conditions, and others.
How to increase your staff's product knowledge
As you can see, businesses must keep their staff's product knowledge at a high level.
That's the "why" — we'll now proceed to talk about the "how." Specifically, how to do it in the best way. In a nutshell, you'll need to:
Launch and maintain your knowledge base.
Train your sales representatives regularly.
Let's discuss the specifics of these two concepts in detail.
Knowledge base
A knowledge base is a local repository of your company's wisdom: internal documents, guides, assets, templates, research results, etc.

Even the most stable companies have a non-zero staff turnover rate.
According to the TBG Sales Development Report 2021, the average annual turnover rate of SDRs within the USA dropped from 37% in 2018 to 20% in 2020, with the trend now rising again post-COVID.
In this situation, a knowledge base is crucial so that both onboarding and knowledge-sharing processes don't become a nightmare.
A comprehensive knowledge base assists in the following ways:
Makes communication consistent — once written, the answers are then used continuously.
Hastens your answers — you can instantly find and copy/paste the ready-made answer rather than designing it on your own.
Cuts the learning time — any new employee can learn the required pieces of the knowledge base at any time and from anywhere they want.
Makes it cheaper — self-learning using ready-made documents is one of the cheapest possible options.
An example of a well-crafted knowledge base is the PandaDoc Help Center.
This repository contains different packages of data sorted into several folders by topic, category, business use, and so forth — Getting Started, Manage Your Team, FAQ, Training, Integrations, etc.
The interesting thing is that PandaDoc allows you to create your own knowledge base using the Content Library feature set.
The main purpose of the Content Library is to create and manage proposals, contracts, and other sales-related documents.
But there are no barriers to creating and managing any other documents of supported formats.
You can create any document whether from scratch or using a template, add images or videos if necessary, store it in your personal cloud, and access instantly when needed.
However, there is much more available with respect to what PandaDoc offers sales teams.
Steps on how to create and maintain your knowledge base
1. Create your own knowledge base
You can create your own knowledge base, whether that means using the above-mentioned PandaDoc Content Library, doing so fully on your own or using one of the knowledge management systems (KMS).
2. Bring your existing knowledge pieces together
You should connect with each staff member within your company and ask them for any type of corporate knowledge that can be used by another employee, at least theoretically.
Once you've finished, start checking for any missing parts that must be entered or restored.
3. Create a template
Create a template for your knowledge base documents.
It can be just a standard corporate form, or something more customized.
4. Create a policy including a style guide
Create a policy including a style guide. Following this document will help keep the knowledge base consistent and easily updatable.
5. Design your corporate voice style
You should figure out the best communication style to be adopted into your company.
To test how good your selection is, prepare a presentation of the new knowledge base, send it to your colleagues, and ask for feedback.
6. Kickstart your knowledge base
Once the pool of information is prepared, upload it to your storage.
Use tags and full-text search features for simplifying the navigation.
Allow your contributors to use templates for uploading information and creating new records.
And always remember: your knowledge base is self-served, which means you need to keep it relevant and avoid the hectic nature of challenging maintenance processes.
7. Keep your knowledge base up-to-date
Keep your knowledge base up-to-date. Don't forget to update your knowledge base regularly.
This means not only adding new articles but also editing existing ones where it is required.
Product knowledge training
An implementation of the employee training process is one of the best options to achieve higher product knowledge within your company, especially with the sales team.
Let's go over some valuable tips on how to conduct product knowledge training for your staff and raise its efficiency.
1. Craft your training program to be as simple as possible
Craft your training program to be as simple as possible.
You'll get a single training program for all your employees, and it should be easy for administrators to manage as well as for others to learn.
2. Automate what is possible
This tip is close to the previous one in terms of its goals — to make the training process the maximum amount of simple.
A good practice is using any Learning Management System (LMS) and integrations with useful third-party software tools.
3. Make your learning environment cross-platform
Access to learning materials from anywhere is a powerful feature for increasing engagement rates and overall training performance.
4. Use collaborative learning
This approach is based on the collaboration of two or more people on a single task.
During the collaboration, people share their knowledge among the group and learn from each other. You can find out more about collaborative learning in this article.
5. Empower your training activities with managers
You should engage the sales management team in your staff's product knowledge learning processes. They can give employees some extra motivation, increasing their enthusiasm.
Role-playing games, especially interactive ones, are an efficient way to share knowledge, analyze different negotiation scenarios, and assess the current level of knowledge.
6. Stimulate your sales reps to find flaws in your sales and learning processes
Such an approach helps improve your sales performance and collateral, as well as encourages your SDRs to grow professionally.
Giving your staff some empowerment is especially efficient in terms of the career development of your sales reps.
7. Examine your SDRs regularly
Periodic staff performance reviews and assessments help you to not only be aware of the current level of skills within your sales team but also bring to light certain competitive elements.
This allows you to spotlight the best-performing employees, increasing the total team performance significantly.
How PandaDoc can improve your product knowledge
Greater product knowledge among the sales personnel and other staff members increases both sales and the SDRs working performance, and boosts satisfaction rates among existing customers, helping them use the product in the right way.
Product knowledge comes in various forms and types, covering all the aspects of a related product or service.
Also, for increasing product knowledge, create and maintain a knowledge base about your product and service, as well as train your sales reps regularly.
PandaDoc can act as a comprehensive product knowledge management suite.
Use the PandaDoc Content Library tool as a foundation for building up your knowledge base.
The system allows you to set up an efficient collaboration, instant notifications on the important events, as well as automate the routine tasks of your sales team.
Disclaimer
PandDoc is not a law firm, or a substitute for an attorney or law firm. This page is not intended to and does not provide legal advice. Should you have legal questions on the validity of e-signatures or digital signatures and the enforceability thereof, please consult with an attorney or law firm. Use of PandaDocs services are governed by our Terms of Use and Privacy Policy.
Originally published November 16, 2016, updated April 11, 2023