Doing paperwork is a familiar routine for most people, although some of us have to do it more than others.
A lawyer and, say, a TikToker (unless they sign enormous advertising contracts daily) likely have different needs when it comes to processing documentation.
But those of us, regardless of profession, that have to do a tremendous amount of paperwork can't afford to spend our time recklessly.
Electronic document signing emerged to help us deal with paperwork securely and quickly, with YouSign and DocuSign considered popular go-to eSignature solutions.
But which one will win the hearts of users in 2022?
Let's move past formalities, shall we? Here is a general view of these two platforms.
01. YouSign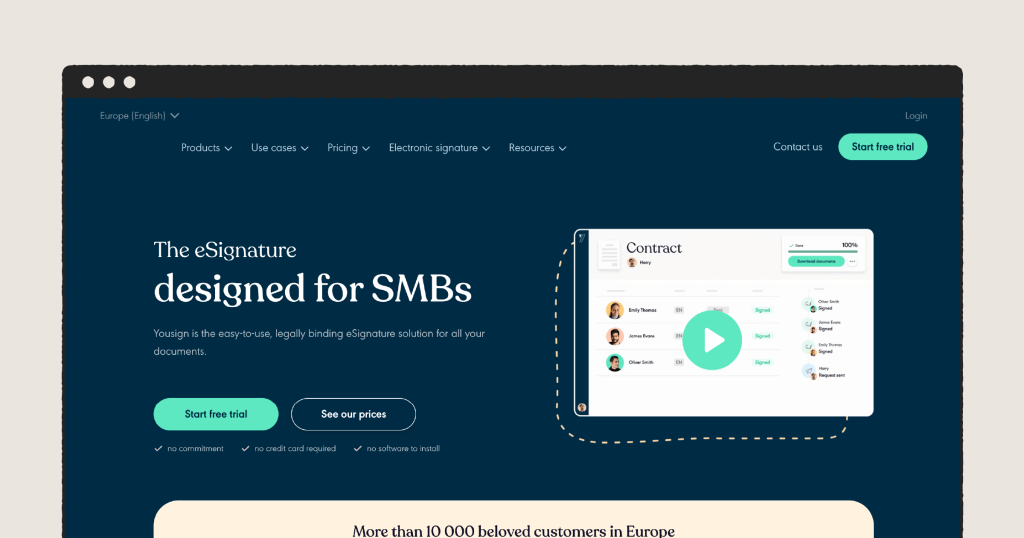 YouSign took root in France in 2013. The company solely focuses on providing an electronic signature solution to small and medium-sized businesses (SMBs).
Also, YouSign is currently going through a Series A funding round on TechCrunch.
The YouSign app features a nicely spaced, minimalistic design with few distractions. The app looks very intuitive, featuring a friendly and relaxed color palette.
02. DocuSign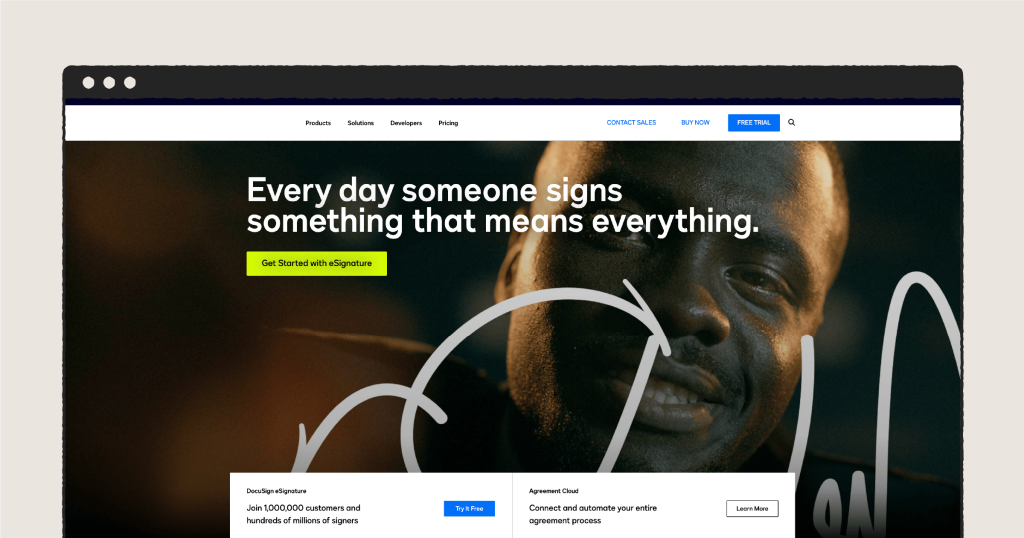 DocuSign is one of the oldest eSignature solutions on the market, dating back to 2003. Founded in the US, it has more than a billion users in over 180 countries.
The company targets all customer segments, from individuals to enterprises.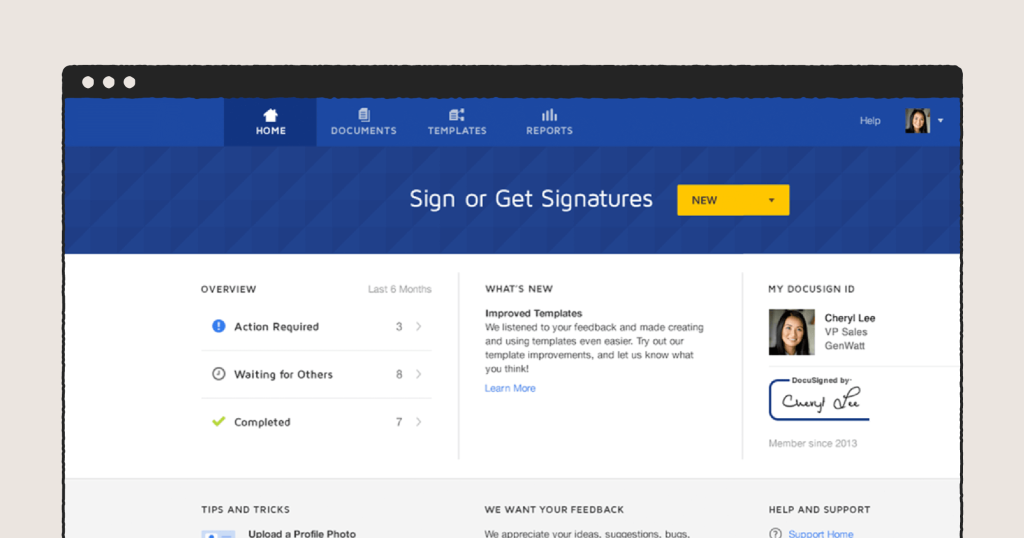 The app looks very corporate-like with dominant blue and white colors. While the app appears slightly dated in places, the user flow feels logical and consistent.
DocuSign vs YouSign: A face-off
Now that you've been introduced to YouSign and DocuSign, it's time to see what both of them have under the hood.
Features
DocuSign and YouSign are similar in many ways; however, they are entirely different beasts made for different types of users.
As such, DocuSign has a bit more to offer regarding features (more analytics possibilities and deployment options) at the same price.
However, YouSign certainly scores more points for user interface, ease of use, and customer support. But let's get into more detail.
Pricing and free trials
Pricing for these two platforms works similarly.
DocuSign offers three packages at $10 (Personal), $25 (Standard), and $40 (Business Pro) per month, and to work out pricing for YouSign, you'd use those same numbers, but in euros — which means it's slightly more expensive.
YouSign and DocuSign offer free trials; however, the 30-day free period from DocuSign looks slightly more attractive than the 14-day trial by YouSign.
Audit trails
YouSign and DocuSign pay a lot of attention to authenticity and privacy when using audit trails.
DocuSign retrieves the necessary data from user activities to provide an independent third-party audit trail that can be accessed by everyone involved in the signing process.
As DocuSign pulls the essential data from both a sender and receiver, most of the information provided in audit trails includes user credentials (name, email) and transaction details (date/time of action).
YouSign's audit trails work in the same way — there isn't much to be added here.
There are, however, a few things unique about YouSign (which don't necessarily speak to its advantage, only that they are different).
YouSign uses a third-party solution, Arkhineo, to archive all of its audit trails. Those trails can be exported as PDFs with 2020's app update.
Security
DocuSign employs a unified approach to security, providing user, software, and hardware protection.
As such, the app offers proactive threat detection, 24/7 activity traction, full operations visibility, and enhanced ID verification, among others.
The software and data storage operates under ISO 27001, PCI, SOC 1, SOC 2, and APEC standards.
YouSign predominantly operates under two standards, eIDAS and GDPR, as far as security is concerned. All data is stored exclusively in France where the company is located.
While there isn't much more to say about the security of YouSign, the company proudly tells us about the particular security and privacy training it conducts for all its employees.
Template creation and customization
DocuSign calls its templates "envelopes," and it makes sense if you think about it.
Envelopes are pretty much containers that include some settings (reminders, expiration date, predefined fields) that can be applied to several documents within the envelope sent to a single user.
The overall creation process on DocuSign goes through a series of simple steps.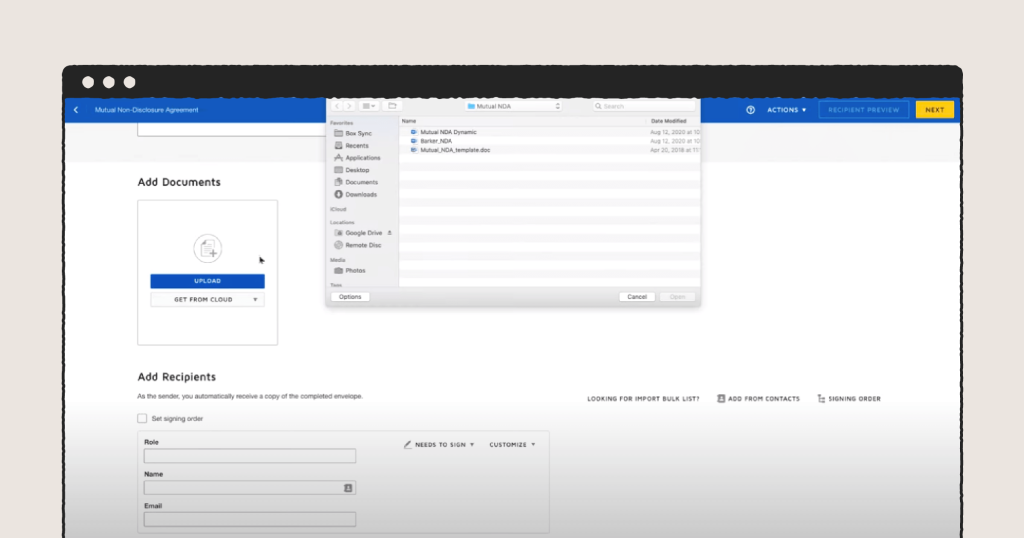 YouSign isn't that different in terms of template creation features. However, what catches your eye immediately is a simplistic, user-friendly interface.
Instead of using a single page like DocuSign, the process is split into several steps here, arguably making for a better user experience.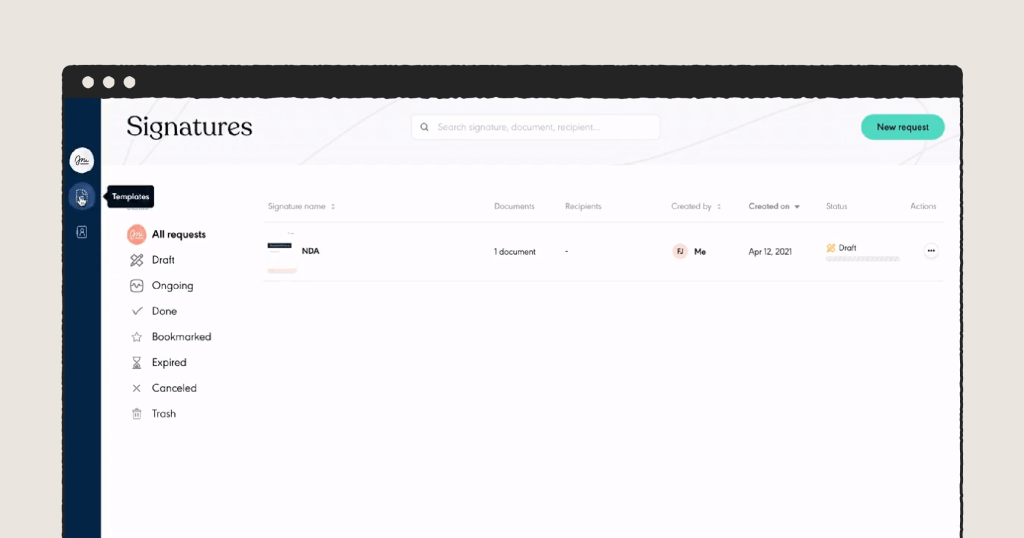 Analytics
DocuSign really shines here. In addition to a standard pack of basic analytics features that most other contract management solutions share, DocuSign has an AI-based analyzer that provides additional contract insights, helping negotiate a better deal.
Sadly, YouSign doesn't have any specific features related to analytics apart from real-time tracking. Presumably, analytics is not what most SMB clients want to see in an eSignature application.
Mobile apps
The mobile app is probably another strong argument for DocuSign, adding to the list of its strengths.
The app has dedicated features for both personal and professional usage as well as SDK development resources.
The DocuSign mobile app rates 5 out of 5 both on the Apple App Store and Google Play Store.
YouSign doesn't have an Android or iOS native app, although the team did its best to make the web app deliver a proper mobile experience.
YouSign talks a lot about the benefits of its intuitive design in its marketing materials; however, the reviews on G2 seem to confirm its legitimacy.
Deployment
DocuSign is available as a SaaS, desktop (macOS and Windows), and mobile app (iOS and Android) which is probably more than any average business or personal user will ever need.
These options naturally make DocuSign a preferable option for enterprise clients that definitely appreciate such variety.
YouSign is only available as a SaaS app. While most clients would likely not need a desktop app, YouSign clients can definitely benefit from using a mobile app.
Customer support
Customer support is arguably not the most advantageous side of DocuSign.
The company occasionally resorts to questionable practices regarding billing management, account suspension and renewal, according to G2.
At the same time, users praise support for quickly resolving any technical issues.
One can hardly come by any negative reviews for YouSign as far as customer support is concerned.
The customer support team assists French- and English-speaking clients in their native languages.
Overall, the customer support team of YouSign seems to have the upper hand compared to DocuSign.
Integrations
DocuSign supports nearly 400 solutions as of 2022.
That includes service providers (like Google, Salesforce, Zoom, Microsoft, Oracle, Apple, etc.) from agriculture, automotive, education, insurance, legal, and other industries.
There is also a solid knowledge base for developers looking to build integrations with DocuSign.
YouSign provides some API capabilities, although it is extremely vague as to what solutions are currently supported.
As most of the YouSign marketing materials suggest using Zapier, it looks like that's the major route to going about integrations.
That is a bit of a downer, as one would have to evidently pay for an extra app to handle integrations.
User ratings
For this one, we checked user reviews on G2, Capterra, Gartner, GetApp, and Capterra.
Generally, user feedback can be summed in one word: "versatile." There is a lot that DocuSign has to offer with its feature-rich app.
Some users have been using the app for over ten years, and they are still with DocuSign — that speaks for the provider's reliability.
The ratings for DocuSign are the following:
G2: 5/5 stars;
GetApp: 4.8/5;
Gartner: 4.5/5;
YouSign is praised overall for its simplicity and straightforward interface.
Users highlight how quick the document reviewal process is with YouSign, although some of them suggest that there can be more features added to the platform.
The YouSign's ratings are:
G2: 4.5/5;
Capterra: 4.6/5;
GetApp: 4.6/5;
To sum up
Even though DocuSign and YouSign are very similar platforms in nature, they are made for very different types of users.
DocuSign would be a perfect choice for those looking for a solution that "can do it all." Some users might find it slightly overwhelming to get their heads around the solid set of features that DocuSign has.
On the other hand, YouSign is an excellent choice for personal usage and small organizations that simply want to get their paperwork done and over with.
The app is straightforward to navigate, and new clients can start using the app in no time.
As the YouSign pricing is in line with DocuSign, one would probably expect to pay less for the app with fewer features.