When it comes to real estate, a strong eSignature and transaction management platform is a key tool for success.
Digital signatures need to be traceable and secure, while the entire contract negotiation process should remain smooth and transparent.
When operating manually, trying to keep all of the required paperwork in order can become an administrative nightmare.
Realtors end up passing documents back and forth, gathering the required paperwork, and keeping track of everything until a deal materializes.
Enter Dotloop and PandaDoc, two document management solutions with the tools that real estate agents need to streamline their entire transaction workflow.
Let's compare the two, with a focus on Dotloop pricing, and see which is a better fit for your business.
What is Dotloop?
Dotloop is a cloud-based real estate transaction management solution that was created in 2009.
Presented as an all-in-one solution, Dotloop consolidates disparate document management tools, eSignature software, and real estate systems into a centralized platform.
Unlike some document management solutions, Dotloop is a specialized platform catering specifically to the unique needs of realtors and everyone involved in the real estate transaction process.
It targets end-to-end transaction management and document management as well as digital signature capture (more on those in a moment).
This is in contrast to Dotloop alternatives like PandaDoc.
As a well-rounded document management and electronic signature solution, PandaDoc offers users a more generalized solution that can be utilized by realtors as well as professionals in a variety of industries.
What is Dotloop used for?
Dotloop is used primarily by real estate agents, teams, and brokers to eliminate workflow inefficiencies and drive the delivery of better client experiences.
For example:
Document management
Users can not only upload, save, and store documents on the platform, but realtors and their clients can access and collaborate on documents.
By closing the loop between buyer, seller, and agent, Dotloop moves contracts along faster and speeds up the time it takes to close deals.
Real-time visibility
Live dashboards and reporting tools give real estate managers 360-degree insight into their business processes.
As a result, they can oversee transactions in real-time and are empowered to make pivotal business decisions for continuous optimization.
Electronic document signing
Electronic signature tools let you securely sign and send documents without the hassle of printing, faxing, and back-and-forth emailing.
Dotloop's eSignatures are fully compliant under the federal ESIGN act, guaranteeing validity.
But how much does Dotloop cost? And, more importantly, do the Dotloop pricing plans align with your business's needs?
How much does Dotloop cost?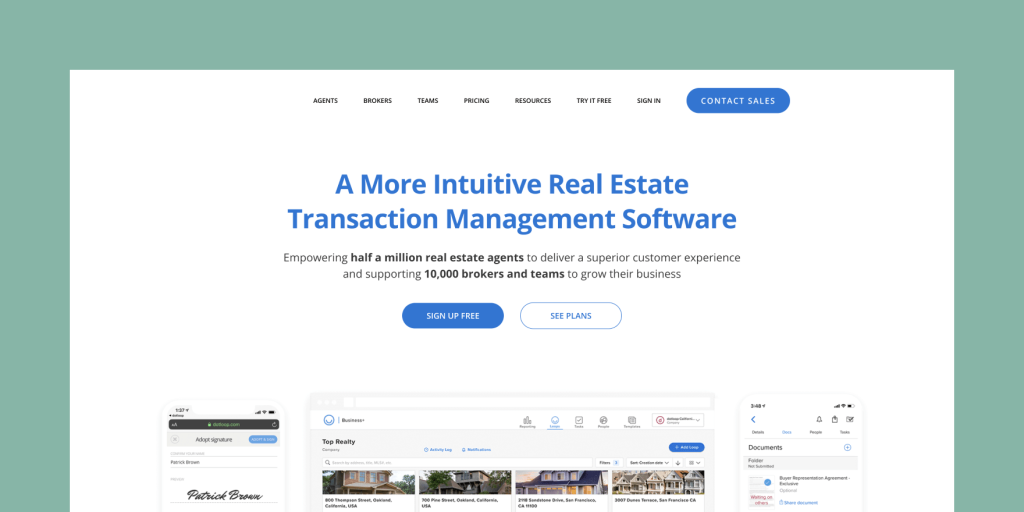 To help you figure out whether it's right for you, we're going to compare Dotloop's pricing plans and features with PandaDoc.
Just like Dotloop, PandaDoc is a robust document management and electronic signature platform with three tiers of pricing plans: free, individual, and team.
Free plans
Let's start with the free plans.
While there is no Dotloop free trial as such, its platform does offer a "forever-free" version.
The free plan allows you to create up to 10 free real estate transactions. From there, you can edit, share, eSign, and store documents on any device.
There's a free mobile app that you can download (available for iOS and Android), as well as real-time interaction tracking and task-list management.
You can also access MLS and Association forms at any time, which is a massive plus for realtors.
So, what about PandaDoc?
PandaDoc's free plan comes with unlimited eSignatures and transactions. Like Dotloop, it offers a free-to-download mobile app and real-time activity tracking.
You also get real-time notifications, which is something Dotloop's free plan doesn't provide.
However, what really sets PandaDoc apart from dotloop is that its free plan allows you to send, eSign, and collect payments on an unlimited number of documents.
This makes it a valuable, cost-effective option for startups and small businesses.
Also, unlike Dotloop, PandaDoc offers a free trial as well as a free version.
You can check out the free version for either company by creating an account.
Individual plans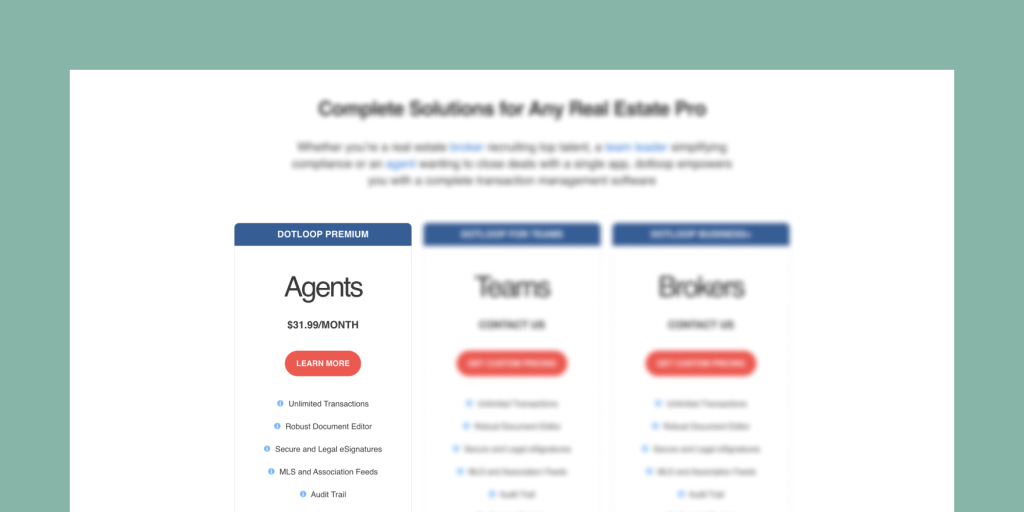 The first Dotloop Premium plan is the Agent plan ($31.99/month), which includes everything that a single operator needs to provide full visibility to clients and partners.
Agents on the individual plan can still add team members and loop everyone in on a per-transaction basis.
Along with access to unlimited transactions, document templates, and integrations, included in the cost of Dotloop's individual plan, it also has useful features like SMS, PDF attachments, and a [robust] document editor.
However, many of the more team-oriented features like charts and reporting or compliance workflows are unavailable.
With PandaDoc, you can take advantage of the Essential plan, which provides access to the robust document editor and, the public and custom template library.
You also get audit trail and document analytics, enabling you to get more timely, accurate insights.
Ultimately, it's everything a user needs to send contracts, eSign documents, and close deals.
Team plans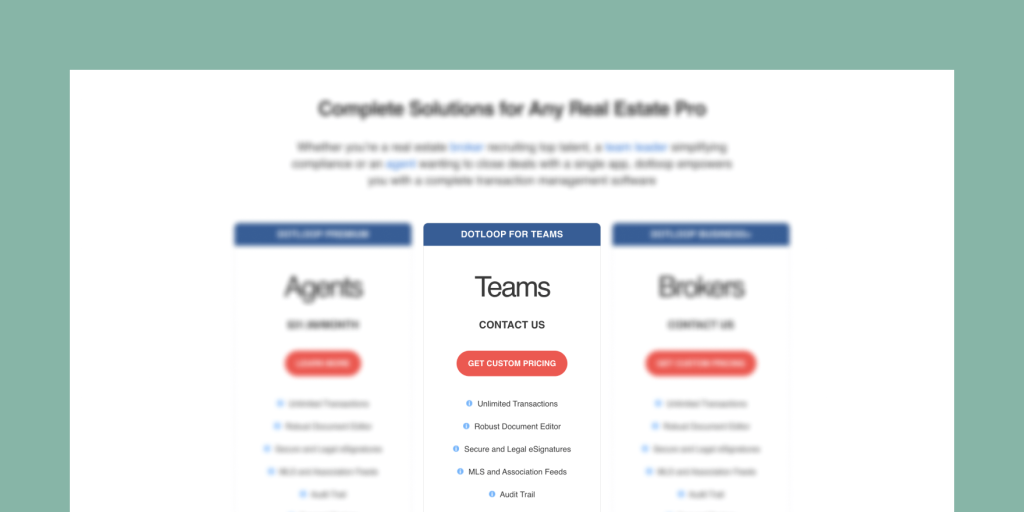 Dotloop for Teams is designed for small to medium businesses.
The custom-priced Teams plan provides charts and reporting features and custom branding options, as well as some basic automation around compliance workflows.
Most importantly, team leaders and supervisors gain full visibility into transactions so that they can support agents throughout the entire sales process.
The Brokers (Dotloop Business+) plan takes this a step further.
Along with all of the features provided in Teams, Business+ customers can enhance collaboration with multi-office compliance, creating separate live dashboards across globally-dispersed offices.
Teams can also devise custom review stages and loop templates thanks to Dotloop API, standardizing transactions and creating more streamlined workflows.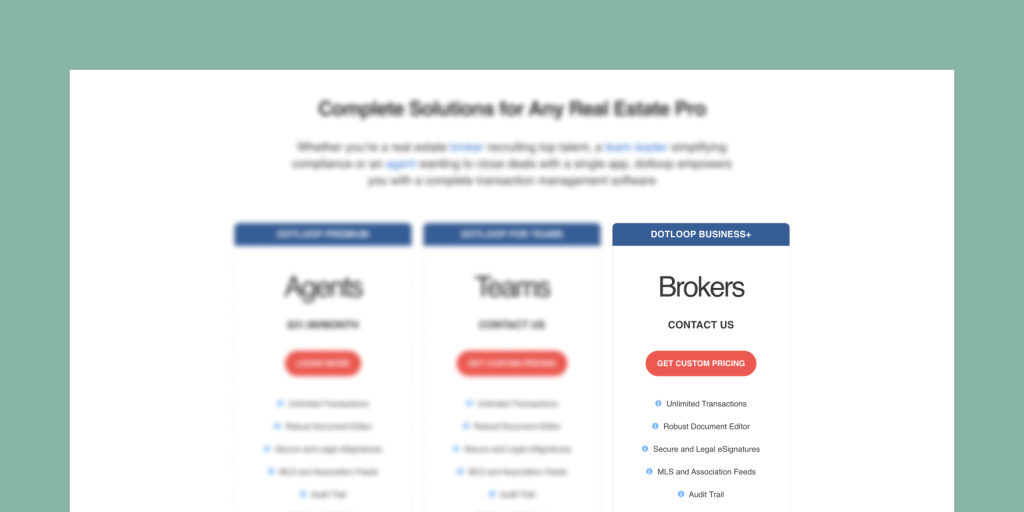 PandaDoc users can choose between Business and Enterprise plans, depending on the size of their team.
PandaDoc's business plan is also designed for small-to-medium size businesses.
At $49 per month, per user, teams on the business plan can enjoy features that drive effective collaboration and streamline workflows.
As well as custom branding and approval workflows, teams can access a rich content library and more than 10 CRM integrations along with direct Zapier integrations (more on this later).
Need an enterprise solution? PandaDoc's Enterprise plan empowers large-scale corporate functionality.
Features like bulk send, SSO, APIs, and custom user roles are present on the feature list, making it easy for companies to create team workspaces and user-friendly workflows.
With an unlimited number of team workspaces and advanced user performance/content reporting, PandaDoc's Enterprise solution is perfect for managing and optimizing global team workflows.
To sum up, here's a table that compares PandaDoc and Dotloop's Free, Individual, and Teams pricing plans: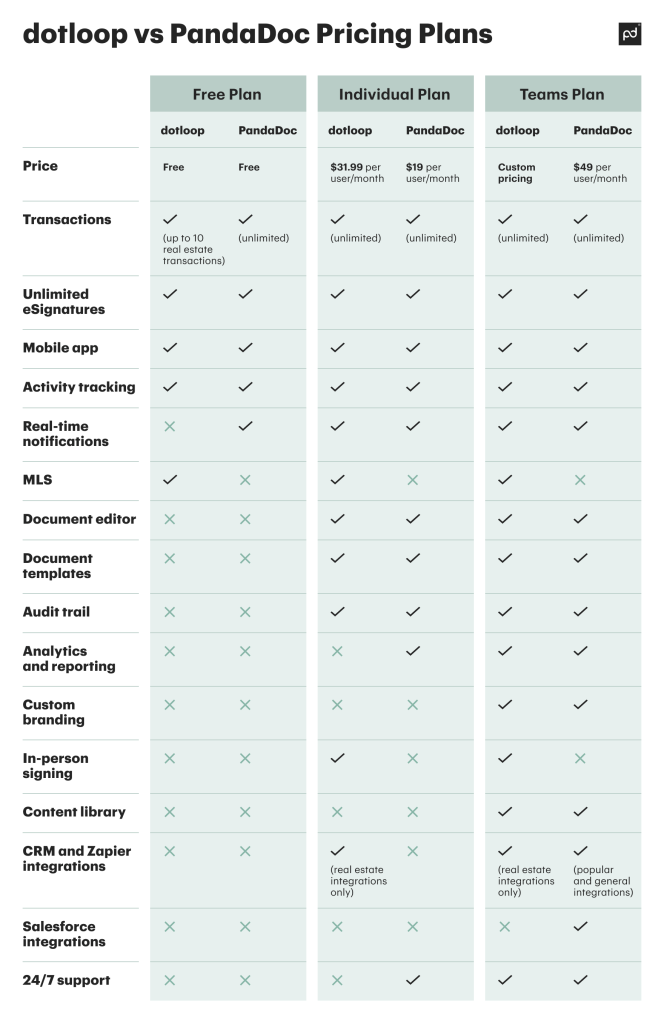 Key similarities
First things first: If you're a realtor looking for a robust digital signing solution, both Dotloop and PandaDoc go far beyond DocuSign, the National Association of Realtors (NAR)'s preferred signing solution (although if you're curious about Docusign, you can always do a DocuSign vs Dotloop analysis).
Not only do both companies offer secure digital signing; they bring even better tools to bear in order to help you manage complex real estate transactions, sign documents, and create user-friendly workflows.
As you might expect, you can find some overlaps in the products both companies offer.
Here are the highlights.
Unlimited transactions
This is a key element for both PandaDoc and Dotloop, and it's one thing that sets companies apart from other leading electronic signature solutions on the market.
Many eSignature options on the market today, including DocuSign and Adobe Sign, limit the number of documents that a user can request for signature on an annual basis.
In the past, this has forced users to be strategic about how they send documents in order to avoid paying to raise transaction limits.
But that's not a worry with PandaDoc and Dotloop.
Using either software solution, you can send as many documents as you need whenever you want and gather signatures when you need them.
Unlimited transactions are available on all of PandaDoc's pricing plans—yes, even the free version—while Dotloop users can access unlimited transactions on the Premium plan and beyond.
Note that Dotloop's free plan only allows you to create up to 10 free real estate transactions.
Audit trails and notifications
The ability to track the activity on your documents and receive real-time notifications is something that both PandaDoc and Dotloop provide to users.
While these features can be critical when it comes to customer support, they also help you gather key insights regarding when and how other users interact with your documents.
For example, with PandaDoc, you'll know when someone created a document, when a client viewed it, and when they signed it.
With this information, you can respond quickly to customer objections and help customers better understand what happens next in the transaction process.
It's also a useful feature if you've set up document or compliance workflows internally since audit trails provide additional visibility through the full process.
So, which PandaDoc and Dotloop pricing plans offer audit trails and notifications?
On PandaDoc's free plan, you'll be notified in real time whenever your document has a new open, read, or signed event. Audit trails are available on the Essentials plan.
In contrast, both Dotloop's audit trail and real-time notification features are only available on its Premium plan.
Document templates
Looking to save time and strike action items off your task list?
With document templates, you can do just that!
While PandaDoc offers a more robust document editor (more below) and a template library stocked with 450+ premade templates, both tools allow you to save formatted documents for easy retrieval and reuse.
These features are most useful for real estate teams who reuse the same documents with minor variations, like boilerplate contracts, purchase agreements, disclosure documents, etc.
Many of these documents may require very slight changes (names, dates, addresses), but the overall document stays the same.
With document templates, it's easy to swap out the necessary particulars and dispatch those documents to clients without a hassle.
Document templates are available on both providers' first-tier pricing plans (excluding free versions).
Clause and content library
While Dotloop and PandaDoc call this feature by different names, it's essentially the same thing.
With Dotloop, users can use the "Clause Manager" to save time by capturing and storing commonly used clauses within a real estate contract.
This feature is available on Dotloop Premium, Dotloop Teams, and Dotloop Business+.
PandaDoc does the same thing but on a more general level. Using the content library, PandaDoc users can save snippets of text and content blocks from their documents for easy reuse.
This added flexibility makes it easier than ever for service providers to quickly modify contracts and stay efficient as contracts evolve.
PandaDoc users can access the content library on Business and Enterprise pricing plans.
Key differences
Just because PandaDoc and Dotloop share a few similar features, this doesn't mean they're exactly the same. Far from it.
Dotloop comes with some amazing tools for realtors that jump out at us, but PandaDoc is no slouch! Take a closer look at some of the differentiating factors from each software solution.
Document editor
Though PandaDoc and Dotloop both offer a document editor, they operate in very different ways when it comes to document creation.
As with many legal eSignature providers, Dotloop only provides ways to format and modify PDFs.
Unfortunately, Dotloop users won't be able to change or modify the content of the PDF or any other uploaded document.
On the other hand, PandaDoc users do have access to these enhanced features. Users can upload a .docx file directly to PandaDoc and continue editing it as though they were still in their word processor.
Files can be uploaded from Microsoft Word or imported from Google Drive and other cloud services for fast and easy editing.
PandaDoc's built-in document editor is available on the Essentials, Business, and Enterprise plans.
While you can perform basic edits on the free version of Dotloop, only the subscription plans offer the full document editor.
MLS feeds
This is an area where Dotloop shines.
It has spent a ton of time working with local and state associations to provide users with the necessary forms and feeds that are essential for real estate professionals to succeed.
This is something exclusive for realtors who use Dotloop, and PandaDoc doesn't have a product feature to match it.
If you're looking for an end solution that integrates with MLS, Dotloop is a great option here.
Even better? MLS and association feeds can be accessed on Dotloop's free version, which further speaks to how specialized the solution is for realtors.
But it's worth noting that millions of agents access these feeds separately every day.
If it's not essential for everything to be integrated, you may benefit from a more generalized eSignature solution like PandaDoc brings to the table.
In-person signing
Strictly speaking, both PandaDoc and Dotloop offer in-person signing.
However, the implementation of this feature is different for both companies.
For Dotloop users, in-person signing is included as part of every standard package.
Meanwhile, PandaDoc doesn't offer in-person signing until users reach an enterprise-level package.
At some level, this makes sense because many real estate transactions take place in person.
On the other hand, this isn't a strict requirement.
Documents are emailed all the time.
It's possible to sign using a mobile device or via a specialized mobile app — which both companies offer for Android and iOS — to complete documents without passing hardware devices around the table.
Integrations
Depending on your needs, the integrations offered by Dotloop and PandaDoc may be deciding factors in how these software solutions fit into your workflow.
Broadly speaking, PandaDoc offers native integrations and greater cross-platform compatibility.
Business and Enterprise users can integrate with popular CRMs like HubSpot, Zoho, and Zendesk; secure payment gateways like Stripe and PayPal; and general productivity tools like Google Workspace.
Enterprise users also have access to a powerful Salesforce integration.
for popular CRMs, payment gateways, and general productivity tools.
On the other hand, Dotloop offers real estate-specific integrations that may bring greater value to your organization.
In lieu of the more general integrations provided by PandaDoc, all of Dotloop's paid plans include CRM connections with systems like Zillow, Zurple, and others.
Both companies also offer connections through Zapier, which helps users integrate with thousands of additional apps, as well as options for SSO and API integrations.
While we feel that PandaDoc is more versatile in this area, it's hard to ignore the excellent integrations that Dotloop offers from real estate agents who are looking to integrate their entire workflow for complete, real-time visibility.
Dotloop: Bottom line
Overall, Dotloop is a powerful tool for real estate agents and teams alike.
It's got great user reviews and is trusted by industry professionals to manage complex real estate transactions.
If you're a realtor looking for a software platform focused on ease of use and transaction management, you can't go wrong with Dotloop.
On the other hand, PandaDoc isn't as specialized when it comes to real estate.
If you're not using real estate-specific software, or if you want a solution that offers greater overall flexibility rather than being restricted to a single industry, PandaDoc may be the better fit.
The best way to know is to give it a try.
Sign up for a free 14-day trial of PandaDoc Business and change the way you send and sign documents online.
FAQs about Dotloop costs
Yes. Accessing Dotloop's free plan is as simple as creating a Dotloop account.

From there, you can create up to 10 free real estate transactions, download the free mobile app, and share, eSign, and store documents. You can even manage task lists and track real-time interactions.

However, Dotloop doesn't offer a free trial. So, if you want access to more advanced features, you'll have to buy a paid plan outright.

By creating an account with Dotloop, realtors can access a set of features within its digital workspace.

Within this central, digital workspace, real estate brokers, teams, coordinators, and agents can connect and collaborate with their clients. The features that you have access to will depend on the Dotloop pricing plan you choose.

All paid plans come with secure electronic signatures.

Dotloop was founded in 2009 by Austin Allison and acquired by Zillow in 2015. From the beginning, its mission statement has been to create a frictionless real estate transaction process from start to finish.

Yes. Like most electronic signature software providers (including PandaDoc), Dotloop has implemented strict security measures and maintains industry-standard safeguards to protect its clients' data.

For example, Dotloop uses SSL encryption, doesn't store usernames and passwords in plain text, and automatically expires links in emails to transaction documents after 30 days.
Disclaimer
Parties other than PandaDoc may provide products, services, recommendations, or views on PandaDoc's site ("Third Party Materials"). PandaDoc is not responsible for examining or evaluating such Third Party Materials, and does not provide any warranties relating to the Third Party Materials. Links to such Third Party Materials are for your convenience and does not constitute an endorsement of such Third Party Materials.
Originally published November 11, 2020, updated April 6, 2023