They say buying a house is one of the most stressful things you'll ever do in life. Those people clearly haven't tried selling them for a living!
We all know selling real estate is a complicated process.
Each sale requires mountains of paperwork and an often tedious back and forth between buyers and sellers.
If you're a realtor, you've undoubtedly found yourself juggling multiple sales at once, just wishing for a way to make the whole process easier.
Fear not, help is at hand.
Numerous services have emerged over the past few years to help agents and brokerages streamline their work.
We at Pandadoc have put two heavyweights in the ring to determine which one is right for you. Ding ding ding! It's dotloop vs. DocuSign.
How does DocuSign or dotloop work?
E-signature platforms like DocuSign or dotloop help you to simplify data management.
They allow users to add secure and legally binding signatures to documents online.
Although DocuSign and dotloop are similar platforms, they can offer you varying features depending on your needs.
Dotloop, in particular, has been designed with real estate in mind, whereas DocuSign is more of a one-size-fits-all kind of tool. So, how do they work, and why are they helpful in real estate?
Simplify data management
With dotloop, you can monitor and manage transactions, giving you better control over data management.
Real estate professionals can manage transactions from start to finish with dotloop.
On the other hand, DocuSign has fewer data management capabilities as it's more of a basic eSignature tool with more limited functionality.
Overall, a good eSignature platform allows you to assign documents ready for signing, prompts you if you're still waiting for a signature, and lets you store documents in a safe and secure way.
Avoid data breaches
With platforms such as dotloop and DocuSign, you can minimize data breaches because all information is kept securely.
Nowadays, sending forms to sign online is just as safe as doing so by post. All files are secure, and you can rest assured the signed documents will be legally binding.
Comply with regulations
Many eSignature tools offer advanced security features such as encryption, tamper seals, and intent confirmation.
They're also designed in compliance with eSignature laws, like the eIDAS regulations and ESIGN Act.
Dotloop assures users it has "put in place physical, electronic, and managerial procedures to help safeguard and secure the information we collect online".
With Docusign, all information is stored under the highest levels of encryption, including ISO 27001 and SSAE 16 certifications.
Product overview
What is DocuSign?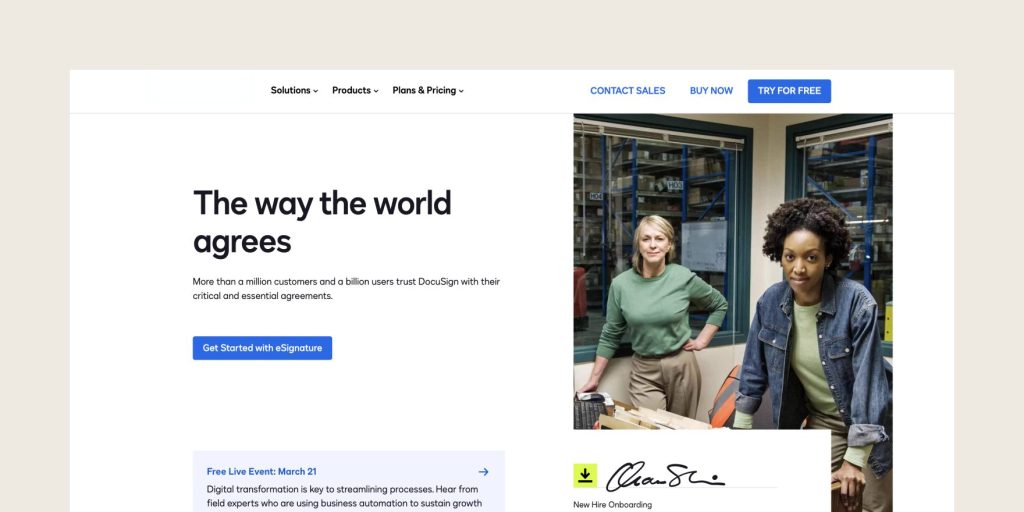 Cost: $10/month for Real Estate Starter plan; $25/month for Real Estate plan; $20/month for DocuSign for Realtors (if you're a member of NAR); Plus enhanced plans available, pricing not listed.
Ease of use: 4.7/5
Functionality: 4.4/5
Support options: Phone, ticket, chat
Platform availability: Online, all devices. Mobile apps available for iOS and Android.
Free trial: Yes. 30 days.
Without a doubt, DocuSign is a major player in the real estate space when it comes to sending documents and gathering electronic signatures.
The company offers a plan that has been endorsed by the National Association of Realtors (NAR) and has worked hard to provide a product offering that appeals to real estate professionals across the United States and Canada.
As with its standard eSignature plans, DocuSign's real estate plans center on uploading, signing, and sending contracts and documents.
The company offers integrations with Google Drive, Dropbox, zipForm Plus, and more. It's also focused on expediting workflows and processes common for real estate agents.
Between notification tools, reusable templates, and other essential features, it's easy to see why DocuSign is a winner for agencies and brokerages across the US.
What is dotloop?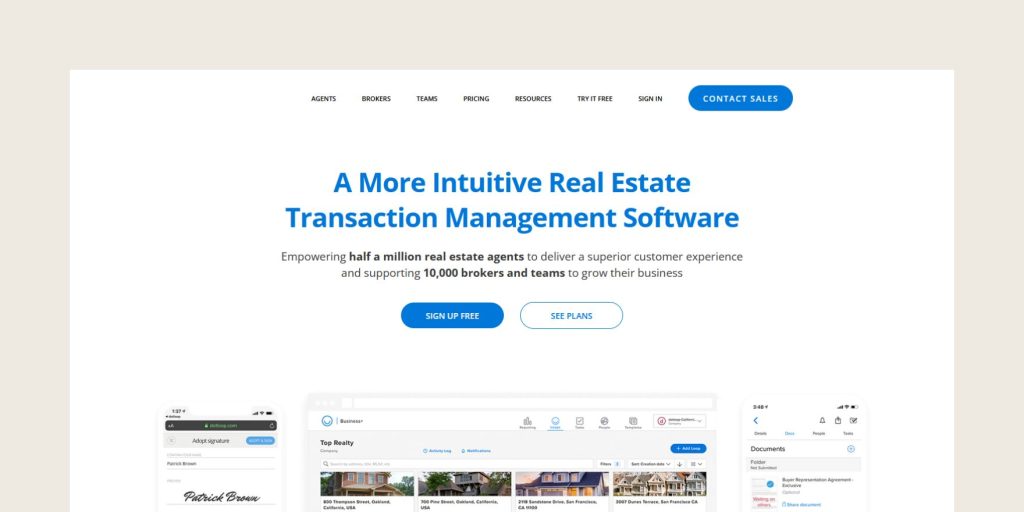 Cost: $31.99/month for agents; team and business plans available, pricing not listed. A free plan is available.
Ease of use: 4.4/5
Functionality: 4.5/5
Customer support options: Knowledge base, email support, live chat
Platform availability: Online, all devices. Mobile apps available for iOS and Android.
Free trial: No, but a free plan is available.
If DocuSign is a premier solution for getting documents signed, dotloop is focused on all that and more.
Aimed at empowering agents to handle everything from document management to digital signature capture, dotloop has created an all-in-one solution to expedite real estate transactions.
With dotloop, agents can focus on "closing the loop."
When listings are created in dotloop, the platform provides a workspace where everyone involved in the sale can see what's going on.
This includes bringing in sellers, other team members, and even outside resources to develop a listing.
Agents can upload document templates, add signature fields and checkboxes, and even facilitate the signing process.
When it's time to bring buyers into the loop, dotloop makes it easy to introduce them to the transaction process and make sure that all documents are signed and finalized along the way.
With dotloop, agents, sellers, and buyers can engage in a more robust sales process.
That's why dotloop is used by agents from leading real estate brands like Re/Max, Coldwell Banker, Century 21, and others.
Comparison
At a fundamental level, both DocuSign and dotloop are focused on the same thing: Helping agents close deals faster.
Both services have an environment where agents and signers from both sides of the table can meet.
Both have the ability to mark up and comment on documents.
Both even share the same mentality about using the most current version of a document throughout the signing process.
So how are they different? Let's take a look.
Document formatting and template creation
At a high level, the document formatting and creation process for DocuSign and dotloop looks the same.
Agents or brokerage teams must import all relevant documentation and then use a document editor to drag and drop editable fields onto the documents.
If you've ever prepped a document for a digital signature, you'll be familiar with this process.
You'll need to drag in all electronic signature and initial fields, text boxes, checkboxes, date fields, and more until the entire document is formatted correctly.
No matter how user-friendly the interface might be, this is a laborious task when importing documents for an online signature.
DocuSign and dotloop both follow a similar process when formatting documents for signature.
This is also the same process when preparing document templates.
The big standout for dotloop during document preparation is the ability to copy and paste fields without the need to constantly drag and drop them from the editor menu onto the screen.
DocuSign has a similar feature, but it's not as refined as the dotloop experience.
With dotloop, you can use keyboard shortcuts to copy and paste fields across your document quickly. This makes it easier than ever to prep a document for signing.
Because you'll assign signers as you go, you don't need to switch back and forth across multiple menus to find which signer you need.
You place the field, select the signer or the field variable (address, date, agent name, etc.), and move on.
Winner: dotloopBased on the methods that dotloop uses to streamline the template creation process, it's a clear winner here.
Signing process
If you're already using digital signatures for your real estate transactions, you probably know how they help you boost your bottom line when closing deals by speeding up your transaction process.
And, though the signing process is similar between dotloop and DocuSign, there are some distinct differences.
With DocuSign, the signing process is part of the document preparation workflow.
Agents will prepare the document, fill out all associated content within, and email the document for signature capture.
Using dotloop, you'll follow a similar process — except that its platform handles most of the workflow processes as you upload content.
Customer profiles are treated as separate entities within dotloop.
When agents create a new listing and add a new seller to that listing, dotloop will prompt the agent for more information.
This includes commonplace items like first and last names, addresses, and more.
This is important because the information entered during this process is used to autofill designated fields throughout the entire signing process.
When an agent selects a document for sending, dotloop will autofill all relevant fields within the document.
Agents won't need to manually enter as much information and can complete the signing process even faster. From the customer's perspective, the process is very similar.
Both DocuSign and dotloop send an email.
Buyers, sellers, and agents can review the document and submit their digital signature, make comments, or suggest changes.
This process repeats itself until the document is completely signed and everything is settled.
When it's time to sign, both dotloop and DocuSign offer in-person signing solutions, so agents can bring their iPad or Android tablets to a meet and quickly sign over everything in a digital format.
Winner: dotloop
In this scenario, DocuSign is a formidable competitor — but it falls short compared to the environment that dotloop sets up for its users.
Those extra steps make dotloop the winner of this round.
DocuSign vs dotloop integrations
If you're comparing dotloop and DocuSign purely according to the number of integrations available to you, DocuSign is a clear winner.
DocuSign has gone out of its way to ensure that it is compatible with nearly every platform, from Google Drive to Evernote.
But dotloop has the integrations that may matter most to real estate companies.
Connecting with CRM platforms like Zillow, and accounting software like Quickbooks and BrokerSumo helps to make dotloop leading transaction management software.
DocuSign is a capable provider here, but it's worth noting that most of the integrations it offers use it as a signing platform and little else.
Using dotloop, you'll be able to do more than sign. You can manage properties, collect user reviews, close deals, and more.
Winner: Draw
The sheer volume of integrations that DocuSign has at its disposal is staggering, but bigger isn't always better.
For agents and brokers, dotloop has them where it counts.
Agent environment
This is where dotloop really shines.
As a signing solution, DocuSign is a great option that gets the job done — but it's hard to surpass the power that dotloop brings to small businesses across the real estate industry.
We've touched on it a little already, but dotloop creates an environment where the agent can manage every aspect of the real estate process.
This takes it beyond the signing process and moves it into something similar to a project and transaction management solution.
Users pick up DocuSign because they need a digital signature platform that helps them capture electronic signatures more quickly (even though there are great alternatives out there).
For dotloop users, signature capture is just part of the process.
This might not be an issue if DocuSign's rates weren't comparable to dotloop pricing.
Because the pricing is so similar, and because dotloop gives you everything you need to manage your real estate transactions, we have to give this one to dotloop.
It's the obvious choice.
Winner: dotloop
There isn't much of a comparison here.
DocuSign's user environment isn't set up to help agents sell property and close deals.
With dotloop, you'll enter an ecosystem that goes beyond signature capture.
Other features comparison
eSignatures
DocuSign and dotloop are both great tools for real estate businesses.
DocuSign is designed for eSignatures across many industries, whereas dotloop focuses on real estate, which may make it the preferable choice for realtors.
However, DocuSign is more transparent about the data laws with which it complies, which may make it more secure than dotloop.
Along with other eSignature platforms such as PandaDoc, DocuSign complies with ESIGN and UETA, which means your information is always protected.
While both platforms allow you to send documents for a signature, dotloop has templates to choose from to assist you with the process, which can be beneficial for multiple real estate agents working on the same software. DocuSign allows you to send pre-made documents only.
However, when it comes to real estate document templates, PandaDoc arguably has both dotloop and DocuSign beat, with a wide range of useful, customizable options.
Winner: dotloop
API
When it comes to API features, both platforms have a lot to offer.
DocuSign boasts an award-winning eSignature API that handles everything from "proofs of concept to worldwide enterprise integrations at scale".
Dotloop also allows you to leverage its API to drive deep integrations across your technology stack. It can grow with you as your business grows.
Again, however, PandaDoc matches—if not betters—both of our principal competitors with an all-in-one API that makes automated document generation and eSigning a breeze.
Price-wise is where we see the biggest difference between dotloop and DocuSign API.
It will cost you $300 a month to sign up for the DocuSign Intermediate plan, and $199 a month to subscribe to the Enterprise level of the dotloop pricing plan. They both offer free trials.
Compared to other platforms such as Pandadoc, which offers a rate of $2 per document generated, both DocuSign and dotloop pricing could seem on the more costly side.
Winner: dotloop
Analytics
DocuSign has advanced analytics features such as geolocation capture and real-time status reporting.
Dotloop provides a similar service, giving users the chance to access real-time analytics of deals under contract and agent performance.
Dotloop is more catered to the real estate industry, so users may find the analytics options here more relevant to what they want to see.
Both offer a variety of analytics that can be beneficial for performance tracking.
Winner: Draw
HR documents
DocuSign integrates well with any existing HR information system.
It's great for the onboarding process because you can send and receive signed documents with ease.
It also offers dozens of languages which can be very beneficial if you're completing deals overseas.
Dotloop is equally as useful when it comes to onboarding clients and simplifying the process.
You can create digital onboarding packets and use document placeholders to highlight which documents need to be requested—W9s, driver's licenses, etc.
Winner: Draw
Contracts
Since dotloop is designed with real estate in mind, it's predominantly used for contracts pertaining to buying, selling, and renting properties.
One of the benefits of dotloop is that it "closes the loop" between buyers, sellers, and agents.
It does this by providing a platform that everyone can access and upload, sign, and discuss documents and contracts.
Agents can collaborate via the platform to ensure there are no mistakes or issues with the contract before it is sent to the potential buyer or tenant.
DocuSign has a more broad range of uses not specific to real estate.
Many DocuSign alternatives can also offer similar features that are also not real estate specific.
One of the benefits of DocuSign is that it's easy to access and contains over 350+ integrations, meaning you can combine it with any system you already have in place.
For online contracts, it is one of the safest ways to send a document, as it's regarded as one of the most secure eSignature platforms in the industry.
Winner: dotloop
Document storage
DocuSign stores your documents securely, depending on the region you are in.
It has storage locations in the US, Canada, the EU, and Australia.
When customers sign up to DocuSign, their signature service is assigned to one of these regions.
For users, you can access documents on the cloud via Dropbox, Google Drive, and other storage platforms.
Dotloop also offers secure storage but doesn't go into as much detail as DocuSign.
However, it does boast bank-grade encryption, world-class protection, and verification from third parties.
Winner: DocuSign
Our recommendations
1. Dotloop for career realtors looking for a real estate sales solution
If you're a career professional and you're selling real estate full time, you already know how competitive the market can be.
With so many competing agents and companies out there, it's important to give yourself an edge so that you can spend less time chasing documents and more time selling homes.
For agents that fall into this category, dotloop makes total sense.
Using dotloop, it's easy to engage in transaction management, quickly respond to movement on listings, and minimize paperwork hassles.
The platform has everything you need, from audit trails for your documents to online support, training webinars, and even ways to capture user reviews for social media.
2. DocuSign (or PandaDoc) for agents who just need an eSigning platform
For part-time realtors and organizations that already have their own transaction workflow, DocuSign might be your workhorse when it comes to getting documents signed and delivered.
If adopting an entirely new platform or transitioning your agent workflow to a new system would be more trouble than it's worth, DocuSign may deliver a niche solution that provides just the right amount of functionality.
In that case, DocuSign might be the better option.
With dotloop, you'll need to adopt the entire platform in order for everything to work correctly.
Electronic signatures are included, but it's really an all-or-nothing workflow.
Realistically, though, you can get the same kind of solution that DocuSign provides through other platforms, as well.
PandaDoc offers free eSigning, as well as a robust document editor to help you create contacts, forms, and other business documentation whenever and wherever you need it.
Better proposal design with PandaDoc
And there you have it!
We hope you've found our DocuSign vs dotloop comparison useful. Both serve the real estate industry well at varying levels.
However, even dotloop may not be a great fit if you're looking for the ability to build your own content.
As with most document management and signing platforms, dotloop doesn't provide the ability to create documents from scratch.
Real estate contracts, marketing materials, forms, addendums, and everything else need to be created through another channel and uploaded to the dotloop environment for prep and signature.
With PandaDoc, you can create documents completely from scratch and prepare everything as you go.
While PandaDoc isn't a highly-specialized real estate tool, our platform can handle all the paperwork that accompanies a home sale with ease.
Click here to find out more about PandaDoc.
And don't forget: If you just need to get your documents signed, be sure to check out our brand new Free eSign plan!
Frequently asked questions about dotloop vs DocuSign
Zillow, an American tech real estate company created by Rich Barton and Lloyd Frink owns dotloop, which explains why the technology is so geared toward the real estate industry. Dotloop was founded in 2008, it was purchased by Zillow in 2015 for more than $100 million. 

Dotloop assures customers that it has "put in place physical, electronic, and managerial procedures to help safeguard and secure the information we collect online." In addition to this, dotloop states that when customers input information such as credit card details, it's encrypted with secure socket layer technology (SSL).

Realtors can sign up to dotloop to send and receive signed documents quickly and efficiently. Just sign up for free to access various features such as eSign, sharing documents, scanning, and templates. It also integrates with 75+ real estate apps so you can use it in conjunction with your existing software.

DocuSign offers a real estate starter package for $10 per month. Its DocuSign for Realtors package is $20 a month, and the standard real estate package is $25 a month. You can also purchase an enhanced plan which offers advanced features, but you need to get in touch with DocuSign to arrange this.
Disclaimer
PandDoc is not a law firm, or a substitute for an attorney or law firm. This page is not intended to and does not provide legal advice. Should you have legal questions on the validity of e-signatures or digital signatures and the enforceability thereof, please consult with an attorney or law firm. Use of PandaDocs services are governed by our Terms of Use and Privacy Policy.
Originally published June 23, 2020, updated April 4, 2023