Picture the following scenario:
Maya is a sales manager at an athleisure company looking to deliver new Halloween hoodies to shoppers in the Tri-State area before the end of October.
Her company wants to outsource product delivery to New York-based OneWay Logistics.
Despite reaching a verbal agreement, both parties still need to finalize a legally binding contract.
For this reason, Maya needs to draft and service an executed agreement spanning the duration of her company's intended cooperation with OneWay Logistics.
Chances are, as a business professional, you've been in Maya's situation before, where you need to move past the proverbial handshake and finalize an agreement — contractually, legally, and quickly.
In this article, we'll explain how to execute an agreement that will be enforceable in a court of law.
Continue reading to find out what should be in Maya's final draft of the executed agreement — and, more importantly, each one of your own — as well as key considerations when signing one.
Key takeaways:
Executed agreements cover the intricate details of any legal contract between two parties.
Only contracts containing key details, as well as the necessary contract clauses, will meet the minimum standards of legality and enforceability.
Following the necessary steps outlined below will show you how to draft, execute, and renew agreements.
Your business will run like clockwork if you properly execute and manage all contracts using the right tools and systems.
What is an executed agreement?
An executed agreement (executed contract) is a legally binding document that covers any form of cooperation between two parties.
This document contains information about the deal, signatories, and relevant dates.
Depending on the stage of execution, an agreement could be deemed wholly or partially executed.
When an executed agreement has been fulfilled by all parties, it now becomes a fully executed contract. But if it is still in process, it is called an executory agreement.
In essence, a fully executed agreement meets all the standards of "signed, sealed, and delivered." Conversely, an executory agreement is "signed, sealed, and yet to be delivered."
Companies and individuals can execute a contract in the following scenarios:
Services, sales, and purchases
Franchise agreement
Auto or equipment lease
Real estate or property lease
Rental agreement
Intellectual property license
Lending agreement
In our athleisure company example above, Maya can execute services or sales contracts with OneWay Logistics to cover all her company's delivery needs.
Contents of an executed agreement
The agreement you execute for a sales contract differs from that used for a lending contract.
But at the base level, your executed agreement should contain the following information:
The personal data and contact information of all parties.
A detailed description of services.
A detailed description of terms and legal obligations.
The duration of the agreement (execution and effective dates).
The signatures and initials of all parties
The jurisdiction of execution (New York, in Maya's case)
The payment schedule (one-time or installments)
Conditions of confidentiality (non-disclosure agreements)
Amendments (for renewals)
Additional clauses
Common clauses in an executed contract
These clauses often appear at the end of the main body of the agreement.
They outline special conditions of applicability. Some noteworthy contract clauses include the following:
A severability clause preserves the agreement's validity even if it is an unenforceable contract.
A jurisdiction (governing law) clause specifies the governing law for settling potential disputes.
A force majeure clause outlines the conditions for suspending responsibility due to unforeseen circumstances. Had our example occurred during the peak of COVID, for instance, this clause would have protected OneWay Logistics from lawsuits if they were unable to deliver the hoodies to shoppers on time.
An amendment clause specifies how contractual changes should be handled and countersigned by all parties involved.
A waiver clause abdicates one side of the agreement from responsibility.
Potential headaches when executing a contract
Let's briefly discuss some issues that could pop up when a contract is executed.
The document management process is too disorganized to smoothly track the progress of negotiations. Some companies still rely on paperwork and faxing solutions for all their contracts and external communication.
Getting the agreement wording right could pose a difficult task if you don't have a legal team. You need to get the fine details spot on to ensure the agreement stays enforceable in your region.
The contract drafting and execution process often takes a lot of time if you don't have a working template.
Keeping track of all the signatories can be a challenge in large companies with rigid bureaucracies. You need a system to keep them all informed and collect the necessary signatures in time.
You need to consider the right eSign tool to use, especially when both signatories are using different work management systems.
Things could get lost in translation, especially when working with multi-lingual company representatives, where language proficiency might vary.
When is an executed contract unenforceable?
An unenforceable contract is any agreement that doesn't meet the conditions of legality.
Here are some cases where a contract could be considered unenforceable:
One of the signatories is a minor (below the legal age of majority), and they signed the agreement without the consent of a legal guardian.
One of the signatories had to sign the contract under duress or threat of bodily harm.
One of the signatories lacks the capacity to grasp the contents of the agreement they are signing. This comes into play when someone is signing a contract in a language they don't understand.
One party failed to disclose important information that could change the conditions of the agreement.
Elements of the contract go against the local law of the governing body.
The contract contains conditions that are impossible to fulfill — or they are demonstrably unfair to one of the entities.
Why do you need executed contracts?
You need an executed contract for different reasons, whether as a public or private company, or if you want to sign a contract with another individual entity.
Let's go through the importance of executed contracts:
Outline responsibility to determine who's in charge of each aspect
An executed contract outlines who does what in the agreement.
In Maya's case, she can outline the level of responsibility that OneWay Logistics should take for delivering her company's products.
Details like packaging and returns should be in the contract agreement.
This will eliminate ambiguity and clarify liability in case something goes wrong.
Executed contracts also protect your interest in every agreement by limiting your culpability for risks.
You can add different clauses to ensure you don't come out at the wrong end of the deal.
Keep the business running like clockwork
With an executed contract, you can maintain rigid time frames for better accountability.
This will help all signatories know the contract lifecycle and when to fulfill their end of the deal.
Two crucial time factors to note in agreements are the execution date and the effective date.
The execution date is the day (and time) when the contract was signed.
It could also stipulate the day every party in the contract should have completed their part of the deal.
In like manner, the effective date outlines when the contract takes effect.
So, even if Maya signs the contract in May, it can only take effect on October 1 if stipulated as such.
The agreement does not cover anything that happens before the effective date.
Make agreements that will hold up in court
As mentioned earlier, Maya only has a verbal agreement with OneWay Logistics.
But even though the logistics company can keep their end of the deal in principle, they can abdicate responsibility without any consequences — it is Maya's words against theirs.
That's why Maya needs to etch the agreement in digital stone using an executed (executory) contract. Should OneWay Logistics refuse or fail to deliver the hoodies before Halloween, Maya will have legal recourse to sue them.
How do you execute a contract?
Regardless of the type of contract, you have to follow a systematic approach to cross all your contractual Ts.
Here's how to do it right using PandaDoc.
Step 1: Draft the contract
Start by creating an initial draft containing the definition of key terms of the contract as well as other details like the scope of services, payment schedule, confidentiality clause, dispute resolution, governing body, and conditions for termination.
You can hire a law firm to draft the contract from scratch — or you could grab contract templates from a trusted online source like PandaDoc to save time and energy.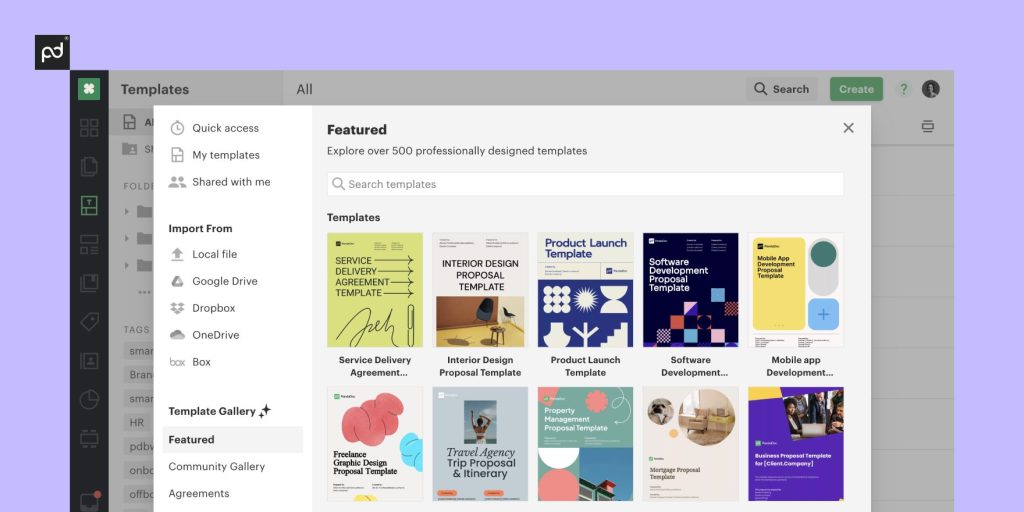 Step 2: Stipulate the important dates
When drafting the contract, always make sure to underscore the date it should take effect as well as the date it was (or should be) signed.
This information establishes a coherent time frame that puts every signatory on the same page.
Step 3: Keep all signatories in step with one another
At every stage of redlining (editing and reviewing) the agreement, you should always keep all parties informed and engaged.
If you make slight changes to sections of the document, involve everyone in reviewing the adjustment. You can also direct their attention to the signature pages.
For Maya, she might need to involve upper management and business analysts to make sure she isn't straying beyond the company's budget.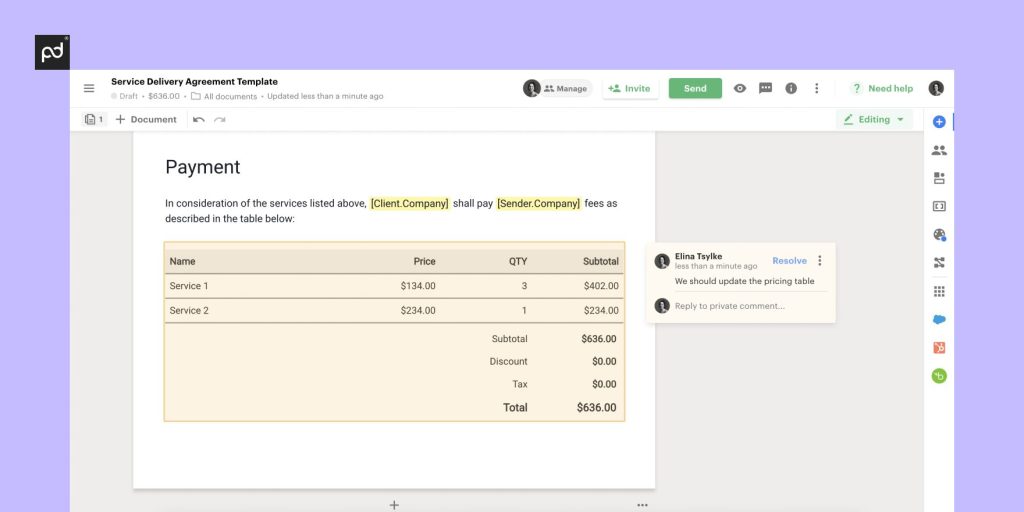 Step 4: Review the contents
Once the draft is ready, go through the agreement's wording to make sure it is clear without any trace of ambiguity.
Even if you don't have a legal services expert, you can still review the contents to ensure what you're about to sign will cover all your (company's) interests.
Step 5: Find a witness
Before executing agreements like real estate planning contracts and power of attorney documents, you need a witness or counterparty to act as a signatory.
In some regions, the witness could be a court official or any legal adult.
The only critical factor is that the witness should not have a conflict of interest in the agreement.
Step 6: Let the legal team review the contract
After doing your due diligence with the agreement draft, send it to a lawyer for review.
They will go through the legal-speak in the document to make sure it aligns with the jurisdiction of execution (which is New York in Maya's case).
Step 7: Share the contract
Once the legal team approves the draft, you can send it to the other party.
Normally, this will be a time-consuming, back-and-forth process with changes on both sides until all interests are in sync.
To keep the latest copy of the draft and maintain a consistent workflow, you need a contract management system.
This way, if you want to revert to a previous version of the agreement, you can easily retrieve it from the repository.
And most crucially, let your legal team review last-minute changes.
Step 8: Sign the contract!
With everything in place, you can now sign the contract using electronic signature software to make things faster.
This solution allows you to add text fields or click-to-sign buttons for electronic signatures to speed up the process and enhance the user experience for signatories.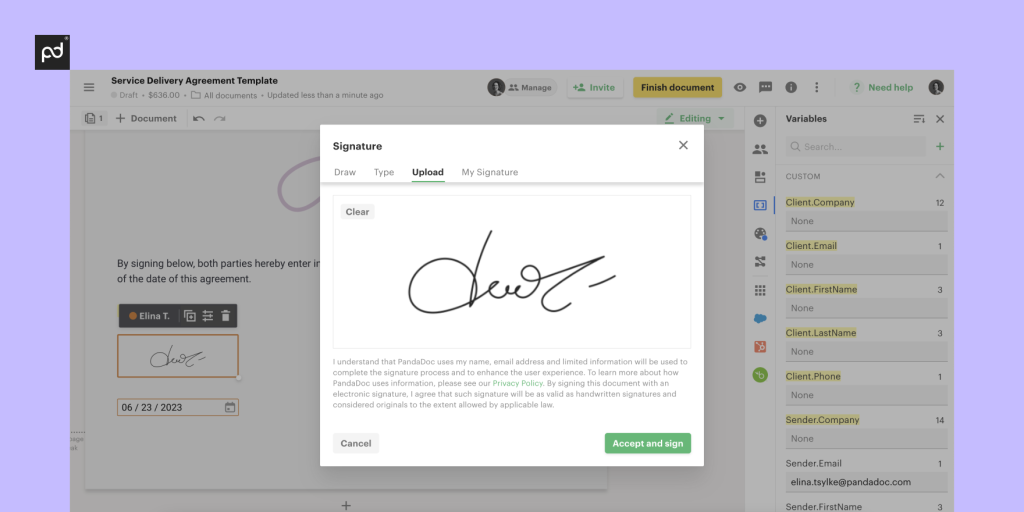 Step 9: Analyze the metadata
Tracking and analyzing metadata will help you determine the identity of the person signing the agreement as well as where and when the contract is signed.
You can also track system-generated metadata, including timestamps and file versions.
Analyzing all this information will help you understand how to optimize the contracting processes in order to make room for minimal adjustments and reviews.
With PandaDoc's approval workflow, you can extract, store, and analyze metadata from the digital contract. You also get access to system integrations to improve your workflows and save time.
Step 10: Review and renew the contract
After analyzing the results of the cooperation, you can decide whether to renew, renegotiate, or terminate the contract.
For example, after a successful Halloween sprint, Maya can decide to renew her contract with OneWay Logistics for the Christmas and New Year holidays.
Conversely, if the executed agreement leads to an adversarial relationship or poor results, her company could decide to terminate the contract or even pursue legal action against OneWay Logistics. (And that sentiment can go both ways).
You can use PandaDoc to renew your contracts in one click from any CRM.
Don't worry about keeping track of looming deadlines; you can adjust the settings to receive renewal notifications promptly.
Draft, execute, renew!
Executing a contract gives you a soft landing pad when navigating the rough terrain of contract management and negotiations.
Always review the agreement document to make sure everything is in place.
You can also use document management software and eSignature solutions to get the needed signatures faster.
If you get stuck in the details, you can always seek legal help from professionals.
With the information discussed in this guide, Maya can now execute an agreement before diving right in to start delivering those hoodies in time for Halloween.
Be like Maya; sign up for PandaDoc for free and start enjoying seamless contract management, execution, and renewal.
Frequently asked questions
Executing an agreement means partially or wholly fulfilling the conditions of the agreement. This involves drafting an agreement, sending it for review, adding all the signatories, and getting them to sign it. If the contract is completely fulfilled, it is called a fully executed agreement. If it is still in progress, it is called an executory agreement.

Executing a contract means carrying out your responsibilities as stipulated in the terms and conditions of the agreement. Signing a contract simply means adding your signature to the document. You can sign a contract without fully executing it — but you run the risk of incurring fines and inviting lawsuits.

You can save your contracts using contract management software. This tool will help you store several versions of your contracts online. For example, PandaDoc's contract management system also provides templates for drafting a written agreement in minutes.

Yes, you should hire a lawyer to execute a contract. The lawyer can help you review the details of the agreement for legality and clarity within the realms of contract execution. They can also offer legal advice to keep you from signing unenforceable contracts.

After executing the contract, you must review the results to determine if it was beneficial to you. Based on your findings, you can decide whether to renew or terminate the contract. You also have the option to pursue legal action against other parties if they fail to fulfill their end of the agreement.
Disclaimer
PandDoc is not a law firm, or a substitute for an attorney or law firm. This page is not intended to and does not provide legal advice. Should you have legal questions on the validity of e-signatures or digital signatures and the enforceability thereof, please consult with an attorney or law firm. Use of PandaDocs services are governed by our Terms of Use and Privacy Policy.