Most CPQ software offers product options to guide sales and increase your chances of closing deals.
In this article, we will teach you about the various Salesforce product options, guided selling, its advantages, and how to implement them.
Key takeaways:
Guided selling options allow you to streamline quote creation to design customer-specific offers.
CRMs like Salesforce provide features to configure your product.
Send fully personalized quotes and store all your business documents by integrating PandaDoc with your Salesforce CRM.
The benefits of guided selling for your sales channels
Guided selling is becoming a major key driver for sales teams, as it greatly simplifies the sales cycle while providing an exceptional user experience for your customers.
For customers
Besides improving the user experience, guided selling also allows customers to:
Get more control over what they buy.
Highlight what they are looking for in the list of products.
Have access to real-time and accurate quotes or pricing information.
For sales reps
Guided selling is not only for clients but also helps your sales teams to:
Control the quality of the sales process.
Prioritize strategic accounts and opportunities.
Set up pricing rules and add products easily.
How to implement guided selling in Salesforce
If you are already a Salesforce user, you may be aware that the CRM provides various advanced features for navigating your product catalog and creating guided selling tools.
To help you get started, here are the steps to follow.
1. Ensure all your data are up to date
To make your guided selling options a hit, it's crucial that all your product information, such as prices, discounts, and volume, are always up-to-date.
With the seamless integration of PandaDoc and Salesforce, you can easily import CRM data with just one click while creating quotes.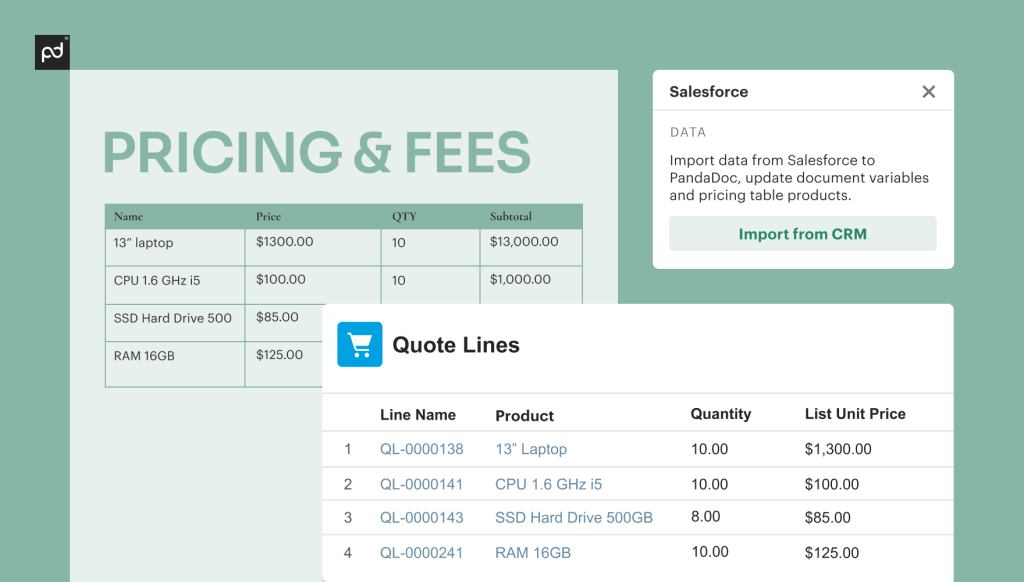 That means no more time-consuming manual data entry for your sales team and less room for quote errors.
2. Create your predefined questions
Salesforce has advanced features for creating guided selling capabilities. Here's how to do it.
Create the input fields
These are the questions to ask during the guided sale.
It will allow you to create custom questions that you want to ask users.
Connect to the product
Now that you have created your questions you need to connect them to the corresponding products so that the guided sale will display the right products when the sellers do the searches.
Create a new quote process for guided selling
At this point, all you have to do is create the quote process utilizing all the parameters you just assembled for the guided sale.
3. Build an intuitive product catalog
Scrolling through endless product references in a catalog can be a daunting task.
To make it easier, you can incorporate pictures to showcase each product.
And with the integration of PandaDoc and Salesforce, you can effortlessly include high-quality images and detailed descriptions of every product.
This means that navigation through your catalog will be a breeze, especially during guided selling.
4. Use personalized templates
Now that you have defined your product rules and your guided sales process is ready, connect PandaDoc to Salesforce to take advantage of the many templates of business documents, contracts, and fully customizable quotes.
PandaDoc integrates seamlessly with Salesforce's CRM and will allow you to manage all your legal and commercial documents, secured by legally binding electronic signatures.
Manage all your quotes in Salesforce with PandaDoc CPQ
With PandaDoc CPQ, you can take complete control of your quotes within Salesforce.
Our powerful tool offers endless product options, so you can create fully customized offers that cater to your customers' every need.
Get started now by contacting one of our representatives for your PandaDoc CPQ demo.
Frequently asked questions
Guided selling implemented in CPQ is a tool that allows sales representatives to find products and services quickly by following predefined questions. Simply put, the guided selling system has a command process that salespeople use to select different types of products or services and then add them to the quote.

Product bundles.

This option lets your salespeople sell products and services as

packages

. You can create unique offers for your customers based on a catalog of products with a lower purchase price than if they had purchased the products separately.

Usage-based products.

This

configuration lets you establish a price rule that evolves according to usage. For example, if you sell storage space, you can set a price that decreases according to the volume purchased by the user.

Subscription products. You can create and sell services over a specific period (weekly, monthly, or yearly). Subscription products are mainly used by SaaS companies which both offer monthly or annual pricing.

MDQ products. Multidimensional quoting (MDQ) lets your sales reps tailor subscription offers. This feature allows you to divide a subscription product into different segments. For instance, let's say you offer a one-year subscription to your customers. Thanks to the MDQ option, you can give discounts for the first three months as an incentive.
Disclaimer
PandDoc is not a law firm, or a substitute for an attorney or law firm. This page is not intended to and does not provide legal advice. Should you have legal questions on the validity of e-signatures or digital signatures and the enforceability thereof, please consult with an attorney or law firm. Use of PandaDocs services are governed by our Terms of Use and Privacy Policy.