It's hard to find a productivity management tool that:
Has a 99% customer satisfaction rating.
Is trusted by 67% of Fortune 500 brands.
Provides a 17% return on investment (ROI).
Has received editor's choice awards from PC World.
However, Nitro ticks every box and impresses on every account.
Still, it's not without its faults, with some of its biggest criticisms being:
There's no free plan available (which is something most of its competitors provide).
It does not cater to all types of document formats needed by users.
Its leading competitor has better ratings on most peer-to-peer review platforms.
When you combine all these factors together, you might wonder: is Nitro Pro the right choice, especially when you rank it against its competitors?
Well, if that's also the question that has infiltrated your mind, then you're at the right place!
Here, we're reviewing Nitro based on its features, pros, cons, pricing, etc., (and comparing it with one of its biggest competitors, PandaDoc).
Let's dive in!
Review summary
Nitro PDF provides limited capabilities when factoring in the cost customers pay for those services.
There are other solutions on the market that offer the same functionality for a lesser price.
However, to its benefit, the features that it does provide work extremely well.
Our rating
Overall: 3.8/5
Pricing: 3.5/5
Features: 3.5/5
Customer support: 4.5/5
Ease of use: 4.5/5
Value for money: 3/5
| Pros | Cons |
| --- | --- |
| Extremely easy to use. | Not suitable for small businesses (small businesses with limited budgets can get the same features for a lesser price elsewhere, if not for free). |
| It provides user analytics and lets you automate workflows. | Customer support does not have a live chat or phone call option. |
| The solution is quite flexible. | No free versions (not talking about the trial period) are available for customers to get the hang of the product. |
| It makes collaboration a breeze. | The OCR tool does not function extremely well. |
Review methodology
To ensure that all the information we provide is up-to-date and accurate, we analyzed countless editorial reviews and reviews on peer-to-peer websites, social media channels, communities, forums, and podcasts.
All the information utilized was reviewed based on the authority of the website, review source, and author.
For the most part, we got all information from current or ex users of the product, or someone with subject matter expertise.
General overview of Nitro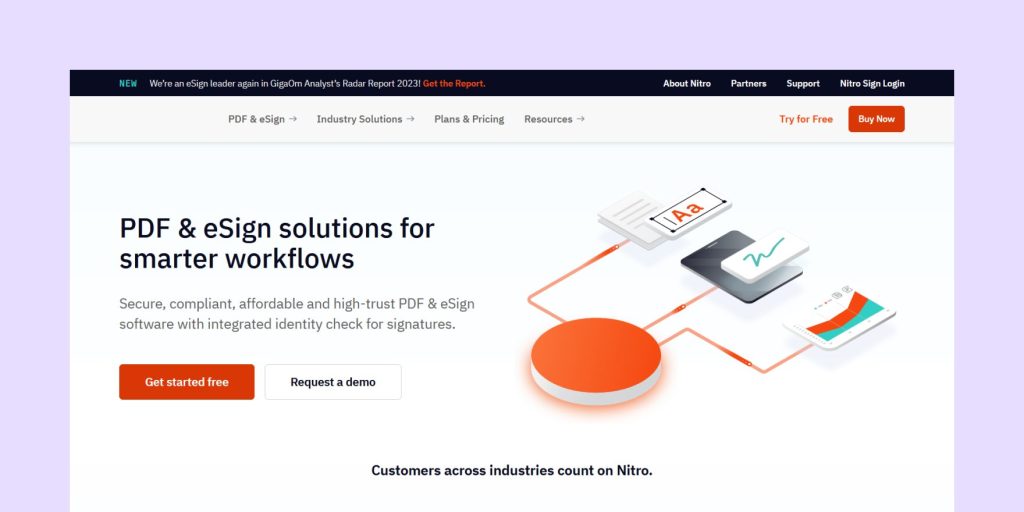 Nitro was launched in Australia in 2005 and had humble beginnings, with only three people making the whole team (one of them being Sam Chandler, who currently operates as the CEO of Nitro, Inc).
Over the years, the company grew its team to service nine localized hubs across the globe, acquired 13,000 customers, and more than 3 million licensed users.
It also expanded its product offering, and now provides services across three different verticals — e-signatures, PDF editing, and document workflows.
Product pricing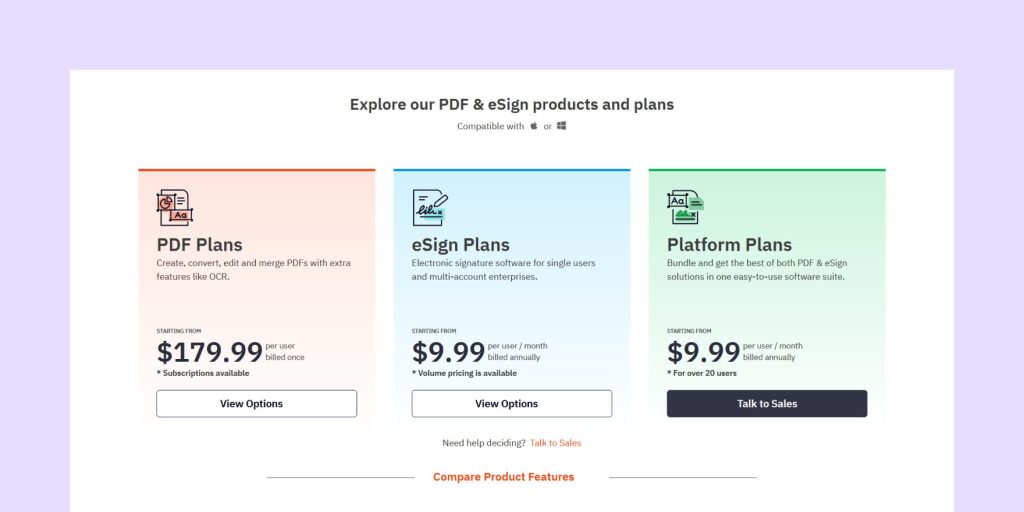 All three solutions of Nitro are priced differently. Here's how the pricing works for each solution:
PDF Editing Tool: $129.95 for a one-time license for PDF Essential users; $179.99 for a one-time license for PDF Pro users.
eSignature Tool: Essentials (priced at $9.99/user/month); Advanced (priced at $17.99/user/month); Premium (requires a custom quote).
Document Workflow Tool: $9.99/user/month.
The Document Workflow Tool is also known as "The Nitro Platform." A free 14-day trial is also available for the editing and e-sign tools, but you'll need to get in touch with the Nitro team to access it.
Key features
1. Highly collaborative
Nitro makes collaboration a breeze because, with its "Sign" feature, you can get all the insights you need from your admin dashboard, create role-based permissions, send signature requests in bulk, and customize the entire signing experience with your company branding, messaging, and design.
Additionally, you can also set up templates of your most used documents and share them with team members.
Moreover, the company also offers a handy audit trail feature that lets you capture every stage of the document (e.g., you can see who signed the document, when they opened it, etc.).
2. Manage documents
You can manage documents on various devices with the PDF Pro version of Nitro.
Here's what we mean by this: This tool allows you to edit, combine, convert, and fill up PDF documents by using OCR technology, hence making working with usually static PDFs a breeze.
And because these PDF files are password protected and encrypted with 256-bit AES, you can be assured of the security of the documents you share.
3. Multiple integrations
At the present moment, Nitro offers around 17 integrations to allow the automation of tedious tasks.
These integrations can then be further categorized based on department types. You can also access Nitro's API to fully automate solutions from your tech stack.
This integration feature is a part of the "Document Workflow" product, which means if you purchase it, you can get access to priority support, document generation capabilities, and user authentication.
The website also says that you can integrate Nitro with Zapier (which means you can access other solutions through its connectors). However, when we went to see the integration list of Nitro, we could only find 17 integrations (and Zapier wasn't one of them).
4. Get user insights
One of the best features of Nitro is its ability to deliver analytics. It offers real-time insights, such as:
How much paper you saved by e-signing
Number of both total and frequent users
How much time users spend on the solution
How many times the documents were printed
All of this lets you measure how your customers interact with the document and how much money you save.
Support and ease of use
Nitro's customer support can only answer your queries once you submit a ticket. However, to their benefit, they respond quickly and are extremely competent.
However, one piece of advice that stuck out is that they would benefit if their support team could offer assistance in multiple languages.
As far as the ease of use is concerned, the reviewers we heard loved how easy, accessible, and clean the website was.
But, there were still two areas ripe for improvement:
Some integrations could function better.
The OCR function could be improved upon.
Aside from these two key areas, ease of use with Nitro is nonetheless a 10/10.
How does PandaDoc compare?
Alright, for all our claims about there being better solutions on the market that have similar capabilities and are available for free, here's what we mean:
1. ESign tool
Nitro has an eSign tool (pricing of which begins at $9.99/user/month).
PandaDoc also has a FREE eSign tool that lets you send documents to collect e-signatures and payments — these signatures are legally valid and compliant with all laws, and the payment partners are well secured.
Best of all, you can manage all documents from your desktop or mobile app.
While there's a restriction on the number of documents you can send with the free plan, you can remove this restriction by opting for the paid plan.
2. PDF editing tool
Nitro also has a PDF editing tool that can convert, combine, edit, and fill PDF files.
On that note, PandaDoc offers a FREE PDF editing tool, also known as PDFplatform, that lets you edit, split, merge, convert, compress, reorder, protect, and sign PDF documents.
Additionally, the solution supports multiple file formats, such as Word, PDF, JPG, PNG, TIFF, GIF, Excel, PowerPoint, HEIC, and BMP.
3. Document workflow tool
While Nitro does have a workflow and automation tool, it is pretty limited (it has limited integrations and limited capabilities — that's to say, it does not cater to use cases, such as invoices, contract management, payments, sales enablement, RFP, email tracking, etc.).
In truth, you need a good balance of integrations and use cases to truly automate your workflows. If you don't have both, you'd be half-stepping automation, and doing plenty of other tasks manually.
PandaDoc, to that end, has room for multiple use cases (check out all our use cases here) and plentiful integration partners (including Zapier, btw!).
In that regard, although slightly pricier than Nitro, PandaDoc will let you automate all parts of your business and scale your operations.
Nitro: Yay or nay?
Nitro is a terrific solution that can be used by larger teams who need it for one or two specific use cases (such as e-signing or PDF editing).
However, if you're a growing team that needs an all-in-one solution, then PandaDoc is for you. To learn more about what this solution can do, click here to book a demo.
Also, before you leave and before we forget — remember the competitor we were talking about in the introduction (the one that has better ratings than Nitro)?
Well, we were speaking about PandaDoc.
If you compare, Nitro has a 4.3/5 rating on G2, whereas PandaDoc has a 4.7/5 rating on the same platform.
On another platform, TrustRadius, Nitro has a rating of 8.7/10, whereas PandaDoc has a better rating there too.
If this makes you want to purchase PandaDoc directly instead of booking a free demo, then here's what to do next: Start a 14-day free trial.
Frequently asked questions
Dodge Nitro is an American SUV car model. Nitro, also known as Nitro Inc., is a software company founded in Australia.

The reviews about Nitro have generally been positive.

The answer depends upon the user. However, many people may choose Adobe PDF since it's more user-oriented. 

No, Nitro Pro is not free to use. However, it does have a 14-day free trial for the e-Sign and PDF plans.

Nitro Pro is mainly used to edit and electronically sign PDF documents. You can also create, convert, read, and compress PDF documents while you're at it. 
Disclaimer
Parties other than PandaDoc may provide products, services, recommendations, or views on PandaDoc's site ("Third Party Materials"). PandaDoc is not responsible for examining or evaluating such Third Party Materials, and does not provide any warranties relating to the Third Party Materials. Links to such Third Party Materials are for your convenience and does not constitute an endorsement of such Third Party Materials.