Ever wondered how Phil Dunphy from Modern Family would operate his business in real life?
What about Hugh Honey and Vic Vinegar from It's Always Sunny in Philadelphia? And Evelyn Harper from Two and a Half Men?
Chances are, they'd be using Dotloop — a transaction management solution that helps real estate agents deliver a better customer experience to their clients.
But, what makes Dotloop so special? That is the question of the hour.
So, let's uncover what makes Dotloop unique through this review. Here, we're unwrapping the company's key features, pricing, user reviews, pros, cons, and more.
Let's get straight to it!
Review summary
Dotloop is an excellent platform for real estate agents and brokers alike.
However, with the data sharing concerns it has, it may not be the right solution for your needs.
If you do decide to use Dotloop, beware of its user interface (as one user pointed out, it could benefit from a facelift).
Our rating
Overall: 4.1/5
Features: 4.5/5
Pricing: 4/5
Customer support: 4/5
Ease of use: 3.5/5
Value for money: 4.5/5
| Pros | Cons |
| --- | --- |
| Dotloop makes signature signing a breeze. | The company could provide better support on how to onboard Dotloop. |
| It's specifically geared towards the real estate audience and provides features as such. | Team members cannot add signatures (which is unfortunate if you add agents you work with as team members). |
| It keeps track of all transactions and lets the admin review them from one place. | The interface could use some improvements (as per customer reviews). |
Review methodology
More than two dozen internet sites were visited to conduct research for this piece.
We collaborated all data and reviewed it against the domain rating of the sites, the reviewer source, the intention of the review, the dialogue used, the date of publishing, the authority of the writer, and other similar factors.
Overview of Dotloop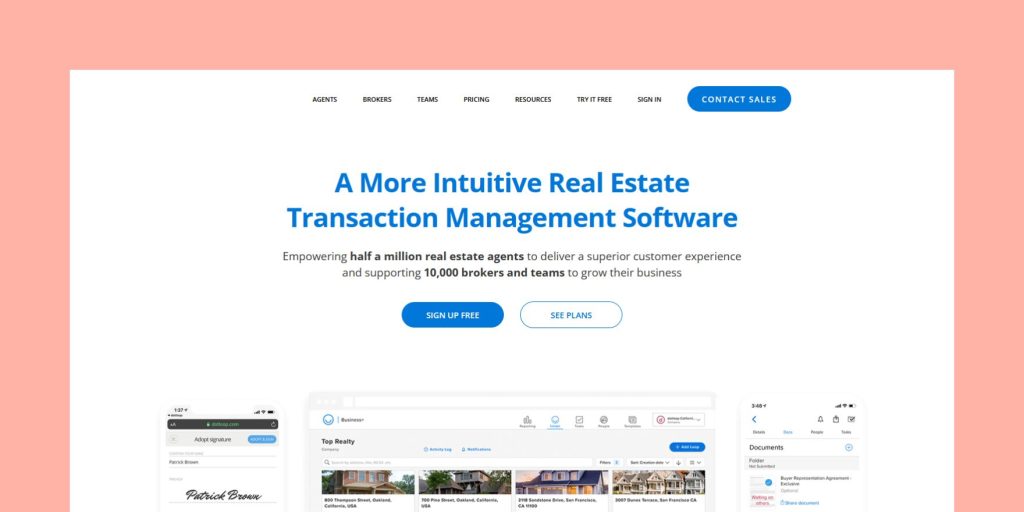 The company began in 2009 due to a belief set by Austin Allison (the company's founder) that no real estate touch point should have to go through hiccups, so he created a software that allowed real estate professionals to manage all their transactions and documents.
After just six years in the industry, the company grew a name for itself and got noticed by none other than the real estate giant, Zillow.
In 2015, Zillow acquired the company for more than $100 million, and used it as a separate entity with a no-data sharing policy.
However, in 2020, it reversed its decision to use the data acquired from Dotloop.
As it stands today, Dotloop is particularly famous amongst the real estate crowd because it allows them to manage all workflows (including tasks, documents, payments, and people) from a single place — and all of it can be done from their phones.
Product pricing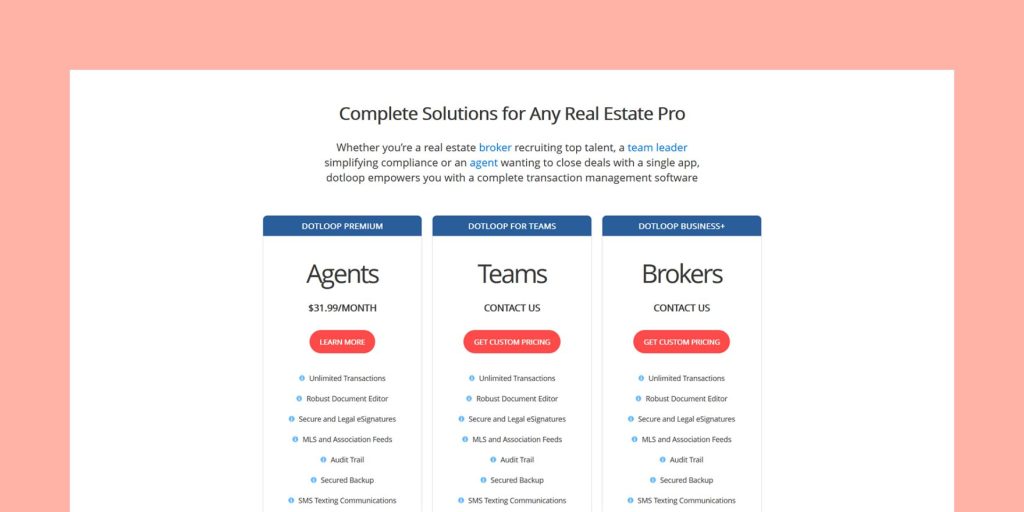 The company provides separate pricing based on who's going to be using the product. So, if you're an agent, you'll need to pay $31.99/month.
However, if you're a broker or you make up a part of a real estate team, you'll need to get in touch with the company for pricing.
While all plans are accompanied by features like unlimited transactions, a robust document editor, audit trail, security backup, real-time notifications, etc., teams and brokers can access additional features like full visibility of transactions and access to dedicated success managers.
Key features
1. Edit and manage documents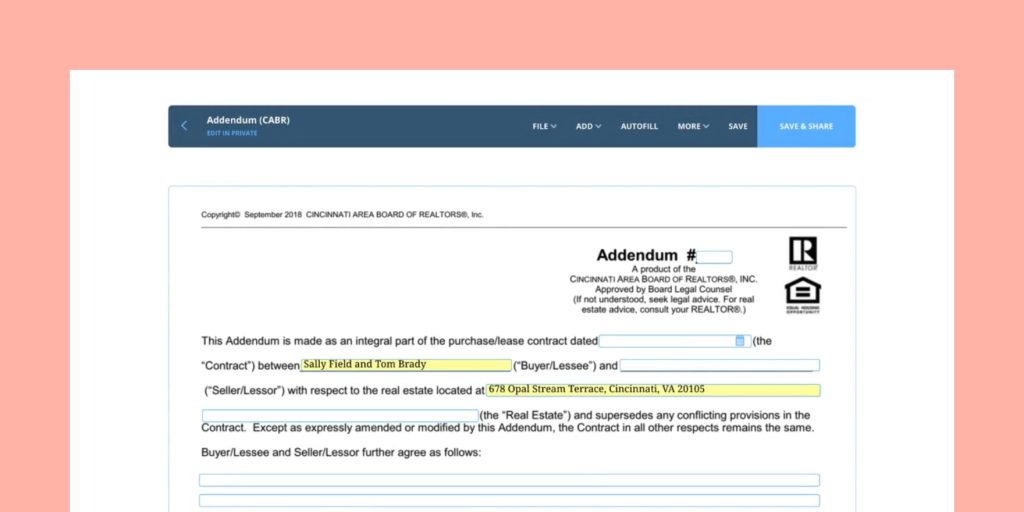 Dotloop has an interactive editor that allows you to refine documents based on your requirements.
You can access one of Dotloop's ready-made templates, edit it, add custom branding, and send it to your client for signing — rest assured, all signatures made through Dotloop are legally binding.
You can also edit PDF documents, send attachments when sharing a document, and produce public links that are secure.
2. Engage with your prospects
It's extremely easy to engage with prospects on Dotloop because the solution allows you to communicate via SMS, create push notifications, and send online faxes.
All your communication with the client (via email, SMS, or fax) can then be viewed to track activity levels.
You can also offer your prospects the option to sign in person, either on their desktop or their mobile phone (speaking of which, Dotloop has an iOS and Android compatible mobile app).
3. Collaborate with team members
Multi-team companies will especially enjoy working with this solution because it provides multi-office compliance with which each team gets its own personal dashboard.
Additionally, everyone receives detailed insights on all the transactions they make, can automate certain parts of the workflow, and add other team members who have the same level of access.
You can also integrate Dotloop with your existing tech stack (75+ integrations available!) and can easily access one of its ready-made templates to sign deals that need to get finalized at the last moment.
Should any team members run into any issues, you can get in touch with the customer support team or your dedicated success manager to help out.
4. Get analytics in hand
The best part about Dotloop is that it provides insights about every deal — this allows you to improve your processes later down the line.
For example, if you wish to get audit trails to keep track of transactions, or create reports or charts to note performance data — it's all possible to do.
Support and ease of use
While agents get VIP phone and email support, real estate teams and brokers get both plus chat support and access to a dedicated success manager.
The customer service team, however, has received mixed reviews. While a better chunk of reviewers said that they enjoyed the support (even more than the platform), others mentioned that their experience wasn't top-notch.
To put this confusion about mixed reviews into context: here are two cases of verified customers operating in the same market, writing about the support team during the same timeline.
Both reviews are on the same platform, too.
Here's the customer that loved the support team.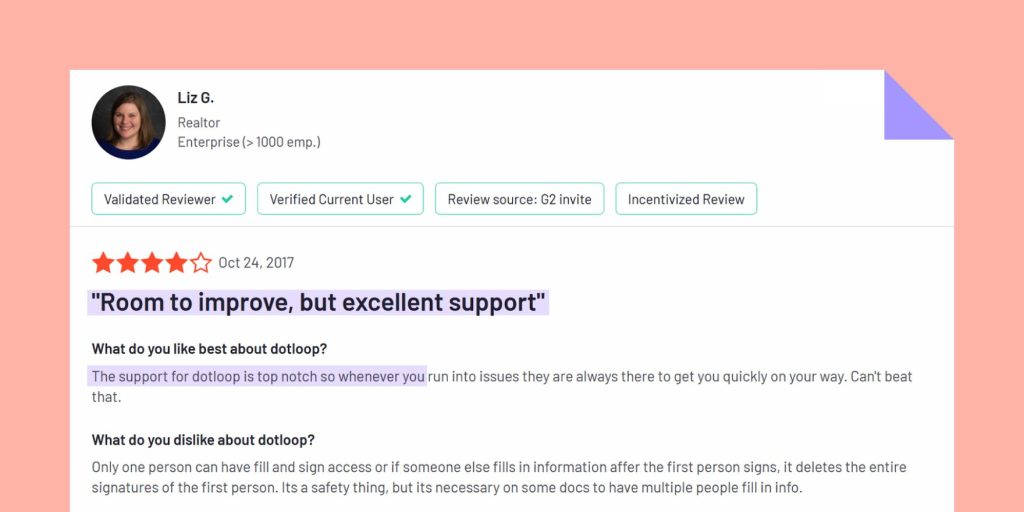 And here's another customer that thought the support team could use some improvement.
As far as ease of use is concerned, most customers said that there's a slight learning curve when you're new to the product (and requested Dotloop have additional training videos to walk them through all the steps).
However, once you get accustomed to it, the solution becomes extremely easy to use.
Still, the admin dashboards are a little clunky, and it sometimes becomes a headache to edit or delete certain fields.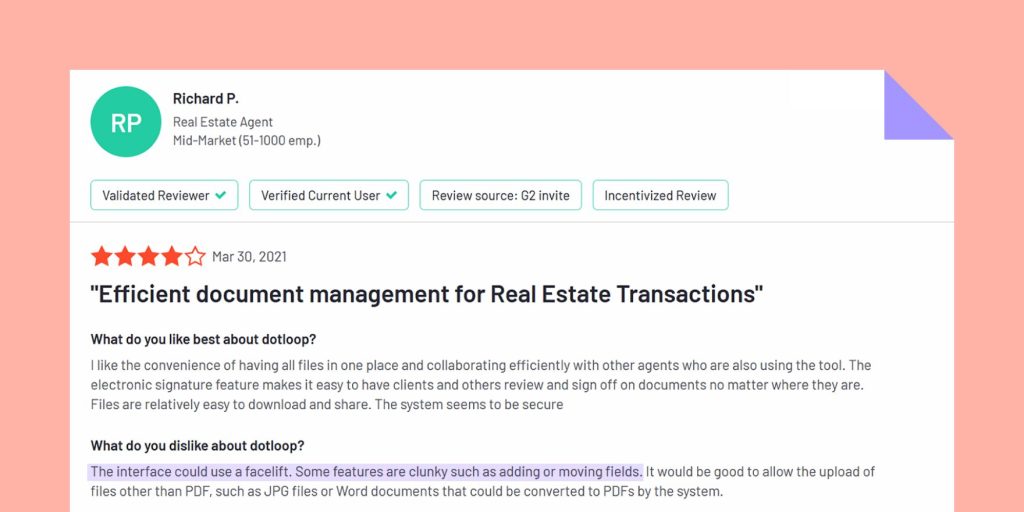 How does PandaDoc compare?
While Dotloop is geared for real estate customers (and it does cater to that market extremely well), PandaDoc can be used by a variety of customers, whether they belong to the real estate industry or countless other business sectors.
We also cater to more use cases. For example, if you wish to send invoices after closing deals, PandaDoc easily allows you to do that.
Similarly, if you wish to collect payments, send quotes, or manage contracts — all of these tasks can be done from the same dashboard.
And, not to brag, but we're also more affordable when compared to Dotloop. While Dotloop's pricing begins at $31.99/month, ours begins at $19/month.
Last but not least — we don't share our data with Zillow (low blow, we know!). But this is a major concern that all realtors need to account for.
All the data you input into Dotloop directly gets fed to Zillow, and that creates room for competition.
Should Dotloop be your preferred choice?
There are a lot of things done right with Dotloop. There are some things wrong with it as well.
To go ahead with it (or not) relies entirely on you and your team's needs — we've given you all sides of the argument to make an informed decision.
If you wish for more information to see how PandaDoc compares against Dotloop, here's a solid resource you can refer to: Need a break from Dotloop?
Alternatively, if you wish to skip the whole shebang and see what PandaDoc can do for your company today, then here's what to do next: Start a 14-day free trial.
Frequently asked questions
Dotloop is used to manage all parts of a real estate professional's workflow, including tasks, transactions, documents, and people. Users can collaborate on these works with members from within and outside the team.

Dotloop does have a free plan, but it comes with limited capabilities (you can complete 10 transactions for free).

Yes, agents, brokers, and real estate teams can all use Dotloop.

Since Dotloop adheres to the ESIGN Act, signatures undertaken by the platform are considered to be legally binding in the U.S.
Disclaimer
Parties other than PandaDoc may provide products, services, recommendations, or views on PandaDoc's site ("Third Party Materials"). PandaDoc is not responsible for examining or evaluating such Third Party Materials, and does not provide any warranties relating to the Third Party Materials. Links to such Third Party Materials are for your convenience and does not constitute an endorsement of such Third Party Materials.