When businesses shifted to remote work, the need for virtual contracts and eSignature software skyrocketed.
And in this world of virtual contracts and eSignatures, Authentisign and DocuSign have become serious players in the industry.
Due to the amount of positive reviews and features these platforms possess, most businesses come at an impasse when making a decision.
If you, too, have come to a standstill, we've compared both Authentisign and DocuSign based on factors like usability, price, features, safety, and user reviews.
And we've contrasted aspects of these two products with some of the solutions here at PandaDoc, so that you can make an informed decision, irrespective of whichever software you decide upon.
A look at Authentisign
Authentisign is a software curated by Instanet Solutions, a Canadian company which specializes in creating products for the real estate industry.
Authentisign is entirely browser-based, and can be operated on any device with an internet connection. The software is extremely user friendly and, at present time, the company boasts a loyal following of over 270,000 agents.
A look at DocuSign
With millions of customers and millions more signers, DocuSign is no doubt one of the fastest growing companies when it comes to electronic signatures.
This eSignature company was founded and incorporated in America and is compliant with all the major acts and regulations, including (but not limited to) US ESIGN Act, eIDAS regulation, and more. Much like Authentisign, it is also compatible with multiple devices.
Comparing Authentisign with DocuSign
| | DocuSign | Authentisign |
| --- | --- | --- |
| Price (per year) | $120 – $480 | $69 – $99 |
| User Reviews | 4.7/5 | 4.34/5 |
| Support Options | Ticket, chat, phone | Chat and phone through Instanet Solutions. |
| Device Compatibility | Online; Mobile apps – iOS and Android. | Web browser or mobile device. |
| Free Trial | Free trial for 30 days. | Free trial for 30 days. |
With the facts being laid down in the above column, it's time to take a deep, side-by-side look at all the features, pricing models, user reviews, and security measures both these companies offer.
DocuSign features
1. Document creation
With more than a million documents produced daily, DocuSign offers ultra-modern features that allow users to easily create, edit, and convert documents.
You can use more than 20+ tags and fields to customize and modify in your document. Alongside this, you can also draw your signatures, add comments on documents, supplement documents, or convert them per your requirements — the possibilities are endless.
Perhaps the most important feature in this section is cloud storage integration, which allows users to retrieve documents from Onedrive, Salesforce, Box, eOriginal, and some of the best cloud servers in the world.
2. Data fields
DocuSign allows you to cut time from your process by seamlessly allowing the integration of data fields. This function of DocuSign gives the users full form functionality, while also allowing them to link third-party data fields.
"Data field" from DocuSign has advanced validation capabilities, which is reflected in the way it inputs all the data fields without requiring you to manually type in every detail of every contract.
3. Signing workflow
No document with DocuSign is complete without the proper signing workflow.
This means that you can add any number of signers, bulk send contracts, assign different permissions and roles, customize the sequence, and do so much more. Another useful feature: users can set up reminders and notifications to get real time updates.
4. Signer authentication
We finally land at the question of security, which perhaps takes the highest priority in the minds of the user when it comes to solutions.
DocuSign takes impressive strides in this direction by creating many layers of security and information before actually allowing you to sign any documents, helping ensure that the signatures are never forged.
Here are some of its security measures:
Authentication over email
SMS authentication via OTPs
Access code authentication with phone
Federated indemnity authentication
Personal ID verification
Authentication through knowledge-based questions
5. Accessibility
Let's be honest — with software integration like this, signing is not merely a process, it should be an experience. With configurable and flexible options, DocuSign allows maximum assurance to the end user with the most minimal amount of commitment.
Other options, like offline signing (which can be a boon when you land yourself in unexpected situations), mobile applications, and SMS updates are available at the tip of your fingers.
A special kudos to DocuSign for also adhering to Americans with Disabilities Act (ADA) and Section 508 standards.
Authentisign features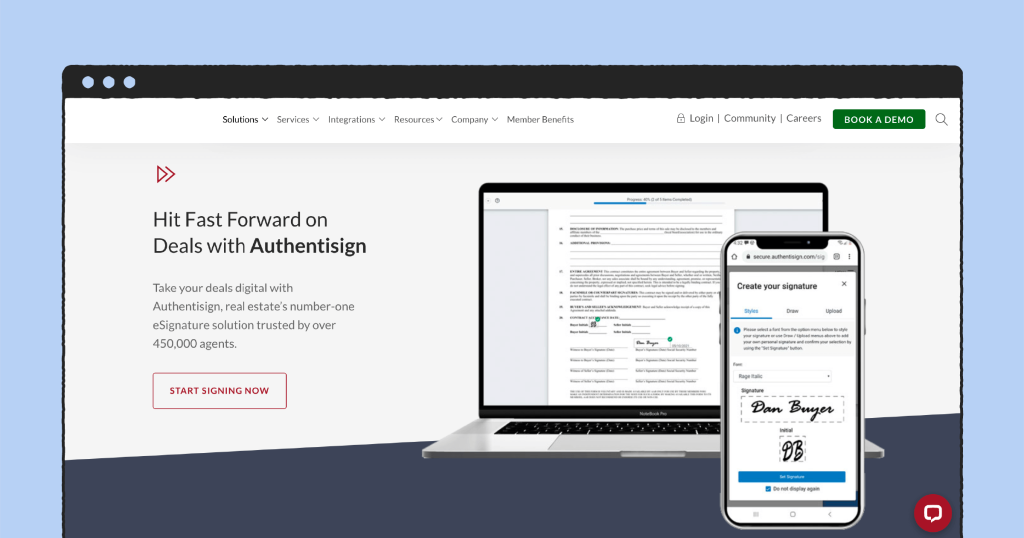 1. Customisation of documents
Much like DocuSign, there's an option for customization with Authentisign. However, the options on offer may be slightly limited in comparison.
For example, while DocuSign offers features like creating, editing and converting documents. On the other hand, Authentisign allows you to remove or rotate pages from a document.
However, much like DocuSign, it's process is also entirely automated, and this will help you remove any manual errors that come your way. The software also supports multiple languages like English, French and Spanish.
2. Document layouts
To say that Authentisign is equipped to work with multiple document layouts would be an understatement.
The software supports PDF, DOC, DOCX, XLS, XLSX, BMP, GIF, JPG, JPEG, TIFF, and PNG to make your entire process smooth flowing and as easy as possible.
Unfortunately, at the time of the publication of the article, the software could not support zipForm editions but, as per company updates, the upgraded version of Authentisign will be able to support this document style from 2022 forward.
3. Accessible menu options
It's no secret that Authentisign has a plethora of features; however, its most redeeming feature is the right-hand button which allows easy accessibility to all the important tools, tags, and whatnot all in one place.
Speaking of accessibility, once you send an invite to your client to sign a document, it also guides them through the entire process of signing and saving the signatures.
4. Security measures
If there's one thing that Authentisign can truly pride itself on, it is the amount of security features that it offers.
The entire process of security options is pretty comprehensive; here are a few reasons why their product stands out amongst the rest: ESIGN compliant, FHA and Fannie Mae Approved, Tamper Security Proof Technology, Document Encryption, private keys in HSM, and — more importantly — signature certificates issued by the Certification Authority for every signing.
DocuSign pricing
DocuSign comes with different types of plans and customisation so you can pick and choose as to what serves your needs the best.
They start by dividing annual and monthly plans; the annual plans begin from $10/month ($120/annually), and the monthly plans begin from $15/month. Both of these are personal plans.
Other plans, like standard and business pro, are available in both the annual and monthly subscriptions. The annual plans are at $25/month ($300/annually) for the standard option and $40/month ($480/annually) for business pro.
Whereas the monthly plans are priced at $45 and $65, respectively. It should be noted that each pricing is based on per person usage.
Authentisign pricing
Authentisign has three different price points. The first one is for $69/annually, which allows you to use Authentisign only.
The other plan is for Authentisign and TransactionDesk, which is available at $99/annually.
The last one is the option for businesses, and although there's no set pricing for this, you can ask for a quote anytime. In compassion, Authentisign turns out to be the more economically viable choice.
DocuSign user reviews
DocuSign received a rating of 4.7/5 from PandaDoc and 4.5/5 from Gardner.com, with almost identical points being given for service and support, integration and deployment, evaluation and contracting, and product capabilities.
Almost 88% of its user base would recommend using DocuSign.
Authentisign user reviews
Authentisign stands proud with the rating of 4.34/5 from Activerain, a website which delivers answers based on reviews cast.
However, despite receiving a lower rating than DocuSign, many of its loyal fans had very positive reviews about the entire experience they had with Authentisign, so we can only imagine that the product is greater than it's been made out to be.
In sum
We hope this article proved useful and helped you cross a decision-making impasse.
As promised, we've contrasted both these options, and we'll close with some final thoughts: DocusSign and Authentisign are both strong eSigning platforms with individual attributes.
In this world of eSignatures and virtual contracts, you need a platform that can comprehensively do all the functions you need — rather than buying software designed for primarily a single usage.
Interested? Take PandaDoc for a spin. In fact, you can not only access a free 14-day trial, but if you're a beginner/individual, then the basic plan is available free of charge.
Frequently asked questions
There are few measures that you can follow. For example, beware of public Wi-Fi, sign out of the document every time, use secure email servers, and perhaps most important, don't share your details with anyone — no matter how close they are to you.

You can buy both companies' software through their respective websites (Authentisign redirects you to the software company that made it). Both have a free trial period of 30 days.