Imagine this: You've got a bunch of open houses to visit this week, multiple client-facing meetings to attend, a boss to answer to, and personal responsibilities to oversee.
Sounds like a regular Monday, amirite?
Here's the kicker, though: Your day does not end even when you've tick-marked all the things above.
Because, guess what, you still have a bunch of documents to sort through, proofread, get signed, and file.
This day isn't looking ideal, is it?
Well, a real estate document management solution can take away half of your work-related stressors. So, let's learn a little more about it!
How document management solutions can help real estate professionals?
The real estate industry runs on contracts, documents, signages, posters, reports, and whatnot.
Basically, if you have a real estate business, it's understood you've got to take care of more paper files than any other brick-and-mortar business.
So, if you use a document management system, it'll help you:
Since we're a document management company ourselves, we know a thing or two about the positive outcomes document management solutions can deliver — so we can go on and on about the benefits, but you get the gist.
What to look for in a document management solution?
We'd recommend first internalizing and writing down the needs of your real estate business before going price-shopping for a document management solution.
Ideally, look for a solution that actually fits the compass of automation and does not operate like Microsoft Word (that's one of the biggest reasons why realtors switch to a document workflow tool!)
Consider other things like: Can it secure personal data? Will it allow you to do real estate transactions seamlessly? Is it legally allowed to produce e-signatures? Can it be the best fit for all real estate agents in your organization, regardless of their user experience with such tools?
Use cases of document management software for real estate
1. Wow your prospects
When you leave legacy tools like Microsoft and switch over to document management solutions, they allow you to customize your solutions with your company branding, colors, logo, style, and more.
Some solutions also offer ready-made proposals that are just as easy to customize.

We all know the saying, "Your first impression is your last impression," and tools like PandaDoc allow users to create an impression that sticks with prospects.
"Previously, we were using a Word document that was extremely basic. Now, prospects are wowed by our company immediately upon receiving our proposal." — Ashley Buckner, the VP of Sales.
2. E-notarize your documents
Another use case where document management systems are extremely helpful is facilitating you to notarize your document virtually.
For example, you may be on a trip (or a lockdown like Covid-19) and might need to notarize your documents to complete a real estate transaction. What must you do then?
That's when e-notaries help. More importantly, they're just as legally valid!

3. Get the signatures you need
Last but not least, perhaps the most important use case of document management tools is they help you get the signatures you need from all parties, so you can kiss those ole' days of having to physically mail documents for signatures goodbye!
Now, you can simply send links or emails to your clients and get contracts e-signed in a matter of minutes.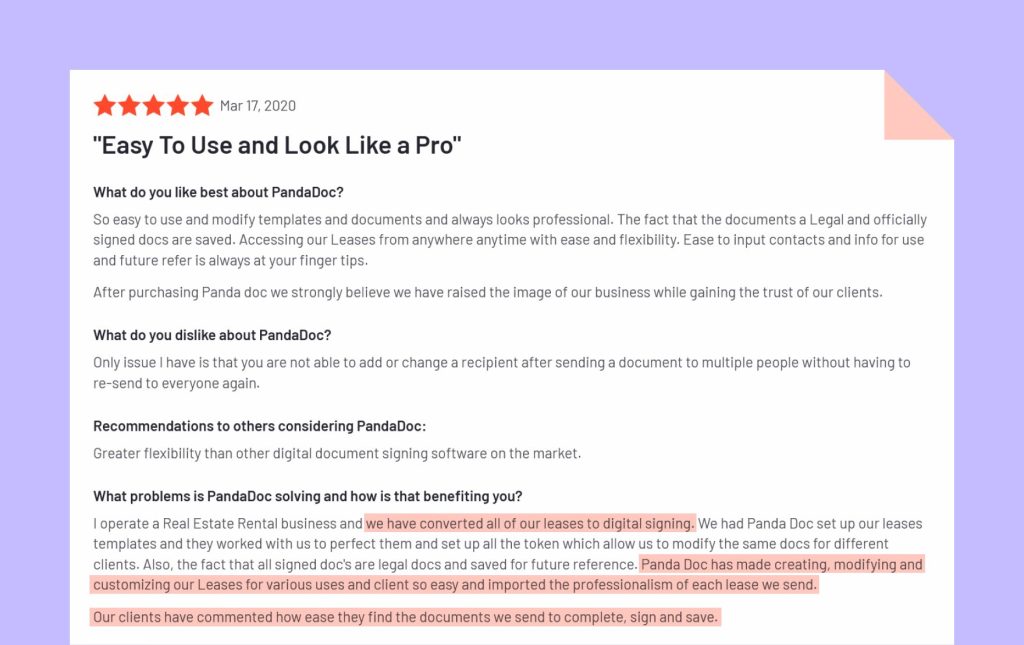 Best real estate document management software in the market
| | PandaDoc | Dotloop | DocuSign | BrokerMint |
| --- | --- | --- | --- | --- |
| Support | 24/7 human customer support + help articles & learning center | Phone and chat support during limited hours; limited help articles available | Support is paid and depends on the subscription plan | Support is available through chat, email + help center |
| Platform Availability | iOS, Android, and online | Windows, iOS, and Android | iOS, Android, and online | iOS, Android, and online |
| Seat Limit | Can add unlimited seats | No seat limit; unlimited real estate transactions | Traditional plans allow up to 5 years | Custom limit (depending on requirement) |
| Free Trial | 14-day free trial | Ten transactions are free | 30-day free trial | No free trial |
| Ease of Use | 5/5 | 4.5/5 | 4.8/5 | 4.6/5 |
1. PandaDoc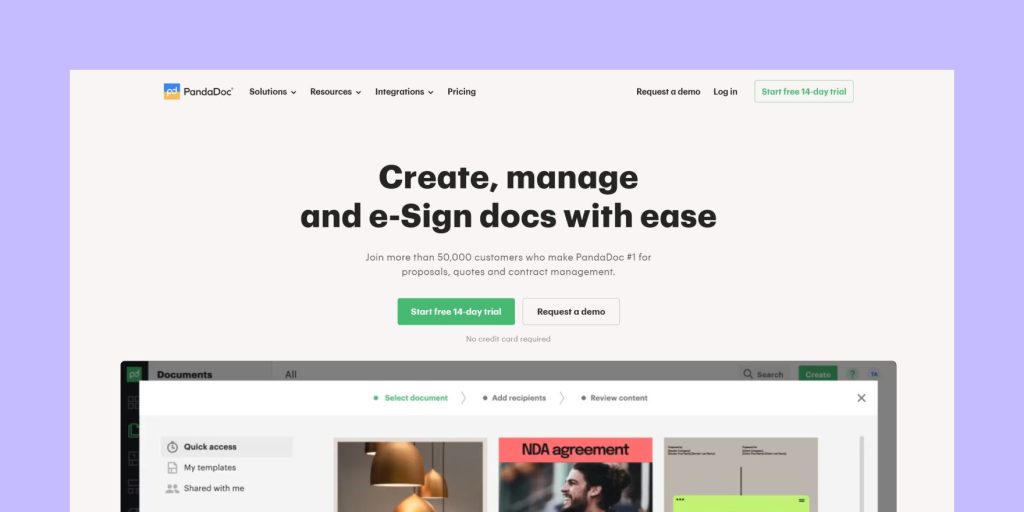 PandaDoc is an all-in-one document management solution that allows realtors to send proposals, create contracts, access templates, e-sign documents, collect payments, and do lots more.
Basically, with it, you can manage your real estate transactions from end-to-end touchpoints, thus making it a particularly helpful option for businesses that like to manage their workflows and keep track of their documents from a singular platform.
But the best part of this solution is not only its extensive product offering but rather its add-on features like collaborative capabilities, remote notary services, and document analytics (you get insights on when prospects open your documents, when was the last time they viewed it, the number of times they saw it, etc.).
Pros:
Provides document analytics
Allows unlimited legally valid e-signatures
Show real-time tracking and notifications
Has unlimited document storage
Can create role-based permissions
Provides a remote notary service
Has plenty of templates and integrations
Cons:
Can't change recipients after sending documents
Doesn't allow editing during live session
Free account is no longer available
Customer Reviews: Rating of 4.7/5 on G2 based on 2248 reviews.
Pricing: Prices start at $19/month
2. Dotloop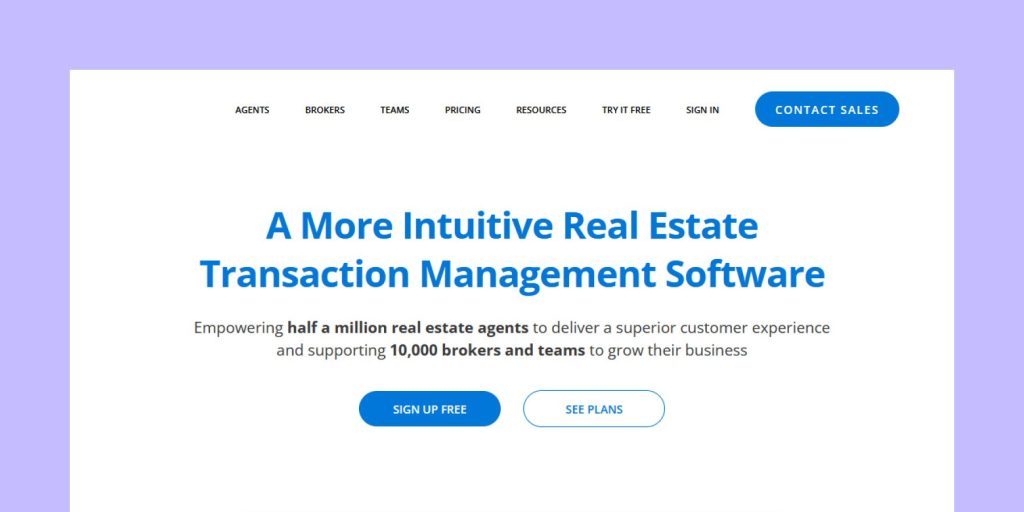 Dotloop is a solution crafted for brokers, agents, and real estate businesses that allows them to edit, e-sign, manage, and store documents from a singular place while also staying compliant.
The software is the top choice of U.S.-based real estate businesses (with more than 50% of all real estate transactions happening on Dotloop), and this is mainly because it's partnered with 190+ MLS associations, has an advanced document editor, allows realtors to create an audit trail, and has been founded by a real estate professional.
Plus, Dotloop promises a 99.99% reliability rate — which ensures it's always up and running.
Pros:
Specially designed for the real estate industry
Allow you to create audit trails
Custom branding available for premium plans
Unlimited transactions and e-signatures
Cons:
Tad bit more expensive than its competitors
Does not provide ample customer service
Not easily scalable
Requires a learning curve
Customer Reviews: Rating of 4.2/5 on G2 based on 164 reviews
Pricing: Prices start from $31.99/month
3. DocuSign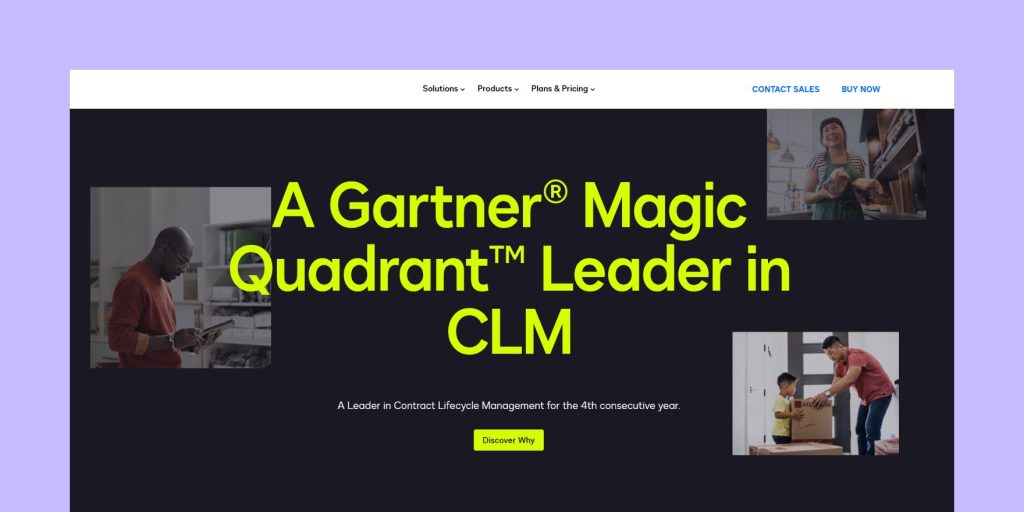 DocuSign is a software that provides multiple subscription options for different services (some of these services include document generation, electronic notarization, contract lifecycle management, and electronic signatures).
However, its most utilized service amongst the real estate circles is "E-Signature for Real Estate." They have two plans for real estate folks — one Starter (priced at £8/month), the other Standard priced at (£20/month).
The latter plan of DocuSign is particularly popular as it allows custom branding, has collaborative capabilities, can be accessed on mobile phones, allows you to send unlimited signatures, and has reporting capabilities too.
Pros:
Excellent pricing
400+ integrations (you'll need to purchase the Enhanced plan to access this feature; other plans provide limited integrations)
Available in 44+ languages and 180+ countries
Easy to navigate and manage documents on
Cons:
Overwhelming with its feature list
Support options might require separate payment and haven't received positive reviews
Has been alleged of price gouging
Difficult to unsubscribe
Customer Reviews: Rating of 4.5/5 on G2 based 2215 reviews
Pricing: Pricing starts at £8/month (approx 10 US dollars)
4. BrokerMint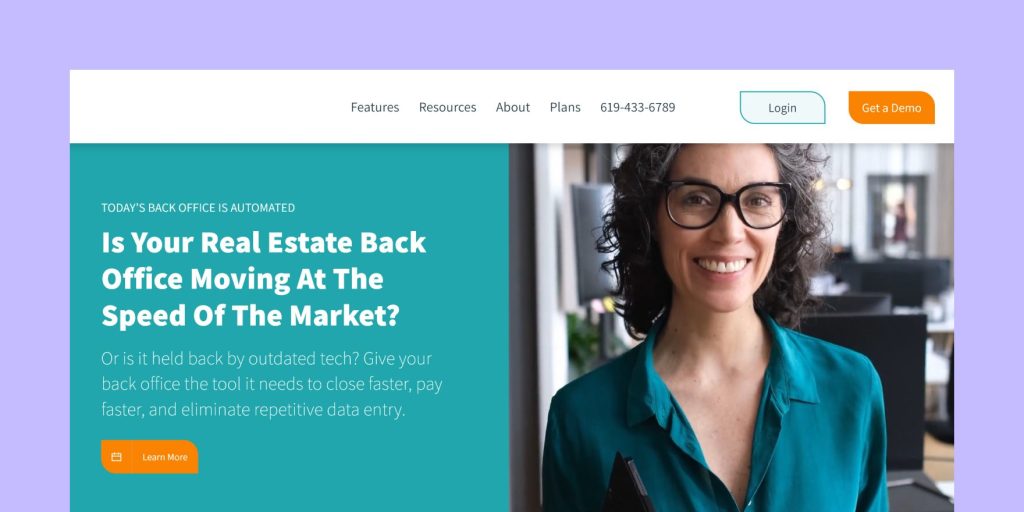 BrokerMint is a cloud-based solution that helps manage the back office requirements of real estate companies, such as the management of accounts, commissions, agents, and transactions.
While this company boasts about its capabilities, such as being able to collect ACH payments, send invoices, integrate with CRM solutions, get reports, etc. —- the truth of the matter is solutions like PandaDoc also offer these capabilities at a fraction of the price.
However, BrokerMint might be the solution for you if you need to manage your accounts, cash flow, and transactions extensively.
Pros:
Has an MLS integration which allows real estate professionals to import their listings and data on their professional website.
Customers said it created a smooth audit flow
Allows users to break big tasks and documents into smaller chunks
Cons:
The mobile phone app is not the best, to say the least
The checklist option doesn't work well (several items undo on their own)
Customers would like to see faster support times
Customer Reviews: Rating of 4.3/5 on G2 based on 127 reviews
Pricing: Custom pricing
Improve your business operations with PandaDoc
While we can't deny that each and every document management solution on the list is top-notch, we're people who believe in moving forward with a solution that's ideally:
Affordable
Has excellent customer support
Can get the job well done
Integrate seamlessly with your existing tech stack
Has a variety of features
Is true to its pricing
PandaDoc, as a solution, hits all those marks, consecutively. You might ask how, so let's do a quick comparison here:
DocuSign has been called out for price gouging and having not-so-great customer support.
PandaDoc, on the other hand, has been true to its pricing from Day 1 and has a 24/7 dedicated customer support team.
BrokerMint's mobile app and functionality have been regularly questioned; PandaDoc's mobile app has a rating of 4.3/5 on the App Store.
Dotloop's pricing begins at $31.99, and reviewers have often said that it's not a scalable option.
On the flip side of this coin, PandaDoc's pricing begins at $19/month, and our solution has often been used by enterprise clients.
Even with all that said and done, we may not be the most unbiased judges, so let's take a look at the aggregate ratings on G2 of these different solutions:
PandaDoc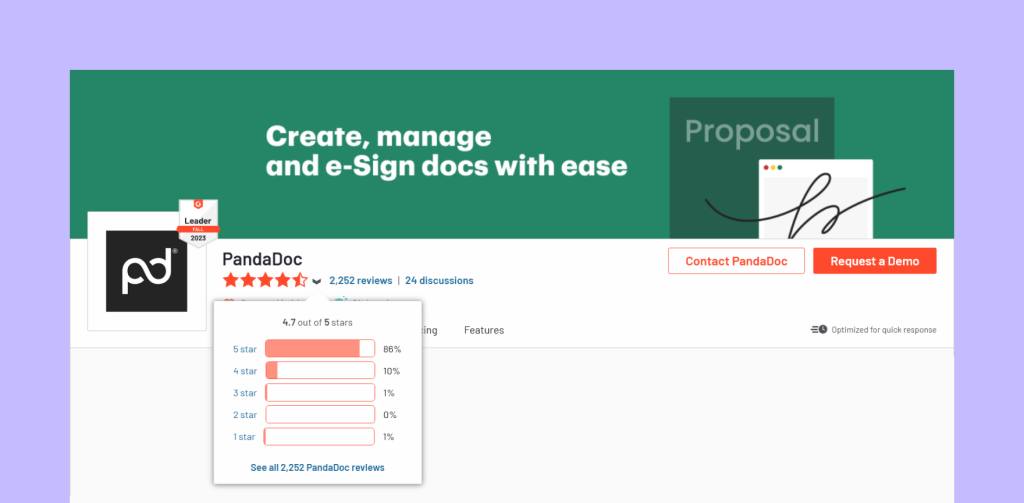 Dotloop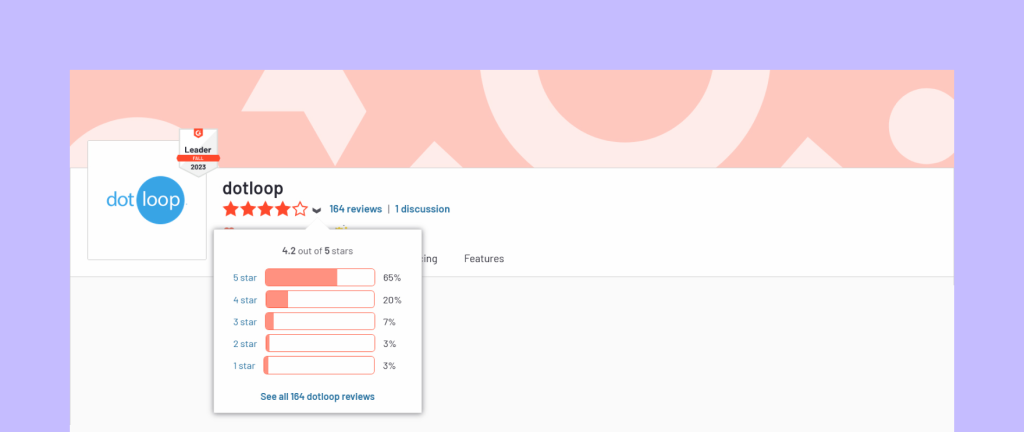 Docusign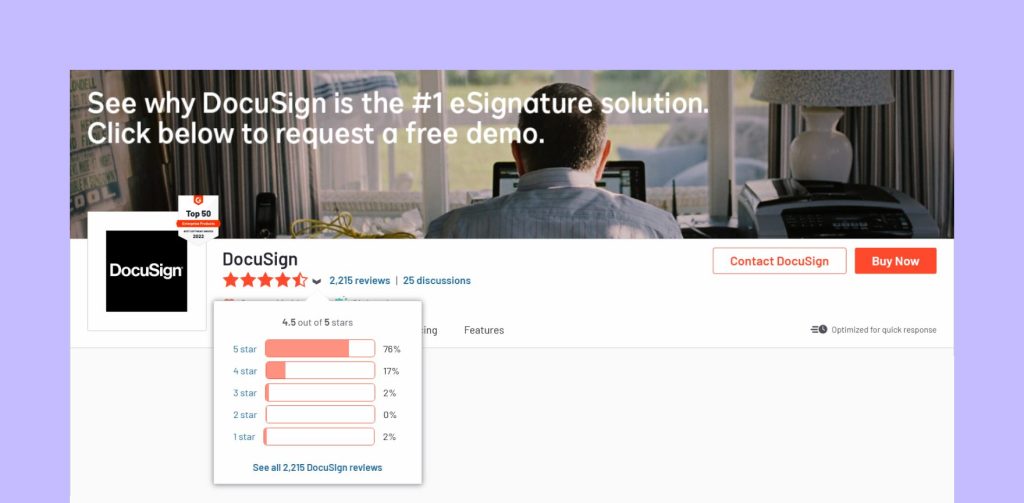 BrokerMint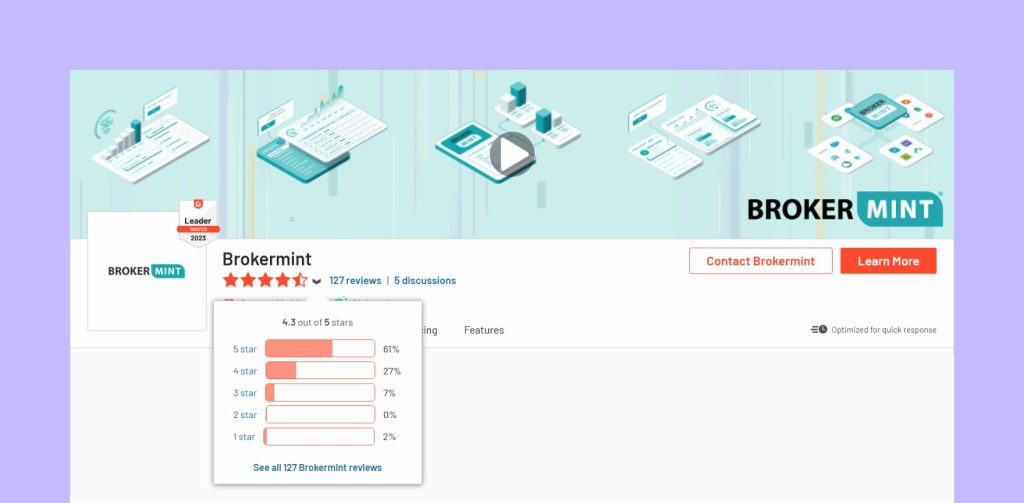 If these ratings have you convinced, then it's now time to switch to PandaDoc.
Click here to book a demo or here to access our 14-day free trial.