Enterprise contract management is the systematic and strategic process of creating, organizing, and overseeing a company's contracts throughout their lifecycles.
It involves centralizing contract data, tracking key dates, managing compliance, and optimizing negotiations.
By adopting this approach, companies can ensure greater efficiency, reduced risks, and improved visibility into contractual obligations.
Today, we'll explore everything there is to know about enterprise contract management and how it could benefit your business.
Key takeaways:
Traditional methods of contract creation and management often fail to meet the needs of growing organizations.
Specialist software is essential for centralizing contract management.
The right software solution can help remove bottlenecks and boost productivity.
PandaDoc's contract management software can help you regain control over your contracts.
What is enterprise contract management?
If you own or manage a business, it's no secret that contracts are essential.
From sales to marketing, HR to finance, they support the day-to-day running of your organization.
But dealing with so many different agreements can be overwhelming, so you need a way of simplifying the process of creating a contract, managing, and storing it.
Enterprise contract management can help.
The right solution will reduce some of the headaches of dealing with contracts.
Rather than lots of separate processes throughout your organization, you have one central process instead.
All contracts are stored in the same place and can be easily accessed and managed too.
Enterprise contract management essentially introduces a single source of truth for legal relationships.
It ensures all involved groups are on the same page and, most importantly, minimizes the risk of anything going wrong.
What are the advantages of using contract management software?
Specialist software makes the process of enterprise contract management much easier, with the right option addressing all your project management fundamentals.
Below are some of the advantages of investing in a software solution.
A single source of truth
Having different processes for dealing with contracts introduces various problems — for example, different versions of the same contract might end up being stored across multiple locations.
This increases the chances of an employee editing the wrong version of a document, which means the finalized contract might be missing key sections.
At worst, it might not even be legally valid.
Thankfully, contract management software ensures a centralized space for creating, managing, and storing your agreements, ensuring documents are always up-to-date and correct.
Improves collaboration
Collaboration is an important part of contract creation and management.
Different teams and departments will need to oversee various aspects of the document, so the easier it is to collaborate, the more quickly contracts can be completed.
Without easy access, collaboration becomes more difficult.
Bottlenecks arise and overall progress is slowed.
Let's imagine an employee has a contract saved on their system. When a different team member needs access, they must wait until the first employee is at their desk and can send the file.
There's a constant back-and-forth as contracts are exchanged via email.
From a centralized repository, however, employees can access files whenever they need them.
What's more, using cloud-based technology means teams can edit documents simultaneously, producing a completed contract that everyone is happy with.
Ensures compliance
When you're dealing with lots of contracts, it's easy to lose track of them.
Each one has a list of obligations you must fulfill, but if you're distracted by your more recent agreements, you might forget about historic obligations.
If you're not careful, you may even find yourself in legal trouble.
Contract management software helps you avoid messy situations like this.
Contracts can be accessed easily, helping your organization keep tabs on its legal obligations. Therefore there is less chance of overlooking important commitments.
Increases visibility
As we mentioned in the previous section, it's easy to lose sight of what's going on within a large organization.
So, stakeholders need visibility throughout the lifecycle of a contract.
Contract management software provides a bird's eye view of your processes.
This allows stakeholders to make more informed decisions — to the benefit of your business.
What types of businesses need an enterprise contract management system?
Contract management systems can benefit any business that has clunky contract management processes.
Are you struggling to keep up with the volume of contracts your business is generating?
If so, there's a good chance that specialist software might be the solution.
Below, we look at some different types of businesses and explore why they might need a contract management system.
You're working within an industry that's heavily regulated
Some industries are more heavily regulated than others — for example, manufacturing.
This might involve legislation covering everything from workplace safety to your environmental impact.
Ignoring these requirements isn't an option.
You'll find yourself dealing with hefty fines if you fly in the face of them, but staying on top of these regulations can nonetheless be difficult.
If your business falls into this category, a contract management system could be very useful, helping you keep a close eye on important legislation.
For example, you'll be able to tag essential documents and easily find important clauses when you need to.
Your company operates in multiple countries
Operating in several different countries and markets presents unique challenges.
Each country has its own legislation relating to taxation, employment, and more.
This means you need you'll need to create and monitor lots of different contracts.
What's more, legislation is subject to change, so you might need to edit or alter agreements to remain compliant.
It's all too easy, therefore, to get lost in a sea of contracts and overlook your obligations.
Combatting this requires a bird's eye view of your agreements, which is why an enterprise contract management system is essential.
It will allow you to keep track of contracts and remain compliant in every market you trade in.
You're running a large organization
Almost every action a business takes is underpinned by a contract.
The bigger the company, the more contracts are needed. As your organization grows, you'll find traditional methods just don't suffice.
Without a centralized space for monitoring contracts, your decision-making will lack clarity.
There'll probably be confusion, and you'll suffer both in terms of finances and resources.
Enterprise contract management systems help large businesses overcome these issues.
You'll get benefits like greater transparency in the decision-making process and improved collaboration.
Stakeholders can be involved in negotiations more easily too, leading to better end results.
Essential features to look for in an enterprise contract management solution
You need an enterprise contract management solution — but it needs to be the right system and cover all the contract management fundamentals.
Below, we've listed some of the top features that should be included in your software.
Legally compliant templates
When working on a contract, speed is everything.
The more delays there are when waiting for a document to be completed and signed off, the longer it will take to achieve your business goals.
The best enterprise contract management solutions come with highly customizable templates.
This means a good portion of contract creation is completed as soon as you begin — you'll only need to populate areas with details specific to your agreement.
But templates alone aren't good enough.
Your solution should also include legally compliant clauses. This reduces the time you'll be forced to spend ensuring your document complies with legislation.
It also removes the worry of accidentally making a mistake and invalidating the contract.
Collaboration tools
Collaboration is essential when overseeing contracts.
It's important that different stakeholders can give their input, and employees need tools to be able to communicate effectively.
Make sure your chosen contract management solution contains a range of tools to support collaboration.
This should include the ability to redline contracts by leaving comments on certain sections of a document.
A general chat function is also useful for enabling communication between team members.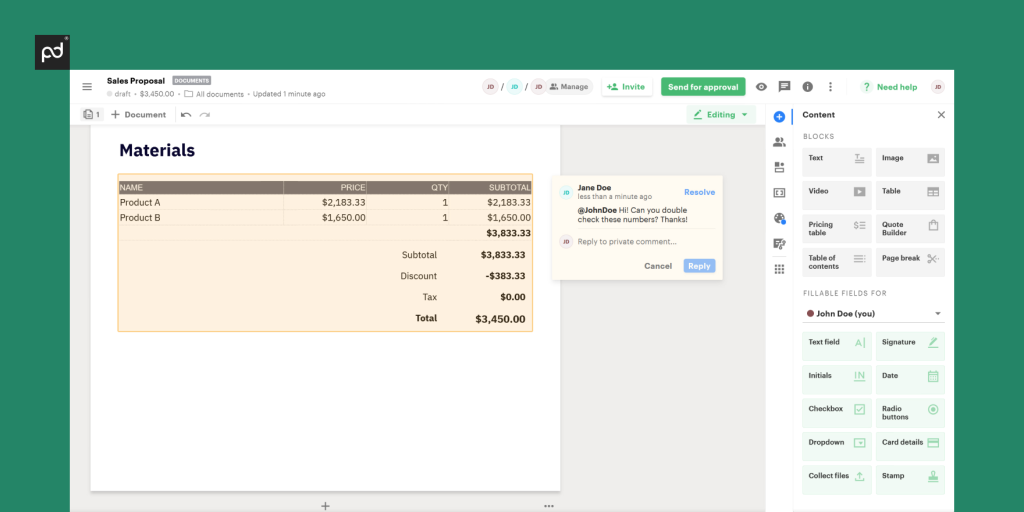 Approval workflow
When there are lots of parties involved in the negotiation, it can take a long time before a document is signed off. It's not hard to see how this can slow progress.
Contract management software can help remove bottlenecks through features such as streamlining your sales operations with a simple approval process and customizable user permissions.
This will help make your team more organized, and you can even automate certain repetitive tasks.
This leads us neatly on to…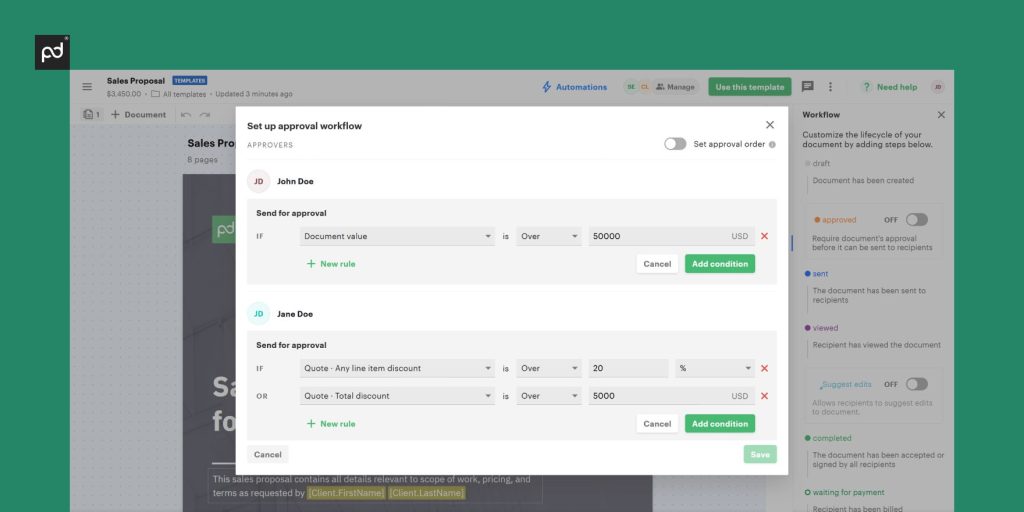 Automation
From reminders that guarantee users don't miss crucial milestones to being able to instantly approve contracts based on certain criteria being met, automation features can save enterprise businesses colossal amounts of time.
Additionally, automated workflows can speed up the contract review process, which means faster approval and a more effective contract lifecycle.
Automation tools are capable of keeping tabs on each stage of the contract management process, allowing your company to be alerted when key dates and milestones are on the horizon.
Contract storage and management
By far, the biggest issue with traditional methods is the lack of centralized storage.
We've already reflected on some of the disadvantages of this e.g. delays in finding the right file, accidentally using the wrong version, etc.
Enterprise contract management solutions help consign this issue to the past, as all contracts are stored in a single, convenient location.
This also enables you to locate specific documents more easily.
You can make use of search and filter capabilities to find the contract you need with minimal fuss.
eSignature capabilities
Printing and signing documents takes time. It either requires that both parties are in the same room or that a contract be posted. This can take days or even weeks and quickly zap resources.
eSignature capabilities are thus an essential part of contract management solutions, enabling you to collect signatures as and when you need them.
The right software will even let you track important updates from your phone and other devices.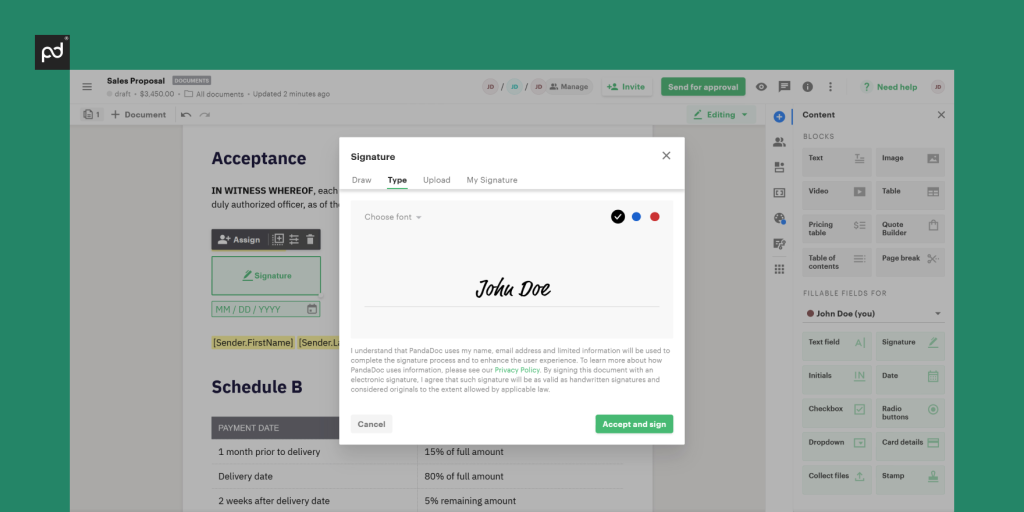 Integration
Enterprise companies invariably use a variety of software across different departments.
So one of the biggest considerations when deciding to implement a new system is how easily it fits into your organization's existing setup.
Choosing enterprise contract management software that comes with integrations for things like Hubspot, Salesforce, and Zoho means it can slot right into your current system, making the whole process a lot easier.
You also need to consider how well it "integrates" with your workforce i.e. is it easy to use?
Having the best enterprise contract management software means nothing if it doesn't gel with your employees.
A gentle learning curve can make all the difference in the world.
Simplify and streamline your contract processes with PandaDoc
There's no escaping the fact that your business needs contracts to operate — but simply having them isn't enough.
As we've explored today, how you go about storing and managing said contracts is essential.
Without a proper system in place, you'll inevitably be hampered by bottlenecks and delays.
That's where PandaDoc comes in.
Our contract management software helps put you in control.
With it, you can customize, negotiate, and eSign complex contracts, wave goodbye to bottlenecks, and keep conversations moving.
Why not try out a free 14-day trial of our contract management software today?
Disclaimer
PandDoc is not a law firm, or a substitute for an attorney or law firm. This page is not intended to and does not provide legal advice. Should you have legal questions on the validity of e-signatures or digital signatures and the enforceability thereof, please consult with an attorney or law firm. Use of PandaDocs services are governed by our Terms of Use and Privacy Policy.