The way you communicate within your company is just as important as your external communications (if not more so).
Without communication guidelines in place, you'll struggle to keep people informed and engaged.
We're going to show you why an internal communication policy is crucial and how to create your own.
What are internal communications?
Internal communications refer to any form of communication that happens within an organization, rather than outside it.
This covers communication between leaders, between management and employees, between colleagues, teams, and departments, and also company-wide comms.
This includes verbal, written, and digital communication—anything from emails and newsletters to social media, chat groups, and forums, or even company intranet.
Internal comms is often the responsibility of the human resources department, but any department may operate its own system as part of an overall strategy.
The main purpose of internal comms is to ensure an effective flow of information across the company, such as notifying employees about new initiatives or policy changes.
It could be something as wide-ranging as a brand realignment or something as particular as a new dress code for your customer-facing team.
It's not just about sharing information; the process should encourage collaboration and a sense of company culture.
What is an internal communication policy?
Because internal communications are critical to your business, it's important to put guidelines in place to help you get it right.
An internal communications policy is a formal document that details your agreed approach and how you intend to achieve your communications goals.
It should include:
The messages you'll share
Who you'll share them with
The communication channels you'll use
When and how often you will share information.
The plan is typically developed by multiple stakeholders to align all areas of the business.
It should provide guidance on everything from the style and tone of your messaging to how you'll ensure business continuity in a crisis.
Your employee communications policy not only keeps everyone informed of current and future plans, but also outlines what you're aiming to achieve and how their contribution fits in.
The importance of having an internal communication policy
Without a policy in place, it's hard to ensure information gets to the right people at the right times.
Employees may miss out on key messages or be overloaded with irrelevant information.
Creating internal communication policy and procedures will help you with the following:
Enhancing employee productivity
Effective communication provides clarity, so all employees know what they're supposed to be doing and when.
It tells them what their responsibilities are, who they report to, and what to do if there's a problem.
If this clarity is absent, staff are unproductive.
They'll waste time searching for guidance or end up re-doing misaligned work, leading to delays and missed deadlines.
Managers should send clear task briefs, respond to queries swiftly, and resist the temptation to ask for progress updates every five minutes.
You can boost productivity by being transparent with your company message and making people aware of your communication goals.
If you highlight how a small task fits into the big picture, employees will know what they're working toward.
Improving the employee experience
Employees are more productive when they're happy in their work environment, so improving their experience is vital.
Your company internal communication policy is instrumental here, as it helps you build trust with your workforce by keeping them in the loop.
Accessible, user-friendly communication channels are more enjoyable to use.
Providing staff with effective ways to communicate will show your company cares about its people, while the right message content will increase employee engagement.
This is important for retention, especially during the "Great Resignation" and when many people now like to work from home.
As well as helping you hold onto your employees, strong communication can turn them into brand ambassadors who praise the company to others and voluntarily share content such as press releases and promotions.
Building company culture
Creating a company culture is harder with remote and hybrid working.
People are in the office at different times—or not at all—and may never meet their leaders or peers in person.
Efficient internal communication can help you overcome this by keeping everyone connected and putting your company values into every message.
As we mentioned, internal comms is a way of getting everyone working toward a common goal.
With carefully-crafted messaging you can encourage likes and comments on company posts and entice people to take part in events (physical or virtual).
Managers can highlight employees' successes, as well as mark birthdays and work anniversaries.
Even if everyone's remote, you can replace watercooler chat with social media or chat groups dedicated to informal communication.
Enabling feedback and discussion
Your internal comms policy should promote an environment where everyone feels comfortable sharing issues or ideas and has confidence in talking to those higher up or lower down the chain.
By enabling feedback and discussion, you show all input is valued and give people a stake in how the company moves forward.
Two-way communication is essential, whether it's staff giving feedback on new software or managers letting employees know their ideas have been implemented.
It also helps with team problem solving, from collaborating on projects to resolving conflicts.
Bringing people together in times of crisis
In a crisis, strong internal communication is more important than ever.
Your policy document should outline protocols for a range of scenarios so everyone is aware of the chain of command and where to access urgent information.
If it's an emergency, you need a way to contact people as fast as possible.
For an ongoing crisis, such as economic difficulties, your messages should explain the situation in simple terms.
Keeping people updated can reduce stress and get everyone to pull together by showing that management trusts them enough to be in the loop.
What does an internal communication policy include?
Every organization will have a slightly different internal comms policy, but the basics are universal.
Objectives
Start by outlining the objectives of the document.
For example, state that its purpose is to mandate communication channels and protocols, set out roles and responsibilities, prevent misunderstandings, and ensure security in the communication process.
Then, state the objectives of your internal comms strategy.
You might be looking to:
Improve the employee feedback rate
Boost participation in company events
Break down silos through collaboration.
Methods of communication
The next step is to outline the methods of communication you'll use and for which people and situations.
Because most organizations have a range of comms channels, it's best to decide on a purpose to prevent messages and notifications from flying around with no structure.
For example, you could say staff must use the phone for urgent formal communication, video for team meetings, group messaging for quick updates, and email for longer conversations.
Meanwhile, you could use an intranet for house policy documents and hold forums.
Mediums and tools used for communication
Here's where you set out the tools and apps you'll use for internal communication, such as Outlook for emails, Zoom for video meetings, and Trello for project collaboration.
You could use separate Slack channels for different teams and for social chats.
Don't forget social media or cloud software for file sharing and storage.
It makes sense to stick to one tool for each purpose or use a unified comms solution—otherwise, it's hard to keep track of conversations.
Good internal communication relies on these tools, so choose reliable options and train everyone on using them properly.
For instance, you can save a lot of time and toggling between apps by setting down that all document management should be handled in PandaDoc.
With PandaDoc your team can create, collaborate on, and share all kinds of documents in moments.
Not to mention securing eSignatures and even payments with ease when internal turns to external communication.
Messages
Your policy should cover the writing style, tone of voice, and type of content your messages should adhere to.
As well as specifying which channels are best suited to which kind of message. For instance, you should outline the situations when formal or informal content is appropriate.
Not every message needs to go to every employee, so you can distribute information according to department or experience level.
Timing is also important—for instance, you might mandate that emails are only sent within specified hours in a particular time zone.
Responsibilities
Finally, who will take overall responsibility for internal communications?
Will you assign responsibilities to each department or team?
It's a good idea to take feedback from managers, who will know what type of communication is most likely to engage and motivate their employees.
Come up with a definitive guide to who does what and who reports to whom.
It may be worth including a list of key staff members in the policy so people can go to them with specific questions.
Types of internal communications
Internal communication can be divided into several different categories, each serving a specific group or purpose:
Leadership and management communication
This type of communication occurs when information flows from the top down.
It's when leaders send out things like company announcements, progress updates, and new policies or strategies. The messages are typically formal and company-wide.
Sharing a single, unified message with the whole organization helps promote company culture and keep everyone focused on the same goals.
It also familiarizes employees with management figures who they may never see face-to-face.
Leaders may pass on important information to managers, who then cascade this down to employees.
For example, they might send out a statement of work explaining a new project.
Employee communication
This is "bottom-up" communication, with messages going from employees to senior management.
There should be specific ways for employees to pass on critical information or feedback, such as discussion forums, surveys and polls, and virtual suggestion boxes.
To encourage employee input, leaders need to be approachable and provide effective communication channels.
Employee communication aims to give everyone a voice—and managers must let staff know their voices are being heard.
Peer-to-peer communication
Colleagues also need to communicate well with one another, especially if they're collaborating on a project.
Whether they're sharing ideas across departments or asking a peer for help, smooth communication develops strong working relationships and solves problems quickly.
Leaders should set an example in terms of effective communication and prompt conversations that support company culture and encourage employees to celebrate each other's achievements.
It's important to create a social space where employees can meet and chat, either on social media or a separate communication hub.
Change administration
Changes in your organization can leave workers feeling anxious, so it's vital to let everyone know what's coming and when.
You need to manage expectations and provide reassurance through clear and timely communication, whether you're going through company restructuring or implementing new technology.
For example, if you're introducing eSignature software, the comms team can explain why it's needed, advise on training sessions, and send links to more info about the new product.
It's essential to use two-way channels for feedback and questions.
Crisis communication
In a real emergency, such as a fire evacuation, you need to be able to reach every employee with an instant message.
Organizations must decide who's responsible for setting this in motion and which channels should be used. It's worth implementing a feedback mechanism to confirm receipt.
A less-urgent example would be the pandemic when management had to let employees know that physical offices were closing, explain how remote working was going to operate, and try to keep everyone connected.
You must always be transparent about what's happening and what it means for your company.
Information delivery
This covers any practical information that might be sent out by the communications team or management. For example:
You might also disperse information relating to performance reviews or promotions and share news about job opportunities and referral schemes.
An employee intranet is a good place to house this information as long as you keep it up to date.
Cultural communications
Cultural communication is twofold. It can relate to building a company culture, which means keeping employees informed about events, starting conversations, and celebrating successes.
It turns on communicating brand values and making everyone aware of the company's mission.
However, it can also refer to the awareness of cultural differences, especially in a global company with employees from varying countries, religions, and backgrounds.
Effective internal communication is easy to understand even if it has to be translated or localized for context.
Internal comms also need to consider cultural nuances.
While informal social messaging is great for engagement and camaraderie, remember that some jokes or colloquialisms may not be well-received across all cultures.
Examples of internal communication done right
Every company's internal comms policy will be designed for its own needs.
Nevertheless, here are some internal communication policy samples from successful brands:
TED
If you've ever listened to a TED talk, you might have been surprised by its run time of 18 minutes or less.
That's the time limit for all talks, and it was put in place because the average person can pay attention to a speaker for 18 minutes max.
TED applies this same logic to its internal communications, holding concise but informative meetings.
We've all heard of meeting fatigue (you've probably seen the mugs that say "I survived another meeting that should have been an email").
Internal comms is about keeping people engaged.
So, holding a short huddle instead of a long conference may be a better way to communicate information without losing your audience.
Your communications policy can set time limits, with the proviso that a longer slot might occasionally be required if there's a business need.
Amazon
If people have a short attention span regarding meetings, the same goes for written messages—most of us stop reading after about 100 words.
That's why Amazon's internal comms policy is to send out bite-size messages instead of wordy emails. They're more like social media posts than memos.
These messages are targeted so nobody receives anything that doesn't directly apply to them.
Employees are more likely to read and respond to these brief communications, as they're clear and easy to digest.
They're easier to retrieve than a long email chain, too.
Starbucks
For Starbucks, the comms policy isn't so much about time or word limits.
It's about company culture—specifically, about turning employees into brand advocates who will promote Starbucks to others without being asked.
Starbucks leadership believes in internal marketing, helping employees to see the big picture, and ensuring they understand and believe in the company vision and its products.
They use internal communication tools to get everyone on the same page—no matter what level they work at.
Netflix
Netflix likes to keep its internal communications simple and quick so messages don't become overwhelming.
Concise online memos are used for the majority of high-level discussions, enabling people to ask questions, receive fast responses, and keep the messages for later.
Another aspect of Netflix culture is that everyone has the chance to share direct feedback, which promotes responsibility and accountability.
Managers also keep employees briefed about the company's goals and provide them with the information they need to make smart decisions.
Setting goals for your internal communication policy
Before you start drafting your internal comms policy, take some time to consider what you actually want to achieve with it.
Research and understand industry standards
As a starting point, take a close look at how industry leaders or successful brands handle their internal communications (see the examples in the previous section).
Although your policy must be unique to your organization, you can take inspiration from those who are getting it right.
Look at industry benchmarks and research the criteria for effective employee communication. What goals are others reaching for?
How long is it/did it take to reach them? Remember to factor in your company's size and budget when comparing yourself to others.
Conduct an audit of the current state of your communications
This is a critical stage, as you assess what's working and what isn't.
Think about how and when you communicate with employees, and if they engage with your messages.
Look at email engagement data like open rates, click-through rates (CTR), and read times.
Also, get employee feedback on the state of your communications.
Find out which communication tools your staff like or dislike using and if there are any barriers that prevent them from communicating effectively.
For instance, are all staff aware of integral company policies regarding things like computer use and cybersecurity?
Other questions you should ask are:
Is productivity as high as it should be?
Are there silos between departments?
Is employee retention high or low?
Is there a sense of shared culture?
Do employees have a great experience at work?
Once you've answered these, you can identify your challenges and needs.
Identify company goals
It's important that the objectives of your corporate communications policy tie in with your main business goals.
Your comms or HR team should discuss these with company leaders to ensure full alignment.
For example, if a goal is to improve sales and marketing collaboration, you could implement a user-friendly comms tool for this purpose.
Or, if you're aiming to improve employee retention, put that goal at the heart of your efforts in encouraging feedback and creating a culture where people want to work.
The SMART acronym is a helpful guide. Make sure your objectives are:
Specific (to increase retention by a certain percentage)
Measurable (there should be a way to measure success)
Achievable (unrealistic goals lead to low morale)
Relevant (goals must fit your overall brand vision)
Time-bound (set a timeframe for achieving these objectives)
Assess channels and establish KPIs
To measure the success of your internal communications strategy, you need to decide on the KPIs (Key Performance Indicators) you want to use.
These might include:
Frequency of internal communication by channel
Number of messages opened/read/acted upon
Employee likes/comments/shares on your social media posts
Number of employee referrals
Staff turnover rate.
You could also use metrics like survey responses and employee net promoter scores to see if your staff are engaged and satisfied.
These KPIs should be reviewed and updated at least once a year.
It's a good idea to evaluate your communication channels and make sure they're effective for sharing information.
If you find a particular channel isn't performing well, ask your employees why—is it difficult to use, for example?
Internal communication best practices
So, now you know how to go about creating an internal corporate communication strategy. Here are some final tips to help you succeed: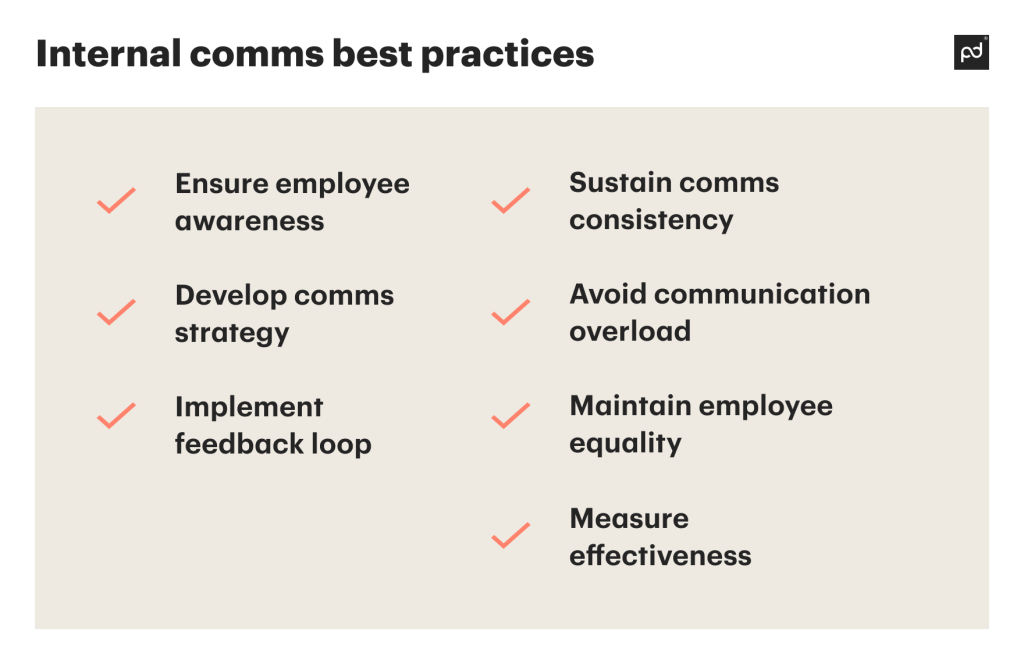 Make sure all employees are informed
A lack of information can cause confusion, frustration, and low productivity among employees.
Whether you're handing out work assignments or announcing a policy change, your internal communication must be clear and informative.
If you keep them in the dark, staff may start to worry or speculate.
For instance, if you're planning a company merger, people will be concerned about potential job losses unless you reassure them.
Similarly, if you're bringing in new contract management software, don't just drop it on your workforce—explain the decision and provide training.
As well as knowing how to carry out their daily tasks, employees need a full awareness of the company's strategy and goals.
They'll understand why their input is valuable and will be better able to communicate the organization's values to customers.
Create an internal communication plan
You can't be successful without a robust plan.
As we mentioned earlier, your internal comms strategy must align with your company's business objectives and vision, so keep this in mind when setting specific goals and establishing KPIs.
It can be helpful to use an internal communications plan template.
You need to include clearly defined roles and responsibilities so everyone knows what's expected of them and what to do if there's a problem.
Effective internal communication requires the right tools, so your plan should outline the channels and software you intend to use for each type of message.
Define the messages and formats that will engage different employees in your business, based on job roles, locations, or where they are in the employee lifecycle.
Decide how often you want to reach each group, and set up an internal communications calendar.
It's also good practice to create an approval process for your internal content, to avoid errors such as duplication or confidential information being sent out by accident.
Establish a two-way system for feedback
If you only use top-down messaging such as mass emails, it's difficult for employees to engage.
It's better to have interactive conversations with them so everyone can get involved and provide important feedback.
When employees feel their voice is being listened to, they're more likely to contribute to the team (and stay with their employer).
You can encourage feedback by adding polls to newsletters and/or enabling people to leave comments on videos.
Either way, make sure you respond to any responses!
Hold Q&A sessions at the end of meetings, and ensure employees know who they can reach out to with additional queries.
Try creating a virtual suggestion box where anyone can propose new ideas, or start an internal communications committee whose team members keep everyone updated on initiatives, events, and achievements.
Maintain a consistent line of communication
Internal communication should be clear, informative, and engaging. It should also be consistent in terms of style and tone of voice to present a unified message.
A professional layout is important too, and using document templates can improve consistency.
It's a good idea to assign all employees to internal groups so they only receive relevant communications. Try to use the same channel for each type of message to make it easier to keep track.
For example, people should know HR policy updates always come via email.
Consistency is also required for the timing of your communications.
Messages about social events could be sent at the end of the day so as not to distract people, while important communications should go out in the morning when everyone is fresh.
A consistent schedule means employees are more likely to read and engage with messages.
Avoid communication overload
Although regular communication is vital, you don't want people to feel overwhelmed by information.
If messages are appearing every few minutes, people will start to ignore them and they'll lose their impact.
This leads to an overall lack of engagement.
There are some messages that should be company-wide, but you don't have to send everything to everyone for the sake of transparency.
Just keep employees in the loop on major news and company information, and they'll know when something is important.
Communication overload can also damage productivity.
Constant messaging is distracting, and people waste time with responses because they feel they have to acknowledge every message. This won't help you reduce employee burnout.
Uphold equality among employees
A successful internal communication strategy should make everyone feel like part of the team, no matter what their job role or where they work.
Your policy should include guidance on using inclusive language and awareness of different cultures, religions, and preferred pronouns.
Make sure your comms channels are accessible to all and beware of forgetting your remote workers when you send a message or arrange a social event.
Consider the communication preferences of different generations in your workforce, and ensure your content is understandable for people with disabilities—for example, using closed captions on videos and alt text for images.
If your company is international, you need to be aware of different time zones and public holidays.
Virtual meetings and events should be held at varying times to accommodate people in other locations so one team doesn't always have to fit around another.
Measure effectiveness
Even if you're confident your internal comms policy is working well, it's crucial that you continue to measure its effectiveness.
You need to know if you're communicating too much or too little with target audiences and whether employees are engaged.
Monitor interactions such as email open rate, click-through rate, shares, and reactions.
When are people opening and reading your messages?
Are they getting to the right people? Ask for feedback from employees—you could use surveys or set up focus groups.
It's good practice to review your strategy on a quarterly or even monthly basis.
This way, you'll be able to benchmark your data and evaluate progress toward your goals, as well as identify the channels and content that perform best.
Get started on your internal communication policy
Internal communication is a huge part of any organization, and a robust internal communication policy is essential to your overall success.
It needs to be tailored to your specific business model and objectives, with clear procedures and measurable KPIs to assess its effectiveness.
With the right strategy and tools in place, you'll see improved employee engagement, better productivity, and lower staff turnover—all of which will help your business stay competitive.
The creation and dissemination of business-critical documents is also integral to robust internal communications.
PandaDoc for HR makes it quick and simple to create, send, sign and store documents in a single location.
From company policies to onboarding and training paperwork, everything is close at hand.
Disclaimer
PandDoc is not a law firm, or a substitute for an attorney or law firm. This page is not intended to and does not provide legal advice. Should you have legal questions on the validity of e-signatures or digital signatures and the enforceability thereof, please consult with an attorney or law firm. Use of PandaDocs services are governed by our Terms of Use and Privacy Policy.