As far as maintaining a steady stream of cash flow goes, invoicing is one critical key to making it happen.
How many times have you received the balance amount due from a client without presenting an invoice? The chances of that happening are very low.
That's because they, too, need invoices for recordkeeping, payment reminders, due date tracking, accounting purposes, and more.
So, it's established — creating invoices is a win-win for both parties.
But how does one go about creating a professional invoice?
Don't worry, we're here to guide you through it with the best business invoice examples, which you can then use as a template.
Types of invoices
The type of invoice you send to a client can differ considerably depending on the kind of projects you undertake, how you price these projects, the agreement you have with the client, etc.
Let's take a look at the most popular types of invoices commonly used by small businesses, freelancers, and enterprises.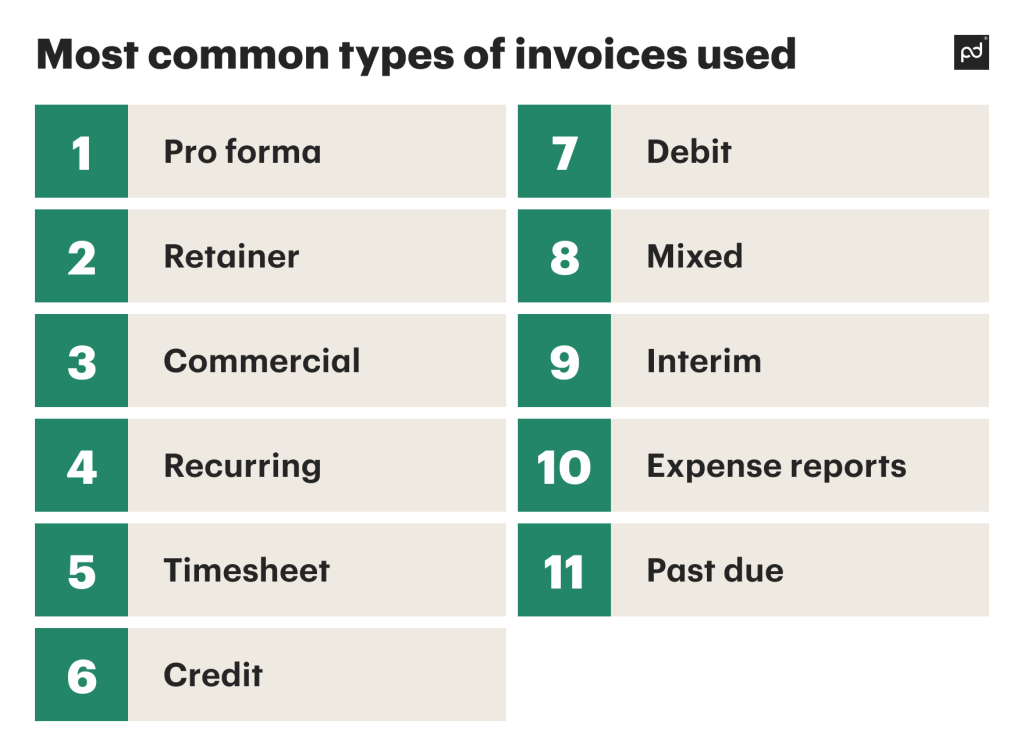 1. Pro forma invoice
A pro forma invoice is a basic invoice that's created before the delivery of the product/service so that the client has an estimate of how much that product/service is going to cost.
2. Retainer invoice
Retainer invoices are made to get advance payment(s).
For example, if you're working on a large project and need cash to get started, you can issue a retainer invoice to get some advance amount (this amount will be deducted from the subtotal).
3. Commercial invoice
A commercial invoice is an invoice that's often made for international payments.
This invoice requests payment for a transaction that's already been undertaken by the seller (i.e., the seller has already delivered the product/service).
4. Recurring invoice
Recurring invoices are made for projects where payments are made continually, usually at regular intervals.
For example, if you take on fixed projects for a client every month, that's when you'll create recurring invoices.
Side note: If you're already using PandaDoc, it should be easy to set up recurring invoicing using this step-by-step guide.
5. Timesheet invoice
Timesheet invoices account for everything by the hour.
For example, if a lawyer works on a project for 10 hours at the standard rate of $100/hour, they will issue a timesheet invoice requesting payment of $1,000.
6. Credit invoice
Also known as a credit memo or a credit note, the credit invoice accounts for any amount that's to be credited to the client.
For example, if there was an error in the previous month's invoice and you added an additional $100 to the amount, the same amount will be deducted from this invoice.
7. Debit invoice
Also known as a debit memo or a debit note, the debit invoice is the opposite of a credit invoice — that's to say, instead of deducting the amount from your invoice, you'll add the amount to it (e.g., if you made an error in the previous month's invoice and neglected to charge $100 that was owed, you'll add that amount to this invoice's subtotal).
8. Mixed invoice
Mixed invoices have a combination of credit and debit amounts. These invoices are not usually issued but are still relevant to know about.
9. Interim invoice
If you've taken on a project that's likely going to last multiple months, an interim invoice might be necessary because it'll help you get paid based on project milestones.
10. Expense reports
Expense reports form a collection of expenses that an employee or a contractor has to be reimbursed for by a business owner.
11. Past due invoice
If your client does not process your invoice by the agreed-upon due date, you'll likely be sending a past-due invoice, which may or may not contain late fees and interest charges.
Alternatively, it may also be possible that the client is running into some issues processing your invoice because of an error on your end.
Learn more about invoicing mistakes here and how you can avoid them: 10 common invoicing issues for small businesses and how to solve them.
What should go in a business invoice?
While there's no hard and fast rule as to what an invoice should look like, there are a few elements even the most basic invoices should have.
Let's take a look at the nitty-gritty details that need to be on a business invoice.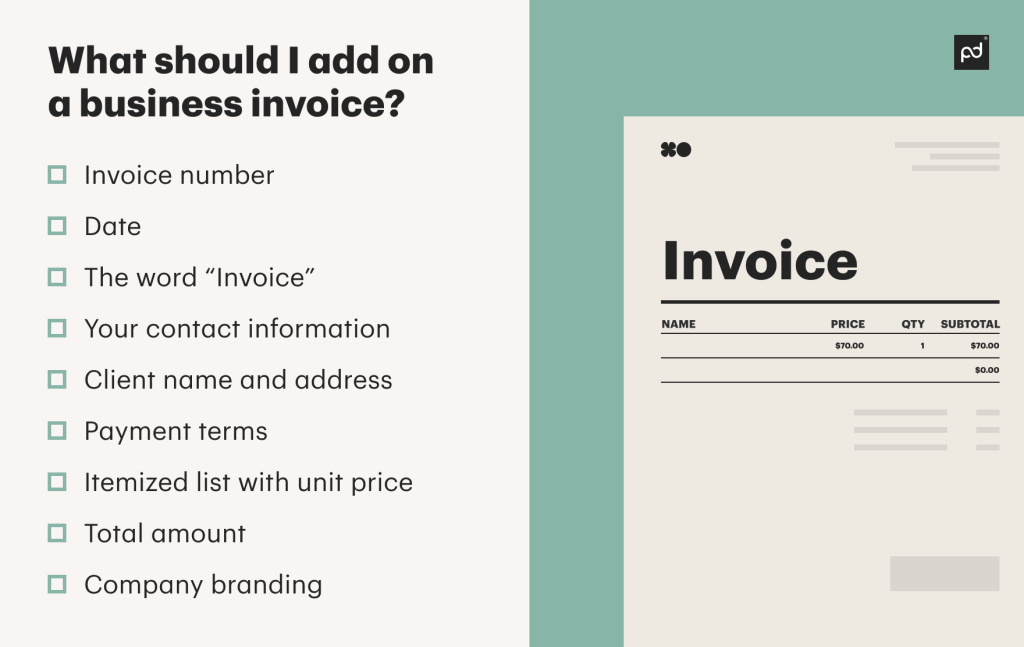 1. Invoice number
Often placed at the top, an invoice number is set in place to act as a reference number for taxes, bookkeeping, etc.
2. Date
The date of the invoice is also put at the very top — this is done so that you can keep track of when the invoice was sent (this helps when it comes to payment terms such as Net-X days and late fees).
3. The word "invoice"
Adding the word helps indicate that the document you're sending is an invoice, not a bill.
4. Your contact information
This helps your clients (and their accounting department) understand which vendor has sent the invoice and how to get in touch with them, in case any questions and concerns arise.
Adding contact information also has other uses, such as your clients being able to send physical payments and knowing which address to use for tax forms.
5. Client name and address
When you create multiple invoices during a month, adding a client name and address will help you keep track of which invoice belongs to which client.
6. Payment terms
To ensure that everything is streamlined and your client's accounts payable department knows when and how to make the payment, it's good practice to write payment terms, such as which online payment mode you prefer, the due date to pay, late fee stipulations (if any), and other similar details.
7. Itemized list with unit price
An itemized list needs to be added so that both parties know what products/projects they're being charged for.
Your itemized list can be filled with product names, product types, price of each item, quantity, etc.
8. Total amount
The total amount needs to be below the itemized list (this total amount should include taxes, freight charges, discounts, convenience or other associated fees, etc., as well as the subtotal price of all products and services).
9. Company branding
To give your invoices a professional look, it's considered good practice to add company branding, such as your logo, colors, fonts, company name, etc.
You can easily do this with invoicing software.
For example, PandaDoc lets users change their company logo, button colors, text, email subject line, email footer, themes, and more when editing the invoicing template.
You can also add optional stuff to your invoices, such as interactive media or a nice message indicating you enjoyed doing business with the client.
If you're second-guessing what details should go where in an invoice, you can use PandaDoc invoice templates to guide you.
A few examples to inspire you
Let's get to the meatier bits and check out a few invoice templates that can inspire your future invoice formats and designs.
1. Basic invoice
A basic invoice is one of the most commonly referred-to templates because it works across the board.
A basic template looks something like this, and it includes the important details like billing address, payment terms, itemized list, date, invoice number, etc.:
Here's another invoice with similar details that you can refer to (the only thing that differs between the two is the invoice format and colors used).
2. Sales invoice
A sales invoice will usually indicate the sale of a product or service undertaken for a client.
These invoices will list prices with classifications like product name, individual item price of each product, quantities, and product description (which can include details such as the make or model number and year made).
You can even add a comment or two to remind clients which project the invoice is associated with.
Here's an example of what a sales invoice looks like:
Explore all PandaDoc integrations here to learn how the solution adapts with your existing tech stack.
3. Service invoice
A service invoice is specifically created when a contractor or business provides their labor or advice for a project.
Such projects are either priced by the hour, or use individual project prices (e.g., if you're a photographer, you can choose to price wedding packages and maternity packages differently), or are pricing based on industry standards (e.g., some writers and journalists choose to charge clients based on a fixed amount per-word).
Here's an example of what a service invoice could look like:
And you don't need to stick to a one-page invoice, either.
For example, PandaDoc has a painting invoice template that's seven pages long and has details like:
Billing address
Materials and description (as well as an itemized list of all materials used)
Service charges (itemized list here too)
Project schedule (individual day schedules are created)
Terms and conditions of the agreement
A personalized message
Signatures of both parties
You can get the template here.
4. Tax invoice
If you're wondering how to go about creating invoices that have the dreaded word "tax" in them, and where and when you should add taxes to the docs you send out, you can refer to these invoices.
5. Commercial invoice
Commercial invoices may often go the extra mile and include details like system codes, country of origin, and declaration forms, which a standard invoice may not have (or need).
Here's an example of a commercial invoice you can refer to.
(Keep in mind the product you ship may require additional details; if so, so use this sample as a guide but check your customs requirements before creating a commercial invoice).
6. Pro Forma invoice
A pro forma invoice, aside from containing basic details like invoice number and date, should also have other mentions such as shipping and delivery information as well as remittance details.
You can also swap out your itemized list for a narrative which can be something like "Sales of X car, of Y model, launch year Z, priced at [insert amount]."
For reference, here's a pro forma invoice template you can check here.
7. Freelance invoice
With freelance invoices, especially if you belong to the creative field, you have the chance to inject some creativity into your invoices.
For example, one way to make your freelance invoice stand out is to match it with the branding, colors, and fonts that went into your freelance proposal.
That's just one way to make your artistry shine! You can also take inspiration from this freelance invoice (it's like a standard invoice, except this too is more creative).
On the same note, here's another example (of a freelance graphic design invoice) you can refer to.
8. Rental invoice
Rental invoices can be used for rental agreements, as well as homestays (such as those delivered by Airbnb).
Here's an example of how a rental invoice should look like (completed with details like billing address, payment terms, due dates, taxes, and more):
Where to design a professional invoice
Now that we've covered the broad strokes and reviewed samples (aka, professional invoice examples), let's deal with some important questions.
First off, where does one go to create a professional invoice?
What types of invoice generators are other small business owners using? How can I create a custom invoice?

Well, we're covering how and where to create custom invoices. Let's get right to it!
1. Microsoft Word
While some may think that the golden era of Microsoft has come and gone, there's still a lot of use you can get out of Excel and Word.
Excel, for one, is great with calculations (so you do the calculations to get the subtotal of all your line items and quantities with it), and you can use Word to create the invoice itself.
Alternatively, you can also use PandaDoc's integration with Word to combine the best part of both solutions to create an invoice (e.g., if you have a readymade invoice template on Word, you can upload it on the PandaDoc editor and make the necessary changes).
If you wish to directly create an invoice on Word itself, you can go on the app and check out the multiple templates near the header.
From those, simply select the invoice template that suits your requirements and begin working.
2. Google Docs
Just like Microsoft Word, Google Docs has a template library as well. Go on the app and click on "template gallery."
Once there, you can use the quote templates and fashion them into a business invoice, or you can start from a blank document.
3. Invoicing software
Another great way to send invoices to others is to use invoicing software. While there are many available in the market, the only one we can vouch for is PandaDoc.
Not only does our solution have a library of templates you can use, but you can also add custom branding, rich media, signatures, etc., and track your invoices at a moment's notice.
But aside from the basics, here's what differentiates us from our competitors:
When you purchase our product, you don't only get an invoicing solution. Rather, you get an all-in-one document management platform that can manage proposals, quotes, contracts, e-signatures, forms, payments, proposals, etc. — as well as invoices.
Our solution is adaptable for small as well as large businesses, and we price our service based on per user, so you only pay for the team members that use PandaDoc.
We can also customize based on your needs. For example, PandaDoc can be personalized based on industry-specific or team-specific requirements.
We also offer affordable pricing. For example, Qwilr's pricing starts at $35/user/month and Proposify's pricing starts at $49/user/month. In comparison, we offer more features and our pricing begins at $19/user/month. Also, you get a free eSign account, too, if you don't wish to opt for the premium version of PandaDoc.
Here's what our customers have to say about us on TrustPilot:
"Overall experience — excellent. Working with PandaDoc is making our contracting process way easier and saves us a lot of work. And if we have any issues, the support from them is very fast and understanding.I recommend PandaDoc to everyone!"

Marian Rusu
"PandaDoc has been a great addition to our toolkit. It is affordable, easy to use and the support team is extremely responsive. Of all the pluses, the ease of use is really key — we have very few questions from cosigners and creating documents is really straightforward. No training was needed, if you have used other doc prep tools, you should try PandaDoc."

Danielle
4. Payment platforms
Certain payment platforms, such as Payoneer, Wise, and PayPal, will allow you to create invoices from the platform itself.
Your next invoice is on PandaDoc
And that wraps up our list of business invoice examples! If you're looking for more free invoice templates (or even other templates, for that matter), you can visit the PandaDoc library and get inspiration from there.
Alternatively, if you're looking to learn what more PandaDoc can do for you, you're at the right place!
You can now get a 14-day free trial or arrange a call with our representatives to understand more about PandaDoc's full capabilities.
Disclaimer
PandDoc is not a law firm, or a substitute for an attorney or law firm. This page is not intended to and does not provide legal advice. Should you have legal questions on the validity of e-signatures or digital signatures and the enforceability thereof, please consult with an attorney or law firm. Use of PandaDocs services are governed by our Terms of Use and Privacy Policy.