In August, we announced a few integration updates like a new integration with bpm'online, a native HubSpot CRM integration, and some minor updates to our Capsule, Sugar, and Google Add-on integrations.
Now that fall has arrived, we've been working hard on some general product updates too. Today's post will cover a CPQ enhancement and a few others like unfilled token notifications and extended document expiration.
Grand total is here!
A majority of our customers requested this feature as they often use multiple pricing tables within one proposal. Previously, you couldn't calculate the sum of all the tables in one document, but now you can.
With our Grand Total feature, you can now auto calculate and track the sum of every pricing table within a document. The Grand Total can be a fixed price when there is no pricing table (an example would be an uploaded document) or when a user wants to set up a custom amount for the document.
The user can select which pricing tables to include in the grand total by checking the boxes. By default, all pricing tables will be included in the Grand Total.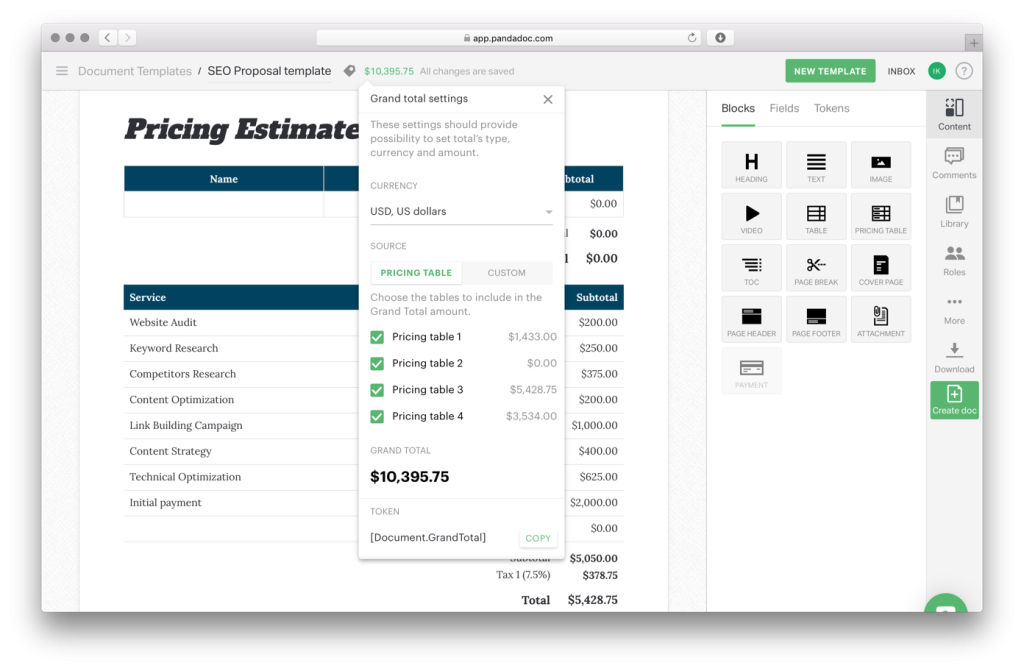 Setting a custom amount is easy too, all you need to do is click custom, enter the amount you'd like and voila!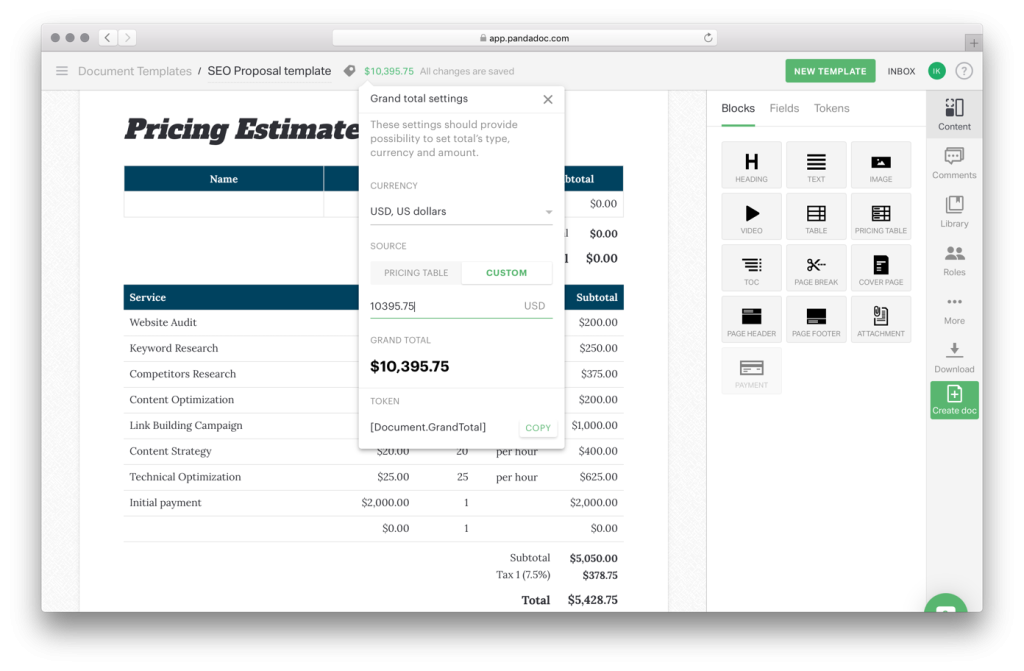 Lastly, we've also created a Grand Total token so that you can easily feature your grand total in any text within your proposal.
The Grand Total feature is now available in the PandaDoc Add-on store. By default, this feature will be turned on for all customers. You should go in and turn it off if you don't plan to use it.
Complex pricing? We've got it handled!
Another popular request amongst organizations is the need to have complex calculations in their pricing tables. Great news! This is now possible.
You can now add an additional column in your pricing table which allows you to add a multiplier to your line items.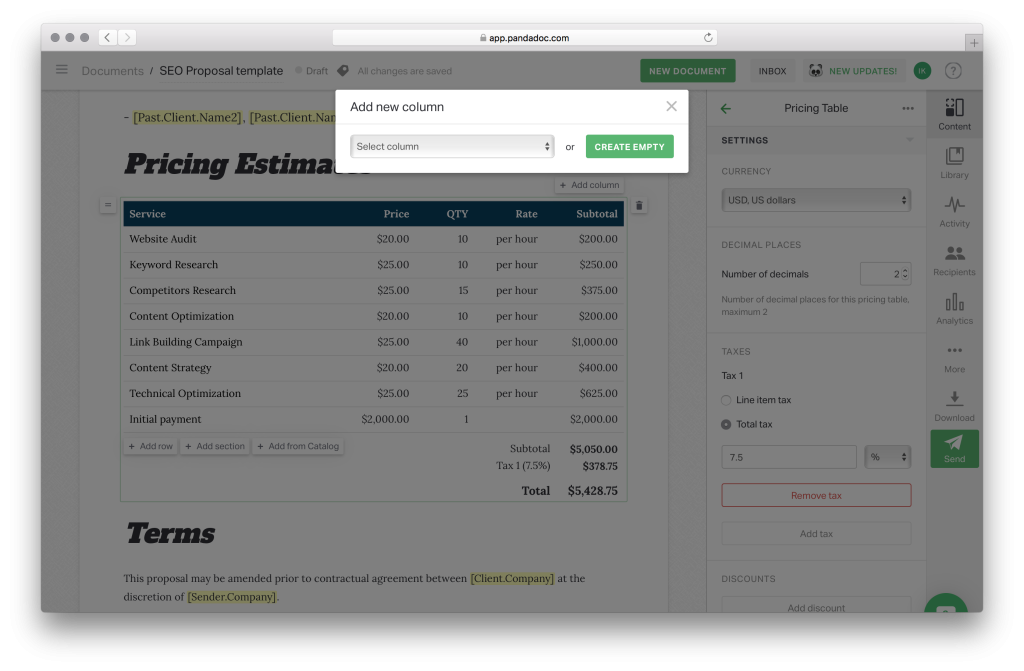 For example, maybe your pricing is based upon one product offered at a single quantity but across multiple days. Or you may have a certain rate with numerous quantities but then multiplied across numerous roles or departments. The multiplier allows for you to perform calculations in the pricing table with specific quantities and across a period of time.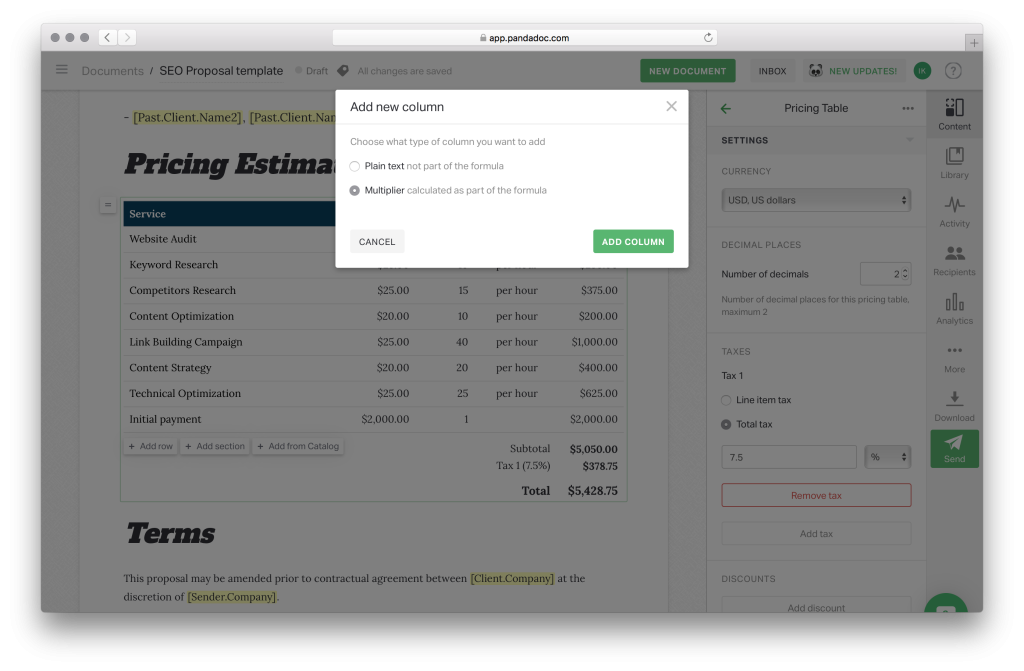 Other features of the multiplier worth noting:
Add any amount of 'multiplier' columns to pricing table
Each cell in 'multiply' column needs to have a numerical input and will accept any valid number
The row's subtotal will calculate as follows: 'quantity' x 'price' plus 'multiplier' and will calculate from left to right, moving in order of the columns in the pricing table
The default editable column name is "Multiplier" but you can customize the text to what you'd like
The Multiplier Column has the same settings as Quantity Column
This feature is available for all plans and is a feature toggle that must be turned on in the pricing table settings.
In case you missed them, here are a few other helpful updates…
Contact phone number token
We've finally added a Phone Number token to contact details. We've updated the "new contact" form to include fields for Company and Phone Number. Not a new contact? No problem –– you can add a phone number to any existing contact by editing the contact info in the PandaDoc "Contacts" section.
[Contact.Phone] is available to use as a token in Templates (in addition to First Name, Last Name, Company, and Email).
Additional email activity tracking and notifications
We'll never leave you in the dark with our document analytics. Currently, we show you every time a recipient opens a document, which pages they've viewed and how long they spent looking at your document. These insights empower you to have timely and informed follow-ups with your customers.
Now you can track customer engagement before they even open the document with our email tracking and delivery notifications. In the document "Actions" section, the following are listed:
Email was sent
Email was opened
Delivery failed (enable notification for this)
It is highly unlikely that your document won't get to your recipient, but you can now rest easy knowing that you'll receive a notification if something goes awry. Our delivery failure notifications will never leave you not knowing if your document reached your recipient or not.
Extended document expiration
Previously the document expiration period was limited to 180 days. For those of you with longer sales cycles, rejoice! We've extended maximum expiration period to 10 years (3650 days).
To update the default document expiration, go to Settings and enter a number between 1 and 3650. Expiration settings can also be customized for any Template or Document (from the Settings section of the document or template).
That's all for now folks! Thanks for sticking with us through this long post. If you have trouble enabling or using any of these features, shoot support a message within the app or drop them a line at support[at]pandadoc.com.
Already using PandaDoc? Head to the app now to try these new features. New to PandaDoc? Get started with a free 14-day trial.