Imagine you want to survey people, but you don't want to make the surveys so boring that your respondents lose interest.
You want a survey that has an impressive design, options for MCQs, a custom layout, sleek look, and can be embedded based on your requirements.
So, you consider Typeform. After all, it has an ideal feature set, so why not try it out?
And that seems like an ideal path of logic, if you're not an overthinker.
But if you like to be completely sure of your decisions, questions like "Is Typeform really the best solution for me?", "Are there better solutions in the market?", and "Will I get my happily ever after with Typefrom?" might plague you.
Don't worry, my friend. This article is exactly what you need.
Here, we're reviewing Typeform based on its features, ease of use, customer support, pricing, pros, cons, and other details, so you know exactly how it fares in front of competitors and if it would be the right solution for your needs.
Let's get this party started!
Review summary
Typeform is an excellent product that's widely regarded for its ease of use.
However, areas like customer support and pricing can use some improvement (especially when you look at the pricing of other competitors in the market).
Our rating
Overall: 3.9/5
Pricing: 3.5/5
Features: 4.5/5
Customer support: 3/5
Ease of use: 4.5/5
Value for money: 4/5
| Pros | Cons |
| --- | --- |
| 1. Excellent options for integrations and templates. | 1. Typeform itself doesn't have excellent analytical capabilities. You'll need to connect it with other tools to get insights. |
| 2. The product is relatively easy to use, and has a good number of features in the paid plans. | 2. The pricing is a little expensive (considering the features it provides and the alternatives customers can choose). |
| 3. You can create visually pleasing quizzes and surveys with customizations. | 3. The company was once part of a data attack that affected 100,000+ records (and there's no telling if it can happen again). |
| | 4. The customer support team can improve its responses. |
Review methodology
To provide fact-based and authentic information, we used data from Typeform's company website, its social pages, Crunchbase profile, peer-to-peer review sites, and editorial reviews written by independent publications.
We also scoured online forums and communities on platforms like Twitter and Reddit to explore customer sentiments about the product.
General overview of typeform
Founded in 2012, Typeform is a company developed by David Okuniev and Robert Muñoz that presently handles more than 500 million+ digital interactions per year.
At the crux of it's being, Typeform is a form-creation software through and through.
However, over the years, the product has increased its offering to VideoAsk (an interactive video conversation tool) and Chat (a no-code chatbot).
If you belong to the HR, marketing, customer success, education, or product development sectors, you might benefit from becoming a Typeform customer, and joining the likes of teams from Apple Inc., Uber, Airbnb, Slack, etc.
While the company and its product offering are just as impressive as is, the recent funding of $135 million that Typeform has acquired in a Series C round (source: Crunchbase) allows us to beleive there's a lot of growth potential we should soon witness!
Product pricing
Four subscription plans are available:
Basic: Priced $25/month (for 1 user, unlimited typeforms, and 100 responses/month)
Plus: Priced $50/month (for 3 users, unlimited typeforms, custom subdomain, and 1,000 responses/month)
Business: Priced $83/month (for 5 users, unlimited typeforms, custom branding, priority support, and 10,000 responses/month)
Enterprise: will need a quote (users, responses, and feature set can be customized)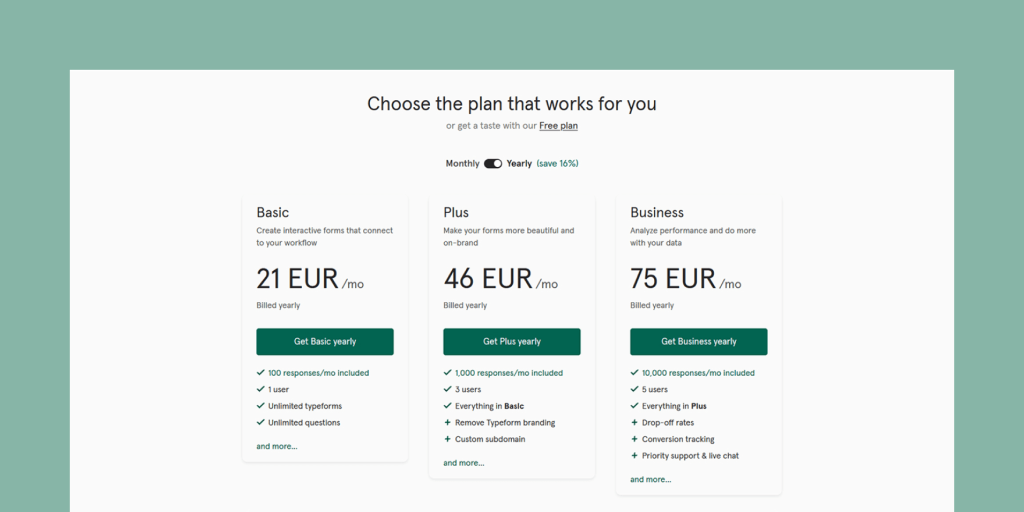 Side Note: There's a free plan available, too, which has limited features (i.e., you can only create 10 questions per Typeform and get 10 responses per month).
Key features
1. 500+ Integrations
Typeform is exhaustive with its integration list.
To begin with, since it can be connected with Zapier, it easily accesses more than 500 integration partners.
However, aside from that too, it can be integrated with solutions like HubSpot, Slack, Pipedrive, Airtable, Mailchimp, etc.
You can also search for integration partners based on categories such as CMS, Automation, Analytics and Reporting, Productivity, Scheduling, Collaboration, Email Marketing, and more.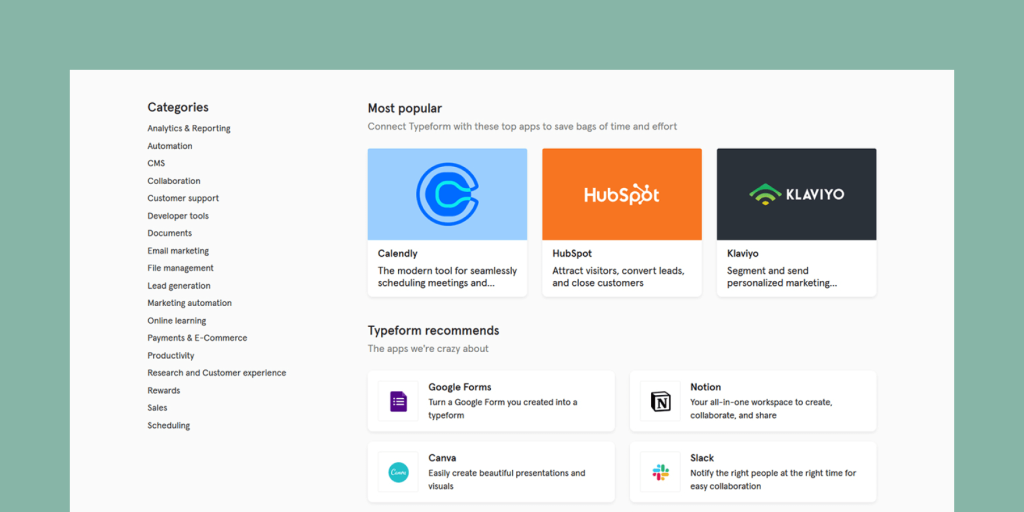 2. Plethora of templates
Alongside integrations, you can access multiple templates too from their website.
These templates can be further categorized based on activity, popularity, recency, role, and type.
For example, when you select your role as "Sales," you'll be able to see a variety of templates, such as sales referral forms, pre-sales questionnaire, sales performance evaluations, service order form, sales call log form, etc.
There's a recently launched category called "Created by Customers," where you can view and edit templates made by other brands, or share some of your own designs.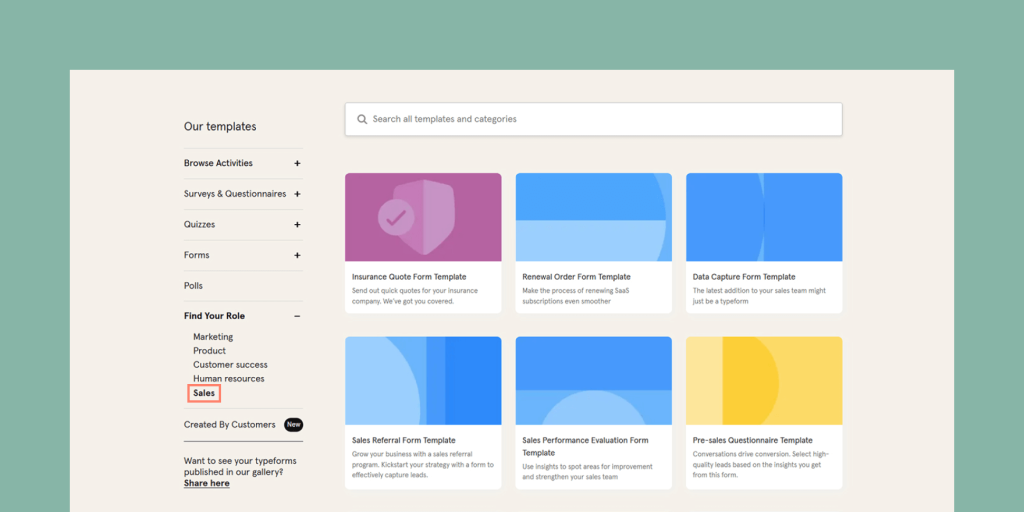 3. Customizability
Customizability is one of the USPs (Unique Selling Points) of Typeform. Here's what we mean by this:
You can create custom question paths (based on how people interact with your form).
You can add your company branding.
You can create custom URLs for your forms.
You can also customize subdomains and meta descriptions.
It's also possible to create close screens as per your requirements.
4. Add-on Products
If you've opted for a paid subscription plan of Typeform, you can use the services of its other product, Chat, too.
Since the product is no-code, you can easily embed it on your website to automate processes like lead generation and customer support.
The brand provides conditional logic and templates for the chatbot, which makes it easy to set it up.
And once it's set, you can sync the data you get from it to other solutions from your tech stack (e.g., Salesforce and HubSpot).
Typeform's other product, VideoAsk, is not included with your Typeform membership. You'll have to purchase it individually.
Presently, VideoAsk can be accessed by signing up for one of these subscription plans — Start (priced $0/month), Grow ($24/month), and Brand ($40/month).
Support and ease of use
For support, you can visit the Help Center, submit a question to the community, or submit a request to customer support.
Alternatively, if you have a Typeform Business or Enterprise plan, you can use the live chat, too.
Unfortunately, though, the customer support doesn't have the best reviews online, mainly because the company really pushes the community support page before having you contact them.
Aside from that one big downer, many customers wished that the support would also be extended to 24/7 and have multi-language capabilities.
As far as ease of use is concerned, we have no complaints about the product. And the reviews seem to agree with us.
The cases of people complaining about the product's ease of use are very minimal on peer-to-peer review sites (almost nil to none).
How does PandaDoc compare?
While Typeform is an excellent product, there are still some things PandaDoc does better, and that includes:
Providing more features
Providing a better pricing
Providing extensive analytics
For reference, Typeform can only assist customers with form creation. PandaDoc, on the other hand, has multiple use cases, for contract management, invoicing, payment collection, e-signatures, etc.
Whereas Typeform's pricing begins at $25/month, our pricing starts at $19/month (and we provide more features!).
The same goes for analytics — Typeform's analytical capabilities are limited, whereas you can get rich insights based on the way customers interact with your documents on PandaDoc.
Better yet, why not hear what the end user has to say?
Here's G2 providing a summary of the comparison between PandaDoc and Typeform (more than 2600 customer reviews were analyzed to get these results).
Final thoughts
We don't deny it — Typeform is a great product. But, it's not without its faults (please refer to the cons section to get a quick summary).
There are better competitors available in the market, and PandaDoc Forms is definitely one of them (we've already heard customer reviews on G2, so we know PandaDoc is the clear winner here).
Like Typeform, PandaDoc Forms do not require any coding and are easily customizable (we also have N number of integrations and templates just like them).
But, we also go one step further to provide features like:
Signing capabilities
Assignment of multiple roles
Being able to edit published forms
Compliance with security standards like PCI DSS
Custom CSS
If you wish to learn more about PandaDoc Forms, and how we compare against Typeform, click here.
Frequently asked questions
Typeform has a free plan with which you can create unlimited forms (but can only add 10 questions per form, and get 10 responses per month).

Unfortunately, you cannot add multiple questions per page on Typeform. However, you can use the MCQ (multiple choice question) format for your questions.
Disclaimer
PandDoc is not a law firm, or a substitute for an attorney or law firm. This page is not intended to and does not provide legal advice. Should you have legal questions on the validity of e-signatures or digital signatures and the enforceability thereof, please consult with an attorney or law firm. Use of PandaDocs services are governed by our Terms of Use and Privacy Policy.