Many sales professionals want to do away with the old PDF sales proposals covered in top-to-bottom text. They are not capturing or keeping the attention of overwhelmed buyers.
"Including visuals in content increases the audience's willingness to read by 80%. The agency sampled web traffic metrics from December 2014 through February 2015, and found inline images and pull quotes increased customer session time by 23%, and sales conversions by 13%."

Data from Brafton
Marketing content has undergone a transformation, now it's time to enable sales with better tools, tactics, and visual content to sell value and provide meaningful insights.
Here are a few tips to help transform old sales proposal templates into a more engaging presentation that inspires action.
1. Add multimedia
Speakers often use video during live presentations to emotionally engage the audience. But, now with digital technology, multimedia is no longer limited to live presentations.
For example, a proposal template software, like this, allows videos from YouTube or Vimeo to be embedded right into proposals. When saved as a PDF, document recipients can click on the video's still image which will take them directly to the video, when connected to the internet.
2. Add quotes with interactive pricing tables
In the hustle and bustle of business deals, sometimes customers don't have time to sit through all the fluff. Get straight to the bottom line, faster, by including quotes directly in your document.
Take it a step further by using interactive pricing tables, which calculate totals as customers check boxes and adjust quantities of the items they'd like to purchase. Allowing customers to see the cost breakdown of items with taxes and discounts brings ease to making purchasing decisions.
3. Embed payment processing right in the document
Encourage customers to take action, by placing payment processing right into the sales proposal template. Traditionally, sales reps would send customers PDF proposals with a credit card form attached for them to print, fill out and scan back. This sort of labor intensive payment process requires many steps, making more work for the customer — discouraging conversion.
When payment can be processed by simply entering credit card information right into the digital proposal template, payment is smooth and simple.
4. Give e-signature options
Gone are the days of printing, signing, scanning and sending back. Gone are the days of accidentally missed initial spots. And gone are the days when customers need a pen to sign something that originally came to them in digital form.
With digital sales proposals, not only can customers be guided through the document by marking where they need to sign, but there is a feature providing digital signature options. Customers can electronically sign choosing font and color options, or upload a saved image of their signature to insert into the document.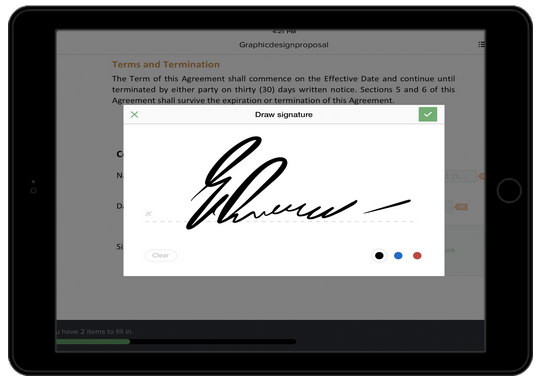 5. Use analytics to determine what's working
To determine if sales proposals are engaging customers to their full potential, use sales content software to see what's working and what's not. Document analytics can detect how much time customers spend viewing specific sections of sales proposals, and reveal sections being skipped over.
Once it is obvious which types of content customers respond best to, edit and craft effective future proposals — removing the content that isn't driving customers to act.
If sales proposals aren't inspiring customers to take action through signing or completing payment, investigate what's stopping them. It could be the content isn't eye-catching or engaging enough to begin with. Or if the presentation is loaded with videos and images, maybe lack of clarity is the factor stopping them from making the conversion.
Either way, using these techniques to build beautiful, interactive sales proposal templates will inspire more customers to take action and help drive sales.
What are some features you could add to your current proposals, to drive more engagement and inspire action? Share with us in the comments below.