Electronic signing services have been growing in popularity over recent years, and it appears as though they'll only become more popular, with some predictions suggesting that the market CAGR (compound annual growth rate) will average 26.6% between 2021 and 2030.
As such, it's a good idea to jump on the bandwagon as soon as possible and start reaping the benefits that these services provide, like fast document turnover and eco-friendly workflows.
In this article, we're going to compare two electronic signing services: Eversign vs. Docusign.
To help make it easier for you to decide which of these services is best for your business, we'll highlight their features side by side, and contrast these with what PandaDoc has to offer.
Let's get started!
The competitors
Eversign is headquartered in Vienna and is a part of Stack Holdings, which is a small but notable SaaS tech company that has over four million users across all platforms.
The company has around 50 people in its main office and a second location in London.
Eversign offers simple and straightforward electronic signature software that does one job, but does it well. About 90% of its customers are SMBs.
DocuSign, which is based in San Francisco, is a massive corporation.
It has 21 locations worldwide, over 6,000 employees, and its annual income exceeds 1.45 billion USD.
It's currently a market leader in the eSignature domain, with an 80.40% share. DocuSign's client list is extensive and includes high-profile names such as Unilever, Salesforce, Apple, and Samsung.
The company has a wide variety of products, including analytical tools, contract life cycle management systems (CLMs), and billing software.
DocuSign aims to bring every element of a business deal, from negotiations to payment, into one place.
Methodology and criteria
At first glance, this might seem like an unfair comparison — a large company that dominates the market vs. a startup with less than 1% of the manpower of its competitor. However, this isn't the case.
First of all, size isn't everything. A smaller business may well outperform in a certain niche, and thus be a better fit for certain clients.
For example, at PandaDoc, we also have fewer employees than DocuSign, but that doesn't hold us back. Brands like Autodesk, Tata Steel, and Konica Minolta still decided to choose us.
Second, "better" is a subjective term.
Two seemingly similar businesses can choose different products and both be right because each has its own individual needs.
This article aims to describe Eversign and DocuSign in a way that helps you understand what each company's electronic signature service has to offer.
Third, we'll limit the comparison to electronic signature software. This is because it would be illogical to pit eSign against a CLM, for example.
These are the things that we'll be taking into account:
Feature set: What the product can and cannot do.
Price and pricing model: What the vendor charges, how customers can make payments, and what's included in each plan.
User reviews: Vetted testimonies from trusted platforms, such as G2 and Capterra.
A quick note — to find out more about the nuances of digital signatures, check out this article: What is an electronic signature?
Eversign vs DocuSign side-by-side
| Features | DocuSign | Eversign |
| --- | --- | --- |
| Custom signatures | Yes | Yes |
| Integrated security | Yes (ISO 27001 and SSAE 16) | Yes (256-bit HTTPS encryption) |
| Secure backups | Yes | Yes (cloud-based) |
| Multi-language support | Yes | No |
| Document tagging | Yes | No |
| Tiered pricing | Yes | Yes (4 tiers) |
| Contract required | No | Yes |
| Support type | Email and phone | Dedicated support (higher tiers only) |
| Integrations and custom API | Yes | Yes |
| Average review rating | 4.6 | 4.8 |
Now, let's see what each solution has to offer.
Feature set
This is what Eversign has to offer.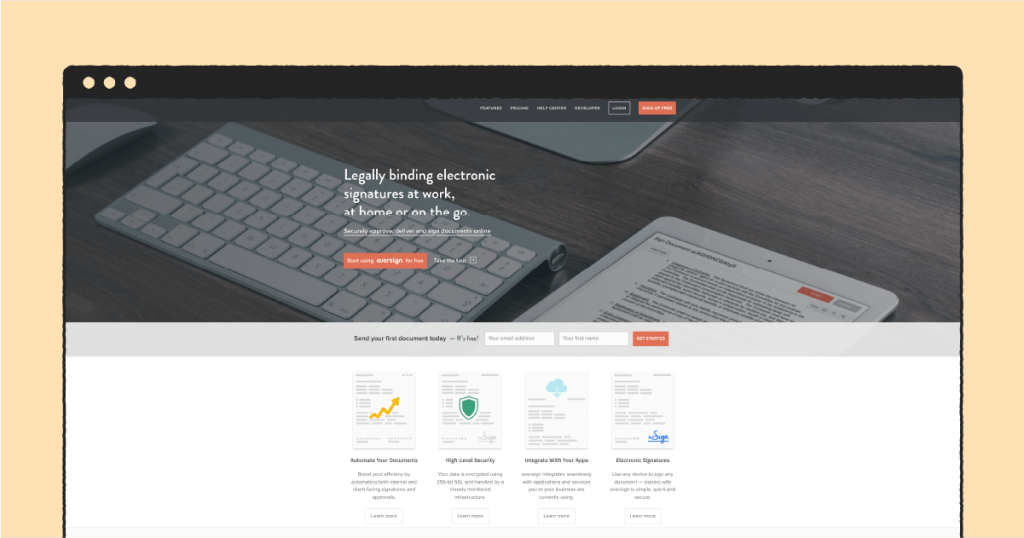 Electronic signature
An Eversign electronic signature is legally admissible and can be placed by drag-and-drop.
There's an in-person signing option, too, which is helpful for waivers and NDAs.
And if the recipient hasn't added their signature in time, the system will send them a reminder to sign it.
Document editor
Simple and straightforward PDF document processor.
There's a "quick send" option that automatically places signature fields wherever they're needed.
Fields can also be placed with a simple drag-and-drop system, advanced fields allow for drop-down menus, radio buttons, and more.
There's also color-coding of different signatories, bookmarks for important places, and other quality-of-life features.
Security suite
It lets users limit access to the documents with a PIN, allows setting up expiration timers, encrypts files, and stores them in a cloud.
It also maintains an audit trail so that the document life cycle can be reviewed whenever necessary (e.g., for compliance reasons).
The audit trail is easy to follow and includes names, IP addresses, and time stamps for document activity.
Devices
Support for PC, Mac, and mobile devices, including those running on Android and iOS, through a web-based app.
Templates
Standard documents, such as agreements and contracts, that can be quickly modified for different recipients.
You can easily reproduce standard contracts with custom details.
Third-party integrations
Eversign can be integrated with Google Chrome and Zapier, as well as popular cloud storage systems, including Google Drive, Microsoft OneDrive, and Dropbox.
You can also integrate Eversign with document processors such as Google Docs and Evernote.
REST API
Apps that aren't natively supported by Eversign can be connected by using the J-SON-based REST API.
It takes a bit of extra development work, but Eversign's API is just a few lines of code that's simple enough to implement.
This is what DocuSign boasts: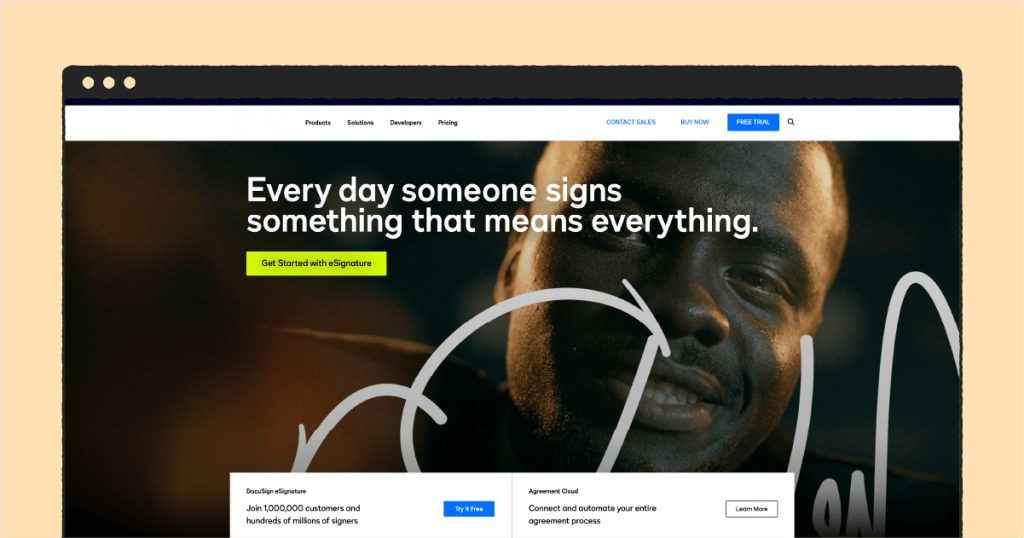 Electronic signature
Remote or in-person digital signing with SMS notifications, offline mode, and accessibility features for people with sight and hearing disabilities.
The audit trail is court-admissible and document retention functionality is also present.
Document editor
A powerful system that works with PDFs and processes .doc, .docx, .pdf, .xls, xlsx, .txt files, as well as many other file types.
It can automatically tag fields like "initials," "titles," and "company names" so that the signers don't have to spend time doing this themselves.
It can also autofill fields using data from other applications.
Security suite
There are many authentication methods, which include SMS, email, and knowledge-based methods.
There's also an access management system, document anti-tampering protocols, encryption, and spam protection.
DocuSign's ID verification uses government documents, KBA questions, and electronic IDs.
Templates
These are reusable, easily modifiable documents.
Templates can be shared easily and collaboration tools mean multiple team members can add comments to a document.
Third-party integrations
DocuSign has more than four hundred integrations with products from Microsoft, Google, Oracle, SAP, and others.
REST/SOAP APIs
For other integrations, there are APIs that enable developers to do their job faster.
The documentation is extensive and detailed, including interactive IODocs.
DocuSign also supports OAuth2-based tokening as an additional security option.
Mobile apps
There are DocuSign applications for each major platform, which are available on phones and tablets.
Multi-language support
There's support for 44 languages, as well as global timezone support.
The core features are similar for both products. However, DocuSign has many more "bells and whistles," while Eversign is simpler and more streamlined.
These two electronic signing services are pretty much at the extreme ends of a spectrum on which PandaDoc sits in the middle.
This is because PandaDoc has more advanced functionalities (e.g., document creation and processing) than the latter while being simpler to use than the former.
Note that Eversign doesn't have a mobile app.
However, its web version is convenient to use on smartphones and tablets, as well as desktop computers.
Price and pricing
Eversign has four subscription plans, which offer monthly and yearly payment options. All the paid plans have no limit on signed documents and offer app integrations, as well as personalized support.
Free: Allows users to sign up to five documents per month, two SMS credits (two-factor SMS authentication for two people), and automate three documents through an API. No app integrations are provided. This plan is for those who don't use eSignature very often or just want to try before they buy.
Basic: Includes three templates, 10 SMS credits and API documents, one additional team member account, and third-party integrations. Costs 9.99 USD/month (or 7.99 USD if billed yearly).
Professional: Has 10 templates, 25 SMS credits and API documents, 5 team members, and an in-person signing feature. Costs 39.99 USD/month (or 31.99 USD if billed yearly).
Professional plus: Offers 25 templates, 40 SMS credits, 50 API documents, 15 team members, in-person signatures, and custom branding for the documents. Costs 79.99 USD/month (or 63.99 USD if billed yearly).
DocuSign doesn't offer a free plan. However, it does offer a 30-day trial of its system. The subscriptions are priced per user per month (unlike blanket plans from Eversign) and include a real-time audit trail, mobile app, and templates.
Personal: One user, five eSignatures per month. Costs 15 USD/month (or 10 USD if billed annually).
Standard: Up to five users per month (more users can be added for an extra fee). Includes unlimited documents for signing, document and template sharing, team reports, in-person signing, and customized branding. Costs 45 USD per user per month (or 25 USD if billed annually).
Business pro: All of the above, but also signer attachments (e.g., drivers' licenses), advanced fields (formulas/conditions, collaboration, and drawings), single-click consent, signable website forms, SMS authentication, payment collection, and bulk sending. Costs 65 USD per user per month (or 40 USD if billed annually). You'll also be charged for SMS authentication, which costs 40 cents per message.
Both Eversign and DocuSign have custom pricing options available for advanced enterprise needs. To get a price for a custom option you'll need to contact each company directly.
What's interesting is that they both limit the number of available documents on free/low plans.
PandaDoc, on the other hand, offers unlimited signatures and document uploads even for users who don't pay anything.
Security
Eversign uses industry-standard 256-bit HTTPS encryption for all data processed through the platform.
They also promise that documents conform to legal standards in the US, Europe, and other territories.
There are strict authentication procedures on Eversign's platform. All parties in the signing process must have their own verified digital signature.
This means that documents you create through Eversign can be legally enforceable.
DocuSign boasts similarly high-security protocols. Docusign-signed documents are also legally binding, thanks to their adherence to the ESIGN Act.
Their verification process involves identifying digital signers with multiple layers of authentication.
Docusign follows ISO 27001 and SSAE 16 protocols. All actions on a document are recorded, and signatures are linked to signers and documents.
Each document is also tamper-sealed for additional security.
Customer support
Eversign's dedicated customer support is limited to its basic and enterprise subscription tiers.
Users of the free version have to either use the help center or send an email.
There's no guaranteed SLA on the turnaround of those emails, though.
In contrast, all of Docusign's plans come with customer support, but there's no free-to-use option. Customers can contact support through web chat, email, and phone.
Enterprise customers get access to prioritized support and additional training.
If you're looking for an option that marries Docusign's robust features and Eversign's lower pricing, PandaDoc pricing and features could be exactly what you're looking for.
If you own a midsize or small business, PandaDoc's custom plans for enterprise-level customers are perfect if you want to scale up.
Reviews
We're going to take a look at some DocuSign and Eversign reviews.
We won't mention the basic benefits of electronic signature software (e.g., going paperless or increasing the document turnover speed) as they're inherent in all these kinds of products.
The user quotes are exactly as each user wrote them and include the original spelling and punctuation.
Both platforms have high ratings: 4.8/5 for the former and 4.5/5 for the latter (PandaDoc has 4.7/5, which is also telling).
Eversign advantages and disadvantages
Below are some of the advantages of Eversign that people have reported.
1. User-friendliness: Photographers, account managers, and senior cybersecurity managers all praise the system for being easy to work with.
"Eversign makes creating and sending contracts easy!"

Kane M., digital marketer
2. Enough features for different domains: While being intuitive, Eversign still has everything you could possibly need for convenient document processing.
"Fabulously easy to use with the full feature-rich set of tools."

Richard S., Senior Program Manager
3. Cost-efficiency: Many users, especially SMBs and self-employed people, value Eversign for providing a lot of functionality for relatively little money.
"For less than $10 per month, you can't go wrong."

Daniel M., Director
However, they also note a few flaws, which include:
1. Changing a document to resend costs one free signature: Those who are considering a free plan should be wary of this issue.
"As a photographer, my clients frequently change their minds so it was rather frustrating to lose essentially 2 of my free trials to one person."

June F., photographer
2. The number of Eversign integrations is quite limited : Usually, larger competitors can be combined with many more third parties.
PandaDoc, for example, has several dozen native integrations, including integrations with products from Google and Microsoft, popular CRMs (Hubspot, Salesforce, etc.), and payment gateways (Stripe, PayPal, Authorize.net, etc.).
"It would be great if they had a Pipedrive integration so my sales team could activate and send contracts from within the CRM Pipedrive."

Scott G., VP of Sales and Marketing
3. Inconvenient mobile version: Users dislike the fact that Eversign doesn't have a mobile app.
"The only thing I haven't liked is the fact that I am for some reason unable to use it on my phone even if in desktop mode."

Yyeyo L., CEO
DocuSign advantages and disadvantages
DocuSign comes with its own set of benefits.
1. Convenience: Despite the apparent complexity, DocuSign isn't actually that difficult to work with.
"DocuSign can be as simple or complex as you would like".

James S., Account Executive
2. Solid integrations: Third-party connections make working with DocuSign simple.
"I love how it integrates with Salesforce, a pretty seamless process to send out contracts to clients for them to review and sign."

Kendra S., Account Manager
3. Processing many file types: A boon for organizations working with a wide variety of documents.
"I can upload any document, using the DocuSign intuitive navigation, create an envelope and then just add the required fields, which can be easily edited in the document editor."

Aerie S., Engineering and Operations Services Lead
However, users note several disadvantages too.
1. High costs: Many of the competitors (e.g., PandaDoc) provide similar functionality at a lower price.
"I don't love the cost of DocuSign. I would love if it was more affordable."

Camila F., Co-founder
2. Customer service issues: Some reviewers had problems when asking the company for help.
"21 days passed and we are yet to receive pricing for a simple add-on. To clarify, we are already existing, qualified clients."

Segev H., COO
Choosing an eSignature solution: What to consider?
Choosing the best electronic signature software isn't easy with so many options out there.
These tips will help you navigate the varying features and choose the right software for you:
1. Accessibility
You need to consider who will be using the software, plus where and when they'll be using it.
Your choice will depend on the needs of your organization. Do you need 24/7 access via mobile devices, for example?
Consider your clients and business partners, too. You may need support for global operations or multiple languages.
Ensure that your solution has the necessary security protocols to deal with your document traffic, whether you're moving data on-site or in one of the fields.
You'll need to balance these considerations against your budget, of course.
Cheaper subscriptions can be tempting, but they tend to scale poorly for business use.
Working out an enterprise deal will be more cost-effective in the long term than adding more users to a standard plan.
2. Personalized branding
Customizing your electronic documents with your own branding reinforces your brand.
You encourage customer trust when you have an officially branded eSignature process. Not all software options offer this level of customization, though.
Comparing our options, Eversign allows custom branding for those using Professional Plus and Enterprise tiers.
Docusign offers it for users of its Business Pro and Enhanced plans. PandaDoc offers custom branding to all business and enterprise customers.
3. Ease of use
You need to consider what your eSignature software will be used for. Is it user-friendly enough for a customer to upload a signature?
Is it back-end accessible for your IT team to implement custom integrations?
Examine your use cases and make sure that your solution fits your business needs. Let's say you have front-line sales staff who need to assemble legally binding contracts quickly.
You'd benefit from using software that offers templates or a drag-and-drop document builder.
That way, with no legal training, your sales team can quickly produce all the contracts they need.
Your specific needs might differ, but these are the kinds of features you'll want to look for.
4. Compliance
Different territories have their own legal standards for eSigned documents. Whether you're following the ESIGN Act, UETA, or eIDAS, you need to make sure that your software complies.
Depending on your business, you may also have other compliance issues to consider.
Healthcare providers will need to make sure that documents comply with HIPAA regulations, for example.
4. Integrations
Choosing signature software that can integrate with other business tools can have a big impact on efficiency.
Better software options offer integrations with apps like Salesforce, other CRM platforms, and more.
If you want the option to add your own integrations, then you need software with a customizable API.
Also consider whether you'll need a deployment testing environment and how much it will cost.
Eversign vs DocuSign: The tale of the tape
Both Eversign and DocuSign can be great for your company, depending on your needs.
However, they tend to gravitate towards the different poles of the market; the former tends to attract SMBs that just need a simple eSignature functionality, while; the latter is oriented more towards mid-to-large enterprises.
Now that you've read our article, you should have enough info to evaluate these two products.
And while you're here, feel free to take a look at the use cases and pricing for PandaDoc — perhaps our eSignature solution will be more to your liking.
Or just start a free trial to see how PandaDoc can help you streamline your contract management process.
Disclaimer
PandDoc is not a law firm, or a substitute for an attorney or law firm. This page is not intended to and does not provide legal advice. Should you have legal questions on the validity of e-signatures or digital signatures and the enforceability thereof, please consult with an attorney or law firm. Use of PandaDocs services are governed by our Terms of Use and Privacy Policy.
Originally published January 28, 2022, updated January 11, 2023
Frequently asked questions
By default, eSignature applications don't store any protected information.

This means HIPAA doesn't apply to them. That being said, eSignatures can be an element of a compliant workflow.

Yes. However, it' is several orders of magnitude more complex than a wet signature, thanks to encryption, additional authentication factors, and other security measures that a digital signature has.