Whether you're selling a physical product or a service, you need to find the best ways to reach your target audience.
The right sales channels can help you do this.
But what are sales channels, we hear you ask? Here's the ultimate guide, including tips on how to choose channels to reach your prospects.
The definition of sales channels
Sales channels are the methods or pathways businesses use for selling their products and services to consumers.
Examples include:
Brick-and-mortar stores
eCommerce websites
Online marketplaces
Social media
Affiliate partnerships
Display advertising
Businesses should choose their sales channels—and sales channel marketing strategies—according to the type of products sold, their target audience, competitor activity, and resources.
Some companies will use just one sales channel, especially if they're working with a small product range and limited budget.
Larger businesses typically use a wide range of channels to reach as many potential customers as possible.
You might have all products available on all channels or sell some items only through a specific channel.
Managing various sales channels and the products or services you sell through each is something PandaDoc can help with.
PandaDoc CPQ lets you quickly pre-configure templates with the products and services your team can sell.
You could even make customizable templates for individual channels.
The importance of sales channels
Sales channels help you put your offerings in front of people who want to buy them.
By setting up the appropriate channels for your business, you can create a streamlined process for marketing and selling your products, improving the efficiency of your sales team.
It's important to understand how different sales channels can benefit your company.
Thanks to digital technology, there are far more channels to choose from than there used to be. You need to monitor these to ensure they're performing effectively.
The channels you use also impact your marketing efforts.
For example, you'll need specific eCommerce marketing strategies when you start selling online, as opposed to the tactics you use for in-store sales.
Types of sales channel strategies
There are three main types of sales channel strategies, which inform the way you sell products and/or services.
The right one for you will depend on your business model and resources.
Direct sales
With direct sales, the customer buys the product directly from your company.
They may do this online or through a mail-order catalog, or you may sell in person via traditional door-to-door sales or presentations at a trade show.
Whatever the precise method you choose, PandaDoc can help your sales reps here, too.
For example, the user-friendly editor makes it quick and simple to create selling sheets sure to wow leads and prospects.
Whether you're the manufacturer of the goods or you've bought products from another company to sell, with direct sales, you don't put the goods into retail stores or marketplaces like Amazon.
Basically, you're cutting out the middleman.
This approach keeps all aspects of order fulfillment in-house, which requires more effort and resources. You'll typically need warehouses, logistics systems, trucks, and delivery staff.
The upside is that you retain control over your operations and a direct connection with customers, and you don't have the costs associated with third-party selling.
Indirect sales
Indirect sales mean you sell your products and services to customers through third parties such as retailers, wholesalers, dealerships, or other intermediaries.
These distribution channels help you reach a wider audience, as they already have a customer base and the right infrastructure for advanced fulfillment.
It's a good method if you don't have your own resources. The downside is you won't have as much control, and you'll have to pay these intermediaries to sell on your behalf.
As well as distributors, you might use sales agents or resellers.
Sales agents agree to sell a company's products in return for a commission, while resellers purchase products (usually in bulk and at a discount) and resell them with a markup for profit.
Meanwhile, in white-label sales, you sell your goods to another business, which puts its label on the product before selling it to the end customer.
Consumer sales
Companies that use multichannel marketing (which we'll come to later) may sell through both direct and indirect channels.
They'll use catalogs and email campaigns to sell directly to consumers and keep that personal touch, while also selling wares through online marketplaces or retail chains to reach more people.
Take Amazon as an example.
It sells products to consumers directly, but shoppers can also buy products from independent retailers on Amazon's site.
Those retailers are then responsible for fulfilling orders.
What are the different kinds of sales channels?
As we mentioned, there are many different sales channel examples, each lending itself to different types of businesses.
We've divided these into three core categories: online channels, B2C, and B2B:
Online sales channels
Advancements in technology have provided companies with plenty of online sales channels, helping them reach customers across the world and get maximum exposure for their products.
It seems likely more digital channels will pop up in the near future.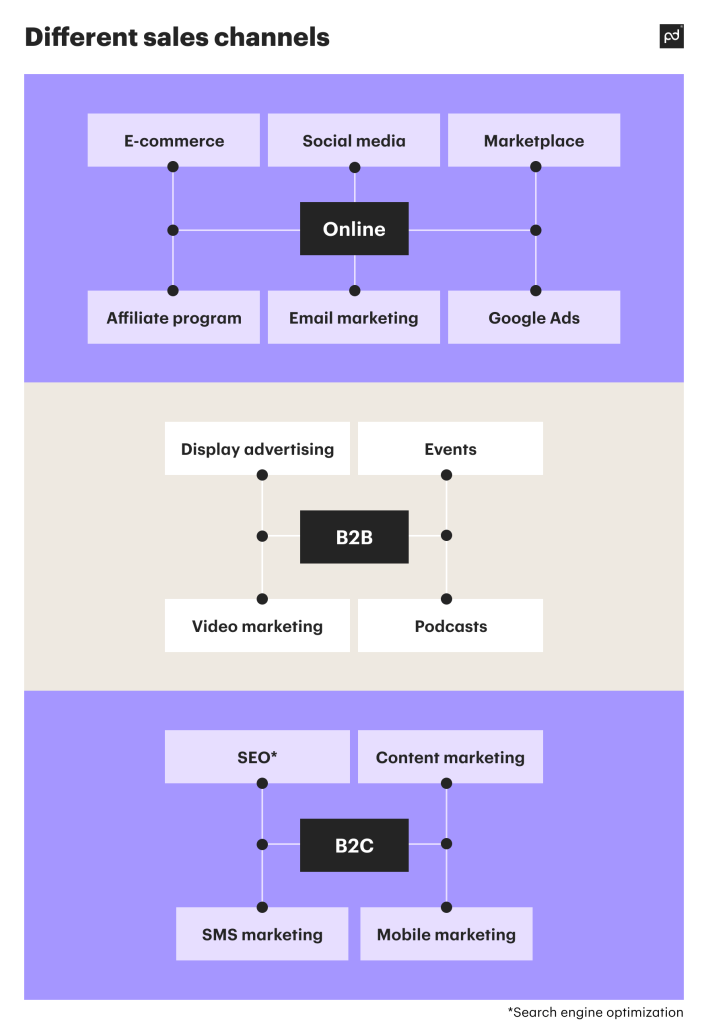 eCommerce
eCommerce refers to a digital "store" that sells products or services on the internet.
If you do this through your website, it's a form of direct sales, as you're handling the sales and fulfillment.
Most brands have an online presence now, offering convenience to customers who can browse and buy no matter where they are.
You need resources in place to set up and manage your own website, keep it updated with the latest products and availability, and ensure pages and images are fast-loading.
You need warehouses to store your inventory and a robust fulfillment and delivery process, too.
You'll also need to drive traffic to your website via your marketing efforts. Check out some eCommerce digital marketing tricks to boost online sales here.
Social media
Social media platforms are a great way to reach large audiences and develop a personality for your brand, but do they count as a sales channel?
The answer is "yes". Some networks enable businesses to sell products and services through their platforms with direct purchasing tools.
Let's say a user is browsing Facebook and sees a post from your company, with a photo of a model wearing the clothing you sell.
If they click on the model's shoes, for example, they'll be taken straight to the product page on your website where they can buy the shoes. It's easy, fast, and likely to drive conversions.
Of course, social media also has you covered for other promotional activities.
You can target specific demographics, encourage people to share and like your posts, and get users involved with contests and quizzes.
Marketplace
A marketplace is an online platform where multiple businesses can promote and sell their goods.
Well-known examples include Amazon and eBay.
Small companies who don't have their own websites often use this method, while multichannel retailers may sell through a marketplace as well as their website.
Online marketplaces put your products in front of a wide audience and save you the cost of maintaining a website and processing transactions.
However, in most cases, you'll still have to handle the shipping process yourself once the marketplace notifies you an item has been ordered.
There are several different kinds of marketplace:
General marketplaces selling all kinds of goods
Craft marketplaces like Etsy
On-demand alternatives for made-to-order products
Auction sites where users bid on items.
Affiliate programs
An affiliate program sees affiliate marketers promote your product or services in exchange for a commission (often a percentage of any sales that result from their activities).
Affiliates typically have their own channels for sharing content, such as blogs, vlogs, and social media. They share links to your website through these channels.
This means you don't have to spend so much on marketing.
Plus, working with affiliate marketers brings more opportunities for sales because they have a ready-made customer base, with followers who trust their recommendations.
A similar approach is influencer marketing, where you partner with influencers (celebrities or otherwise) to tap into their audience.
37% of consumers trust social media influencers over brands, with younger people particularly receptive.
Email marketing
Email marketing is a highly successful channel for communicating with customers (and potential customers) on a personal level.
It has an ROI of $36 for every $1 spent, helps you retain customers through value-added content, and drives website traffic through CTAs.
Good practice includes sending out interesting articles and company updates to familiarize recipients with your brand and driving sales with special promotions and discounts.
Sending reminders after someone has browsed a particular product or abandoned their shopping cart can also encourage them to complete their purchase.
As well as collecting email addresses when customers make purchases, you can build your mailing list by offering people something in return for signing up, such as newsletters or access to VIP content.
As you get to know your customers better, you can further personalize messages and benefit from email marketing growth.
Google Ads
Google Ads is a pay-per-click (PPC) platform.
This means you run paid ads on Google and pay the search engine a set fee whenever someone clicks through from the ad to your website.
You can increase your reach and visibility across Google and the platforms it owns (such as YouTube).
By placing ads through Google's Search Network, your pages will appear more highly on search engine results pages (SERPs) for your chosen keywords.
So, if you sell T-shirts and someone performs a search for "T-shirts to buy" or a similar phrase, Google will highlight your product as one of the main options if you're running a paid ad for that phrase.
The Display Network involves third-party websites that have agreed to display Google ads.
If you use this option, your ads will be placed on popular pages around the web, using banners and carousels.
With both types of Google Ads, you can set a monthly spending cap and pause at any time.
B2B sales channels
In the B2B (business to business) model, your customers are making purchases on behalf of another organization rather than for their personal use.
They have different needs to B2C customers and are aiming to fulfill long-term goals. You need to focus on the product's features and the value they provide to that business.
A big part of effective B2B sales is crafting the perfect sales proposals.
PandaDoc for sales helps your reps create eye-catching and personalized sales documents, certain to grab the attention.
So, what are sales channels for B2B?
You could use business-focused social media such as LinkedIn, but also try the following:
Display advertising
Display advertising is a form of digital marketing in which ads are displayed on social media platforms or third-party websites—perhaps through Google's Display Network, as mentioned above.
It's suitable for B2B sales because these ads have a sharp focus on the product's key features.
There are several different types of display ads. Rich media ads use video, audio, and other interactive elements to attract attention.
Native ads are paid ads that match the form and function of social media platforms, so they look like part of the content.
Those rectangular ads at the sides of a website are banner ads, which are meant to attract visitors to your landing page (but people are so used to seeing them that they can get ignored).
Some advertisers counteract this by using interstitial ads, which pop up and cover the interface of a mobile app, usually at transition points in the app flow.
Aside from PPC campaigns on Google or Facebook, you might also choose to create sponsored posts for social media, where you pay for that post to appear in your target audience's feeds.
Events
If you're selling to fellow businesses, events can help you introduce your offering and build close connections.
They can be in-person or virtual, but physical events provide more direct engagement, and you can really double down on how your product helps other businesses.
You can set up your own event or arrange to give a product demonstration at an industry conference. Webinars and roundtables are a good way to educate your target audience, especially if they're interactive events.
Alternatively, you could organize a networking event for local business owners as a way of meeting potential customers.
Sponsoring local charity events is also a good way to get your name out there and associate your brand with something positive.
Events usually won't reach as many people as other types of sales channels, but remember that B2B selling has fewer customers and larger-scale sales.
Plus, you can use event registrations as a form of lead generation and collect useful customer data.
Video marketing
Video is among the top marketing trends of 2023, and it's a great way to engage potential customers with educational and entertaining content.
You can use video in many different ways, from posting vlogs on your website and social media platforms to using rich media display ads.
Video content for B2B sales might include demonstrations and reviews that show off your product's features or Q&A sessions and tutorials.
You could help people learn more about your brand and its values by recording interviews with key members of staff and live streaming a behind-the-scenes look at your company.
Although anyone can make a video on their phone, high-quality content gives your business a more professional image, so it's worth investing in the proper equipment.
Videos also tend to rank highly within search engines, so doing it right will help you get noticed on results pages.
Podcasts
Podcasts enjoy huge popularity, with 62% of US consumers saying they listened to them in 2022.
While many are purely for entertainment, businesses can also use them to market their products and services.
To attract and engage your listeners, discuss subject matters that relate to your industry and address the challenges of potential customers.
You could invite industry figures or influencers to join your podcasts, which offers the opportunity for audience sharing and cross-promotion.
The idea is to build up a loyal and consistent audience of listeners and establish your brand as a trusted thought leader.
B2C sales channels
B2C (business to customer) channels are for making sales to individual consumers.
This requires different strategies and tactics from B2B selling.
It's about generating an emotional response, not just focusing on the product's features and ROI.
You've got to understand your customers' needs, preferences, and behaviors, as well as keep an eye on market trends.
Search engine optimization (SEO)
Most people who want to find information or browse products will use an internet search engine.
This is a golden opportunity to promote your business and attract traffic to your website, so you need to make every effort to achieve a high ranking in SERPs.
This is where SEO comes in.
By optimizing your online content to include the keywords and information people commonly search for, your web pages should appear organically in results when someone performs that search.
SEO doesn't only cover keywords and metadata, although that's important for sending the right signals to search engine web crawlers.
Thanks to increasingly clever algorithms, Google and other engines are looking for user signals that show how closely a result meets the original search intent.
This means it's super-important to fill your website with high-quality content, ensuring visitors find exactly what they were looking for.
Content marketing
This brings us to content marketing, which is a huge component of B2C sales channels.
Unlike traditional advertising, it's not purely promotional.
Okay, your aim is still to drive sales, but you have to do it without being overtly sales-y. Instead, you focus on delivering value to the reader.
Your website and social media visitors are looking for a solution to their problems and pain points, which you can provide through appealing content.
Customers will see you as a trusted source in your niche, and you'll raise brand awareness at the same time.
As well as educating the reader, you can subtly position your brand as the best solution.
For example, if you were selling document workflow software, you could create a comparison article with a run-down of popular vendors, pointing out why yours is top of the tree.
Content also needs to be entertaining and easy for people to understand.
Don't insert jargon as you might with B2B content.
It's a good idea to use visuals to increase sales conversions, including attractive images, infographics, and videos.
SMS marketing
SMS marketing is exactly what it sounds like—marketing messages sent via text.
Since almost everyone has a phone that can receive texts, this is a good way of reaching prospects and existing customers wherever they happen to be.
It's also immediate and personal.
This method can be used for individual communication (such as reminding someone of an appointment with a sales rep) or bulk messaging.
For example, you might want to let people know about an upcoming promotion like a flash sale or update your physical store's opening hours for the holidays.
It's possible to schedule the messages to be sent on a specific date and at a set time.
Mobile marketing
Mobile devices make it more convenient to browse and shop online, so it's not surprising that 76% of US adults buy on the internet using a smartphone.
That figure rises to 91% among under-50s, which means it's vital your website and content are fully optimized for mobile.
Mobile-optimized promotions are a great way to tap into this huge market and captive audience.
With push notifications, you can tell mobile users about discounts, company news, and the latest content.
Even if they don't take action right away, you're helping keep your brand top of mind.
What is multichannel selling?
As we explored already, there are many ways to reach your customers and prospects, especially online.
If you don't take advantage of these avenues, you could be missing out on sales and revenue. The answer is multichannel selling.
A multichannel sales strategy means you sell on multiple channels.
These might be a mixture of online and offline channels and direct and indirect selling. It also refers to the different devices your customers can use.
Although customers will interact with your brand on each of the channels you offer, they should each stand on their own and provide a unique experience.
Channels should be managed separately rather than fully integrated (that's known as omnichannel selling, which requires a lot more resources).
The aim of multichannel selling is to reach as many people as possible in the places where they like to shop.
That means you also need to know how to write a marketing plan that covers all channels.
Benefits of multichannel sales
One major benefit of multichannel selling is you don't have to rely entirely on a single sales channel, which could face a glitch or a downturn in popularity. Here are some other advantages: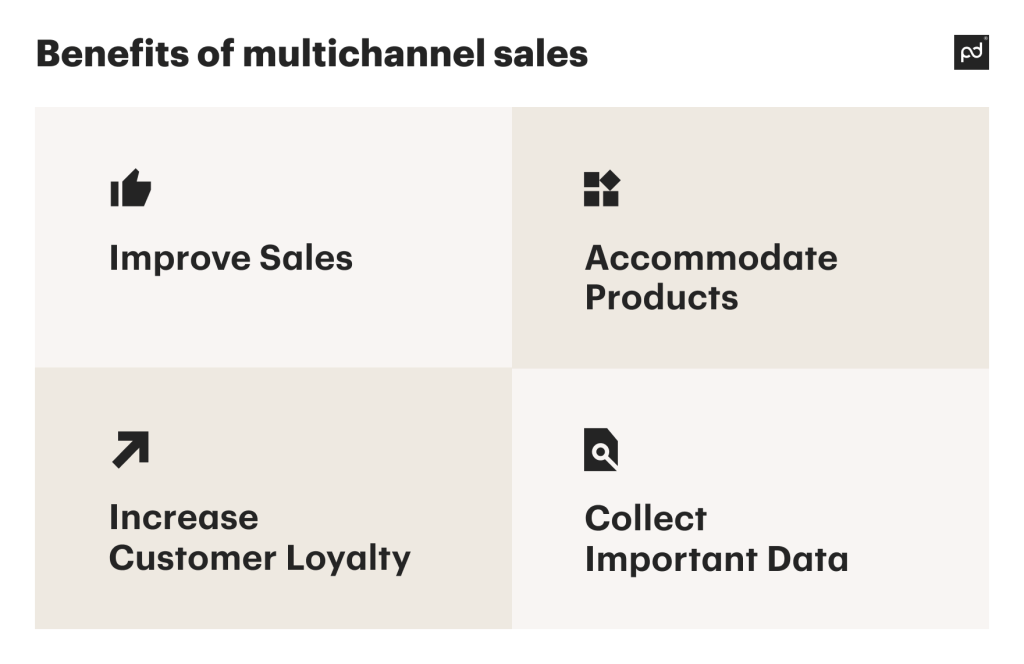 Improve sales
Having a presence on multiple channels helps you get noticed by a wider audience, boosting product visibility and brand awareness.
By tapping into more areas of the market, you gain more potential customers, which should increase the number of people who convert.
Customers expect to find you on multiple channels—more than half engage with three to five channels during each buying journey.
The multichannel approach gives them convenience, and you can target different customer segments by adjusting the marketing mix for each channel.
The more channels you have, the more opportunities you'll find for upselling and cross-selling.
For instance, you can show personalized recommendations on your eCommerce website, and encourage impulse buys with items placed at the checkout in a physical store.
Increase customer loyalty
Offering maximum choice and convenience helps generate loyalty.
Customers appreciate being able to order items online and collect them in-store or buy directly from a social media post when they're selling on Amazon or eBay (this makes life easier for people who already have an account).
The content you create for multiple channels (blogs, podcasts, email newsletters, etc.) also fosters a sense of trust in your brand, proving you're dedicated to meeting customers' needs.
It's helpful for them to be able to access customer support across channels, too.
Basically, the more channels you use, the more opportunities there are to impress customers.
When they're happy, they're more likely to stick around and recommend you to others.
Accommodate different products
The multichannel model is particularly suitable for businesses with diverse product offering, as you can sell different items (and target different demographics) on different channels.
For example, you might promote certain products via Instagram rather than LinkedIn.
It also expands the type of items you can sell. If you're selling furniture from a small physical store, you're restricted to small items—but by branching into eCommerce, you could sell large items online and use dropshipping to fulfill the orders.
By dividing your products in this way, it's easier for customers to find what they're looking for and discover similar items.
Collect important data
More channels mean more opportunities for gathering information.
Apart from collecting contact details when customers make a purchase or sign up for emails, you can analyze preferences and behaviors, such as web browsing habits or the pages they follow on Facebook.
This data can inform your future sales and marketing strategies.
How do different groups respond to marketing channels?
Who's likely to be swayed by free shipping? Is it worth using cold calling scripts to boost sales?
You can track sales across channels to see which performs best for each type of product.
You can then use this data to personalize future interactions and send the right marketing messages to the right people.
With PandaDoc, you can also track deals and content performance in real-time.
That helps ensure both that no potential sales slip through the cracks and that you can see what's working and what's not, and pivot strategies accordingly.
Challenges of multichannel sales
Inventory management
With multichannel sales, there's a lot more inventory to keep track of, especially if you're selling a diverse product range.
If you're unable to keep a close eye on stock levels, you'll run into problems.
Overbuying increases your storage costs, and the items could spoil or go out of fashion before you sell them.
Too little stock, and you'll face shortages and disappointed customers.
The way around this is to use advanced tracking tools to monitor sales and update the system, so you can see how much stock is currently in each location.
You'll also gain the ability to make accurate demand forecasts based on historic sales data and seasonality.
Consistent branding
If you don't stick to the same branding (logos, colors, tone of voice, etc.) across your channels, the experience will be confusing for customers.
They should be able to recognize your brand identity whether they're looking at a storefront or your Insta page—otherwise, how will they develop loyalty and trust in your products?
Inconsistency also makes you look unprofessional—as if you didn't bother to put any thought into creating a "house style".
It's tougher to control branding if you sell on third-party channels, but it's important to make a strong link between marketplaces and your online store.
Customer service
The multichannel model brings more customers and more reasons for them to get in touch.
As a result, customer service becomes a challenge, especially when selling via online marketplaces where part of the process is handled by a third party.
If you get it wrong, customers will be frustrated with inconsistent service and delays.
You may need to invest in a larger sales force and automated communications tools, plus a CRM system that houses customer information (if you're not sure what CRM is and how to use it, click the link).
It helps to map out the customer journey, and encourage feedback so you can improve. If resolution time is lagging, try using script templates to help agents on tricky calls.
Shipping and returns
When you're fulfilling orders from multiple channels, shipping is a lot trickier to manage.
The way you ship your products might differ by sales channel, which means several different shipping methods and carriers.
But if orders fail to arrive on time and in the right condition, you risk damaging customer relationships forever.
Returns can be a nightmare for retailers, and the more channels you have, the more you'll have to deal with them.
This is a big part of channel management, and you need a robust system to ensure orders end up in the right place and customers are refunded swiftly.
Growth challenges
As your business grows and you add more sales channels, there are more challenges to address.
You might have concerns about maintaining product quality as you keep up with demand or worry your website isn't coping with increased traffic (even a few seconds of slow page speed can impact customer satisfaction).
You'll also face higher costs, including commissions for third-party sellers, shipping, extra marketing, and creating more product lines.
This is why many retailers begin with a single channel, and only launch new sales channels once the business is in a position to handle increased inventory, shipping, and customer service demands.
Factors in choosing the right sales channels
The choice of sales channels can be a little overwhelming, and it's important you don't just launch a bunch of new channels that don't make sense for your business.
Here are some key factors to consider:
Business model
Think first about the size of the company—do you have the resources and infrastructure to cope with extra channels?
Next, take a look at your business model. Are you selling B2B, B2C, or a mixture of both? This will inform the types of sales channels you use.
Also, consider whether you want to sell directly to customers or through an intermediary like a wholesaler.
For example, some manufacturers prefer direct sales as this offers total control over the customer experience.
Ultimately, your choice of channels will be based on the type of sales and fulfillment that's already proved successful for you and the methods that provide growth opportunities.
Target audience
The next questions involve your audience.
Who are you aiming to sell your products and services to? What are the needs and preferences of your existing and potential customers?
Review your current customer lists and pay attention to trends and patterns, or carry out surveys for further insights.
Keeping a target audience in mind—and building customer personas—will help you figure out which channels those people might want to use.
For example, if your target market is mostly active on Facebook, you should focus your efforts on that platform.
You can also use different sales and marketing strategies for each channel to customize the experience.
This could include the type of products sold, the pricing, marketing messages, shipping and fulfillment, and even return policies.
Competitors
It's definitely worth having a look at what your competitors are doing.
Which sales channels are they using, and how successful are they?
Do they sell different items on different channels? What marketing strategies do they use?
If you spot that a competitor isn't making use of a particular channel, you could step into the gap.
Or you could use the same channels as them, but with a different product mix, more attractive pricing, and better engagement tactics.
Don't just copy them without putting a strategy in place.
Budget
Your budget is one of the biggest considerations—you need sufficient funds to launch new channels while maintaining the ones you already have.
That includes the right software and website capabilities, plus an expanded sales development toolkit for your team.
Some sales channels have extra costs on top of the general cost of expansion.
If you use affiliate marketing, you'll be paying a commission to affiliates.
Email or SMS marketing requires automated tools for sending bulk messages.
Your budget also affects the type of sales strategy you use.
Small businesses that don't have many sales reps might decide to use third-party retailers or white-label selling, whereas direct sales require your own salespeople.
How to create a winning sales channel strategy
Whether you're sticking with a couple of channels as you grow your business or preparing to branch out on several new channels, you need a robust strategy in place.
Write a business plan that covers everything you want to achieve, and be ready to evolve as market trends and customer behaviors change.
Here are some top tips for creating a successful sales channel strategy:
1. Consider the type of product or service
It's important to think carefully about the products or services you sell and which channel is going to be most effective for selling them.
Start by creating a report that lists each product type, its price point, the costs involved in sales, and revenue from existing channels.
You'll need a firm understanding of your customers—both current and prospective—so look at historical data and market trends.
Where would they prefer to buy your products? Why not send out a survey and ask them?
Do you sell products aimed at a specific segment or demographic?
For example, electronic signature software is often marketed to people who deal with legal contracts, so you probably wouldn't use a youthful platform like TikTok to promote it.
2. Choose the right channel
Now you can use all that data to choose the most appropriate channel.
Let's say you're selling a fun product that appeals to teenagers. In this case, you might decide to use influencer marketing.
Or, if lots of people are engaging with your Instagram posts, you could start selling on the platform with direct purchasing tools.
It's all about the number of people you can reach through each sales channel and how well they suit your target market.
As we mentioned, your budget is also a big factor, as you'll need the right resources to set up and maintain new channels.
3. Search for reliable partners
Business partnerships can be a good way of pooling resources and expanding your reach.
For example, affiliate marketers and influencers already have a built-in audience, while online marketplaces will handle at least part of the sales process for you.
You could also partner with similar businesses to cross-promote each other's products, especially if they have solid marketing strategies in place.
Don't forget shipping partners and suppliers—you'll need strong relationships with them if you're going to fulfill all those extra orders.
It's vital your partners are reliable, so do your research before forming any kind of partnership.
4. Set boundaries
If you're working with partners, you need to set expectations for how the partnership will work.
For example, what kind of sales boost do you expect from your affiliates, and when will they receive payment?
How will the shipping process work, and who takes responsibility in the event of a problem?
You might also work with internal partners, such as your company's marketing department or product development team.
Either way, it's best to get all the terms in writing with a contract.
Plus, you should draw up some guidelines for managing your sales channels, outlining things such as the maximum expected response times for customer queries and your returns policy.
5. Track sales channels
It's crucial you track the performance of all your sales channels—otherwise, how will you know which ones are most effective?
You'll need tools to help you do this, such as a sales management platform that lets you view sales and revenue in one central place. Monitor results from your partners, too.
Use these metrics to generate regular reports, accounting for external factors like seasonality, and investigate what you can do to speed up a slow sales cycle.
It's worth sending satisfaction surveys to your customers to highlight any issues. That way, you'll know when it's time to adjust your strategy.
Grow your business with various sales channels
We hope our complete guide has fully answered the question "What are sales channels?" by exploring the many different types and explaining why it's crucial to pick the right ones for your needs (and those of your customers).
Now you're ready to start creating a strategy and scaling your business by adding new channels.
Choose wisely, and you'll be able to raise brand awareness, expand your reach, and increase revenue.
Whichever channels you opt for, PandaDoc can help you speed up your sales cycles and make the most of your team's potential.
Sign up for a 14-day free trial to learn more about how PandaDoc can help you close more deals.
Disclaimer
PandDoc is not a law firm, or a substitute for an attorney or law firm. This page is not intended to and does not provide legal advice. Should you have legal questions on the validity of e-signatures or digital signatures and the enforceability thereof, please consult with an attorney or law firm. Use of PandaDocs services are governed by our Terms of Use and Privacy Policy.