Electronic signatures are no longer just a "handy tool" to have in certain situations. E-signatures have become essential for many businesses and are an effective way to power day-to-day tasks remotely.
Soon enough, electronic signatures might not simply be an option for most businesses but instead a true necessity for every business.
Businesses and clients have become more and more familiar with managing transactions and interactions entirely digitally.
With e-signatures being a key part of that process, it's become increasingly necessary to look at the field of competition and determine which e-signature solution is the easiest to use, has the most features, and is the all-around better tool.
Especially because there are many e-signature solutions to weed through!
Today, we'll be looking at two pre-eminent e-signature and document management services and comparing them from top to bottom.
You simply can't talk e-signatures without addressing these two elephants in the room: DocuSign and DocSend.
A quick overview of DocuSign and DocSend
Talking about DocuSign and DocSend is like talking about David and Goliath. DocuSign is overwhelming larger, catering to more than 1,000,000 customers and hundreds of millions of users in over 180 countries. On the other hand, DocSend currently has over 17,000 customers, so there's no comparison in size.
DocuSign also caters to more mid-size and enterprise-level clients, with roughly 36% of their customer base being mid-size, 23% being enterprise-level, and the remaining 41% being small-business customers. DocSend has a drastically different customer mix, with 80% of their customers being small businesses, 15% mid-level, and 5% enterprise-level.
While there's no comparison between the two companies in terms of size, it could ultimately tell you something about product fit for your specific business.
For example, perhaps DocuSign could offer you more capabilities if you run an enterprise-level operation. However, it's important not to focus on size solely.
At the end of the day, both solutions do offer many of the same features with some important distinctions along the way.
For a more detailed view of e-signature solutions beyond just DocuSign and DocSend, take a look at our 10 best electronic signature software to e-sign your docs with ease in 2022 review.
How we sourced the data
Before diving into the detailed breakdown of pros, cons, and final recommendations, you might be curious about what data we consulted to make our determinations.
Ultimately, we wanted our comparison to be as unbiased as possible to present you with the bottom line brass tax about which solution is a better option for your needs.
That's why we combed through countless reviews on websites such as user-review websites, specialized SaaS websites, and of course, both the DocuSign and DocSend websites as well.
Here are a few of the key sources we looked at for gathering our data:
We looked for consistent themes and verified facts to ensure that our meta-review of all the information is fully comprehensive and accurate.
The DocuSign and DocSend websites were consulted to confirm facts concerning pricing, product offerings, customer support details, etc.
We did not factor completely opinion-based, qualitative descriptions into our meta-review to present a calculated verdict that you can use to make your decision.
DocSend product overview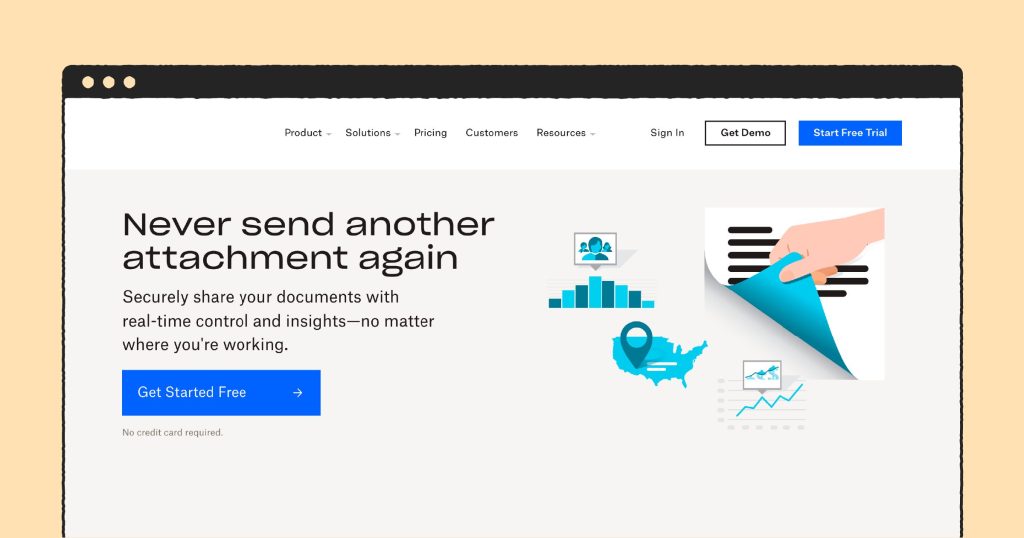 DocSend was founded in 2013 to improve the way people and businesses digitally share critical business documents by putting a nail in the coffin of simple email attachments and moving to a new, e-signature powered solution.
Fast-forward to 2021, DocSend was acquired by the heavyweight file hosting service DropBox for $165 million.
While DocSend remains a standalone solution in its own right and can be integrated with multiple cloud storage solutions, it's also in the process of being more thoroughly integrated into DropBox's ecosystem.
In a market that's stuffed to the brim with document management systems, DocSend differentiates itself by a single-minded focus on ease of use and integration.
It's built to be unobtrusive and function within your existing framework in large part due to its extensions and ability to sync with other software.
In a nutshell, DocSend allows you to send documents back and forth rapidly and empowers users to save space on their computers and avoid downloading unnecessary items due to its cloud-based storage.
That said, document sharing often requires more than simply sending a file.
Receipt confirmation or a signature is often required as well, which is why DocSend allows the recipient to sign electronically without installing any third-party apps.
Some of the most noteworthy features of DocSend that we'll dive into in more detail include collaboration, document management, contact management, quotes (proposals), lead management, content management, presentation tools, training management, and virtual data rooms.
1. DocSend strengths
DocSend has many features that make sharing and signing documents online easier and more efficient.
Comprehensive analytics, simple insights, easy data collection abilities, and robust document control are some of the most noteworthy aspects of DocSend we'll consider.
Sending documents used to be a relatively closed-off process. You would email someone a PDF, and after that, the only way you would know if they received it or interacted with it in some way is if the person responded and told you so.
DocSend's comprehensive analytics tools break that process wide open and allow you to see what moves your recipients make after they accept or open your documents.
Using DocSend, you can configure your document so that you get a notification every time someone views one of your shared links and then track how they engage with your document in real-time.
Many users find this data useful when evaluating and responding to prospects because knowing how someone interacts with the documents you send, i.e., how many times they open it, click certain links, etc., can tell you a lot about their interest level.
The level of data analysis that DocSend offers is comprehensive. Data such as the duration of each page view before switching or closing tabs, whether or not the document is shared, and a host of other actionable insights.
Traditionally, once you send a document, your power over that document is officially gone.
That's not the case anymore with e-signature solutions like DocSend, which allows you to configure features like passwords, access rights, consents, and more even after the document has been sent.
DocSend's data rooms feature is another innovative tool that allows users to securely share a large number of files simultaneously with as many users as desired.
That means instead of sending files one by one, you can send as many as you like in one virtual data room and put a protective barrier such as a password, NDA, etc., in front of that room that users are required to complete before entering and accessing your files.
Finally, DocSends' e-signature solutions get the job done with drag and drop custom signature fields, mobile accessibility, real-time collaboration with up to ten users who can execute a document at the same time, and thorough analytics of every data point in the document leading up to the signature.
2. DocSend weaknesses
While there are relatively few cons of DocSend's solution to be found, one of the more notable weaknesses revolves around the solution's reliance on an external conference line and screen sharing solution.
This means that they rely on an external provider via integration rather than having their own in-house, native solution.
Outsourcing this feature takes ultimate control over the quality of this tool out of DocSend's hands and can create friction for users.
An issue that's been reported on a smaller scale is DocSend's inability to get through some corporate firewalls, meaning that some clients cannot access the document(s) that have been sent.
Again, this has been reported in very small quantities, and DocSend is consistently improving on this front, so it's not necessarily worth weighing too heavily in your consideration of the solution.
3. DocSend pricing
DocSend's pricing ranges from $15 per user per month for personal use, $65 per user per month for standard use, $250 for advanced users, which includes access for up to 3 users (additional users can be added for $90 per user per month), and custom pricing for enterprise use.
As expected, access to certain features is only available at higher subscription levels, and these limitations largely revolve around tracking, data rooms, advanced document management, administrative controls, security, and integrations.
Most notable is that the personal subscription-only comes with 4 signature requests per month before jumping up to an unlimited amount from the standard level upwards.
Document sharing and storage amount also jumps up significantly from 10 GB per user at the personal level to 50 GB per user at the standard, advanced, and enterprise levels.
DocSend offers a 14-day free trial for each of their account levels so users can test the solution out thoroughly before committing to one of the paid plans, and no credit card information is required for the free trial.
4. DocSend bottom line
Overall rating: 4.6 out of 5
DocSend caters more to small businesses than enterprise-level users. Still, it has a comprehensive product suite that will fully meet the needs of most users and is an excellent option for an e-signature and document management solution.
DocuSign product overview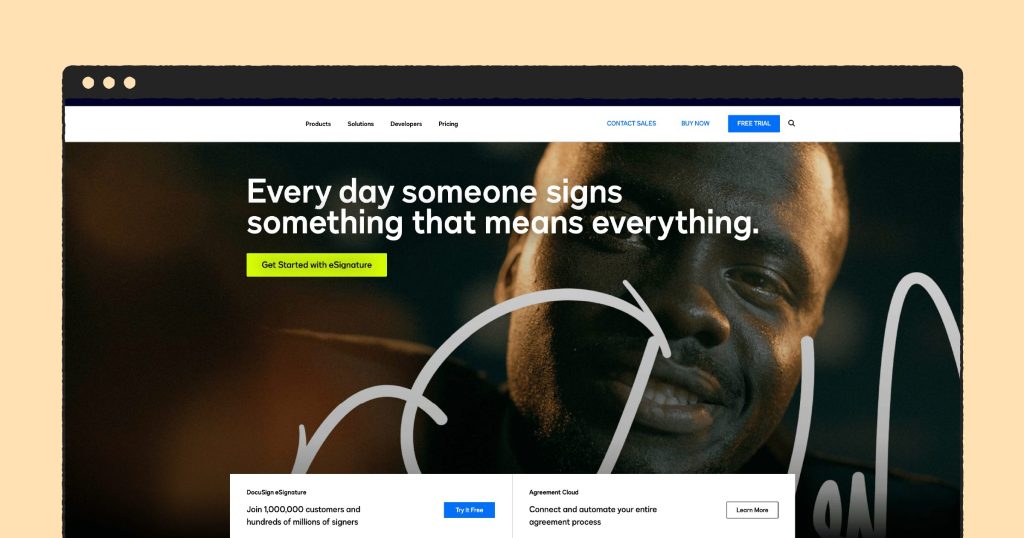 Founded in 2003, DocuSign is arguably one of the oldest and most robust e-signature and document management solutions and is considered by many to be the heavyweight of the industry.
DocuSign is trusted by many Fortune 500 companies (reportedly 90% at one point, although that might not still be the case) and is hands down one of the largest if not the largest company of its type in the world.
Operating on that level means that DocuSign competes with the best of the best in terms of its features and capabilities, including extensive file type support, PDF form conversion, automatic tag placing, over 20 standard and custom tags and fields, cloud storage integration, and much more.
The snapshot of the biggest draws to the DocuSign platform includes its easy-to-use tools that allow users to set up documents in just a few moments, its best-in-class integrations, cross-device compatibility, and global footprint.
1. DocuSign strengths
Diving deeper into DocuSign's specific strengths, we can see that ease of use and all-around bang for the buck are some of the biggest selling points.
DocuSign's long history spanning nearly two decades means that there has been a considerable period of time for innovation and improvement, and much of that improvement has come in the form of automation and streamlined usage.
For example, DocuSign's PDF form conversion tool allows users to simply upload a PDF, sit back, and watch as DocuSign automatically recognizes and converts the PDF fields to signer spaces.
This saves the user valuable time and effort, especially if they're working with a large volume of documents.
Security and authentication are some of the cornerstone strengths of DocuSign's platform. Before accessing documents, recipients can be authenticated via multiple methods, including email, SMS, phone, ID, and certain third parties.
These authentication options help ensure that the documents you send are securely received by the people you want to be receiving them.
DocuSign is considered relatively seamless with a straightforward experience across devices. Signing in on mobile is intuitive, and the e-signature process is simple no matter what device you're on.
DocuSign also offers complimentary features such as payment processing, meaning you can collect credit card and debit card information from a document and process it through a payment gateway.
You can also return a document by fax if needed.
2. DocuSign weaknesses
The DocuSign solution is arguably one of the most comprehensive e-signature tools in the market, so there aren't many weaknesses in terms of the functionality itself.
The few complaints that can be made center around the limited features included with the lower tier plans.
Phone, email, and chat support are only available with the higher plans, along with certain authentication features that are fairly essential for many users.
3. DocuSign pricing
DocuSign's pricing ranges from a single user Personal account for $10 per month, $25 per user per month for a Standard account, $40 per user per month for a Business Pro account, or custom pricing for advanced solutions.
Features such as customized branding, shared documents, comments, and team reports are absent from the Personal level account, and the Standard account doesn't have features such as SMS authentication, bulk send, or payments, among others.
DocuSign offers a 30-day free trial so that users can explore and use the service fully before signing up for a paid plan, and no, there's no credit card information required.
4. DocuSign bottom line
Overall rating: 4.8 out of 5
DocuSign is one of the titans of the e-signature and document management industries, and it shows from top-to-bottom in its all-encompassing product suite.
Whether you're a small business, mid-market company, or enterprise-level company, DocuSign is well worth considering.
DocSend vs. DocuSign overview: General features comparison
By comparing DocSend and DocuSign's general and technical features, as well as customer support, we can see that the two electronic signature software providers stack up fairly closely in terms of features but do have a couple of differences in terms of mobile deployment, payments, and typical customers.
Here's an overview of some of both solution's key features in table form for comparison sake:
| | DocSend | DocuSign |
| --- | --- | --- |
| Reminders and expirations | ✓ | ✓ |
| Document analytics | ✓ | ✓ |
| Mobile signatures | ✓ | ✓ |
| Customizable branding | ✓ | ✓ |
| Access control | ✓ | ✓ |
| Multi-user signing | ✓ | ✓ |
| Multi-factor authentication | ✓ | ✓ |
| iOS/Android deployment | X | ✓ |
| Progress tracking | ✓ | ✓ |
| Customizable branding | ✓ | ✓ |
| Bulk Digital signatures | ✓ | ✓ |
| Payments | X | ✓ |
| Bank-level security | ✓ | ✓ |
| Enterprise scalability | ✓ | ✓ |
| Customer support | Phone/Online/Knowledge base/Video tutorials | Phone/Online/Knowledge base/Video tutorials |
| API | ✓ | ✓ |
| SaaS/Web/Cloud | ✓ | ✓ |
| Regulatory compliance | ✓ | ✓ |
| Typical customers | Businesses of all types and sizes (primarily small & mid-size) | Businesses of all types and sizes (mix of small, mid-level, and enterprise) |
The final verdict
Both DocSend and DocuSign deliver superior quality in features and support. Still, the consensus view of some reviews is that DocSend might be somewhat easier to use, set up, and administer on an ongoing basis.
While DocuSign might meet the needs of some users better, especially at a large-scale enterprise level, both solutions match up pretty closely in terms of features and general usability so it's safe to say that both solutions are winners.
Our recommendation is to carefully consider your personal needs, comb through the features of both tools in more detail, and take a look at some individual user reviews to see if points are brought out that resonate with your own potential use case.
Go through our review and table comparisons and you should hopefully be able to find the right match for you.
If you need assistance, consider checking out our tutorial How to create an electronic signature, which will walk you through the process and should help you get started with e-signatures quickly.