When it comes to eSignature software, DocuSign is a household name.
As a global leader in electronic signatures, DocuSign gives businesses the flexibility they need to keep their customers happy.
The same could be said about SignRequest, which prides itself on accessibility and high-security standards.
In the SignRequest vs. DocuSign debate, a winner isn't easy to find. Both offer impressive functionality, an easy-to-use interface and allow you to automate your software management system.
Now that we mention it, PandaDoc provides all of that and more in our document automated workflow tool.
But which digital signature tool wins the gold medal? Let's find out.
At PandaDoc, our reviews don't mess around
The right eSignature tool can save your business a lot of heartache and wasted time. In fact, the best solutions should work for you, rather than against you.
There's just one problem: Hundreds of eSign tools are available on the web. Without a way to test them all, you may settle on the wrong solution, bringing you back to square one.
At PandaDoc, we understand every business owner has unique needs. Your workflow is bound to look different than the freelancer sitting next to you in a coffee shop or the CEO working out of a hotel.
The eSignature software that works for you won't work for another.
We want to make sure our articles equip you with the knowledge to make the best choice for your business needs, whether it's a fully-stocked document management system or a solo tool.
How we locate our data
To make sure we pull from the best data set possible, we conduct our review process as such:
Analysis and personal testing of all platforms compared.
Comparison and analysis of pricing, features, and support packages.
A thorough, extensive overview of online customer reviews.
Consistent, ongoing updates to our posted comparison articles.
Of the 25 websites we visited to compile our evidence, we based each site's relevance on the total number of monthly users. When creating our dataset, we placed each website we used to research all of our topics in the following four categories:
>500,000 visits;
250,000 – 500,000 visits;
100,000 – 250,000 visits;
<100,000 visits
Websites that pull over 250,000 monthly visits hold more weight in our research, while sites that draw less than 250,000 require additional vetting and checks. If we found that SignRequest, DocuSign, or PandaDoc sponsored a website, we didn't use it for research.
For example, the following sites are trusted and rarely receive sponsorships for reviews:
Websites of the covered tools were only used to confirm data like pricing, customer support, features, and other need-to-know information.
Our document workflow solution, PandaDoc, is also included in this article. We do our best to be unbiased because we're aware that our readers are trying to find the best solution for their needs.
Product overview
01. DocuSign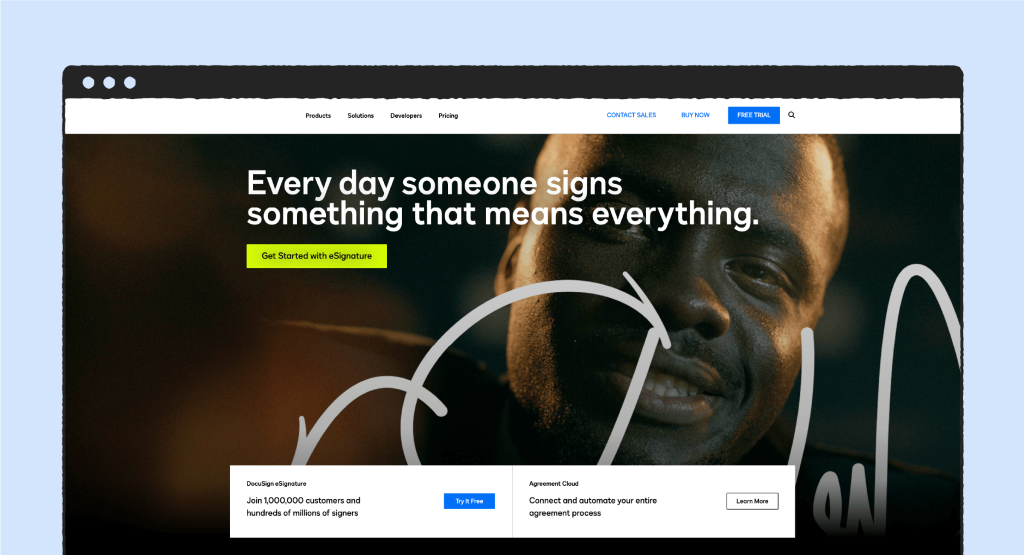 Cost: DocuSign has five plan tiers: Free, Personal, Standard, Business, and Advance:
Personal Plan: $15 per/mo or $10/mo for a year
Standard Plan: $45 per user/mo or $25/mo for a year
Business Pro: $65 per user/mo or $40/mo for a year
Advance Solution: Call for information.
G2 Rating: 4.5/5
Functionality: 4.3/5
Ease of use: 4.5/5
Platform availability: Mac, Windows, iPhone, iPad, Android.
Support options: Email/help desk, FAQs/forum, knowledge base, 24/7 (live rep), chat, training.
Free trial: Yes. 30 days.
Without a doubt, DocuSign is one of the best ways to sign electronically, anywhere, anytime, on almost any device.
DocuSign allows you to send, sign, and track agreements quickly and easily while increasing the accuracy of your arrangements, so you stay compliant.
From template creation to workflow management, DocuSign has it all. This eSign tool can even integrate with your existing business system, making switching a breeze.
Most DocuSign alternatives can't compare to the sheer amount of integrations available with this tool. With over 350+ platform integrations and simple-to-navigate platforms, it isn't hard to see why DocuSign is one of the most popular eSignature providers.
02. SignRequest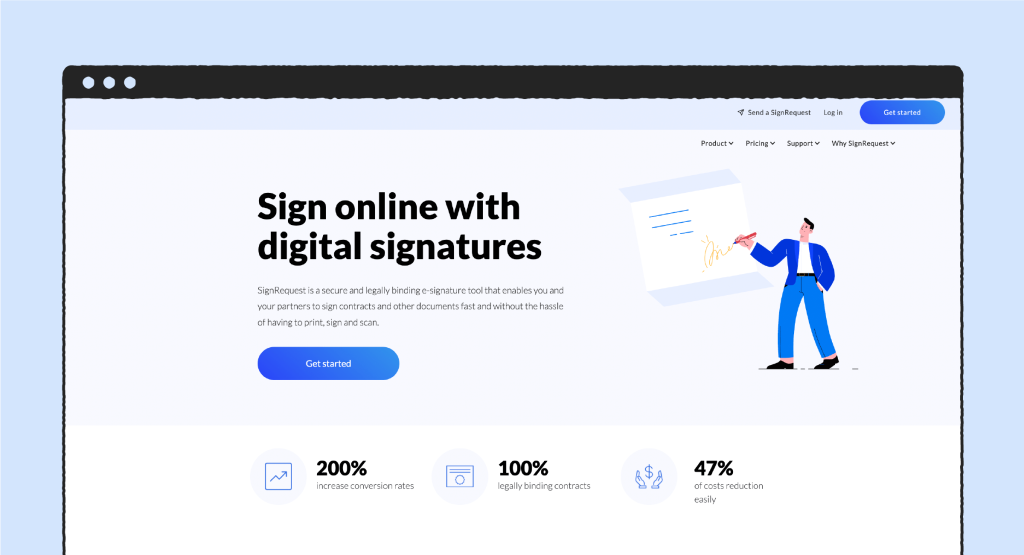 Cost: SignRequest has four plan tiers: Free, Professional, Business, and Enterprise. Since SignRequest is a European company and uses Euros, regardless of your geographical location.
We'll keep the price tier section in Euros, but we'll provide a USD estimate.
Professional Plan: €9 ($10) per user/mo or €7 ($7.50) per user/mo for a year
Business Plan: €15 ($17) per user/mo or €12 ($13.50) per user/mo for a year
Enterprise Plan: Contact SignRequest for more information.
G2 Rating: 4.6/5
Functionality: 4.6/5
Ease of use: 4.5/5
Platform availability: Mac, Windows, iPhone, iPad, Android.
Support options: FAQs/forum, email/help desk, 24/7 (live rep) phone support, training, chat.
Free trial: Yes. 14 days.
SignRequest is the most complete and affordable solution around. For less than €9 a month, you'll receive everything you need to manage your workflow.
With custom landing pages, custom branding, and customized options, SignRequest has many flexible features. This solution is perfect for small business owners, as it offers a lot for the price.
When you use SignRequest, you gain an easy-to-use signature tool that lets you eSign from anywhere, even with its free trial.
This software can integrate with a few software systems, including Zapier and Slack, but you must use Power Automate to connect to Sharepoint.
Did you know that SignRequest plants one tree for every license bought? SignRequest is partnered with the Eden Project, so if you want an eco-friendly alternative, look no further.
03. PandaDoc
Cost: PandaDoc has four plan tiers: Free, Essential, Business, and Enterprise:
Essentials Plan: $35 per user/mo or $19/mo for a year
Business Plan: $65 per user/mo or $49/mo for a year
Enterprise: Custom pricing, let's talk!
G2 Rating: 4.7/5
Functionality: 4.5/5
Ease of use: 4.5/5
Platform availability: Mac, Linux, Windows, iPhone, iPad, Android.
Support options: FAQs/forum, email/help desk, knowledge base, 24/7 (live rep) phone support, training, chat.
Free Trial: Yes. 14 days.
PandaDoc empowers 30,000+ growing organizations and helps them thrive by taking the "work" out of "workflow."
As an all-in-one automation platform, PandaDoc keeps the momentum flowing by giving fast scaling teams the ability to create, edit, and sign documents.
PandaDoc's electronic signature product specifically increases the security of all your documents. With PandaDoc's 14-day trial, you receive a powerful eSign tool free of charge.
But, PandaDoc offers more than just a solution to your eSignature woes. PandaDoc is a document automated workflow product that can collect payments, track templates, designate approvers, and more. With our wide variety of use cases, PandaDoc will help you build gorgeous, modern documents.
Our platform can connect to popular tools like Salesforce, monday.com, Google Workspace, and more. We make sure all integrated tools are trusted in the industry.
With our custom signature document creation features, API reporting, and expansive content library, you can set your brand apart from the rest of your competition.
How SignRequest, DocuSign and PandaDoc compare
| Features | DocuSign | SignRequest | PandaDoc |
| --- | --- | --- | --- |
| Document signing | 5 per month(Personal)100 per year(Standard and Business) | Unlimited(with a catch!) | Unlimited |
| Sign-in process | O | O | O |
| Reminders and notifications | O | O | O |
| Signature workflow | O | O | O |
| Mobile signatures | O | O (no app) | O |
| Reporting | O | X | Enterprise |
| Bulk digital signatures | Business | Business | Business |
| Signature audit and history | O | O | Essentials |
| Signature document creation | X (templates only) | O | O |
| Enterprise scalability | Advanced | Enterprise | Enterprise |
| Regulatory compliance | O | O | O |
| Template library | Personal | 5 (Professional) or Unlimited | Essentials |
| Custom branding | Standard | O | Business |
| Internationalization | O | O | O |
| Access management | O | O | O |
| API integration | Advanced | $0.25 per document | Enterprise |
DocuSign, SignRequest, and PandaDoc may look similar at face value, but each eSignature tool locks out specific features based on price tier.
What's more, some software solutions, like SignRequests, make certain features available at any time as long as you pay an extra fee on top of the subscription.
Most of the time, an eSign tool will offer the same features as the next tool but will add or subtract from the quality of said features. These tweaks set an eSignature software apart from its competition.
But, which tool comes out on top overall? Let's take a look.
Document preparation
DocuSign, SignRequest, and PandaDoc let you create or upload templates to sign.
All three solutions use a simplified document preparation process.
PandaDoc includes the most expansive amount of customization and editing features.
With a built-in workflow, DocuSign, SignRequest, and PandaDoc help you through the signing process, one step at a time, each in a similar way.
While all three software solutions prompt you to upload or create a template, DocuSign and SignRequest only ask you to do just that.
PandaDoc starts at the "Dashboard" screen and uses a dropdown menu to either create/upload documents, forms, or templates.
DocuSign and SignRequest do allow you to create templates, but not in the same way as PandaDoc.
PandaDoc allows you to select from a catalog of templates or a blank document. Then, you can upload files or insert fillable fields from your content library.
To create a template with DocuSign or SignRequest, you can "Create a Template" by either uploading a previous document or a blank page. You can't edit the text in the uploaded document unless you edit a text box you added to the platform.
From there, you can add custom variables that auto-fill any information that frequently occurs in your documents, like your name, address, or phone number.
Your eSignature tool of choice will walk you through the same process: upload/create a document, select the number of signers, and select "send." DocuSign takes longer to get there than the other two, but the end process is the same.
DocuSign and SignRequest will default to sending the document by email, whereas PandaDoc will ask if you prefer to send via email or link.
When the client receives the document, they'll also be given instructions on what to do and where to sign.
Winner: PandaDoc
All three eSignature tools are powerful and use drag-and-drop features to quickly and easily create customized templates from scratch or using an already available document or template.
Not one of these solutions is a bad choice, but PandaDoc's document workflow solution wins out here.
With a streamlined document creation process and over 750+ free-to-use templates, you'll be able to do more with the PandaDoc platform.
Setup, price, and integration
All tools have a free trials, but PandaDoc offers a free plan with a whole lot of features.
SignRequest offers the least amount of free features but excels in its paid tiers.
DocuSign can integrate with over 350+ apps, SignRequest can integrate with 9.
DocuSign, SignRequest, and PandaDoc are simple to set up. Unless you want to use upgraded features, you don't have to put in your credit card.
Each software solution is easy to navigate, interact with, and understand with less than 10 minutes of research.
All included software solutions offer free trials, but some give you more than others. Both DocuSign and SignRequest limit the number of documents you can send, and SignRequest won't let you upload a document to create a drag-and-drop template. You can add a few signature fields, but it's lacking in customization.
SignRequest is one of the few solutions out there that has an unlimited tier, but there's a catch.
If you're a high-volume sender, SignRequest will contact you and either give you the option to stop sending as many documents or upgrade to a document bundle (sold separately).
PandaDoc, on the other hand, offers activity tracking and notifications, a mobile app, payments, and unlimited legally binding eSignatures, all for free until the end of time.
Although SignRequest gives you the ability to sign documents on your mobile device, it doesn't have a mobile application. Your clients will have to open up SignRequest on their phone's web browser to sign anything.
SignRequest claims to have 2000+ integrations, but that isn't actually the case.
When you connect SignRequest to Zapier, you'll benefit from the large number of integrations that software has, but the eSignature tool by itself can only integrate with 9 other programs.
We're unsure if we'd call this "false advertising" because they clarify this on their direct integration page. However, on their homepage, it doesn't, which is pretty confusing.
Still, SignRequest offers more options for less. Once you enter the Professional tier, you gain as many features, if not more, as PandaDoc and DocuSign for $10.
PandaDoc includes several popular integrations, like Zoom, Salesforce, and Slack, but DocuSign offers many more. You can streamline your workflow with over 350+ integrations.
Winner: PandaDoc
It was close, but PandaDoc takes this category. SignRequest contains many robust features for the price but offers less than DocuSign and PandaDoc at their free tier.
It's also a little bizarre that SignRequest says they have 2000+ integrations and mobile support when they really don't.
DocuSign has more integrations and a longer free trial, but PandaDoc offers unlimited eSignatures in a forever-free workflow tool.
Branding and white labeling
All three tools let you brand your documents with varying degrees.
SignRequest has some of the most sophisticated branding features for the price.
PandaDoc is one of the few workflow tools that offer white labeling.
DocuSign doesn't skip on its customization features. DocuSign can give your documents a facelift from colors to buttons to banners. However, you only gain access to its more advanced branding widgets if you upgrade to its Advanced Solutions tier.
With SignRequest, you receive all of their best branding features right away. You can upload your logo, choose your fonts and colors, and default subject line and messages. You can even redirect signers to customized landing pages.
PandaDoc also offers these features with its Business Plan, but you can also receive white labeling in the Executive tier.
White labeling lets you remove PandaDoc's branding in your delivery email, expiration warnings, completion notifications, and reminders to pay or verify bank accounts. You can brand your entire account for your specific workplace.
Winner: PandaDoc and SignRequest
DocuSign has plenty of customization features, but it can't compete with what SignRequest or PandaDoc offers.
SignRequest provides brand customization with its Professional Plan ($10) but offers as many options, if not more, than PandaDoc's Business tier branding ($59).
Unfortunately, SignRequest misses out on the white labeling, which inevitably ties it with PandaDoc. Since SignRequest won't allow you to remove their branding from emails, it limits the tools' customization options overall.
Support options
Both DocuSign and SignRequest limit your support options at lower tiers.
DocuSign gives you the option to pay for faster support separate from your subscription.
PandaDoc gives the most amount of support for free.
Small businesses rely heavily on all-hours support. Several entrepreneurs will burn the midnight oil from dusk till dawn, and if they're left out in the cold, they may not reach their deadlines.
Fortunately, DocuSign, PandaDoc, and SignRequest offer 24/7 support, as well as live chat, email, training, and live chat.
DocuSign doesn't include phone support, and SignRequest won't have a knowledge base in your subscription.
DocuSign can give you the option for phone support if you purchase a Plus Support Plan. In their Enterprise Premier Support Plan, you will get an initial response time of less than 2 hours and emergency support in less than 30 minutes. However, these plans are expensive.
SignRequest locks support to specific plans. Professional gives you access to email support, while Business provides you with unlimited phone support.
PandaDoc offers you support regardless of your plan but keeps the 24/7 email and chat support feature locked to the Essentials tier (the first paid tier).
When speaking to PandaBot, you can schedule time with one of his humans or use one of the site's many resources for help.
Winner: PandaDoc
PandaDoc doesn't lockout support options like SignRequest or keep response time behind another subscription plan, like DocuSign.
That doesn't mean that neither DocuSign nor SignRequest has an incredible support team, plenty of support options, and lighting-quick response time. They definitely do, but PandaDoc offers more at lower tiers or for free.
PandaDoc rises to the occasion
There's no denying that SignRequest and DocuSign are powerful eSignature tools, but PandaDoc won this clash of the titans.
Not only is PandaDoc an incredible free electronic signature software, but it's also a comprehensive document workflow solution.
With PandaDoc, you grant your customers the convenience to create, send, and sign documents securely at any time, no matter where they are.
Our document management solution lets you consolidate all signing actions in one place, so you don't have to open up Word or Adobe to sign!
To explore our other features, like pricing tables, advanced integration, and document analytics, give us a try! Our all-in-one tool is sure to make your life easier!