In this article, we will explore the process of mastering quote management.
You'll learn its fundamentals, define the benefits of streamlined quoting software, and take a look at how to implement an efficient quote management workflow.
Key takeaways
Quote management is a systematic approach that empowers businesses to create, send, track, and manage price quotations throughout the sales cycle.
A well-executed quote management strategy contains integration with a CRM system and uses it as a source of input data; employs CPQ software to handle complex product configurations, apply predefined pricing rules, and generate accurate quotes quickly; and automates repetitive tasks.
Adoption of purpose-built quote management software transforms disjointed, manual processes into streamlined workflows. Businesses can deliver fast, accurate, customized quotes that ensure data accuracy, accelerate deal closure and drive higher revenue.
Exploring the basics of quote management
Let's start with the fundamentals.
What is quote management?
Quote management means the overall process of generating, sending, and tracking quotes throughout the sales cycle.
It involves everything from configuring quote templates to managing approvals and revisions, as well as negotiating pricing with prospects.
The main business goals of quote management are:
to provide accurate and compliant quotes, and
to give sales teams the tools to close more deals faster.
CPQ vs. quote management
Another close but distinct concept is configure, price, quote (CPQ) software.
This software is designed specifically for configuring complex products and services to generate quotes.
It allows customized bundles and deals to be created on the fly based on predefined rules and constraints.
A typical CPQ software starts by allowing sales representatives to customize products or services according to customer needs and preferences.
Then, it calculates the price of the configured products or services, considering various pricing options like discounts, promotions, and quantity to generate accurate pricing.
Finally, the software produces detailed and accurate quotes, reflecting the configurations and pricing agreed upon.
These quotes are then ready to send to customers.
Quote management, in turn, encompasses the broader end-to-end process, from generating a new quote to finalizing a closed deal.
It may integrate CPQ capabilities but also involves additional functionality like template management, approvals, version control, analytics, and CRM integration.
As a result, CPQ focuses on accurate product configuration, and quote management optimizes the entire quoting workflow.
The two capabilities are complementary and often used together to maximize effectiveness.
Quotation management in CRMs
If your company uses a CRM like Salesforce or Pipedrive, the integration of quote management is a must-have.
Integration provides numerous benefits for your business operations and productivity, allowing sales representatives to:
Directly convert CRM opportunities into detailed and accurate quotes, eliminating the need for manual data entry, and reducing the likelihood of errors
Ensure that all customer interactions, product details, and pricing information are uniform and up-to-date, enhancing data reliability and accuracy across all systems
Automate tasks like sending quotes and tracking status
Monitor and analyze sales trends, individual performance, and quote conversion rates, facilitating informed decision-making and strategy optimization
Save a lot of time avoiding the disruption of switching between disparate systems
Ensure that any updates or modifications made in one system are instantly reflected in the other.
Now that we've defined the basics, let's move to the perks that properly harnessed quote management software can bring to your business.
Benefits of streamlined quote management software
A fine-tuned quote management software is a source of multiple advantages for the team leveraging it. This can lead to:
Increased productivity of the sales team by accelerating the quote-to-cash cycle and allowing more transactions in less time
Higher efficiency thanks to automating repetitive tasks, reducing manual errors, and freeing up time for value-driven activities
Lower costs via administrative overhead minimization, leading to cost savings
Higher user satisfaction by providing user-friendly interfaces and features that enhance user experience and improve customer relationships
Better data management thanks to accurate and well-organized data serving as a basis for making business decisions
Fewer inconsistencies by maintaining data integrity and consistency across various stages of the quoting process.
How to manage price quotes in the right way using PandaDoc
It's time to move from theory to practice and review the steps of managing quotes using a specialized quote management system.
We'll address these steps using PandaDoc as an illustrative example.
1. Use a consistent style and template for all quotes
You should maintain consistency in the format, language, and presentation of your quotes.
This builds a professional image and avoids confusion.
1. Start by creating or using a ready-made quote template that reflects your desired style and branding.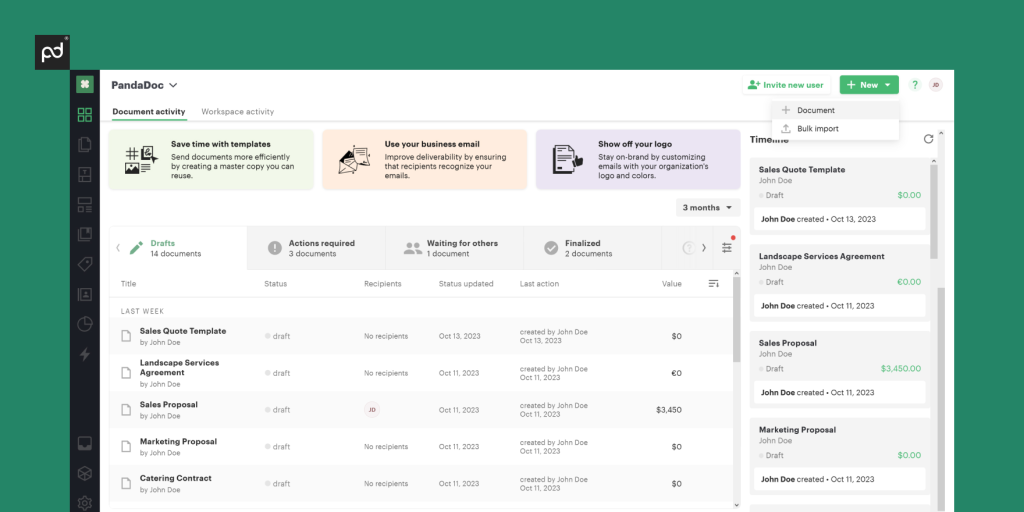 2. Choose from a selection of templates or customize your own.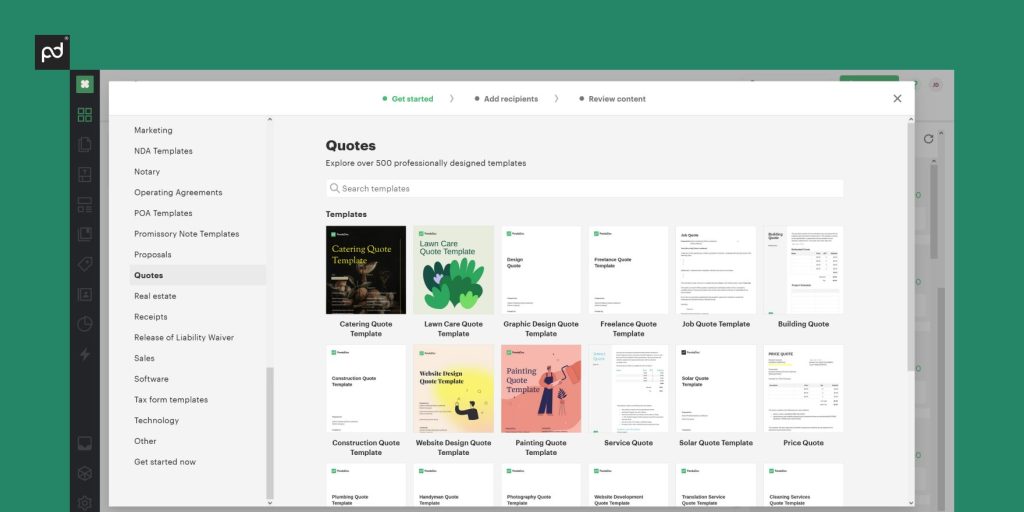 3. Next, add the Quote Builder Block to your template, which allows you to easily tailor quotes to your prospects' needs. This block will help you maintain consistency in your quote formatting and content.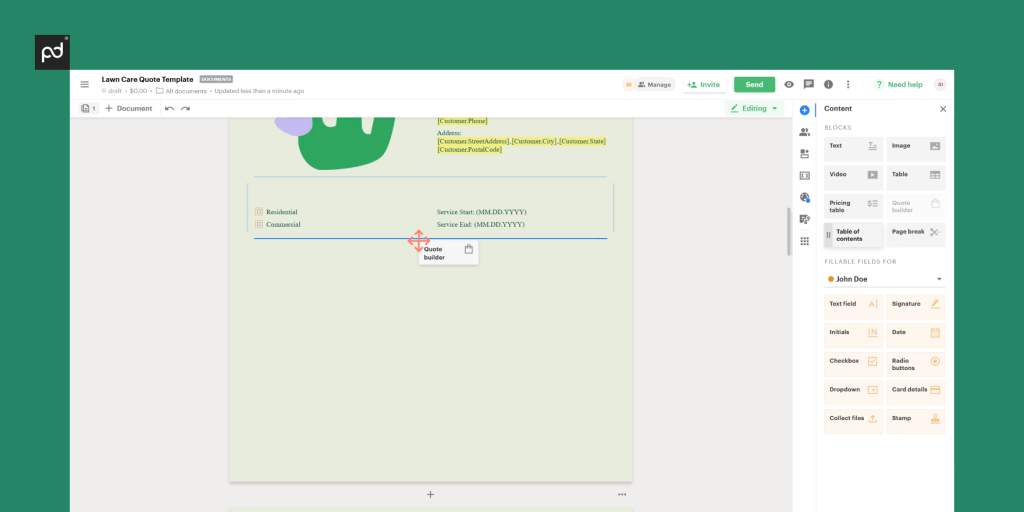 4. Then, click on the Quote Builder Block and select Edit quote to access the design options. Customize the layout, fonts, colors, and other visual elements to match your brand's style.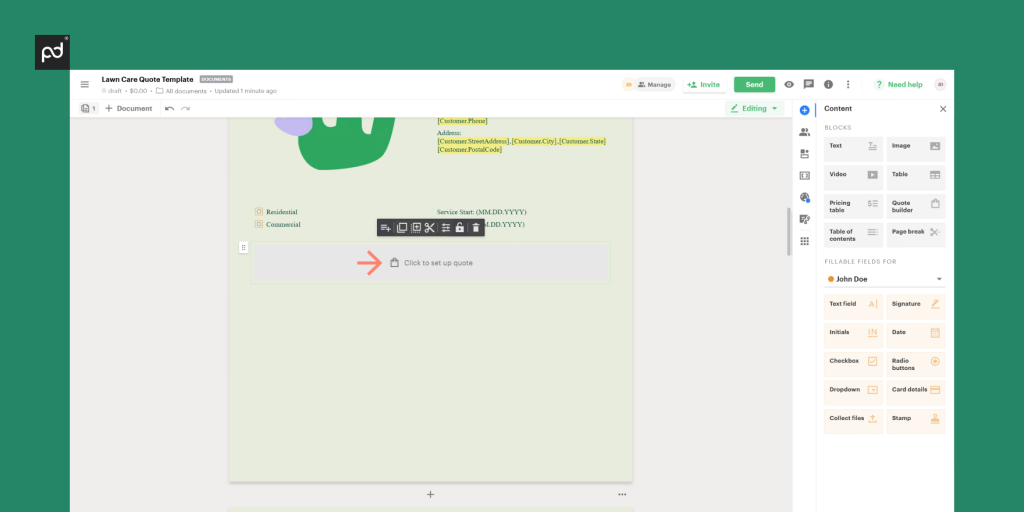 5. Include essential details such as your company name, client name, date, service details, price, and signature. This information should be consistently placed and formatted in all your quotes.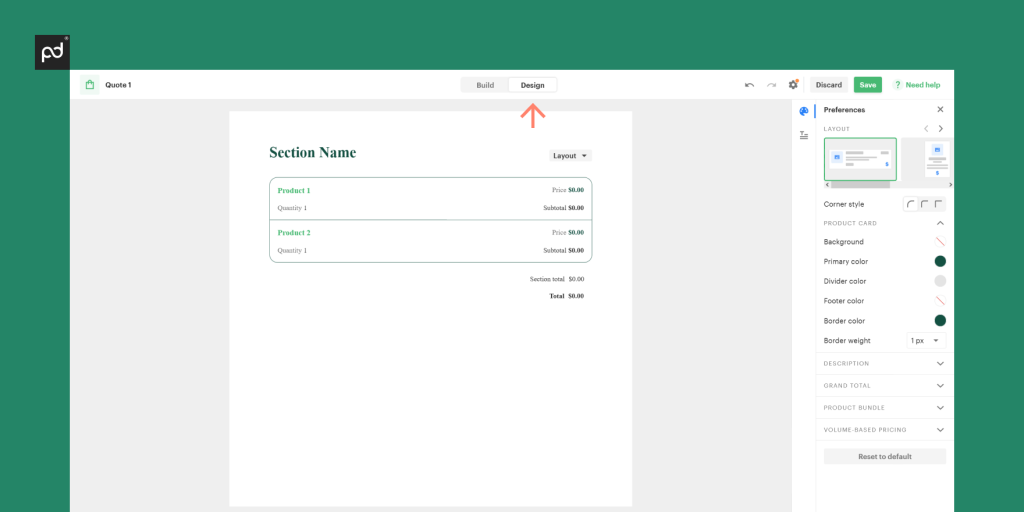 6. Finally, state the goods or services the customer needs in detail (more on this in the next step).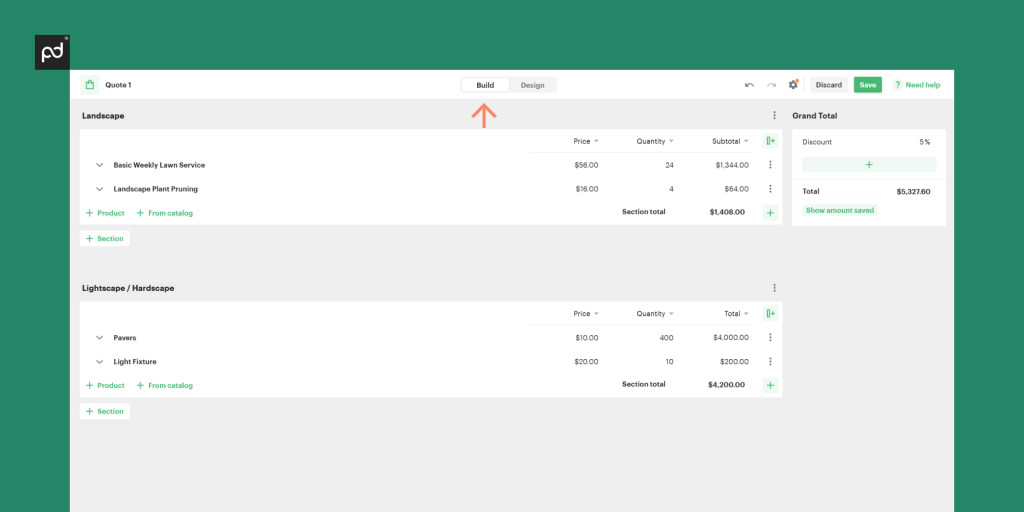 2. Ensure your quotes are accurate (and profitable)
You should carefully check all the details to avoid possible errors.
First, list what is being offered, including their features, benefits, and any additional options or upgrades to help your clients understand the value they are receiving.
Break down the price into its parts, including unit prices, quantities, discounts, and any additional fees or charges. With this breakdown, your clients will understand how the final tally is calculated and will be able to compare your quote with others.
Include an expiry date for your quote to make your clients aware of any potential changes in the future.
Before sending out your quote, double-check all the information one more time.
3. Adjust your quotes to the specific needs of each customer
Your quotes must be as personal as possible to demonstrate attentiveness and increase the chances of acceptance.
Open your template in the document editor and add text blocks, pricing tables, videos, etc.
In the Quote Builder Block, provide clear and detailed descriptions of the products or services being offered, highlighting their unique features and benefits for your customer.
You can also implement specific pricing strategies like discounts or special offers to make the quote more appealing.
If necessary, attach additional documents or resources that are relevant to your customer's needs.
4. Establish a regular review of existing quotes
Analyzing quote performance, you can find what and how should be improved. You can also streamline the quoting process by integrating with CRM systems and using templates for common products and services.
1. Navigate to the Quote Dashboard, which provides an overview of all your quotes and their statuses.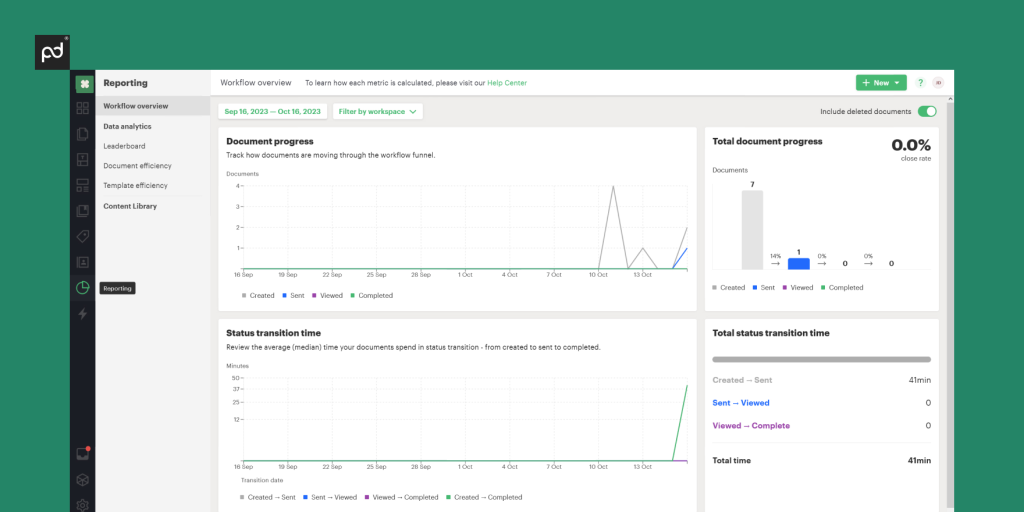 2. Use the sorting and filtering options to organize your quotes based on criteria such as date, customer, or status.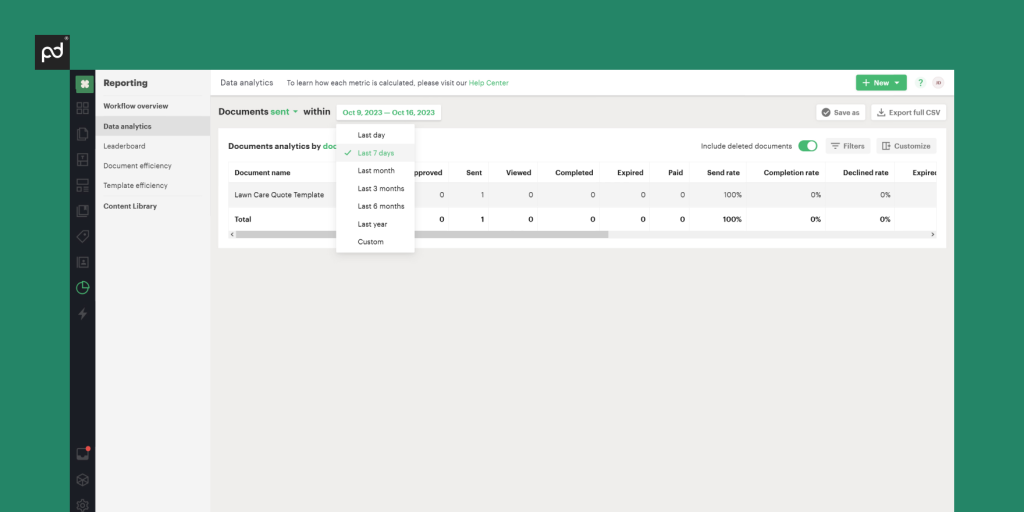 3. Open each quote and review the content, including the products or services offered, pricing, and any additional information.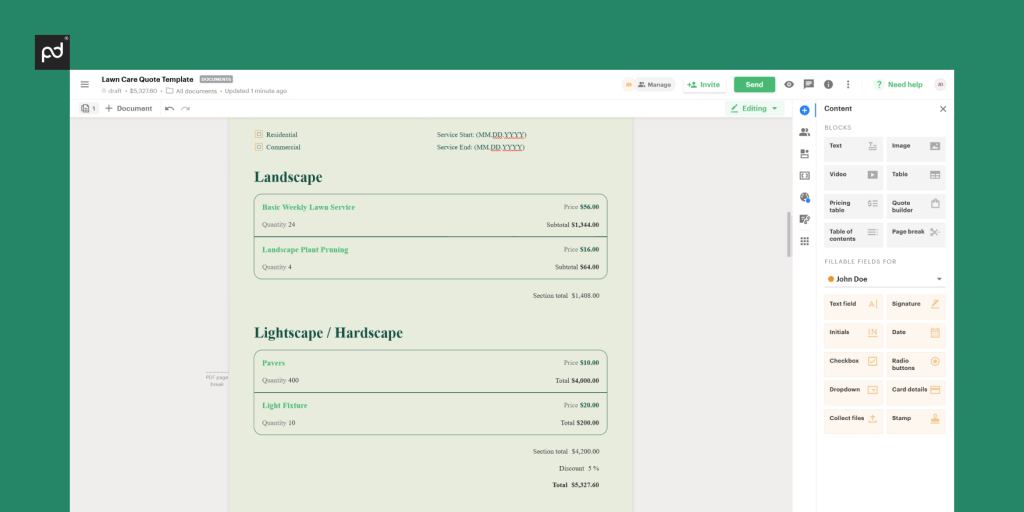 4. Analyze the performance of your quotes using PandaDoc's reporting and analytics features and focus on conversion rates, average deal size, and time to close. Identify any trends or areas for improvement.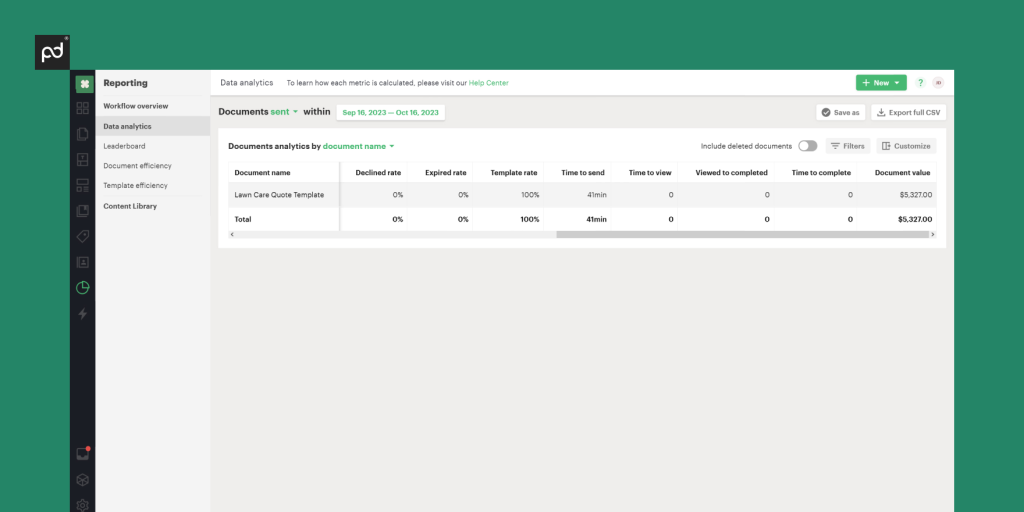 5. Make the necessary updates to your quote templates or content based on your findings.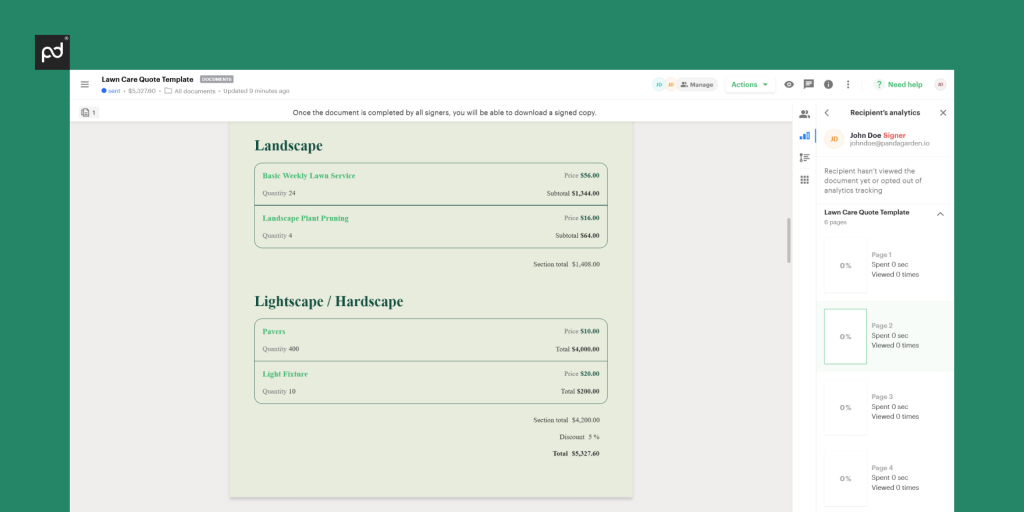 5. Collect and address feedback
User feedback is also a valuable source of information about what should be improved or fixed. This step furthers much of what was done with the previous one.
PandaDoc offers a UserVoice feedback portal where you can collect customer feedback, make feature requests, and more in real-time. Share this portal with your customers and encourage them to provide feedback on the quote process, including the content, layout, and overall experience.
After sending out a quote, request feedback from your customers using a follow-up email or including a feedback form in the quote itself. Ask your customers to share their thoughts on the quote and its accuracy.
Review and analyze the received feedback, paying attention to common topics or issues raised by multiple customers.
Make necessary adjustments to your quote templates, pricing strategies, or overall process.
If you make any significant changes to your quoting processes based on customer feedback, be sure to make your customers aware of these changes to show them that you value their input, and to continue providing the best possible experience.
Next steps
The team at PandaDoc will work with you to implement quote management for your business, working with your existing resources and priorities and saving you valuable time.
Disclaimer
PandDoc is not a law firm, or a substitute for an attorney or law firm. This page is not intended to and does not provide legal advice. Should you have legal questions on the validity of e-signatures or digital signatures and the enforceability thereof, please consult with an attorney or law firm. Use of PandaDocs services are governed by our Terms of Use and Privacy Policy.