How to send a quotation to a customer
Sending price quotes is a multifaceted process. While it may look simple on the surface, there are pitfalls that salespeople and business owners should be aware of.
Despite best intentions, it's easy to lose lucrative clients.
In this short overview, we're going to show you exactly how to deal with quotes to focus on your client's unique needs and boost your conversion rate.
Shortly, we've identified these main steps you can take to create and send a quotation to a customer:
Select a professional quote template that fits their needs.
Complete a line-by-line breakdown of costs and unit prices. 
Ensure all relevant information, including company details and terms and conditions are included. 
Email it to the customer using either a document management app or a generic email service.
A specialist app like PandaDoc provides many benefits when sending important business documents. 
How to respond to a general quote request
If you're sending a generic quote, the following structure and headings will usually suffice.
1. Introduction
A short introduction that sets the context for the quotation and includes your contact information (especially your phone number), business name, date of issue, and the quote number and expiry date.
2. Client details
Include the client's company name and address to ensure that there's no doubt about who the quotation is for.
3. Price table
This is the section for the specific price quotation. Make sure all the information is clear. A table format works well here. You may also want to include timelines.
Whether or not you include a ballpark amount or an itemized cost breakdown of line items will depend on the client's wishes. In either case, a total price should be stipulated.
Terms and conditions and legal documents
Any additional details and legal documents, such as warranties, payment terms, suitable payment methods (PayPal, credit card, bank transfer, etc.) contracts, T&Cs, etc. can be put here.
How to send a tailored sales quote
It's difficult to tailor your quote for success if you don't fully understand your prospective customer's pain.
Conversely, if you know exactly what information is being asked for, where a person sits in the decision-making process, and whether or not they're ready to buy, you can use that information to better meet their needs.
Ask the following questions prior to putting together a tailored business quotation.
1. Is a client evaluating multiple options?
If a client is evaluating multiple options, there's an excellent chance for you to convince them that you're the right service provider for the job.
Rather than send a simple pricing table, consider going into greater depth about your strengths, past experience, and any added value you provide.
Following up with potential customers will also be more important if this is the case.
2. Has a client sent a detailed request for quotation (RFQ)?
How much detail does the sender really require?
Sometimes more is less when sending a quote.
If you have received a full RFQ then it's important to use the format provided and include all necessary information, spanning itemized pricing, deadlines, warranties, payment terms and more.
If, on the other hand, a prospective client is only seeking a ballpark estimate as part of preliminary research, providing nuanced details might actually be counterproductive.
3. Is a client ready to buy?
Sometimes the purpose of sending a quote is to finalize a deal that has already been agreed upon.
If a client or potential client is quite far along the sales cycle and has requested a quote more as a formality than anything else, then a quote should more closely resemble a contract.
It should include all the necessary elements for the client to finalize the deal, such as electronic signature fields and detailed Ts&Cs.
How to respond to a request for a quotation
A request for quotation (RFQ) or quotation request is a document designed to be sent to multiple suppliers.
The purpose is to evaluate options prior to purchase. Despite the name, an RFQ is not the same as a generic request for a quote.
The main difference between an RFQ and a generic request is the level of detail included in each. An RFQ will usually ask suppliers to respond in a standardized format and will be very specific about the information required.
An RFQ will usually be made up of descriptions of exact deliverables, timelines, and an outline of the evaluation process.
Use the structure below when responding to an RFQ:
Introduction: This section should comprise a brief introduction alongside details of what's included in the quote.
Company overview: Give a short overview of your company, including key people. You can also highlight any core strengths, accolades, and relevant case studies in this section.
RFQ documentation: Provide any required information, in the relevant format, in this section. This is where you will include itemized pricing (including the total cost) and time frames. It may also be prudent to include fees for additional work.
Sometimes, RFQs will ask for responses to be in a specific format, without any extraneous information. If this is the case, stick to the prescribed quotation template.
If you don't, you may be asked to send a new quote. However, take full advantage of space for optional details.
Sending a business quote with PandaDoc
Sending quotes with PandaDoc has a myriad of benefits. PandaDoc enables you to dramatically streamline your document workflow while at the same time taking advantage of conversion-boosting tools and functionality like electronic signature fields, speedy payment options, detailed analytics, automation settings, and follow-up emails.
Follow the steps below to send a quote using PandaDoc:
1. Log into PandaDoc.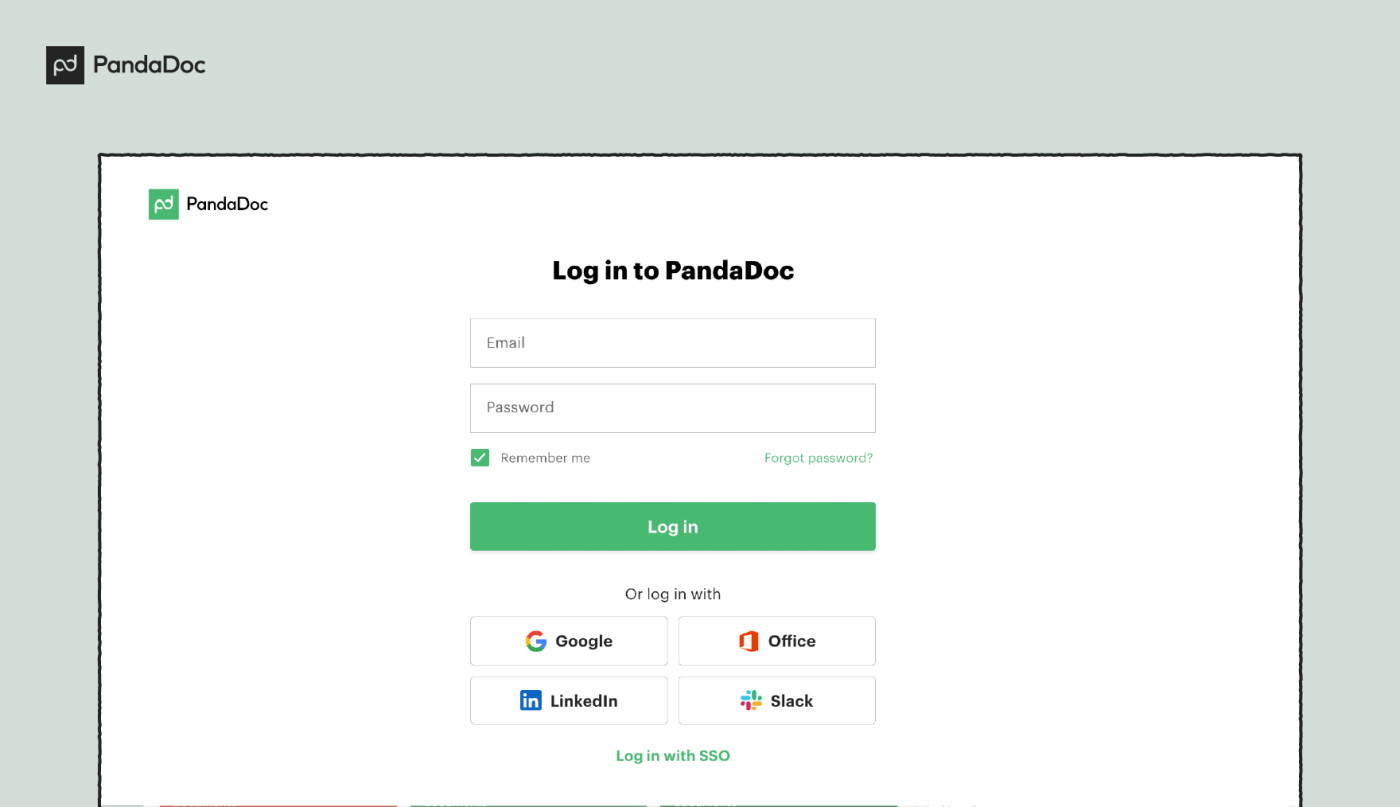 2. Select New Document.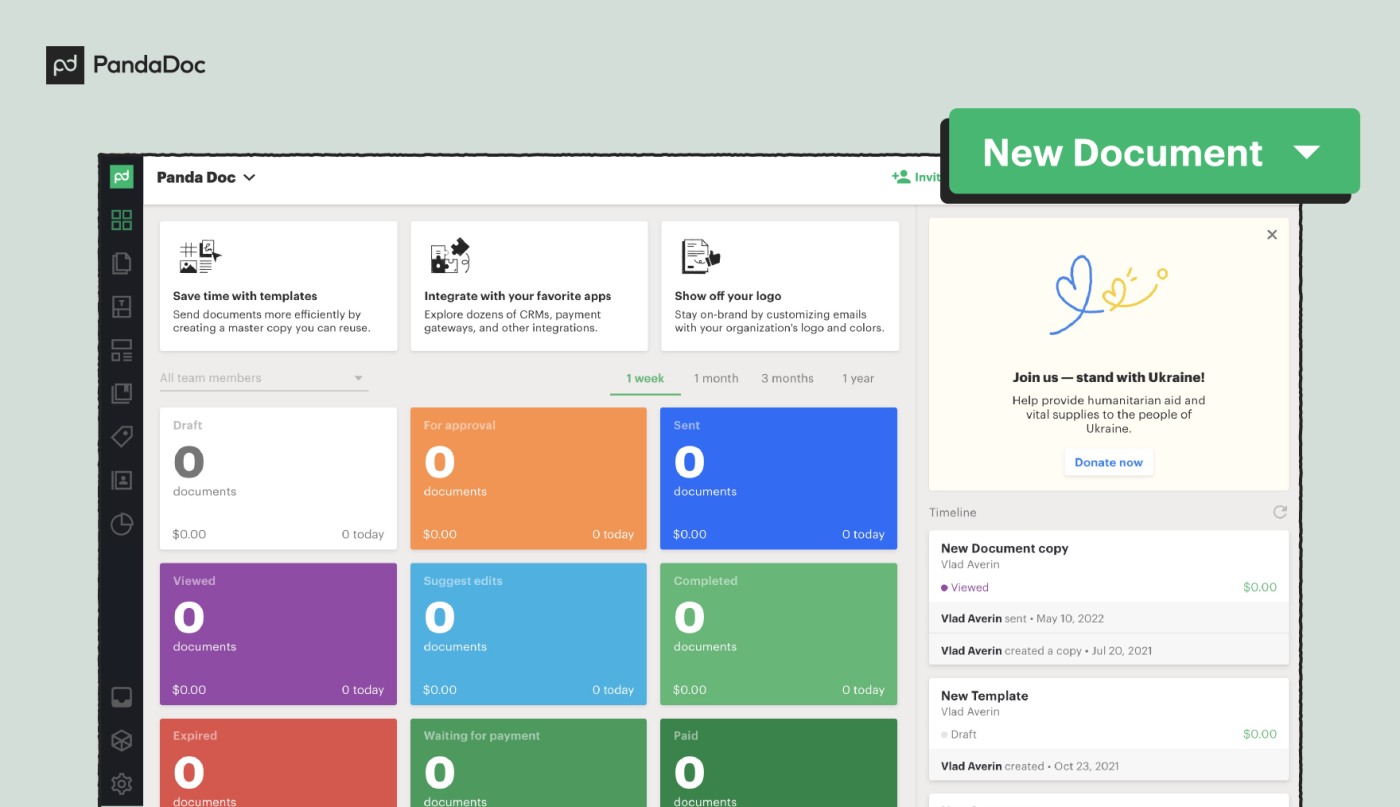 3. Type Quote into the search bar and select an appropriate quote template from the results.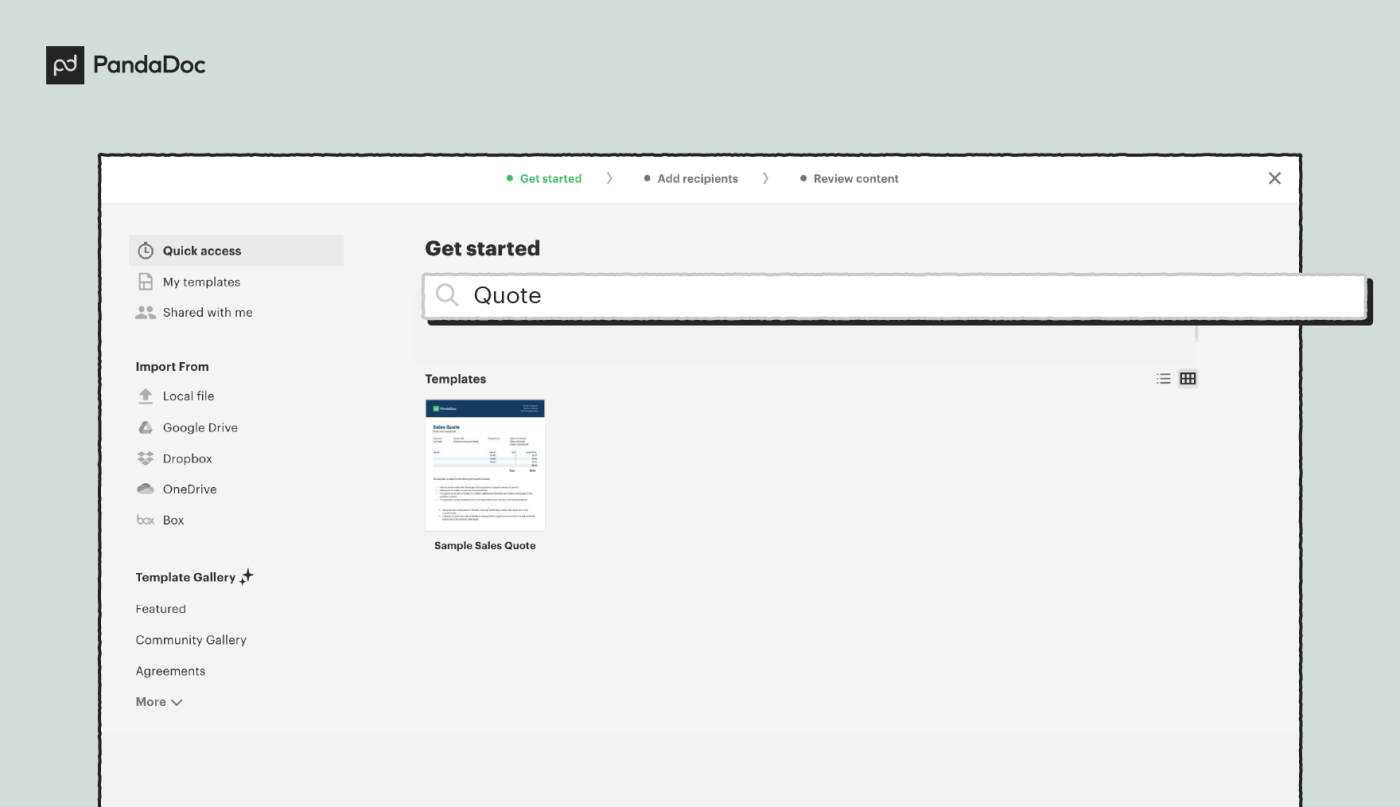 4. Input the relevant details and click Start Editing.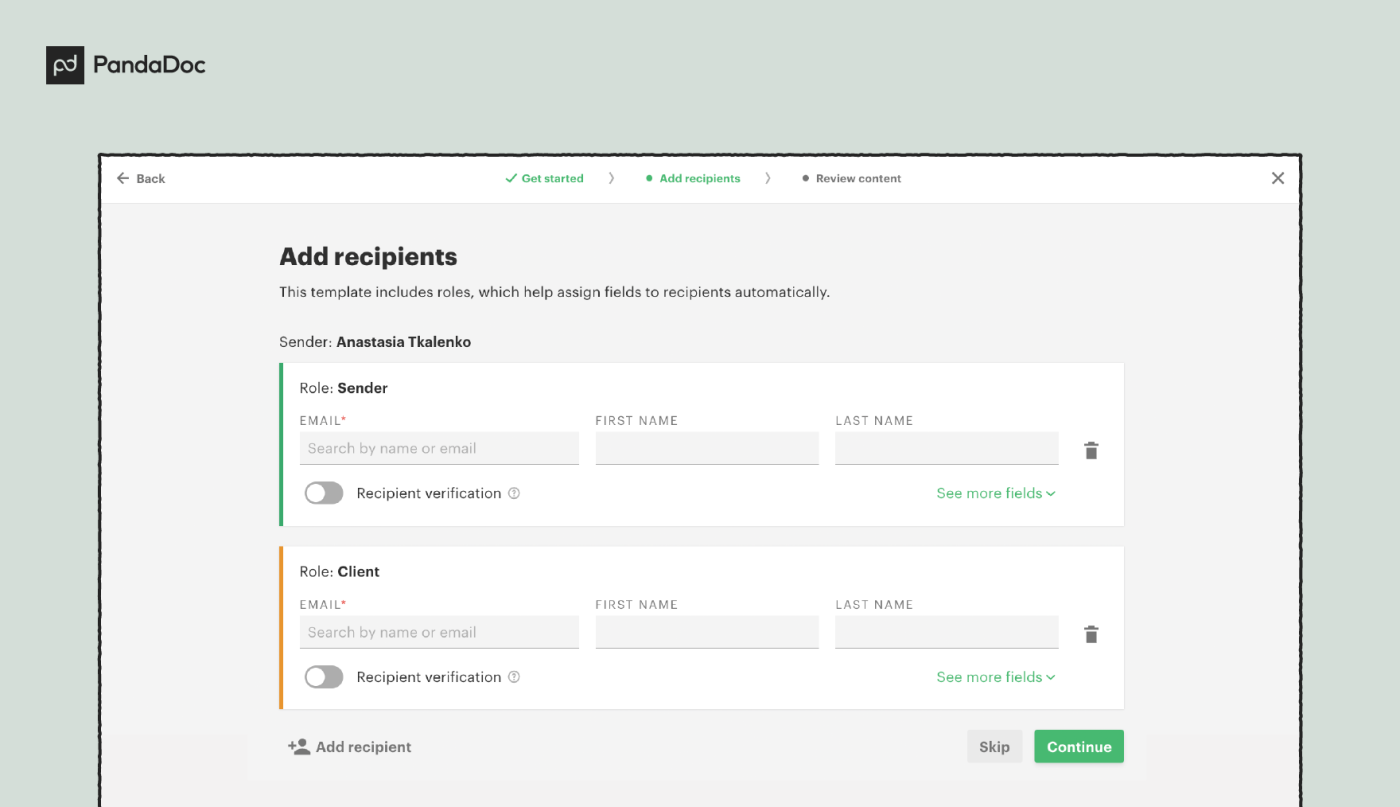 5. Alternatively, you can upload your own templates using the Upload tab.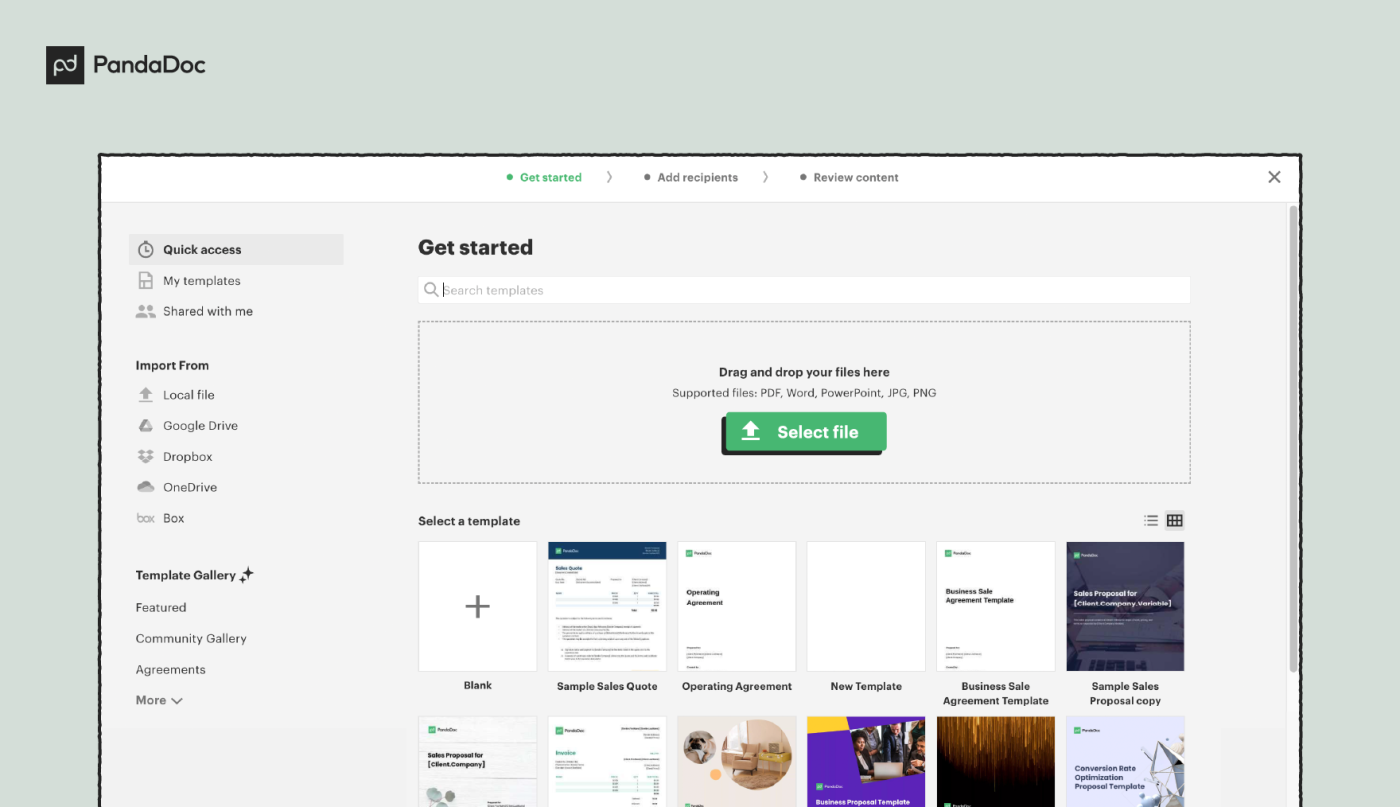 6. Once the quote has loaded you can drag and drop content blocks, pricing tables, signature fields, and more using the right-hand menu.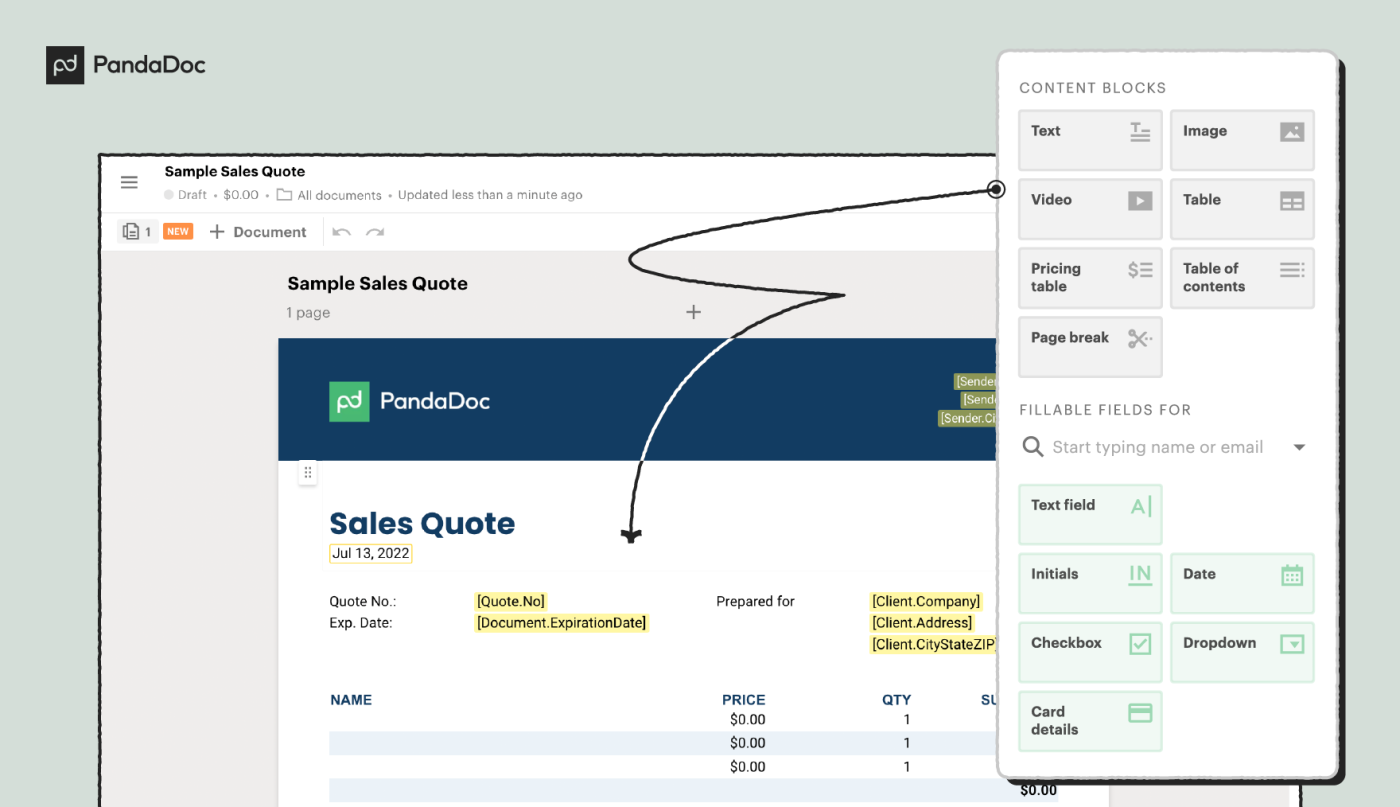 7. When you're finished click Send and write a short message to your recipient.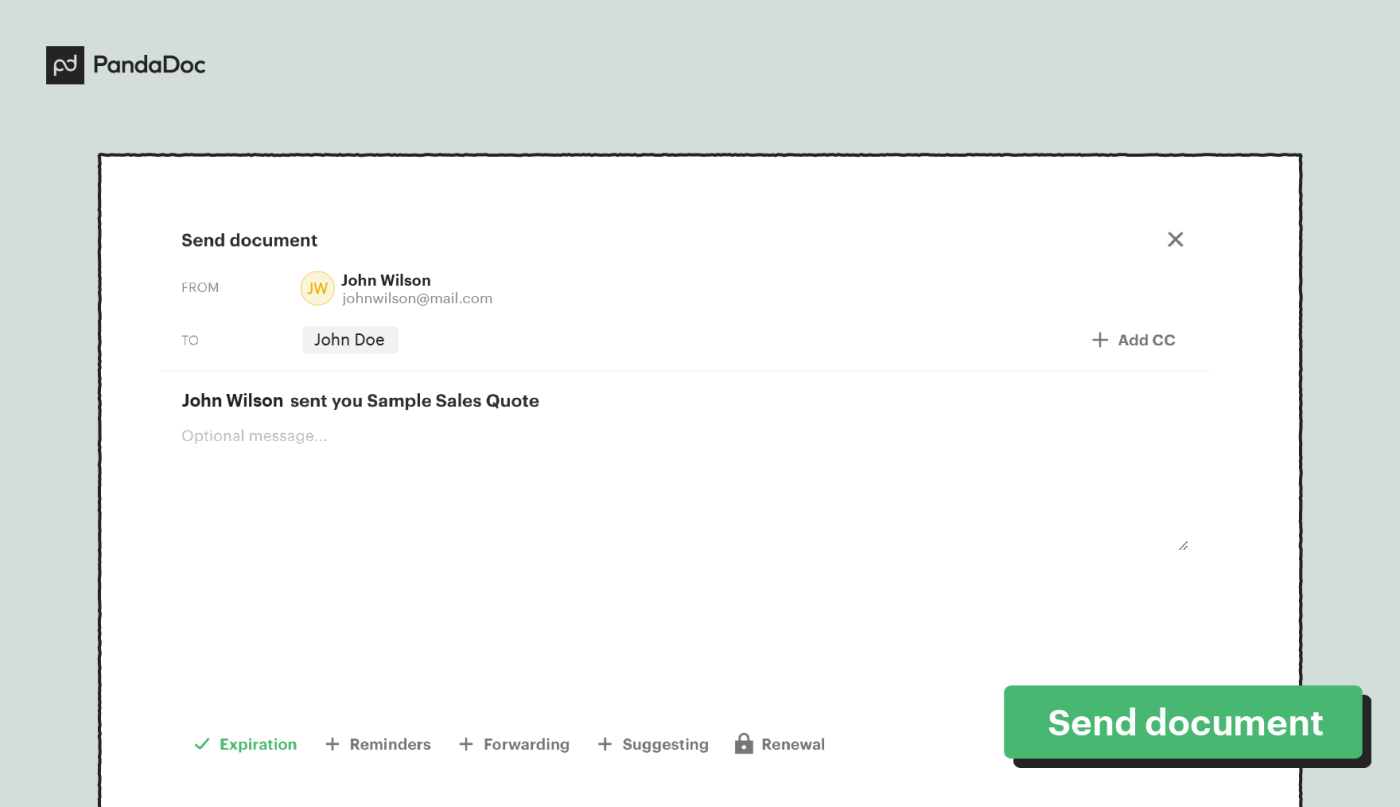 If you regularly send quotes, it's worth considering a smart, dynamic app for managing and automating document workflows.
Not only do these apps allow you to take advantage of templates for speedy quote creation, but they also provide you with an array of tools that save time, integrate with accounting software and CRM, and make it easier for clients to approve quotes.