What is a quote in business?
A business quote is a document that specifies the price for a set of goods or services. Quotes are sometimes referred to as "sales quotations."
Sales quotes are common business documents and essential to most organizations' sales processes.
They're used by big enterprises, start-ups, small business owners, and freelancers.
If you sell anything at all, whether products, services, or a mix of both, then you'll almost certainly have received and sent quotes.
What are the different types of professional quotes?
Quotes in business generally fall into one of two categories – estimates and detailed price breakdowns.
Estimates are common because service packages often don't have fixed costs. This is due to the fact that certain details will be variable – like the prices of physical goods, the input of team members, and the duration of a project.
In scenarios like these, estimates provide potential buyers with a ballpark figure. The quote acts as an aid to buying rather than as a definite price.
Detailed breakdowns, on the other hand, are provided when the products/services requested have a fixed price. For example, say a company wishes to purchase a new IT system.
It's possible to provide item-by-item prices along with the cost of labor for the whole project.
It's also worth noting that there is a lot of overlap between quotes and other documents. The defining lines aren't always clear.
Often, quotes will act as invoices and include payment options. Equally, a quote may form part of a sales proposal.
What is a request for a quotation?
A quote sent in response to a "request for quotation" (RFQ) will not be the same as a generic quote.
Companies often use RFQs to evaluate suppliers prior to making a purchase and, usually, ask for quotes to be delivered in a highly structured format.
In a nutshell, an RFQ is a document sent to numerous suppliers or hosted on a supplier marketplace like alibaba.com, that asks for a very specific quote for a project.
The RFQ will usually include instructions about how to format the response, deadlines for submission or expiration date, and details about how respondents will be evaluated.
How to create a quote
Quotes should be tailored to the needs of the prospective buyer.
That said, the structure described below will be sufficient for most circumstances, and is relevant for both specific and estimated prices.
There are still though cases when you can test different versions on how to write quotes to your prospects.
1. Introduction
Include a short introduction that provides context for the quote – mention any previous interactions, briefly describe your company, and outline what the quote involves. You may even wish to show the total amount in the introduction.
2. Client and company details
Include the business names, phone numbers, addresses, and contact details of both your company and your potential clients.
This section acts as a reference point for the recipient while also eradicating any doubt about who the quote is intended for. Also, show the quote number and expiry date. 
3. Pricing
When providing pricing, it's best to use an item-by-item table format along with a final price. Use this structure irrespective of whether you're providing a fixed market price or a rough estimate.
Include applicable taxes, a price list of non-essential but potential applicable services, payment methods, and time periods associated with self-contained projects.
4. Legal documentation
Any legal documentation should be included towards the end of the quote.
If a potential customer has the option to approve the quote, it will be essential to add a contract, payment terms, warranty information, disclaimers, etc.
How to write a quote using PandaDoc
Smart sales apps like PandaDoc can significantly reduce the time it takes to write winning quotes.
Features like drag-and-drop electronic signature fields, payment options, follow-up and automation tools, and detailed analytics also improve the efficiency of your workflow.
To create a business quote with PandaDoc, follow the steps below:
1.Log into your PandaDoc account.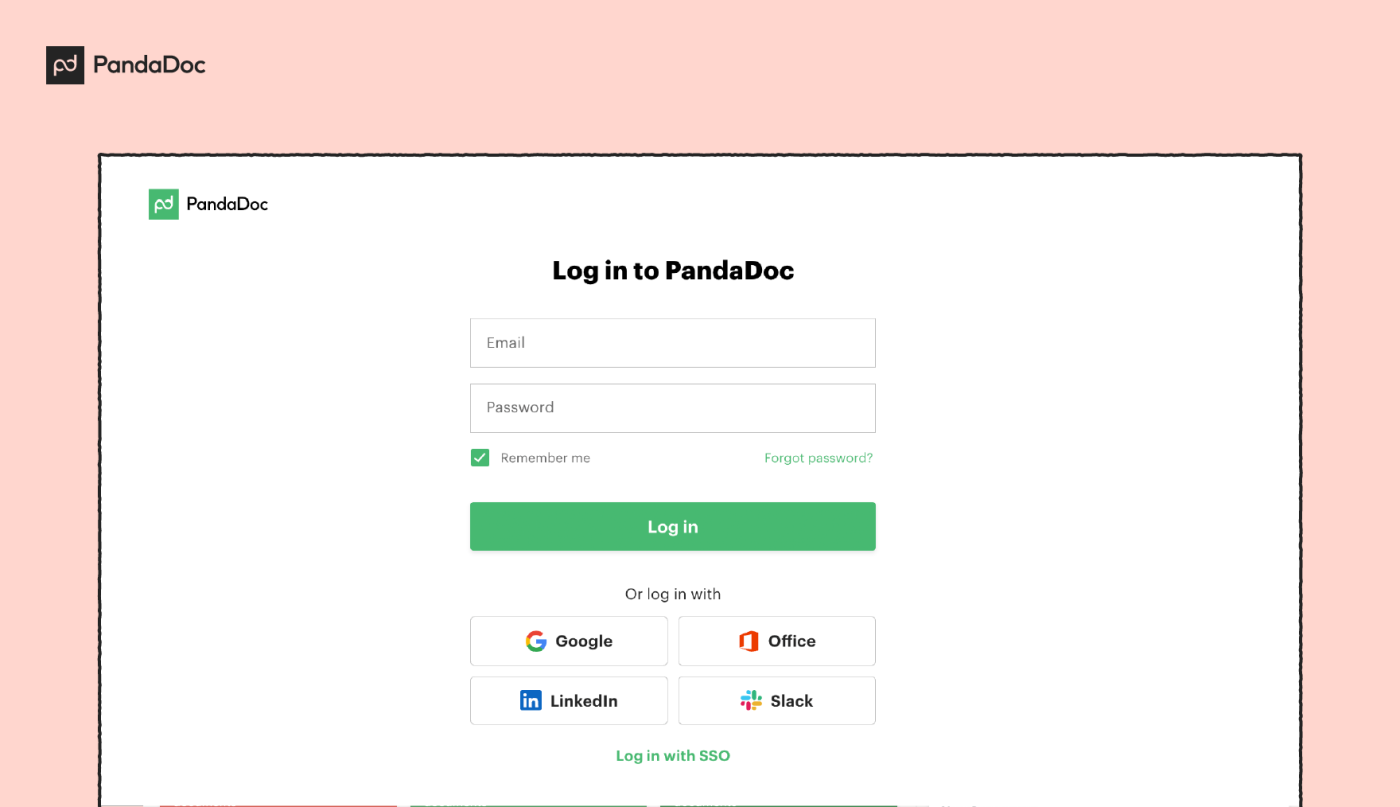 2. Click the New Document button.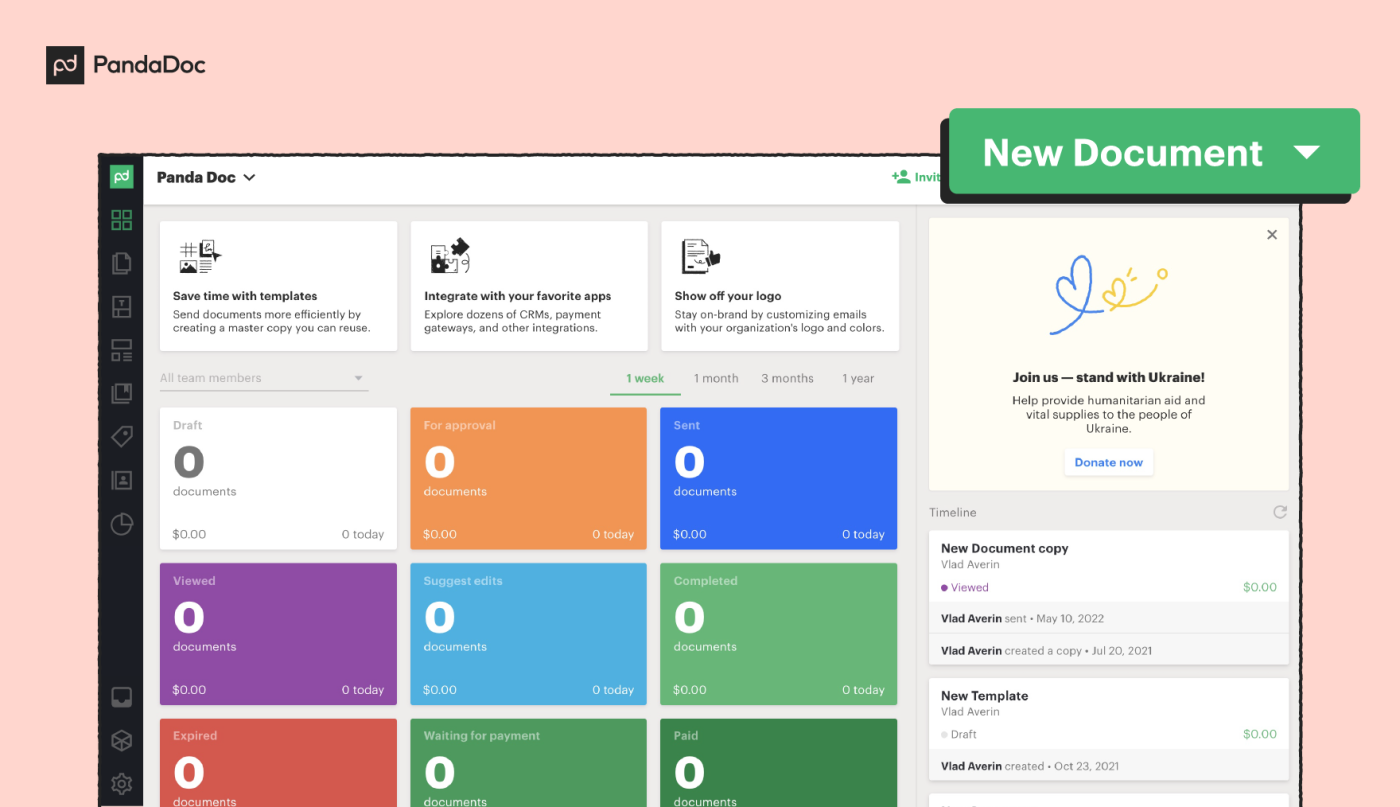 3. Type Quote into the top-right search bar and choose the best template from the results.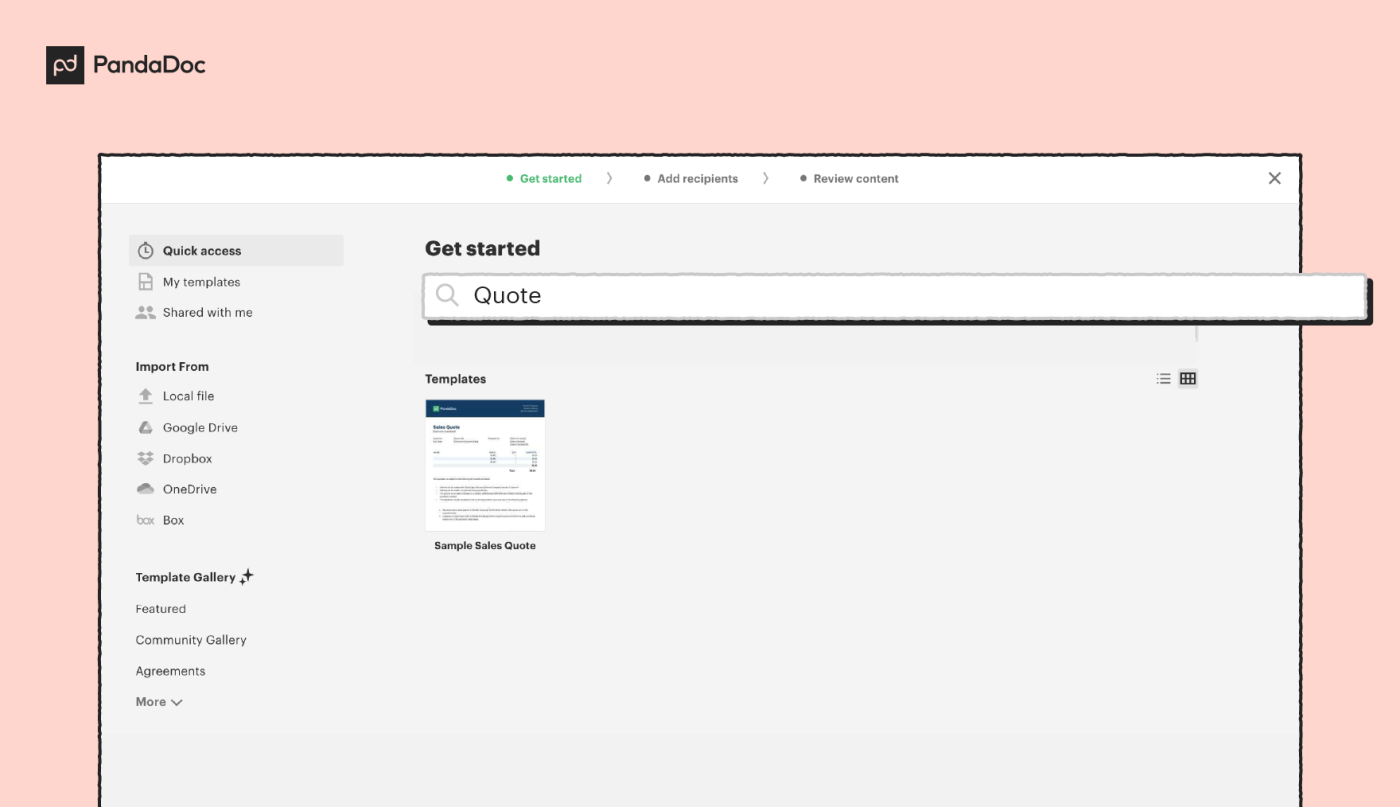 If you already have a template, you can upload it by clicking the Upload tab.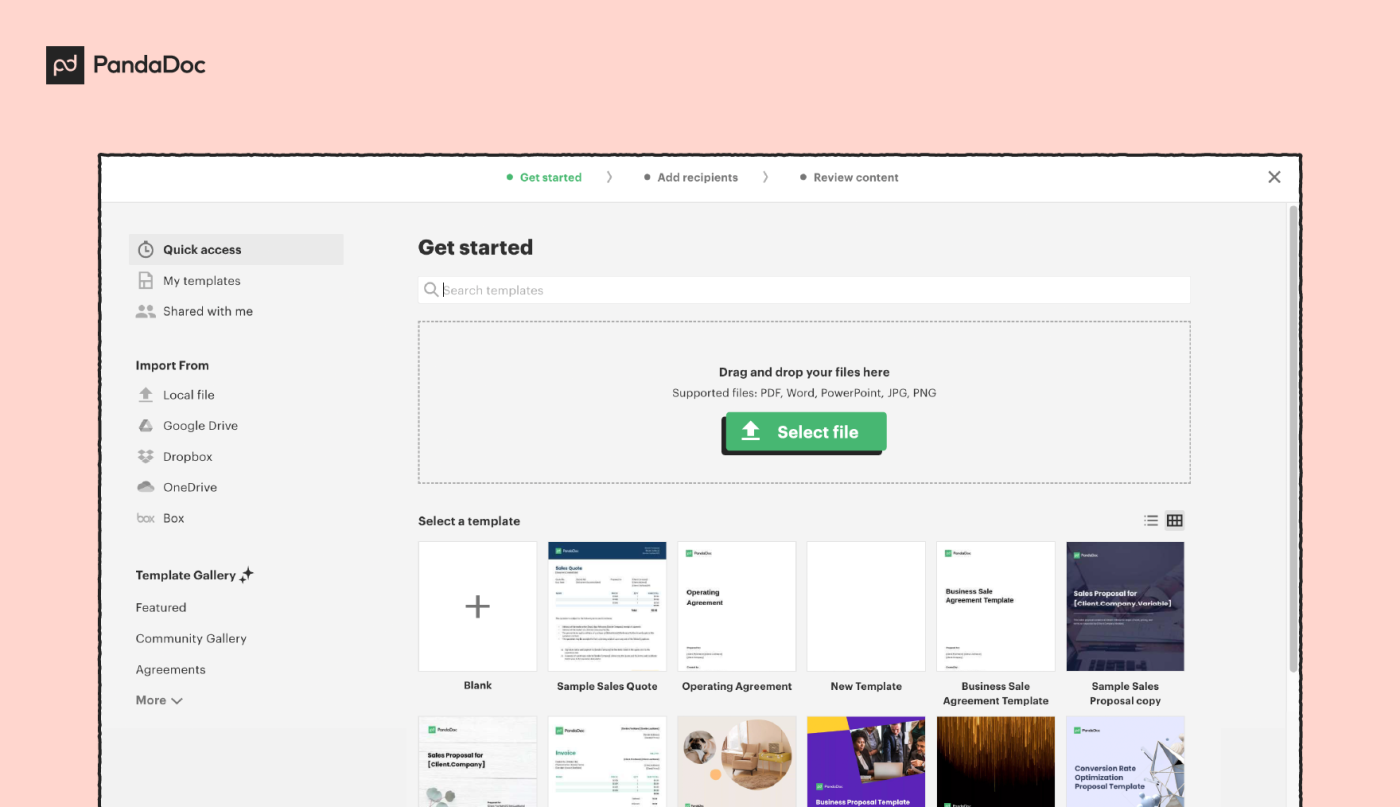 4. Follow the on-screen prompts and click Start Editing.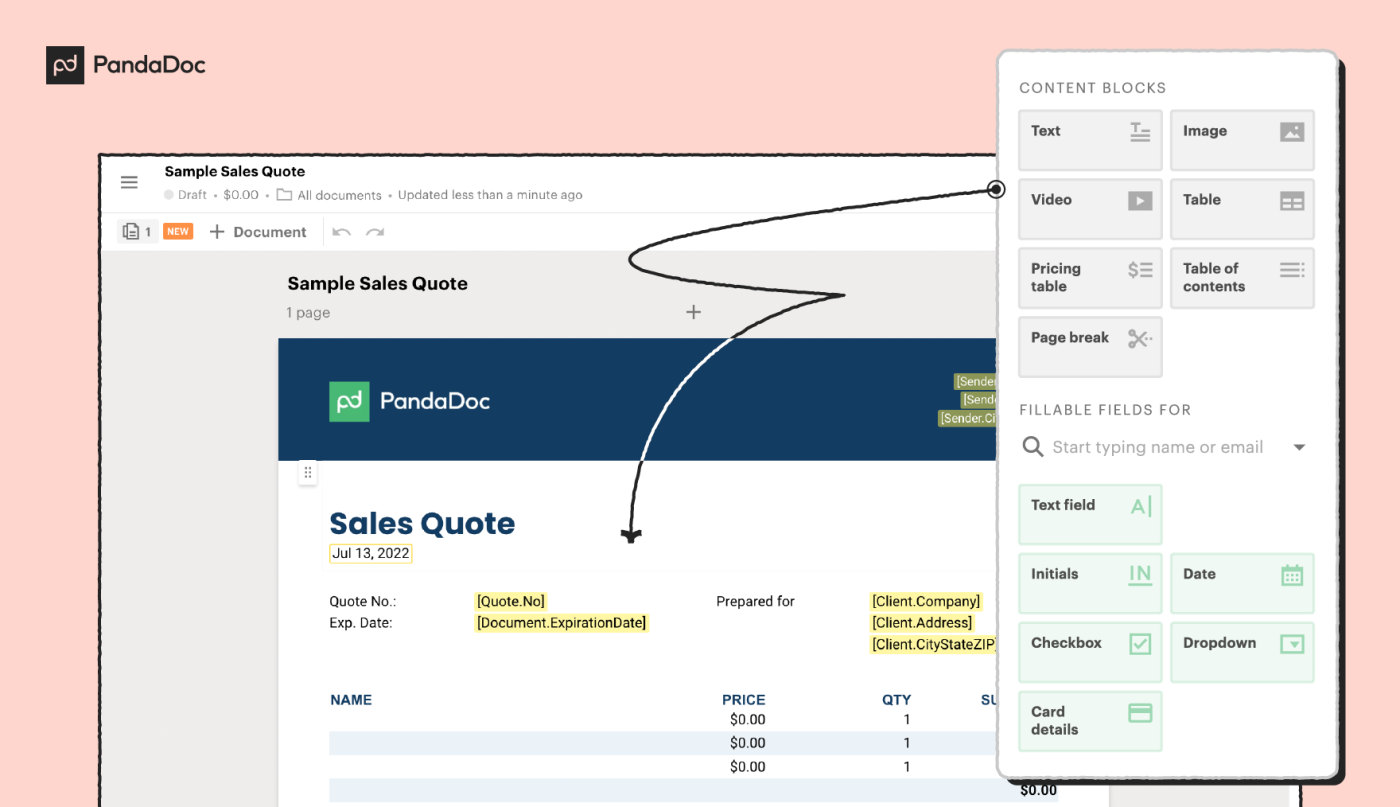 5. Input all the appropriate information, along with any rich media, electronic signature fields, and payment buttons, and click Send.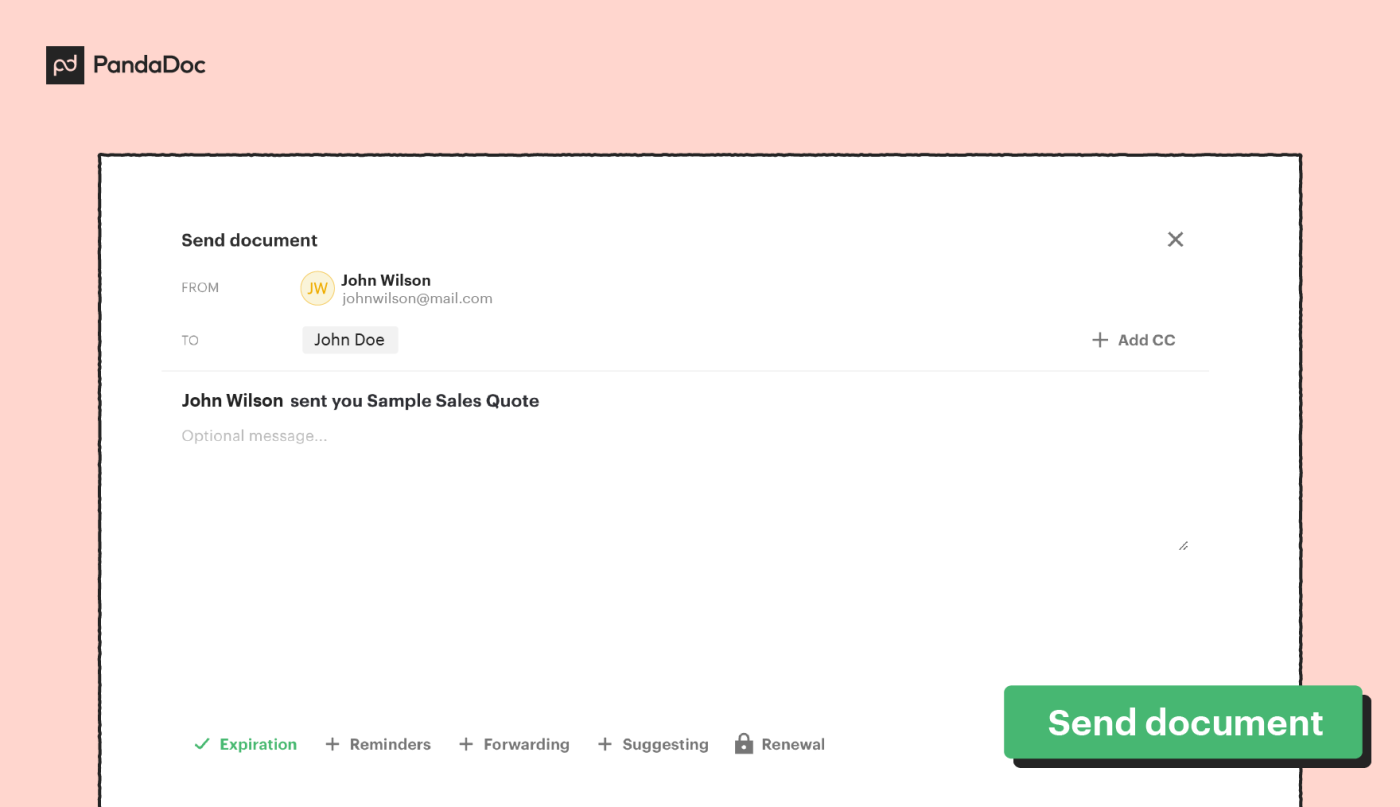 PandaDoc also provides professionally written quotation templates and integrations with several accounting software providers.
Conclusion
Most, if not all, organizations have to work with quotes. Yet many also waste large amounts of time and money by relying on outdated business processes.
Quoting software solutions overcome this problem by providing a suite of tools — including quote templates and CRM and invoicing software integrations — that enable businesses to streamline their workflows, boost conversions, and save hours of employee time every week.