Signatures have drastically changed since John Hancock boldly signed the Declaration of Independence in 1776. We went from literal ink deals with feathers and ink to overnight faxing and waiting.
Now, centuries later, thanks in part to the ESIGN Act (2000), we have electronic signatures and digital documents. The Act not only provides guidelines that standardize electronic signatures across the United States, but it gives eSignatures the same legal weight as wet ink signatures.
With digital documents and eSign becoming widespread across mom-and-pop shops and remote-first businesses alike, it's no surprise that you're in the market for an eSign solution to help accelerate your business.
Yes, you could theoretically send a PDF or Word file and have a client or prospect "digitally" sign a document, but that will not give you the same experience as an eSign tool.
Electronic signatures give you the flexibility to send and sign documents from anywhere at any time.
They also empower you to streamline every aspect of your business operations. If you're still on the fence about ditching paper and pen for electronic signatures, here are some of the benefits.
Let's start with the obvious, going paperless is good for the environment. Seriously, the average office worker generates around two pounds of paper each day, and half of those docs are tossed within 24 hours.
Saving the planet isn't the only benefit of eSign. Digitizing your documents can help you cut down on busywork, decrease your time-to-close, and increase your overall close rate.
And that's just the tip of the iceberg.
With the right eSignature tool, you can handle everything from electronic signatures to document management all within a single tool.
As you start to evaluate different eSignature solutions, be sure to consider the features and integrations available that can help you create a stellar customer experience.
Don't get stuck with an outdated document tool that doesn't seamlessly integrate with your other tools. You need an eSign solution that not only helps you obtain and retain customers but improves and evolves with your businesses over time.
Here are some of the features that you should look for that will help you save time and money while supporting your growing business.
Security and peace of mind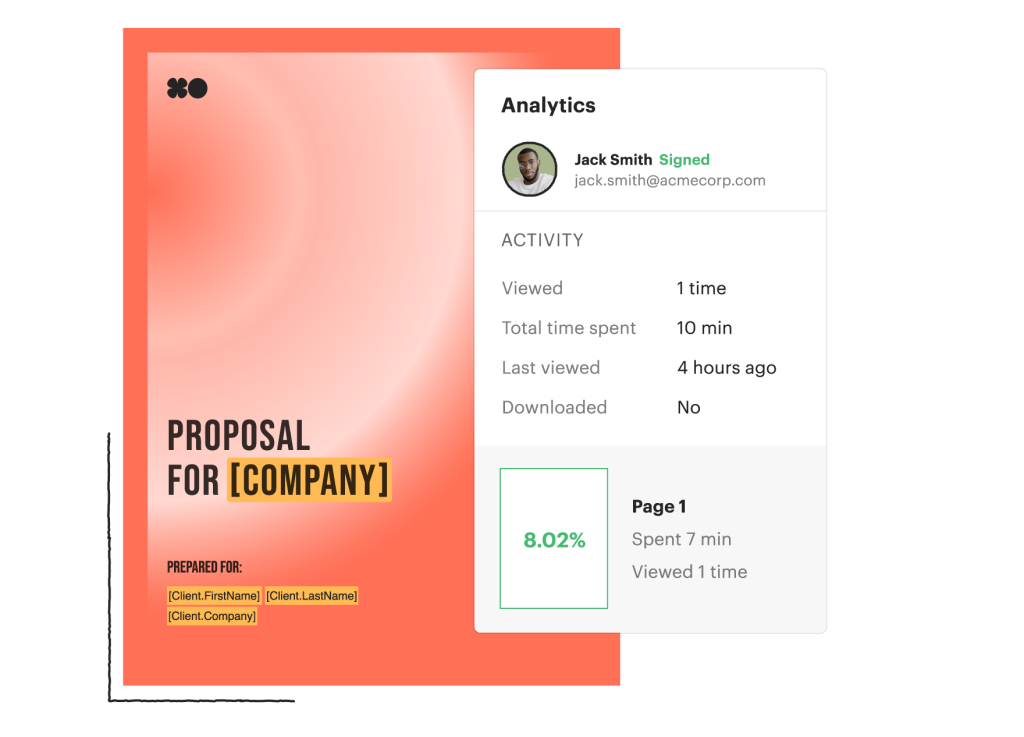 As we mentioned earlier, eSignatures are legally enforceable, just like handwritten signatures. However, unlike handwritten signatures, eSignatures come with a little extra security in the form of an audit trail.
Audit trails provide you with a document's history from creation to close. Most eSign tools offer this feature, but many only provide the basics (i.e., view, sent, and eSign activity records).
The basics are okay, but your sales team needs something more dynamic to truly understand what's going through a prospect's mind while interacting with your documents.
That's why PandaDoc offers document insights.
With our real-time insights, you'll never have to sit aimlessly again wondering if and when you will receive a signed agreement.
If your prospect calls with concerns about a contract, you can easily pull up the document and see when and how much time they spent on each page of a document.
If being tethered to your desk isn't your thing, you can set up mobile notifications and forget it.
We'll send you mobile notifications so that you know exactly when to follow up. In addition to document activity notifications, we'll alert you when a contract is up for renewal.
User-friendly digital document creation and management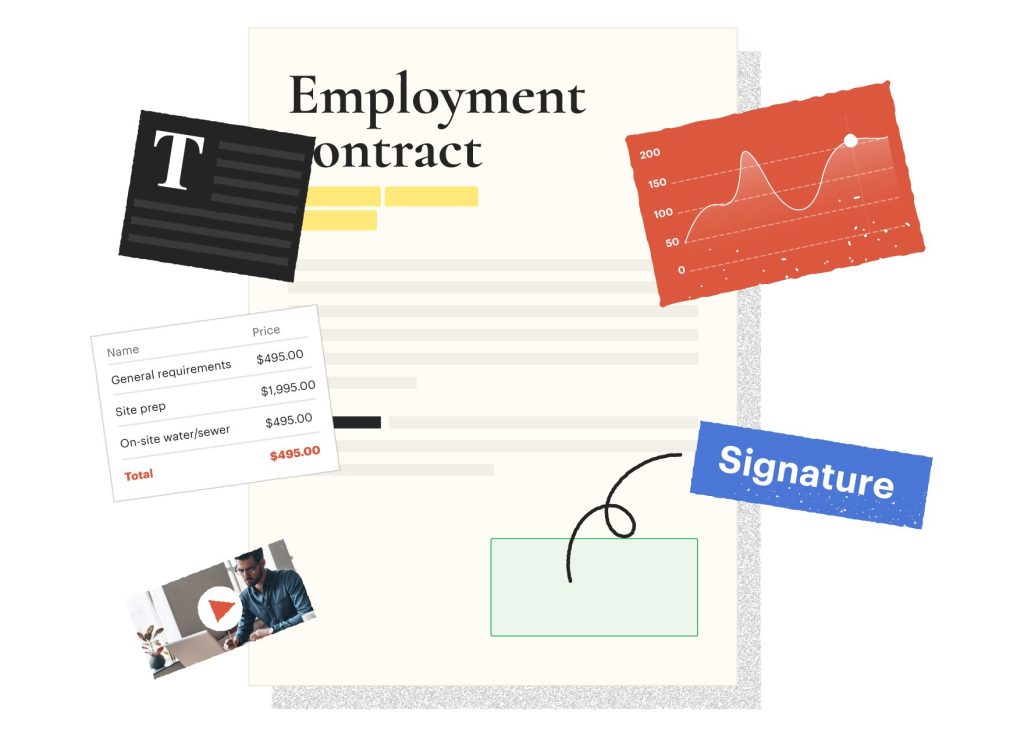 If you truly want to get ahead of the competition, you need to invest in an eSign tool that's equipped to help you manage documents from beginning to end.
Using an older document tool can get the job done, but not without making you work harder than necessary just to complete a transaction.
Your software solution should be just that, a solution. It should not come with its own set of problems and headaches.
When it's time to create a document for a prospect, you need an easy-to-use interface that gives you the confidence to create professional-looking documents in just a few minutes.
We're not talking about boring black and white documents (even though that's our aesthetic ?). Anyone can make a lifeless document with the help of a word processor.
When we say documents, we mean media-rich dynamic documents with smart pricing tables and custom branding.
PandaDoc's drag and drop document editor can help you cut through the competition to impress your recipients with beautiful, custom-designed documents.
Our users have been able to cut their document creation time in half with the help of our intuitive editor and customizable template gallery with over 450 options.
Never again will you have to spend hours creating documents. With our all-in-one solution, you can get documents out the door in a matter of minutes.
APIs and integrations to automate routine tasks and processes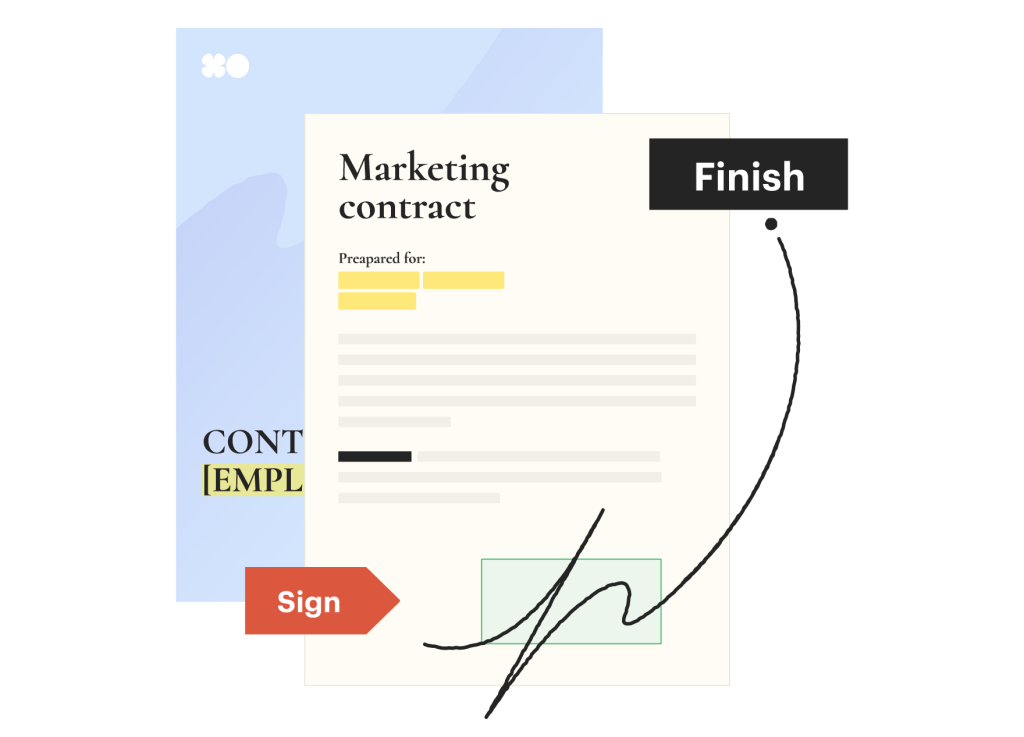 There's nothing more frustrating than investing in a new tech tool only to learn that it's not compatible with your existing tech stack. We take that back. Manual data entry is much worse.
APIs and integrations help eliminate the time-consuming process of switching between different applications and copying and pasting data into documents.
Our software can help you get more from the tools you already know and love.
Using PandaDoc's native CRM integrations and simple connectors, you can simplify your document workflow and get more done without leaving the applications you're already using.
One of the integrations that our customers can't stop raving about is our Salesforce (Classic & Lightning) integration.
With this powerful integration, your team can create a single source of truth for everything sales. Here's what you can do with our Salesforce + PandaDoc integration:
Create, track, and eSign documents within the native platform.
Customize the integration to automatically update your opportunity status once a PandaDoc document stage has changed.
Auto-populate documents with accurate customer, product, pricing, and opportunity information.
Hands down, the best part of our partnership with Salesforce is that all products from your opportunity can be mapped into specific pricing tables and sections.
With product mapping, you can customize your pricing tables and easily create complex documents in just a few clicks.
This is just one of our integrations. PandaDoc integrates with over 25 tools, including PayPal, Google Drive, Zapier, and HubSpot.
Each of these integrations will allow your team to spend less time building and customizing documents and more time focusing on what matters. Be that sales, networking, or to just get home at a decent hour.
With a robust eSignature tool like PandaDoc, you will be able to seamlessly collaborate with teammates, skyrocket your productivity, and get docs signed faster than ever before.
Want to see how PandaDoc stacks up against the competition? Check out this side-by-side comparison of PandaDoc and DocuSign.