How to insert a signature in a Word document
Due to Microsoft Word's popularity, it comes as no surprise that many businesses use it as an all-around solution to write proposals, quotes, contracts, and other sales docs.
They want to quickly and easily add their signatures in Word itself, without the hassle of printing, hand-signing, or scanning.
The good news is that Microsoft came through, and adding a signature to a Word document is indeed doable.
The better news is that there are also many features in Word that make your life easier — like the option to automatically include more text beneath your signature (for example, your printed name and address).
In this article we will guide you:
How to add a digital signature in Word
How to add an electronic signature to Word documents
How to add a signature line to a Word document
and more insights on how to automate your document process.
How to add a digital signature in Word
Adding a digital signature in Word is quite simple. To do so, you just need to follow these six steps:
1. Move your cursor to the area you want to sign inside the Word document.
2. Select the Insert tab.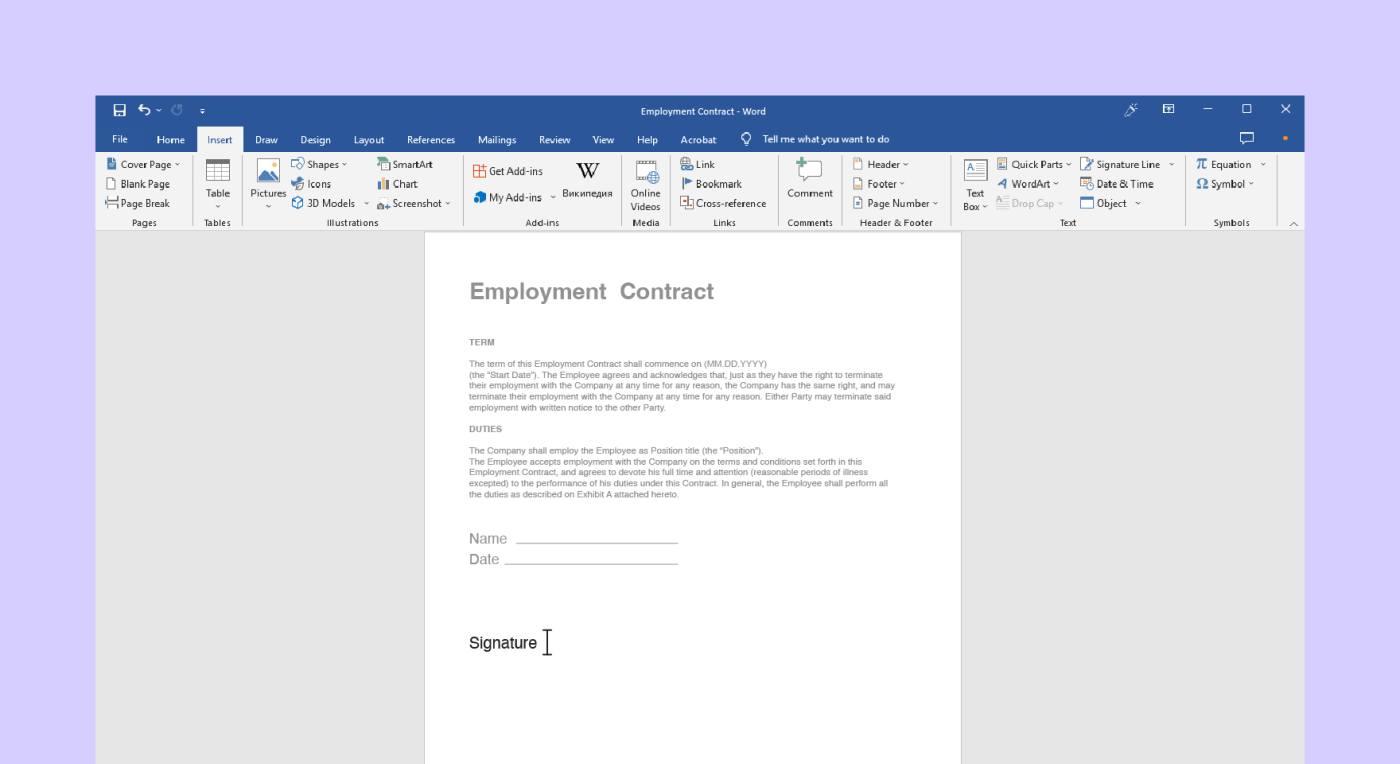 3. Select the Text group and open the Signature Line list.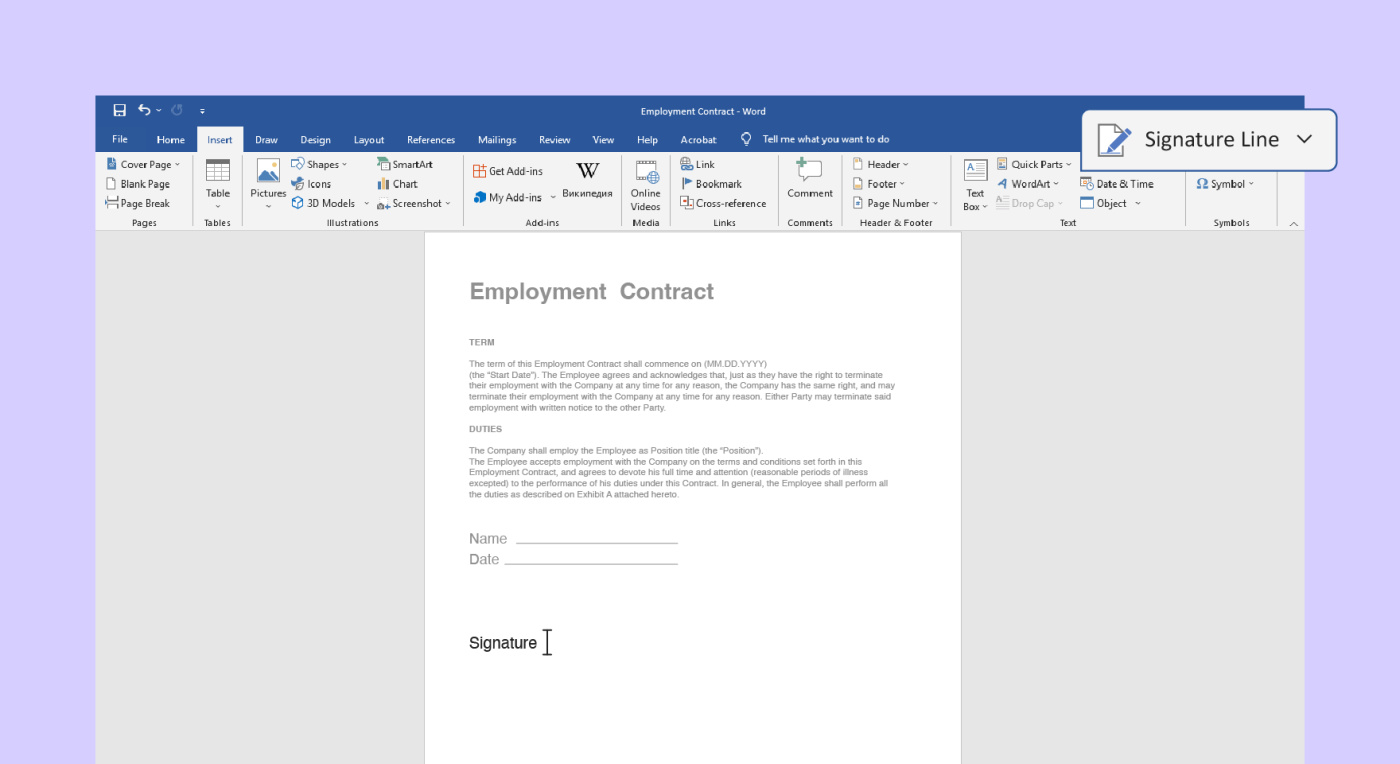 4. Click Microsoft Office Signature Line and the Signature Setup dialogue box should appear.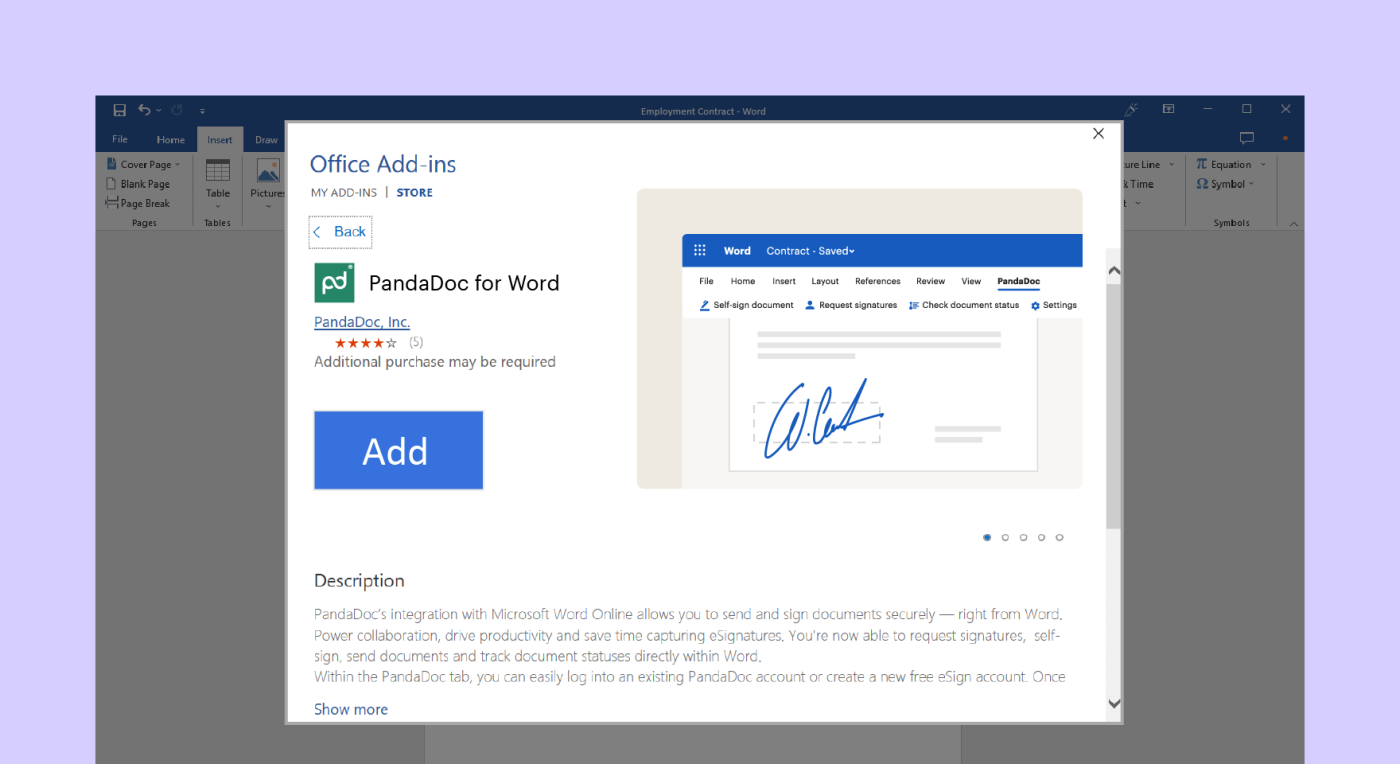 5. Input the appropriate data — signer's name, title, email address, and any further instructions — and tick the boxes if required (if you are signing these will be your details). Click OK.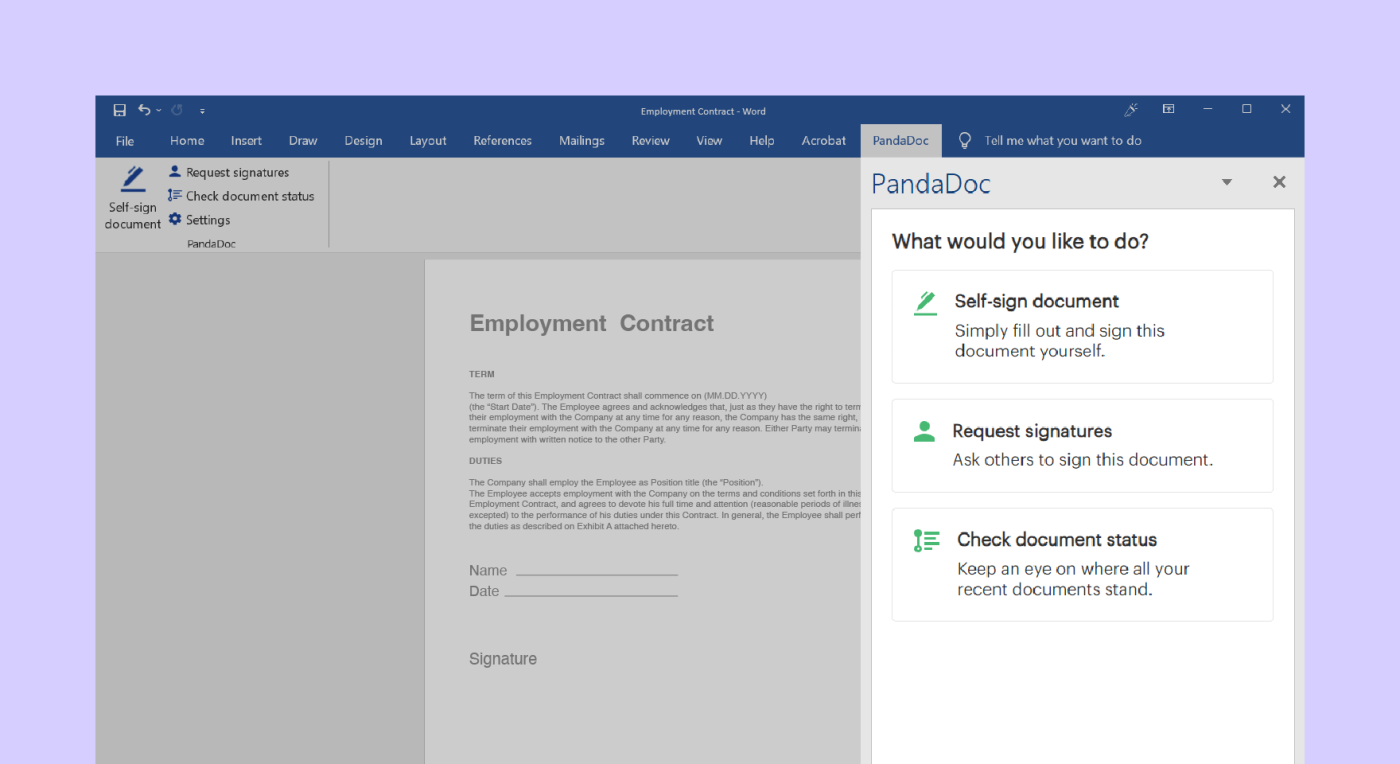 6. Right-click the signature generator field and type your name or upload an image of your signature.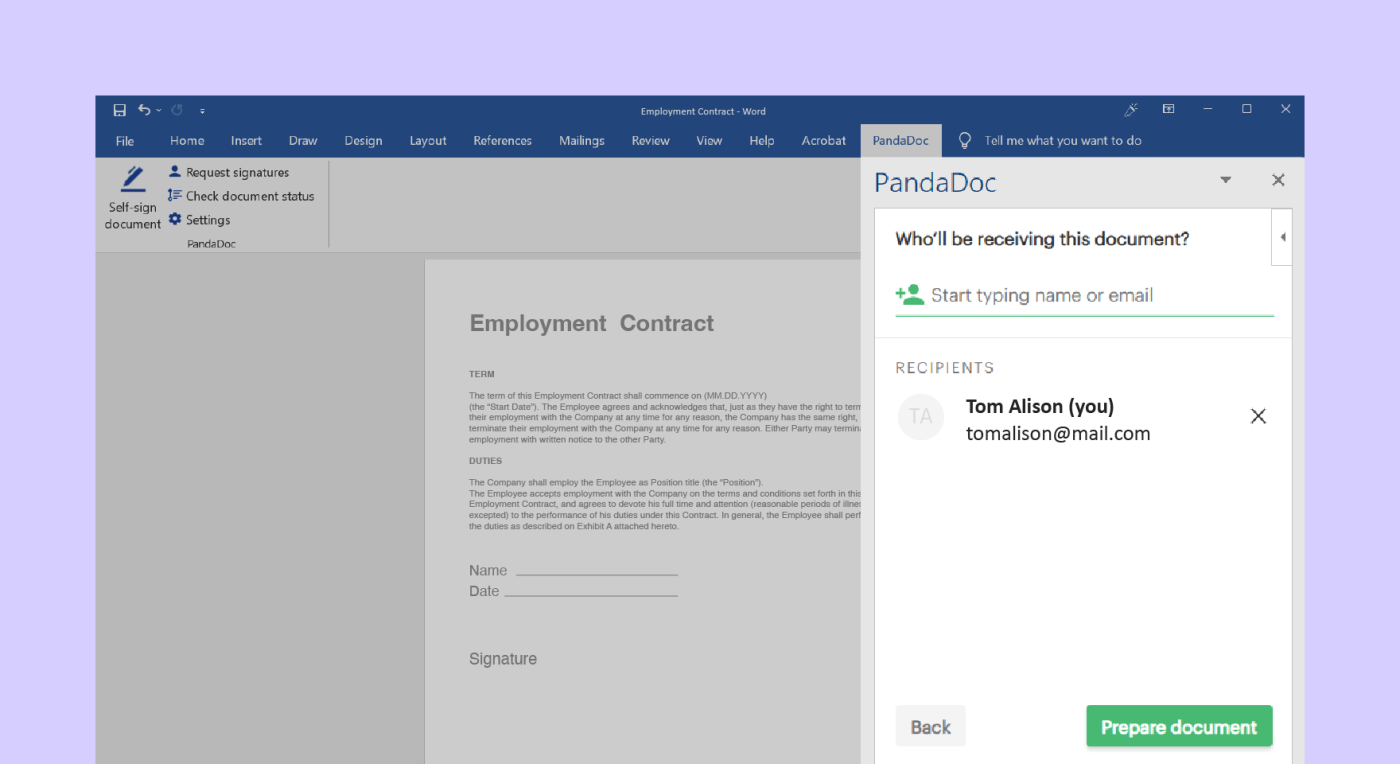 Make sure though, that in order to use this, you need to first obtain a digital certificate and create a digital signature, since an electronic signature and a digital one aren't the same thing.
Digital signatures are highly-secure, encrypted digital marks that require special software and a digital certificate from both the sender and the recipient. You have to purchase a certificate from the issuing authority.
An electronic signature, on the other hand, is simply a virtual mark added to a document — most commonly in the form of a signature image or hand-typed text.
Depending on the software with which the document is signed, electronic signatures can come with extra security features, such as certificates that include timestamps and the date of the signature.
Electronic signatures work very much like a hand-drawn signature, so in that regard they are also legally binding in many parts of the world (such as the USA, the UK, Canada, Ireland, among many other countries). Those that don't accept them include North Korea, Nepal, Afghanistan, Fiji, etc.
Upload your Word document and sign with PandaDoc
You'll be happy to know that we have a special place in our hearts for Microsoft Word at PandaDoc. Yes, really! You can now upload and sign Word documents with PandaDoc:
We make security our top priority, and PandaDoc is fully HIPAA, ESIGN, and UETA compliant.
With us, you always have insights and a bird's eye view of what goes on where.
Businesses saved 12 hours/week, saw a 28% increase in closing rates, and a 65% time decrease in document creation — all with the help of PandaDoc's eSignature tool.
How to add an electronic signature to Word documents
Most people still want to add electronic signatures (as opposed to digital signatures) to their documents because of its security and accessibility. Once you're set up, it only takes a few clicks.
Follow the steps below to create a signature image and add an electronic signature to your Microsoft Word documents:
1. Handwrite your signature in the middle of a blank piece of white paper.
2. Scan the signature and save it on your computer in one of the following file formats: .bmp, .gif, .png, .jpg.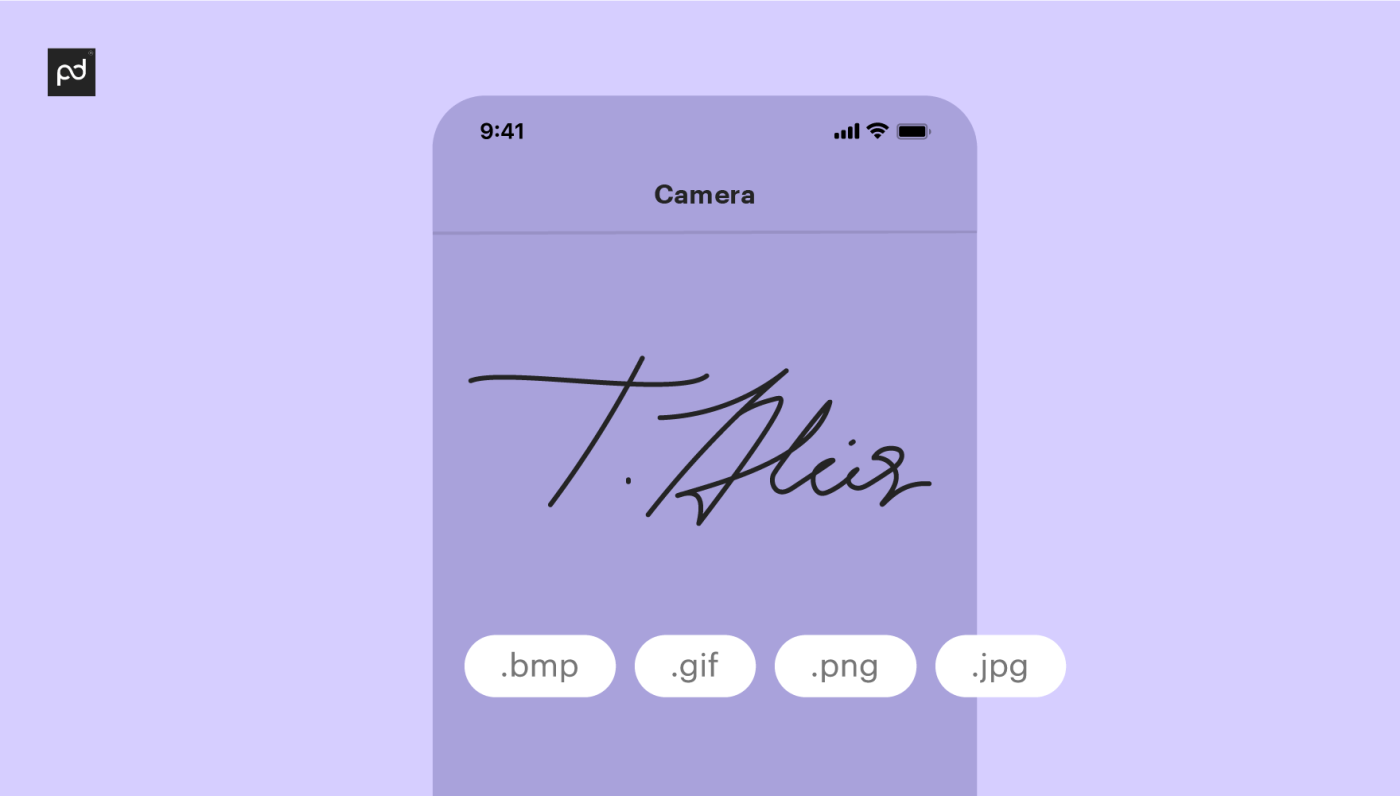 3. Open the image file in Microsoft Word by clicking the Insert tab and selecting Pictures.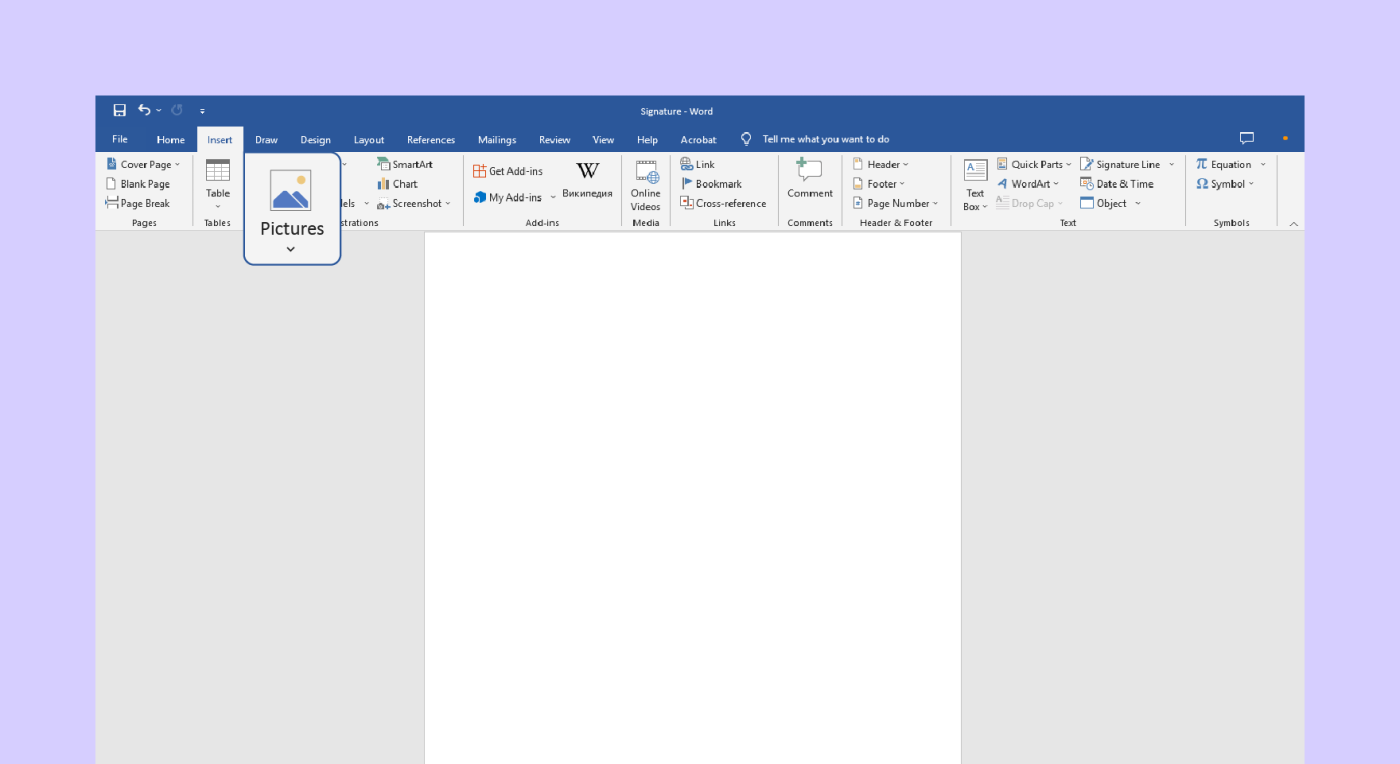 4. Click on the image and edit it using the Picture Tools Format tab.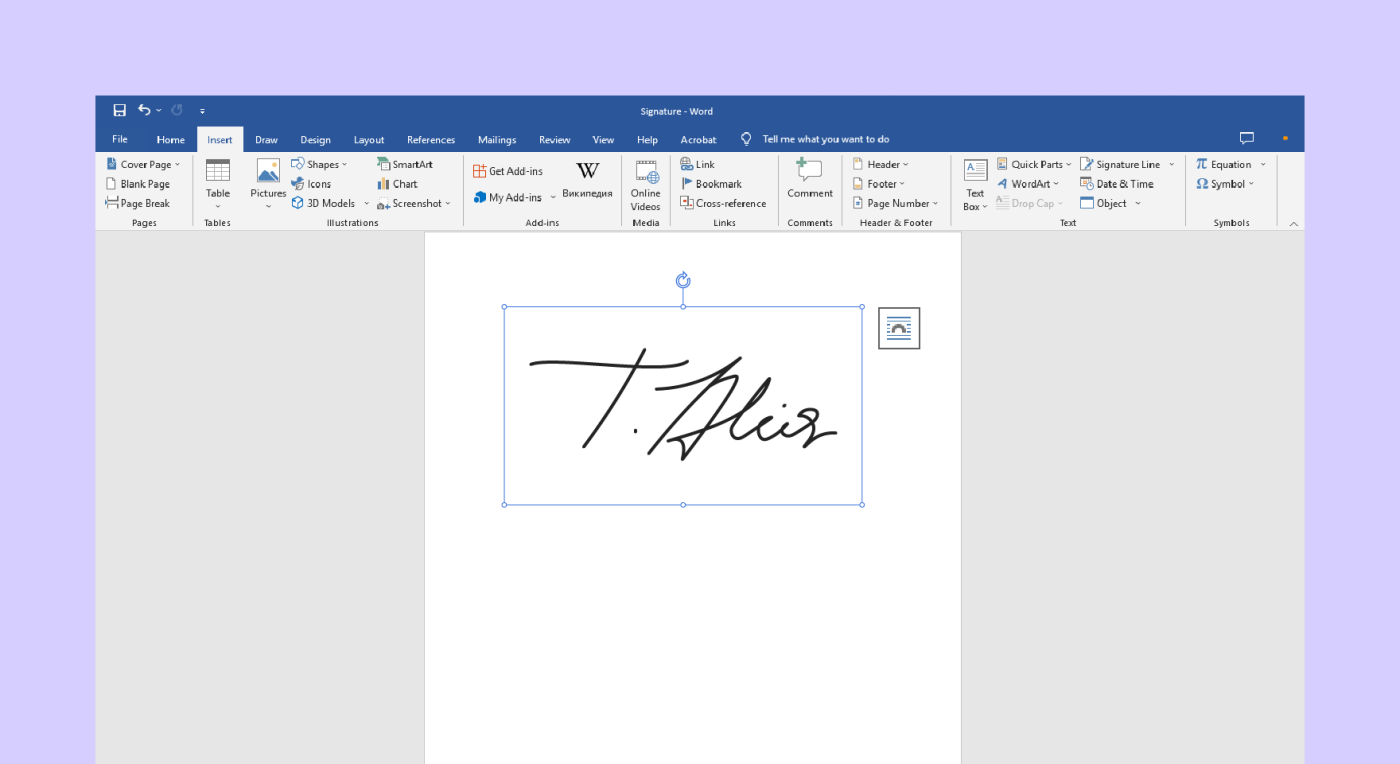 5. When you have finished editing the image, right-click the image and select Save as Picture.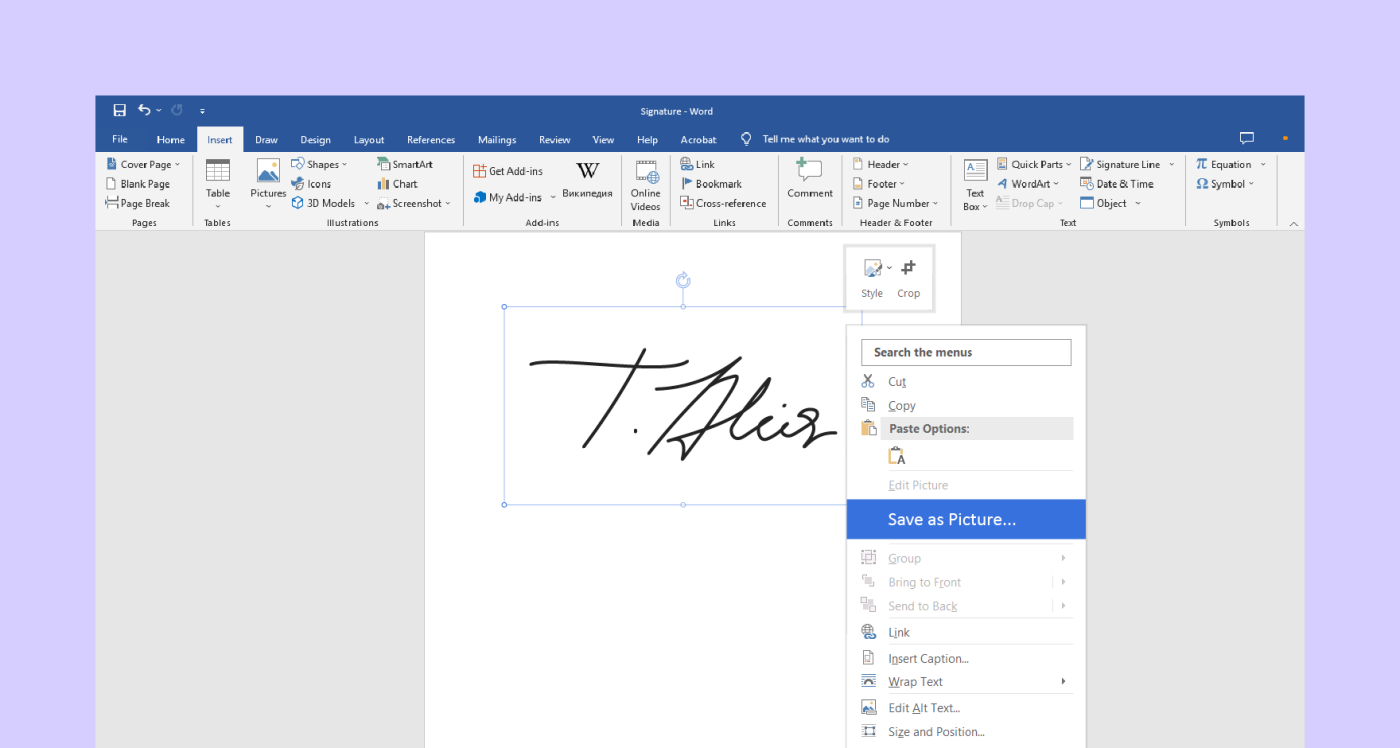 6. Whenever you want to add an electronic signature, select Insert and Pictures and locate the edited image file, and then drag-and-drop it to the appropriate place in the document.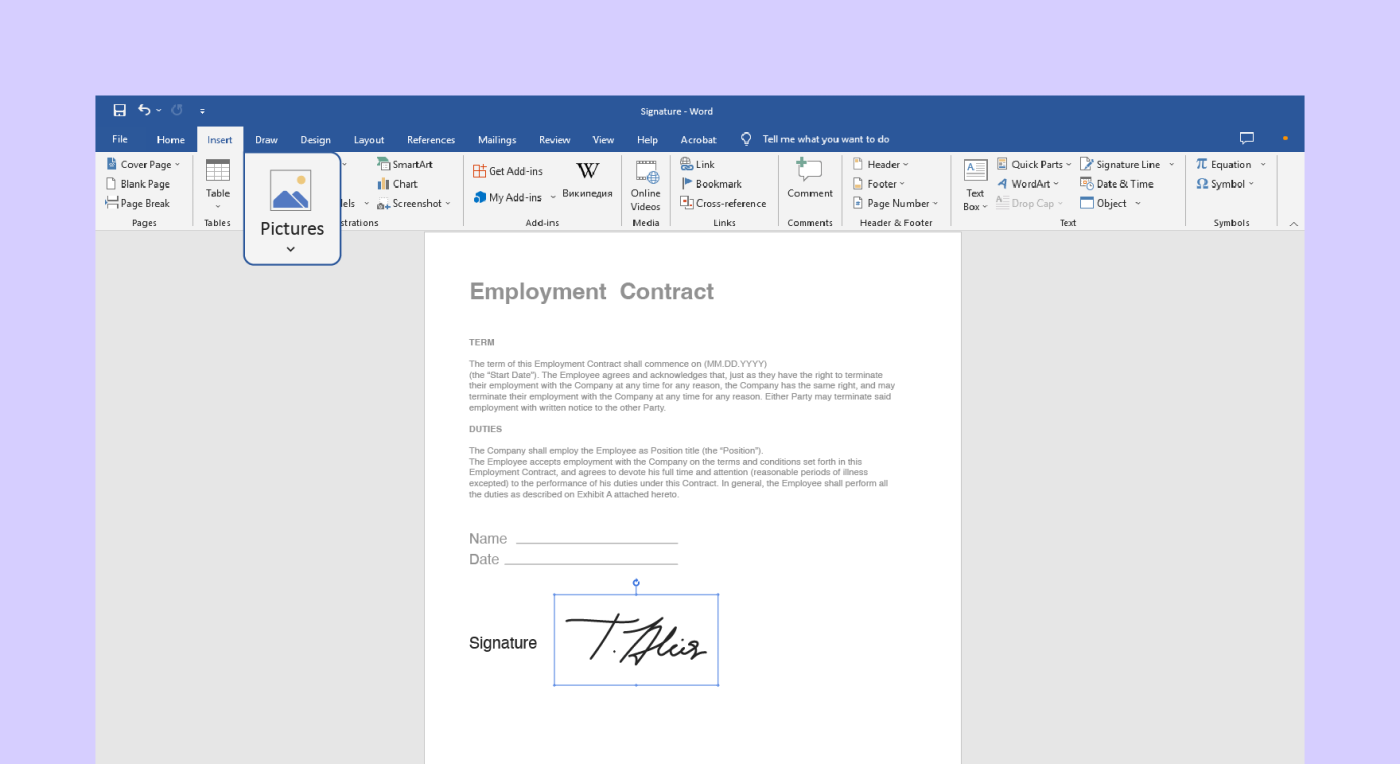 How to add a signature line to a Word document
There's a very real possibility that your prospects might return a document empty-handed (without a signature) if they don't see a signature line. In other words, it goes without saying that no signature is complete without a signature line.
To add a signature line to a document, follow these steps:
Left-click the place in the document where you want the signature line to go.
Select Signature Line from the Insert drop-down. A dialogue box should appear.
Select the required options and click OK.

For the most part, you can use the above steps to insert a signature in Word using a Mac or PC. There may be a few slight changes in functionality here and there depending on the kind of device you use.
Why shifting to a dedicated solution is a good move

While the functionality provided by Word is solid, it doesn't offer as many options as other tools, especially when you consider beating up the competition.
Third-party apps like PandaDoc and some of the other well-known softwares provide a host of features that can make your life easier when it comes to sending or receiving documents.
Compatible across devices
Microsoft Word has different signature creator functionality across different devices and device platforms (like Apple and Android).
Using an app that allows you to use the same piece of software with the same features across all your devices is a solid reason to consider third-party apps.
Adds an extra layer of security
Apps explicitly designed to sign documents have an added layer of protection, like the instant creation of a certificate whenever a document is signed, which also includes an added benefit of featuring the timestamp and the date of when the signature was completed.
Transferable to other formats
If you want to send a signed document as a PDF, as opposed to Microsoft Word, then you can download and send it in your format of choice. (Not trying to dunk on anyone here, but can Word do that?)
How to add a signature in Word with the PandaDoc Add-In
PandaDoc has integrated with Word and is available in the Microsoft Store, making eSign easier than ever before! With this integration, you are now able to securely send and sign documents directly from Word.
To use the PandaDoc integration, follow these steps:
1. Install the add-in from Microsoft Marketplace or open any document, click Insert>Add-ins, find PandaDoc, and click Install.
2. Click on any action beneath the PandaDoc tab. A panel will open to the right to either log into your account or create a new Free eSign account. Follow the instructions.
3. Once logged in, select the required action (self-sign document, request signatures, or check document status).
4. Add your signature or send this document for a signature request to other recipients.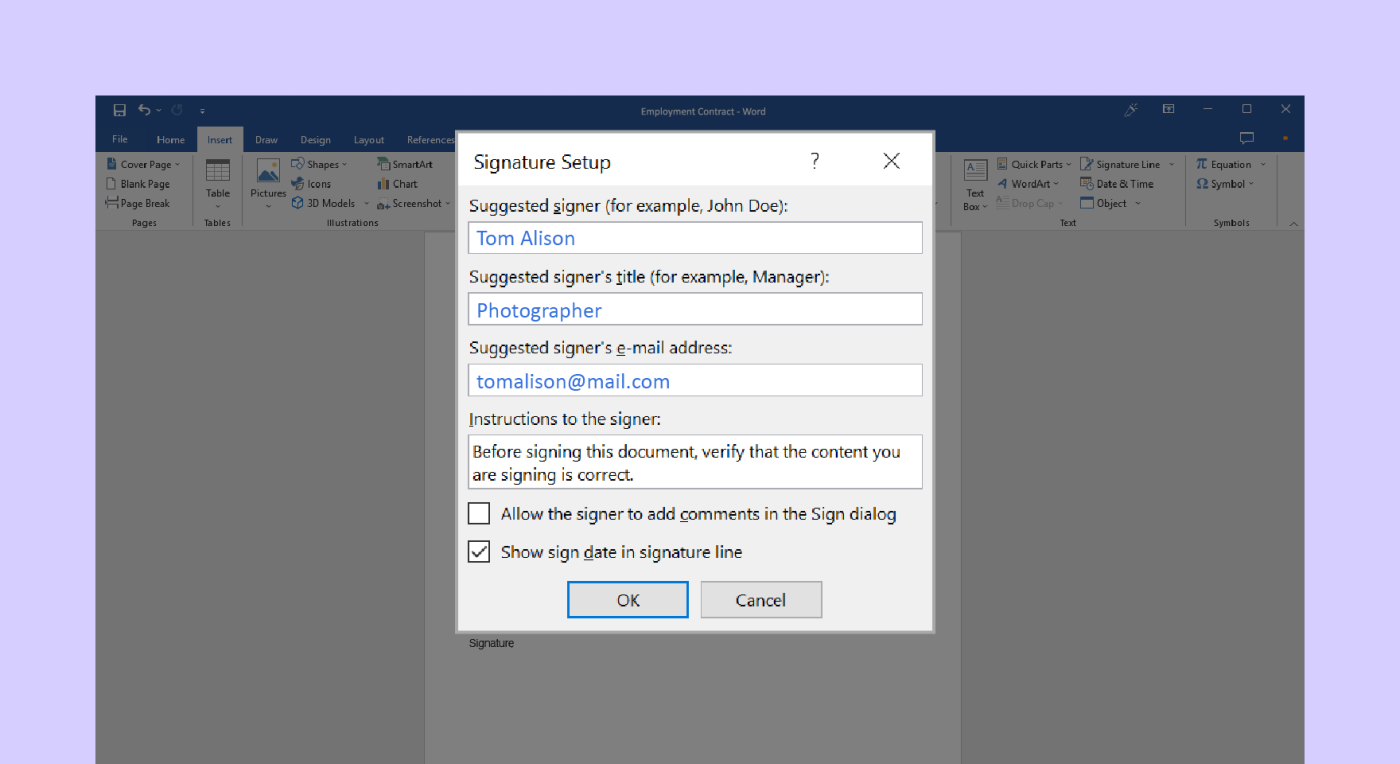 5. When the document is signed by all parties, download a legally binding document right from Word that includes a signature certificate confirming the signature's authenticity.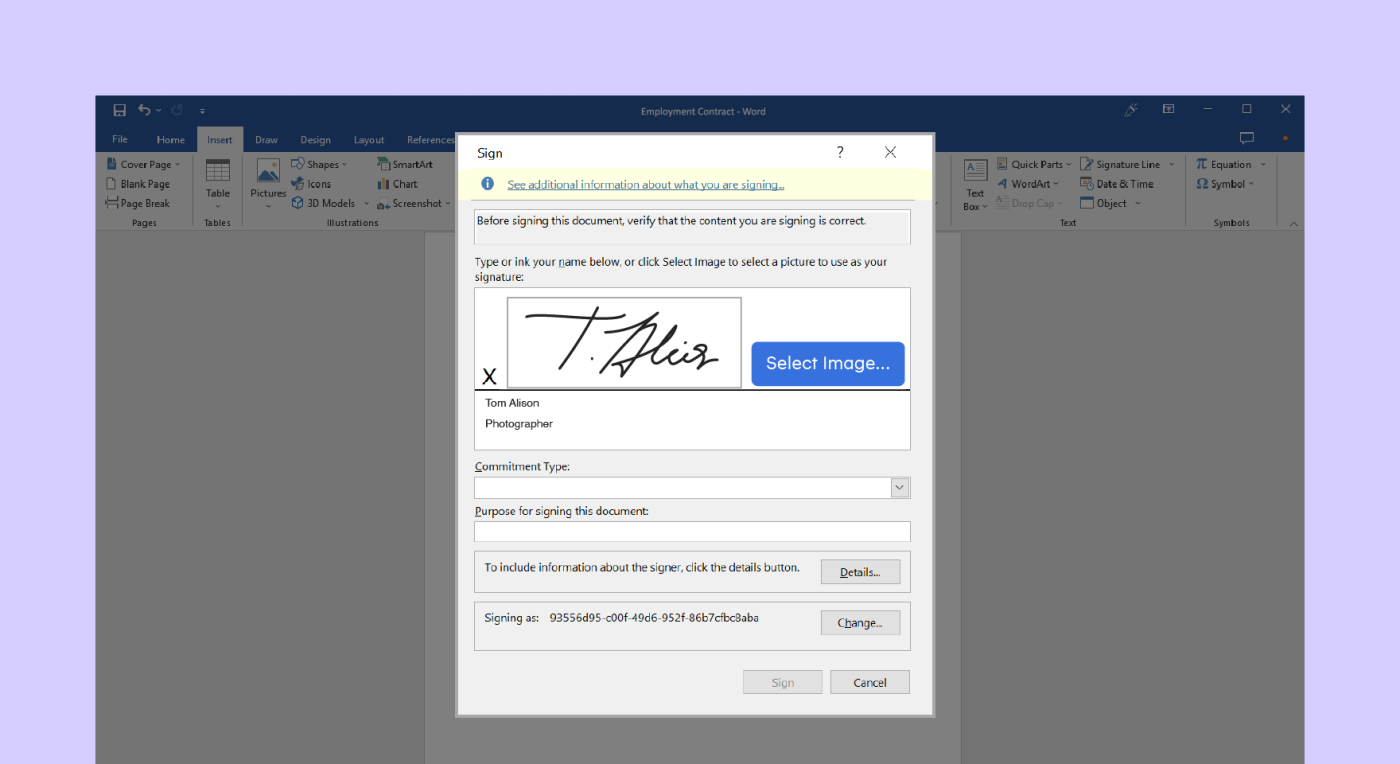 Step-by-step directions for using PandaDoc with Word Online can be found here.
How to add a signature to a Word document with the PandaDoc application
Here's how to add an electronic signature to a Microsoft Word document using PandaDoc electronic signature software:
1. Log into PandaDoc and select the "New Document" button.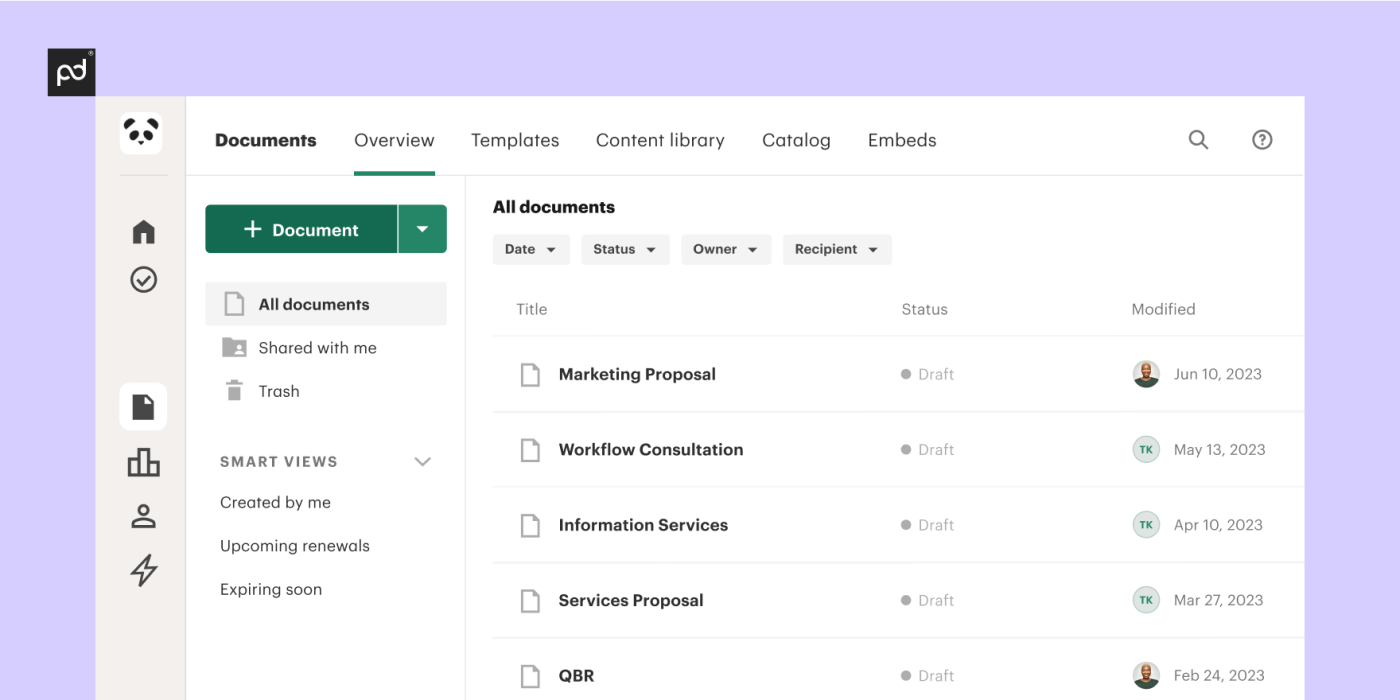 2. Click the "Upload" tab and either drag-and-drop the Word file or click "Select Files."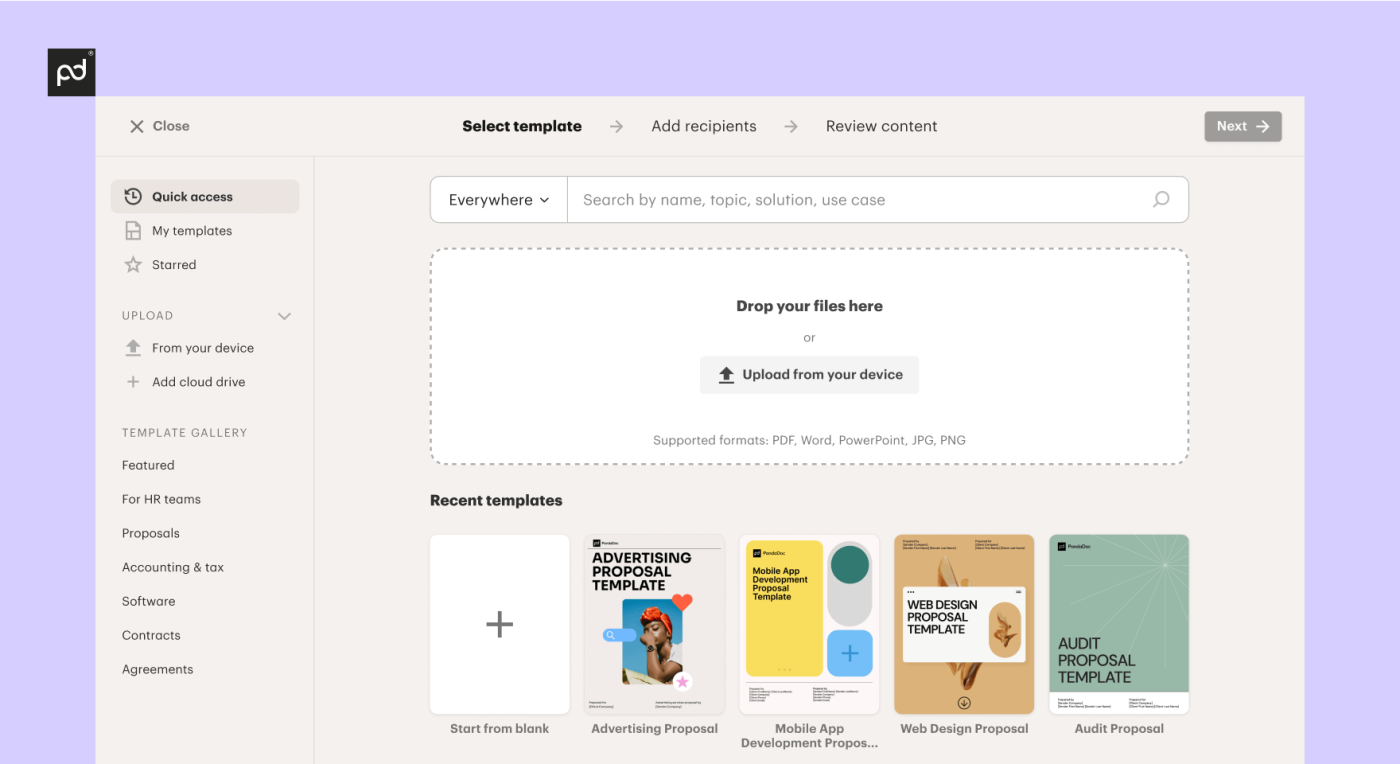 3. Select the "Display As Is" button. The document will convert into a native PandaDoc document if you select "Yes, convert" or appear as a non-editable document if you select "No, thanks."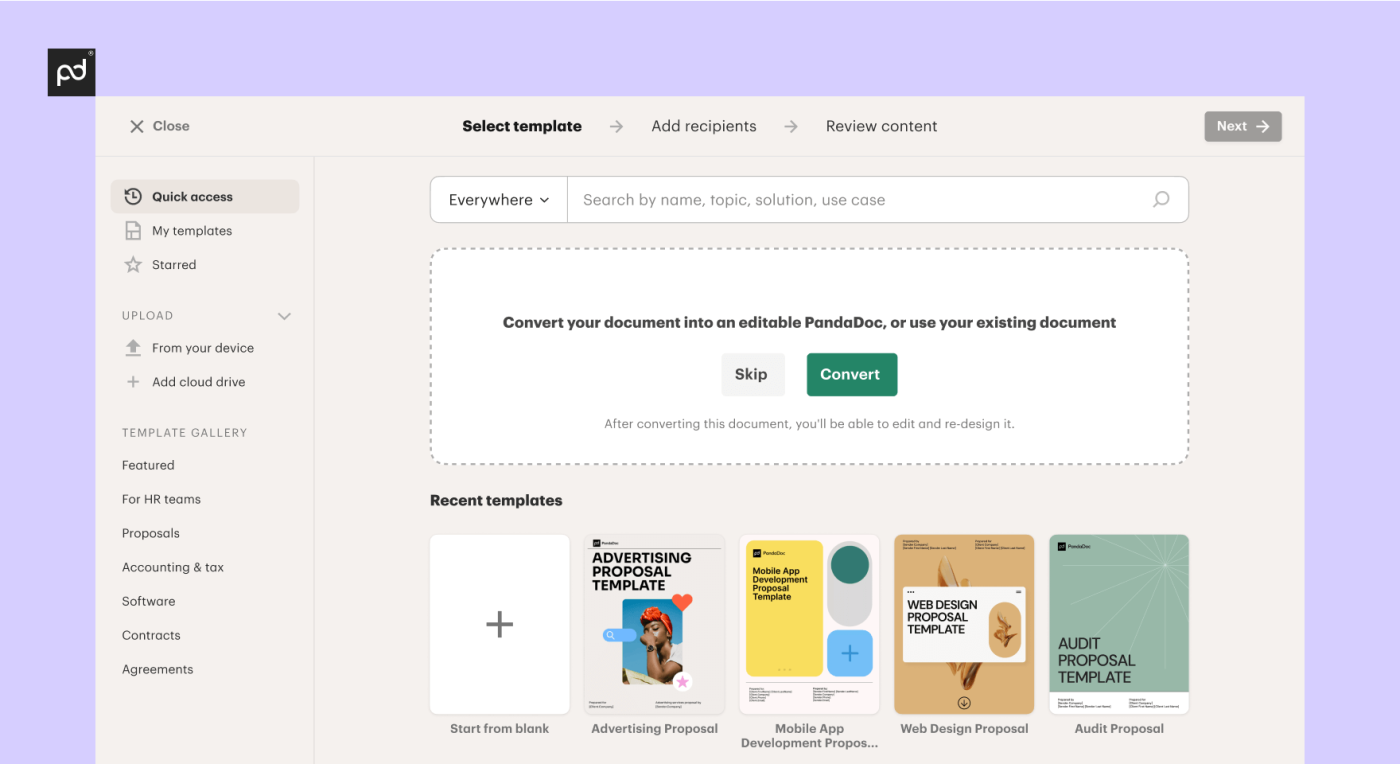 4. Click the Signature tab in the right-hand menu to drag and drop a signature field into the document.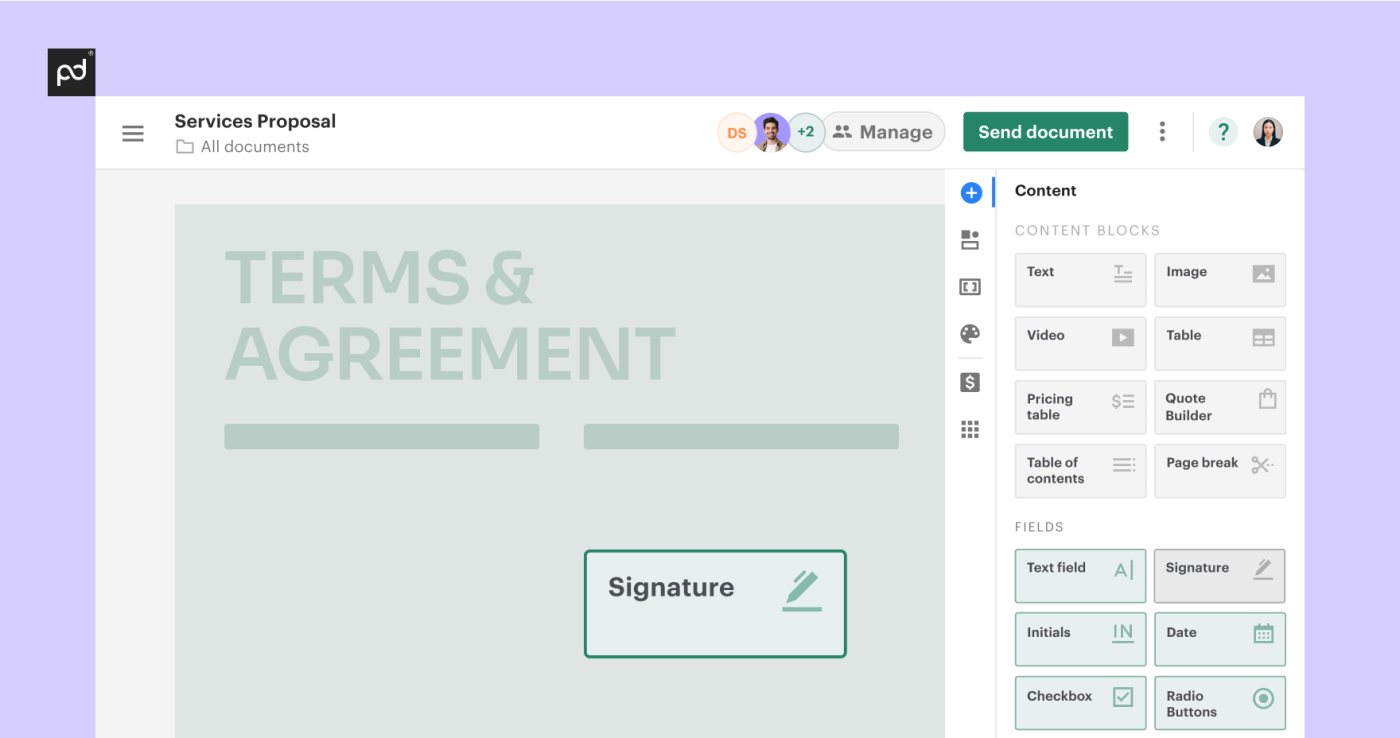 5. Select the signature box and assign yourself as a recipient or add a new contact.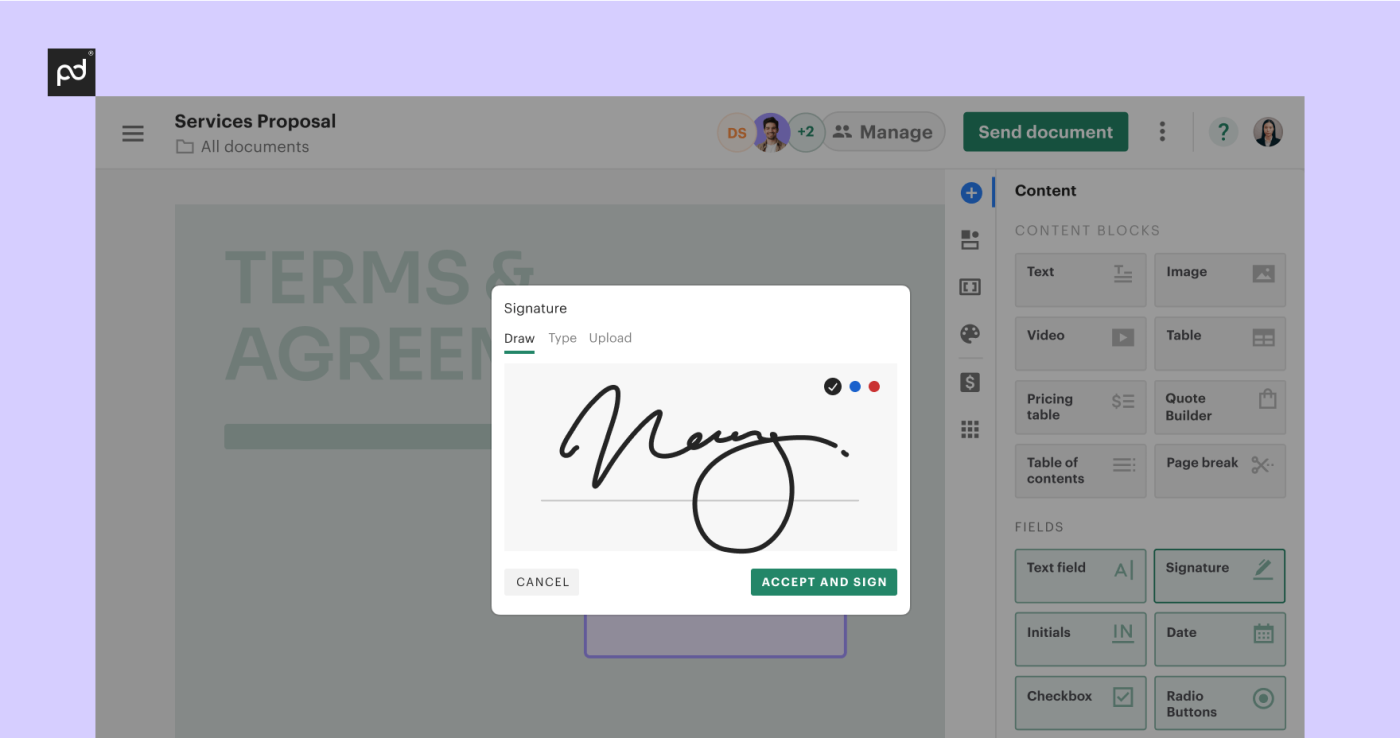 6. Make the signature by double-clicking on the box. You can upload an image, draw the signature, or enter it manually.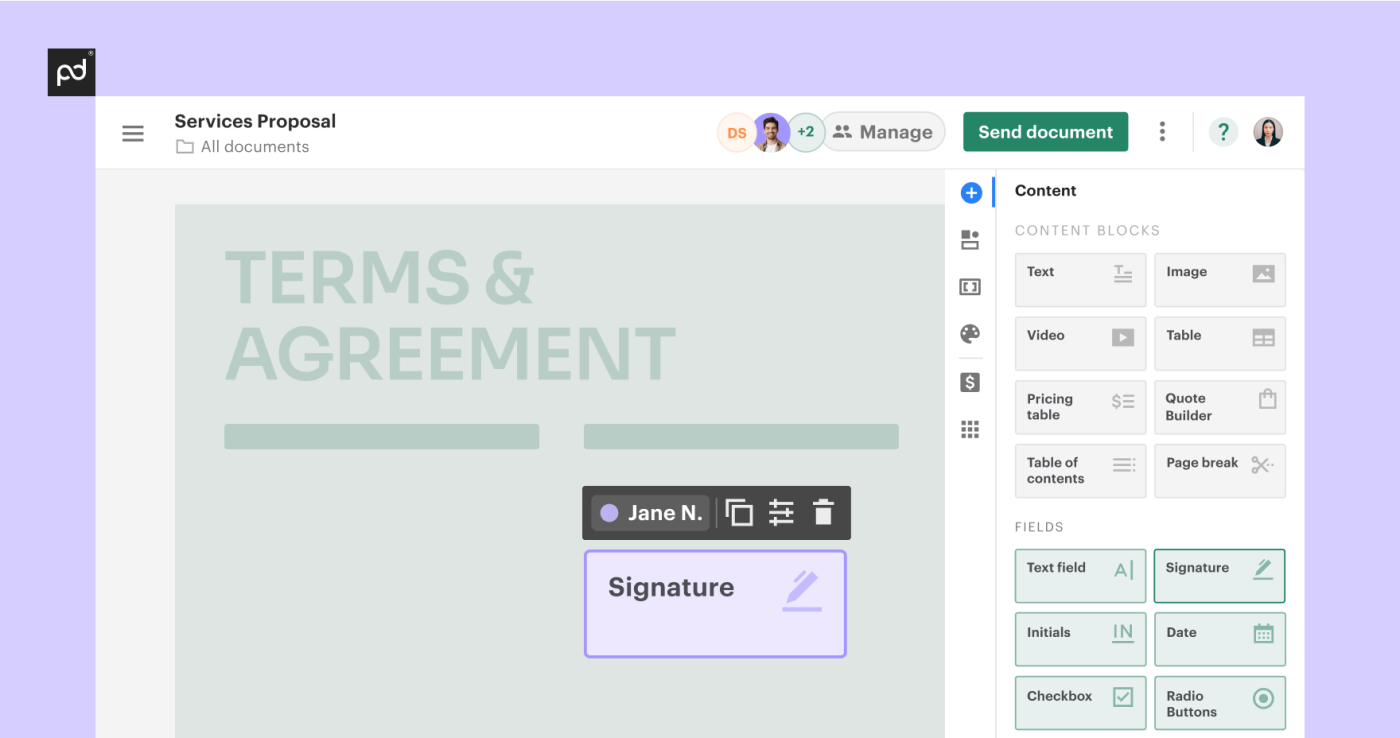 7. Finish the document and download the file in your preferred format.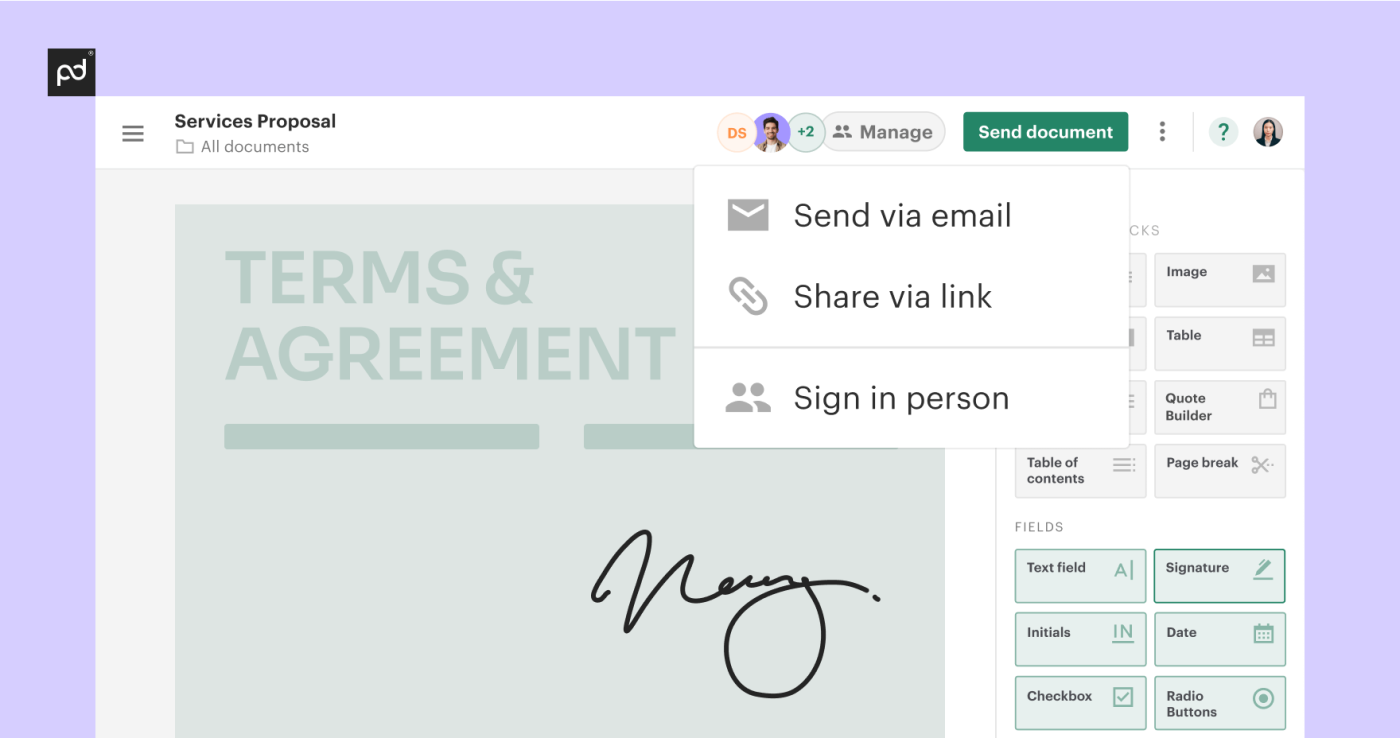 In sum
Electronic signatures have changed the way that companies and individuals do business.
The big question is whether or not the built-in tools available with Word are sufficient for your needs.
If all you want to do is add simple images to the end of documents, or provide basic digital signature functionality, then these tools will likely work for you.
But if you need a more comprehensive set of features, then a "smart" signature app may be the way to go.
Not to toot our own horn, but tools like PandaDoc allow you to track and store signatures, while also providing an added layer of security and integrating with your existing tech stack.
That's just one part of it — the insights you get will help you take your business to a new level.
Are you ready to take PandDoc for a spin?