Digital signature creator
Welcome to the paperless world of PandaDoc. Create unlimited legally-binding eSignatures online in minutes – no hardware required.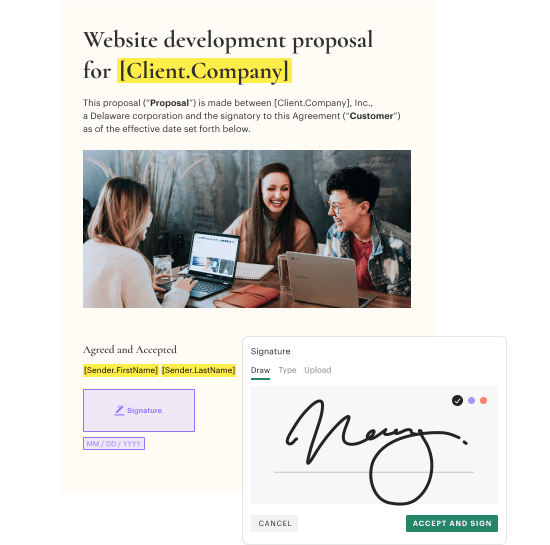 What are the benefits of the PandaDoc digital signature creator?
Why use PandaDoc digital signatures? Electronic signatures designed in PandaDoc have enhanced security and can't be replicated, unlike handwritten signatures or pen-and-ink signatures. You no longer need to print, scan, and even store documents on your PC — our software is cloud-based, so you access your content anytime in PandaDoc. Learn more benefits of electronic signatures here.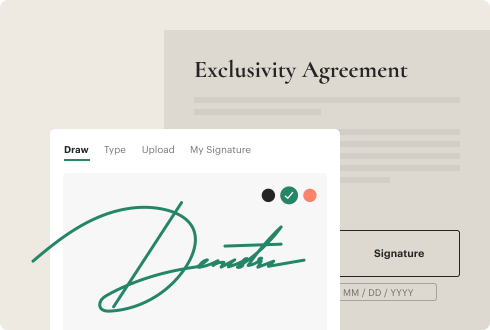 Who uses the PandaDoc online signatures?

Company leadership
Company leaders need to seamlessly sign internal and external documents, approve contracts, and invite third-parties to collaborate on the same proposals and quotes. Make your document signature legal with our signature generator.
Sales managers
Save a ton of time when creating proposals by storing frequently used documents and templates in your custom content library. You can drag and drop this content into your contracts and quotes in no time. After you hit send, you can track each interaction in real-time and receive notifications when your recipient completes your document.
Sales reps
Shorten your sales cycle by automating the signing process using our digital signature tool. Let your clients review contracts, quotes, and proposals from any device. Our robust reporting feature allows you to monitor the performance of your proposals for continual improvement.
Why should you start using the electronic signature creator?
Sign on any device
You can use either a computer or mobile device to collect eSignatures. PandaDoc digital signature tool is supported anywhere you have an internet connection, so you can sign your documents lying on the beach, climbing the mountain or even riding a horse (this one is not recommended, though) — no matter where you are or what device you use.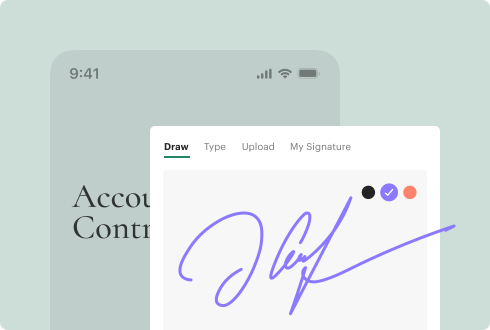 Create a signing order
Designate the order in which recipients sign by creating and setting up a signing order. PandaDoc e-signature solution supports bulk send to multiple recipients. After you place your recipients in a specific order, we will send auto-notifications to each one asking them to sign your docs in the sequence you specified.
Multiple approval workflows
Streamline your work with multiple approval workflows. Managers will love this feature as it allows all approvers to ensure documents are perfect before they are sent. Set up approval rules and roles that align with your document workflow procedures.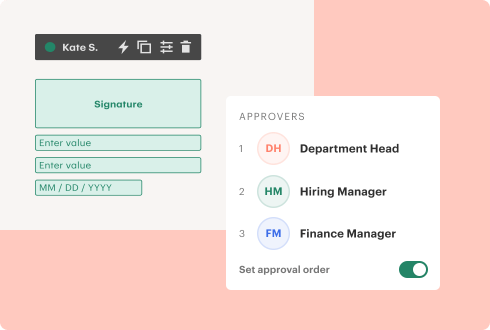 Document forwarding for signature
Allow your recipients to share documents with others by enabling signature forwarding. Use this feature everytime time documents need to be signed by the person who's not on your contact list or when they need to be reviewed by someone else at your recipient's company.