We are excited to announce the new PandaDoc Mobile app. The app has been built from scratch to address the needs of our customers, top salespeople, and traveling professionals.
You no longer have to be at a computer to access the tracking and document management tools for which PandaDoc is known. PandaDoc Mobile is complementary and will sync with your existing PandaDoc account. It will be available for both iOS and Android users.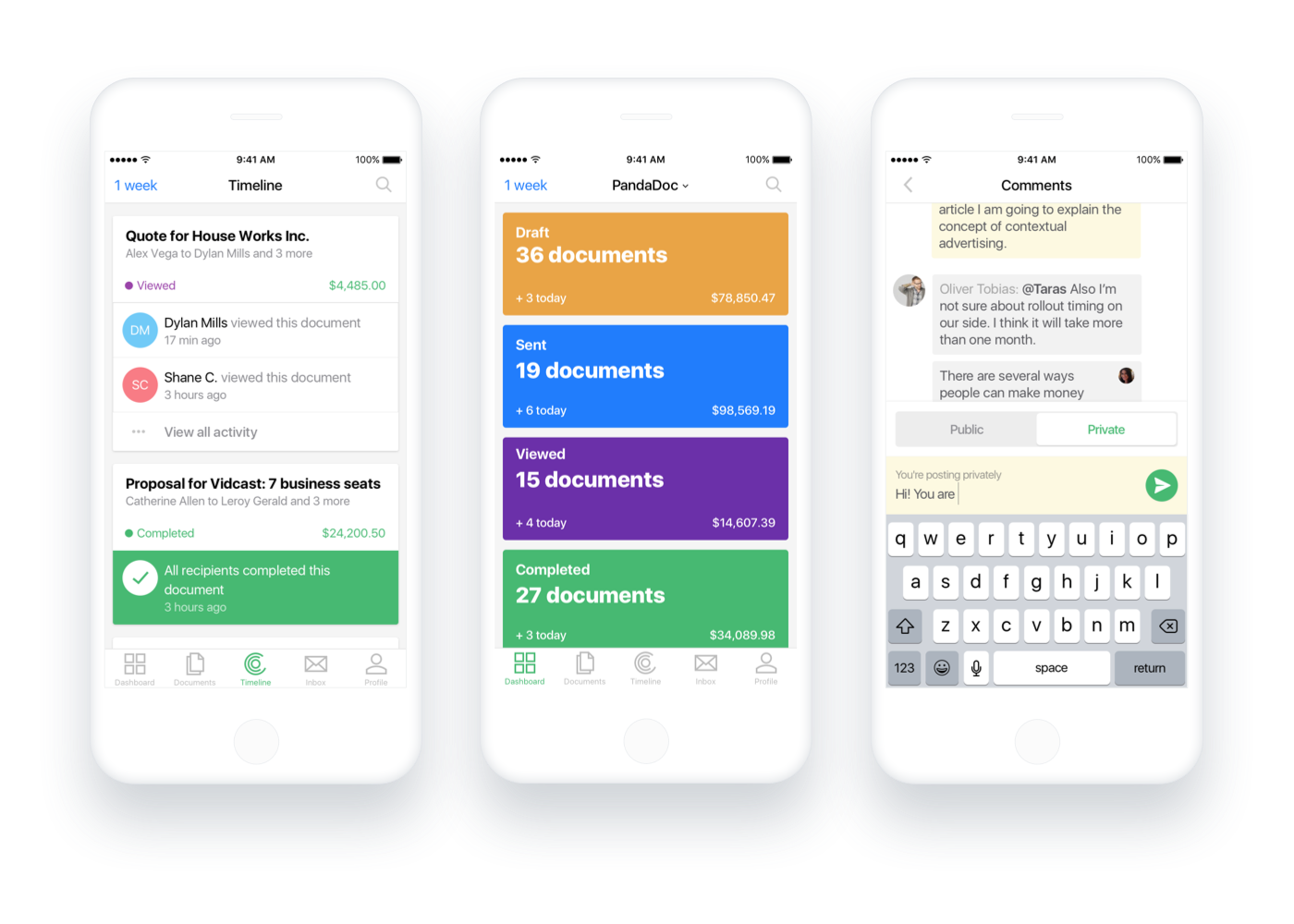 Track & analyze
PandaDoc Mobile brings a brand new timeline and the most robust analytics available in a document automation platform straight to your pocket.
With PandaDoc's mobile timeline, you'll never miss recipients interactions with your documents again. Coupled with mobile analytics that shows the number of views, the last time the recipient opened the document, and the total time they spent reading the document, the app is the ultimate tracking tool!
Get a quick overview
We are also bringing an improved PandaDoc dashboard to the mobile app. The dashboard gives managers and salespeople an instant snapshot of their sales pipeline. Always see exactly where you stand so that you can plan and forecast accurately.
The dashboard will show you how many documents advanced to a new stage each day. It also allows you to sort team documents by timeframe or document status. Coming soon, we'll add the ability to view the dollar value of all the documents in each document stage.
View & approve
Open and view any of your documents right from your phone and see the entire lifecycle of each document with audit trail and activity log.
Have any documents that require your approval? They won't have to wait until you're back in the office. Approve or reject on-the-go the documents your sales reps need to send.
Progress & close deals
Keep deals moving forward wherever you are. With the app you can sign and complete documents from your PandaDoc inbox, easily send reminders for deals that are still awaiting signatures, and even reply or leave comments.
Start managing your documents from anywhere. PandaDoc Mobile is available in the App Store for iOS and on Google Play for Android.