PandaDoc Shooting Star Award
The Shooting Star Award aims to honor and celebrate a business that has achieved major business growth and demonstrated a continuous commitment to their community and industry.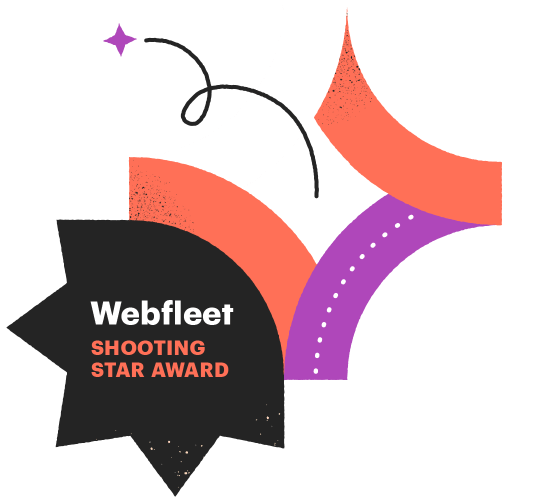 Congratulations to our 2023 Shooting Star Award Winner!

Meet the Star
Webfleet is one of the world's leading telematics solution providers, dedicated to fleet management and connected car services. They help businesses of all sizes improve vehicle performance, save fuel, support drivers, and increase overall fleet efficiency. While facing various challenges based on departmental needs, Webfleet figured out a way to become a Shooting Star, shining brightly through the chaos.
Staying on top of different platforms and controlling multiple processes was Webfleet's focal point. In less than one month, Inside, Field, and Direct Sales teams were equipped with fast-track contracts that enabled customers to e-Sign easily.
Here's how Webfleet shines bright like a Shooting Star
Overcome multiple challenges throughout their business
Establish processes to ensure operational efficiency
Eliminate the possibility of omitting important data
Maximize the positive impact of trackability
Flying high like a Shooting Star?
Has your business skyrocketed over the past year? Are you growing so fast that there is no sign of stopping? PandaDoc wants to help you celebrate your extraordinary achievements. The Shooting Star Award honors businesses that have experienced major business growth, while impacting their industries and communities.
If you flying high like a Shooting Star, contact us at customerawards@pandadoc.com to be considered for this award.