How to add electronic signature checkboxes to documents
Checkboxes represent a quick and easy way to acquire electronic signatures. When used properly, they even meet legal requirements similar to other digital signature formats.
You can add checkboxes to any electronic form easily with PandaDoc, but first, it's important to understand what they are and how they work.
By reviewing these electronic signature checkbox examples and frequently asked questions, you can determine if checkboxes are the right signature solution for your document.
What is a "clickwrap" checkbox?
Checkboxes aren't just good for making the signing process simple — they can also serve as their own form of electronic signature called "clickwrap."
Clickwrap is a simple way for a signer to indicate that they agree with the terms set out in a document. Rather than signing and initializing throughout the form, signers only have to click a checkbox or button to indicate "I agree" to the conditions given.
One common example of a digital signature checkbox is the box that pops up when you set up a new web-based email account.
You've probably agreed to hundreds of sets of terms and conditions like these with a simple click.
It's an easy way for companies to cover themselves legally without asking for too much work from signers and is an efficient way of signing on mobile devices.
When a recipient ticks a clickwrap checkbox, an electronic record, sometimes in the form of a digital certificate, is usually generated.
How to create an electronic signature checkbox with PandaDoc
You can add e-signature checkboxes to your documents in a matter of seconds when working in PandaDoc.
1. Log into your PandaDoc account. Open your document or create a new document by clicking the green Create button on the top right.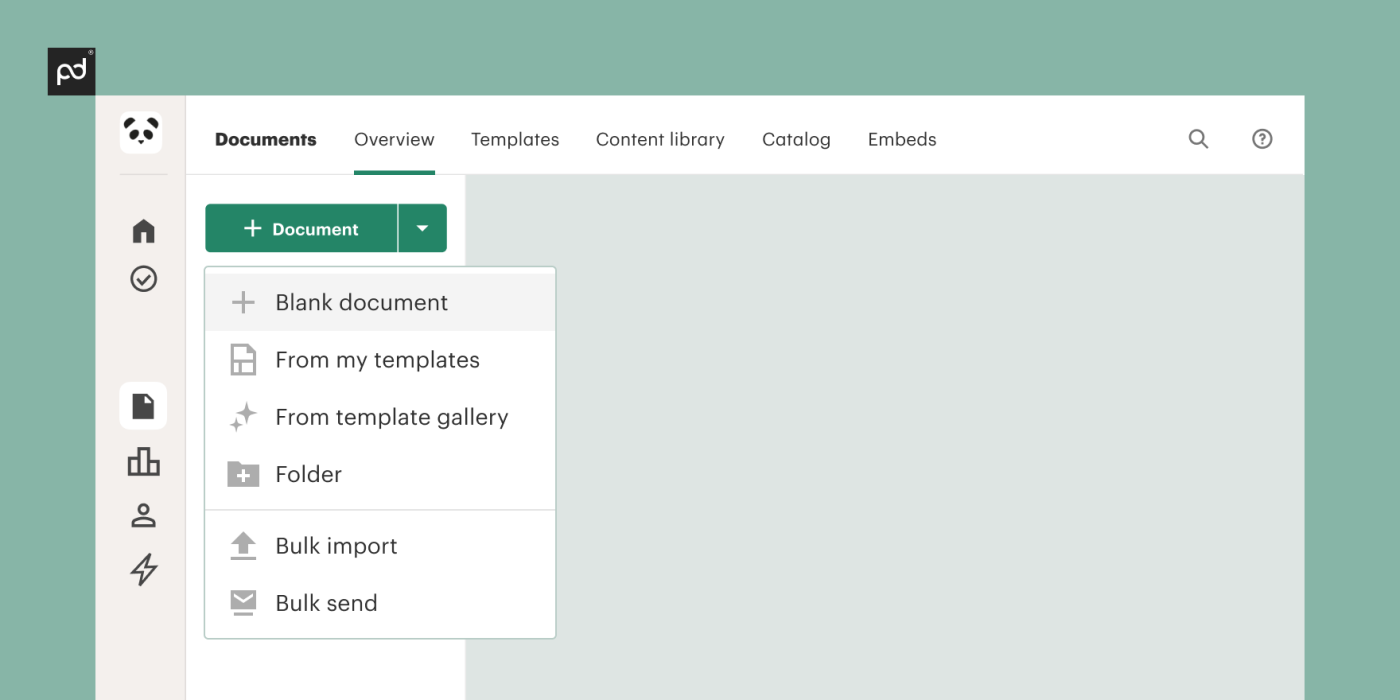 2. Add checkboxes anywhere by clicking and dragging the checkbox icon, located under the Fields heading in the right pane.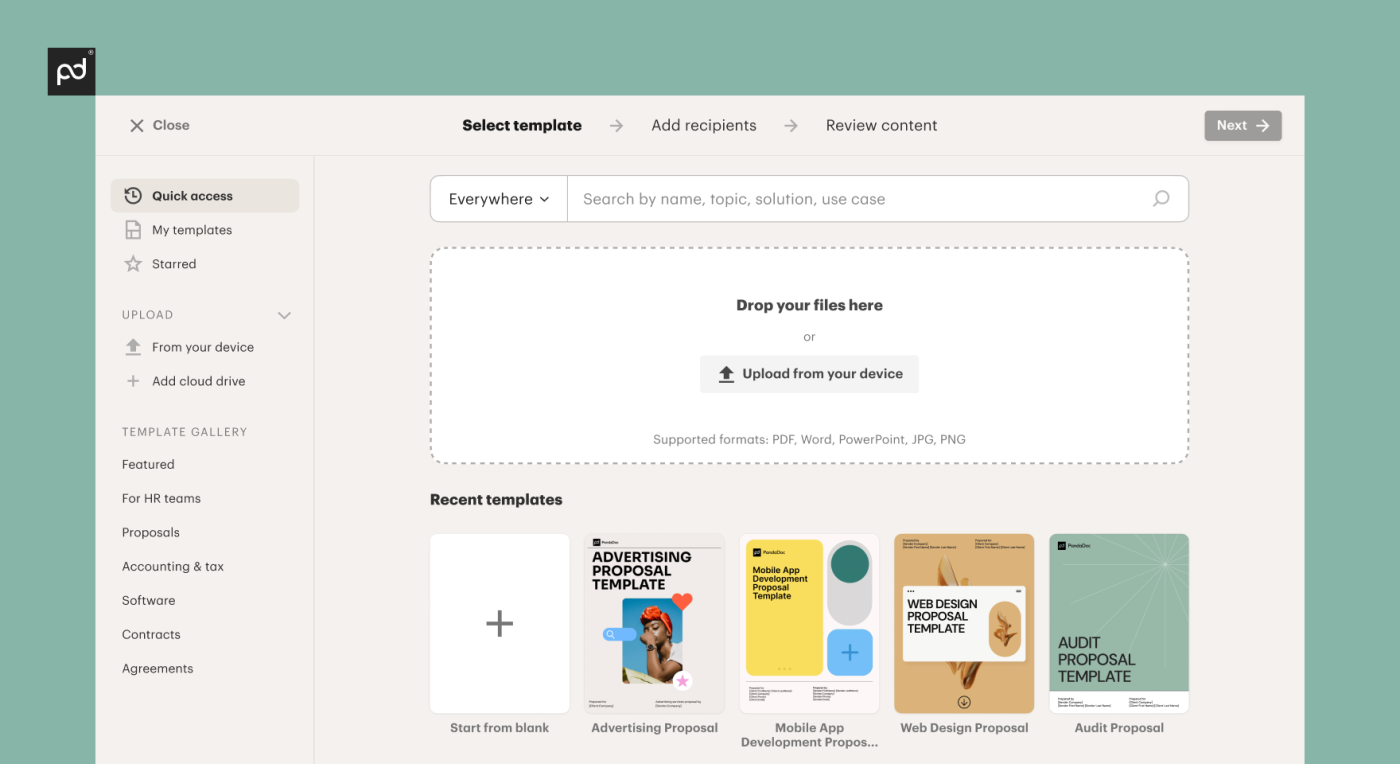 3. Assign a recipient to the checkbox by clicking it and selecting Assign. Select or add a recipient from your recipient list.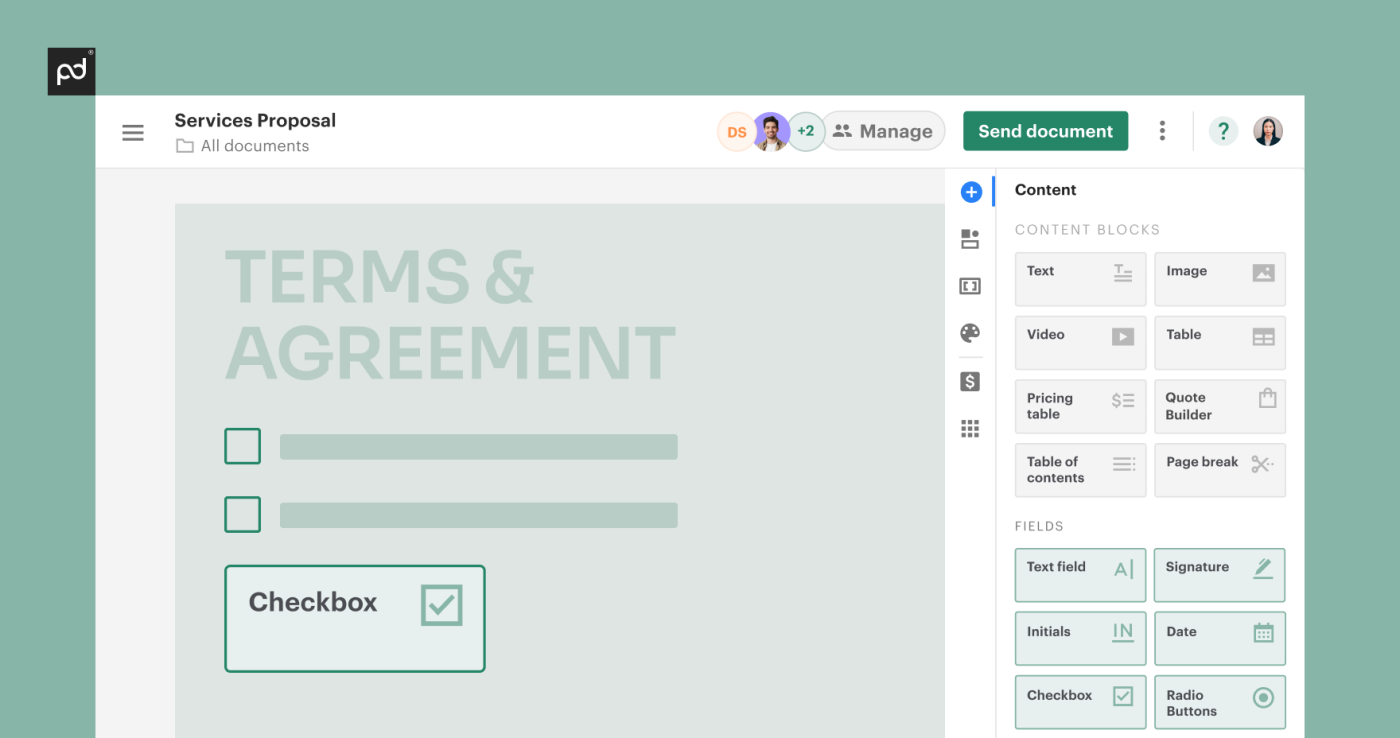 4. If you need an identical checkbox somewhere else in the document, click Duplicate in the right pane.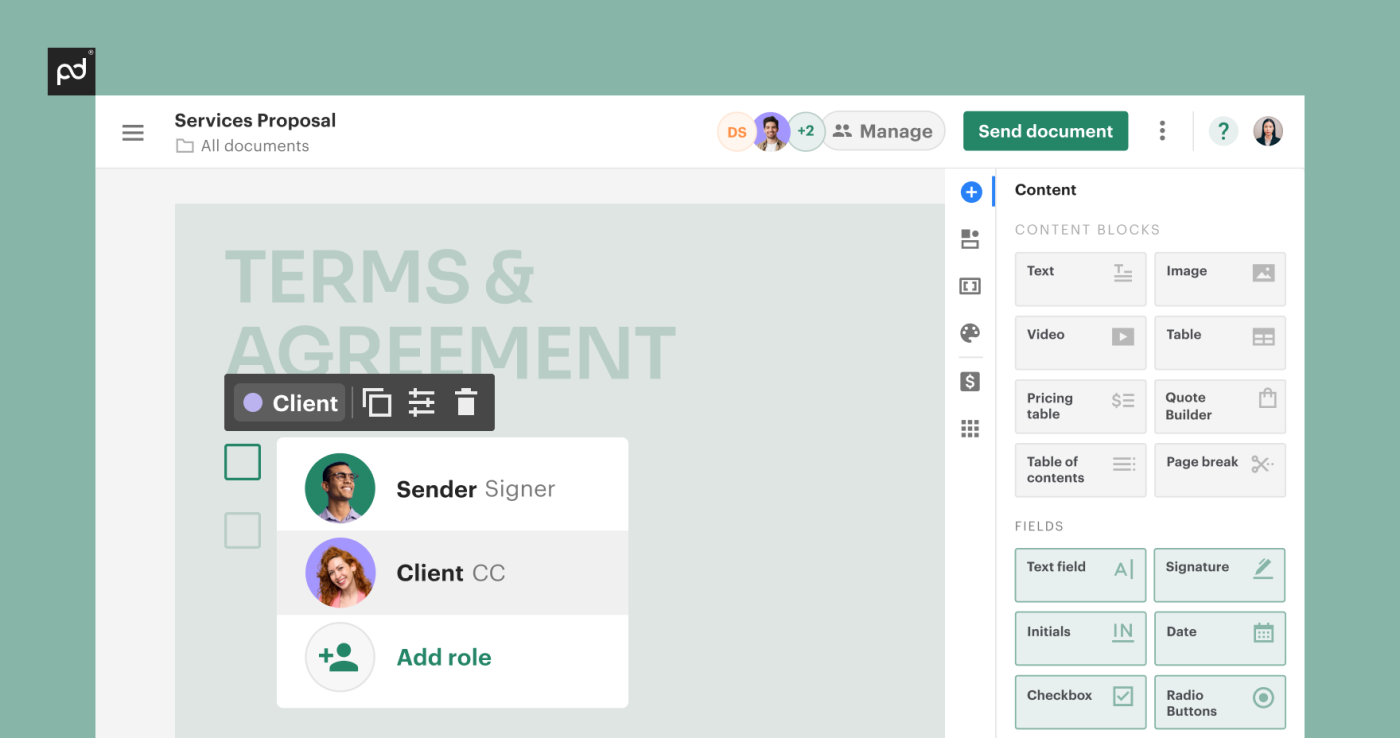 The checkbox field is customizable too.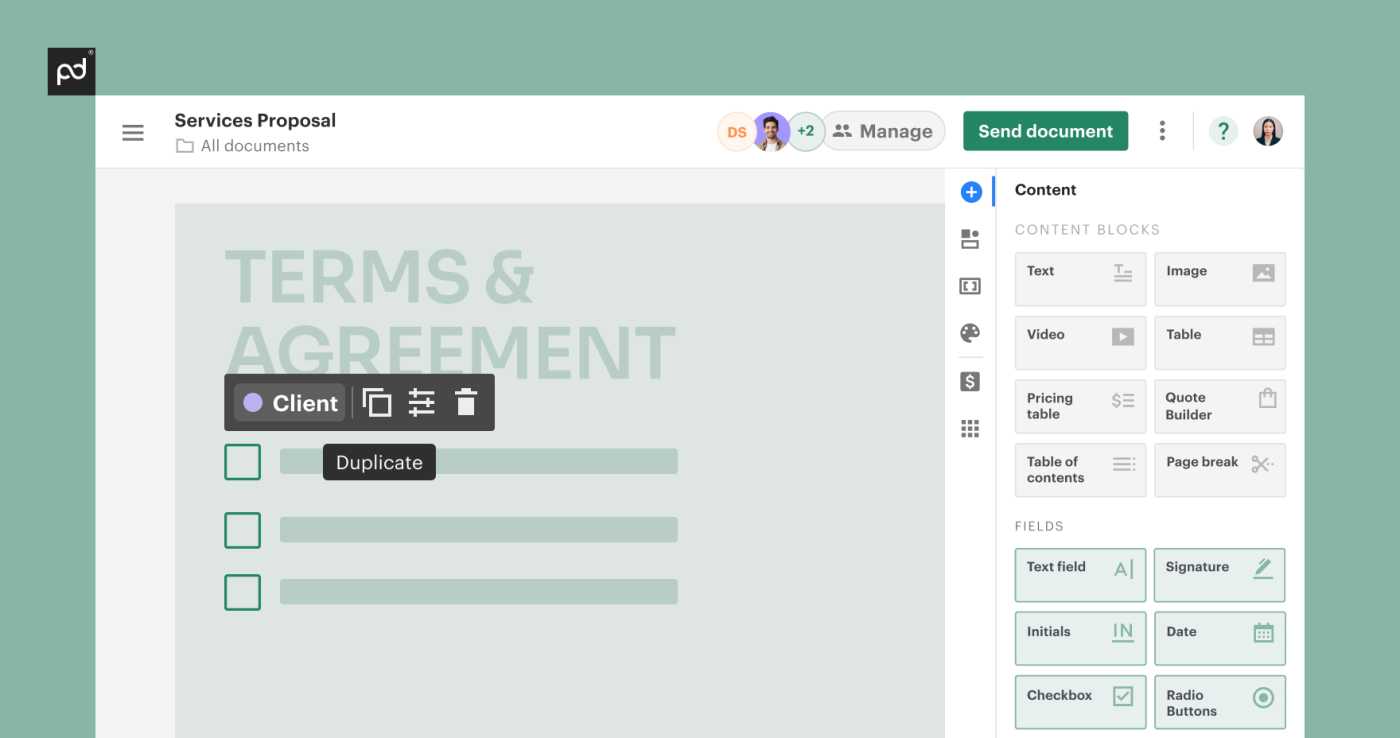 You can adjust the field based on your needs in a number of ways:
Resize by dragging the edges of the checkbox
Add a signer's role next to the checkbox
Make a checkbox required or optional
Delete a checkbox by clicking on the trashcan icon
Move a checkbox to a different location after you've added it to the document
You'll need to assign a recipient to each checkbox and any other field you opt to include in your electronic document.
If all your checkboxes need to be assigned to a single recipient, just click "Send", then "Assign all" on the bottom bar to select a recipient from your recipient list.
Checkboxes and your PandaDocs audit trail
When a recipient clicks on a checkbox, the activity will show up in your audit trail.
The audit trail feature provides a step-by-step history of every document status change, allowing you to see who did what, and when. Audit trails are useful for signer authentication.
To access your audit trail, open the sent document.
Click "Audit trail" in the top right, and you'll see the list of actions taken on the document.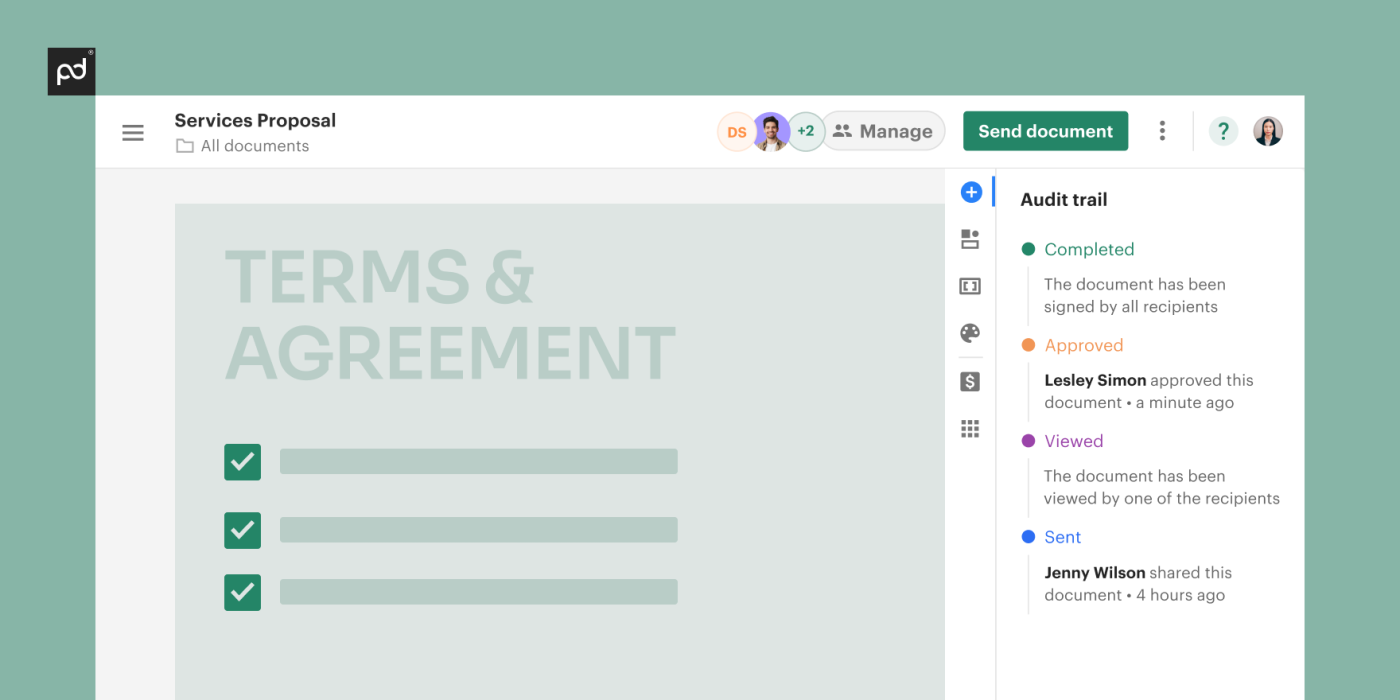 PandaDoc logs virtually all trackable activity in the audit trail. When someone clicks a checkbox in the document, you'll see that activity reflected in the audit trail.
How to place checkboxes on digital agreements
To further ensure your electronic documents are legally enforceable, follow these guidelines when creating and placing checkboxes.
1. Display the checkbox prominently
Give it its own space, away from other images and unrelated text. The checkbox should stand out on its own and be easy to find on the page.
2. Use the checkbox early in the document
Consider putting a checkbox close to the top of the document if the document's nature allows for it. You may be tempted to leave it until the end, but the checkbox will feel like a more immediate priority if it appears sooner.
3. Create a clear document structure
Your whole document should be clear, easy to follow, and completely understandable. Apply the same principles to any checkboxes you include in the electronic document.
Use specific language to describe what it means when the person signing checks the box. Read over the language you use to instruct the signer on how to use the checkbox. If it seems ambiguous in any way, adjust it for clarity.
4. Emphasize the intent of the checkbox
Make it very, very obvious that checking the box relates to a specific legal goal. Do you want the signer to agree to all the terms and conditions in one place?
Or will the document feel like it has more legal "teeth" if you create checkboxes related to specific sections of the terms? This technique may encourage the signers to read the document more carefully.
Remember, you can require signers to select a checkbox or make it optional. Consider your overall goal and the intent of the document when using checkboxes.
5. Determine if a checkbox is your best option
When you've finished putting together a draft of your document, read it over.
Does it make sense to use checkboxes, or would your document feel more official if you requested other types of e-signatures or text boxes for the signer to include their initials?
If you change your mind at the last minute, it's easy to swap out a checkbox for a different field with PandaDoc.
You can drag and drop as many fields from the right pane as you'd like.
Further reading on digital checkbox agreements
Is a checkbox as legally binding as a digital signature on a contract?
Most of the time, clickwrap or "click-through" agreements are legally enforceable like other legally binding documents.
Various regulations originating in the United States and the EU explicitly mention clickwrap as an acceptable way to confirm agreement to the terms and conditions of a contract.
Both the US Uniform Electronic Transactions Act (UETA) (Sec. 2.8) and the EU Electronic Signatures in Global and National Commerce Act (ESIGN) (Chap. 1, Article 3 (10)) support the enforceability of clickwrap agreements. Legislators signed the ESIGN act into law in 2000.
If you only plan to include a simple checkbox, your document may not be as legally enforceable as one with signatures or initials.
The burden would be on you to link the person signing with the checkbox. This is a challenging task if your document doesn't include an identifiable digital signature.
In some cases, you may be better off using a text or signature field and require the person signing to include their initials instead of merely checking a box.
You could also have them scan and upload a handwritten signature and drop it into the document.
Another approach is to include multiple checkboxes to give the signer more options. You might add boxes with labels like:
Yes, I agree.
No, I do not agree.
Yes, I agree, but I have additional comments.
Then, when you get the signed document back, you'll be able to review the comments and respond accordingly.
Caveats aside, checkbox agreements can bind a contract according to the rules laid out in the ESIGN Act. E-signature laws indicate that if the intent to sign is there, then the deal is binding.
It's ultimately up to you whether you want to emphasize the intention behind the agreement further. To ensure your checkboxes are legally binding, you'll want to consult with an attorney who can review your agreement or contract.
How many checkboxes can I include in my document?
Generally speaking, you can add as many checkboxes as you'd like. However, using too many may confuse or discourage signers.
We recommend reading over the document as if you were the person signing before you send it. This should allow you to quickly determine if you're using too many checkboxes.
Can I use PandaDoc to create a document with checkboxes on a Mac?
Yes. PandaDoc is compatible with the latest versions of the Windows and Mac operating systems. This includes all our features, workflow and API tools, integrations, a mobile app, and field options like checkboxes.
Can I add checkboxes with the new PandaDoc Editor 2.0?
Yes! Our new editor adds functions on top of everything you can do with Editor 1.0, which means all existing field options are available.
In addition, Editor 2.0 allows you to perform useful functions like adding page breaks, inserting background images, and creating documents with multi-column layouts.
You can even edit a document with your team using our real-time collaboration capabilities.
Ready to create your first PandaDoc document?
In addition to easy document creation, PandaDoc is an ideal solution for managing, storing, sharing, and collaborating on all your documents. Get started today with a free, 14-day trial.
Create electronic documents from scratch or use a PandaDoc template to get started. If you get stuck, don't worry. Our extensive help library and 24-hour chat are there for you. With PandaDoc, you'll be creating legal, secure, binding agreements in no time.