How to convert Word to Excel
Need guidance on how to convert Word to Excel? It is actually much easier than you think.
All you need to do is save your Word document and change the file type to plain text (.txt).
Then it's simply a case of opening Excel and importing the data.
Although many of us are very familiar with both Microsoft Word and Excel, sometimes a need crops up that we're not quite sure how to fulfill.
And this is one of those times. We'll cover how to convert Word to Excel in more detail in this article with a step-by-step guide.
Then we'll take you through the process of converting a Word table to Excel as well.
Can you convert a Word document to Excel?
The short answer is yes! Microsoft Word is undoubtedly the most popular document management software.
Therefore, converting a Word document to Excel is actually a rather quick and simple process.
We're going through two different methods today: converting a Word document and converting a Word table.
How to convert a Word document to Excel
Let's take a look at how to convert a Word file to Excel:
1. Open your Word document
Do this by simply opening Word and then clicking on 'Open'. Choose the file that you want to convert to Excel.
2. Save the document
Once you've opened the correct document, you must save it by selecting 'File' from the toolbar at the top, then 'Save As'.
Choose a name, such as 'Marketing documents for Excel', along with where you want to save the document. Then change the file type to Plain Text (.txt). Now click on Save.
At this point, you'll get a pop-up box notifying you of the file conversion. Click 'OK'.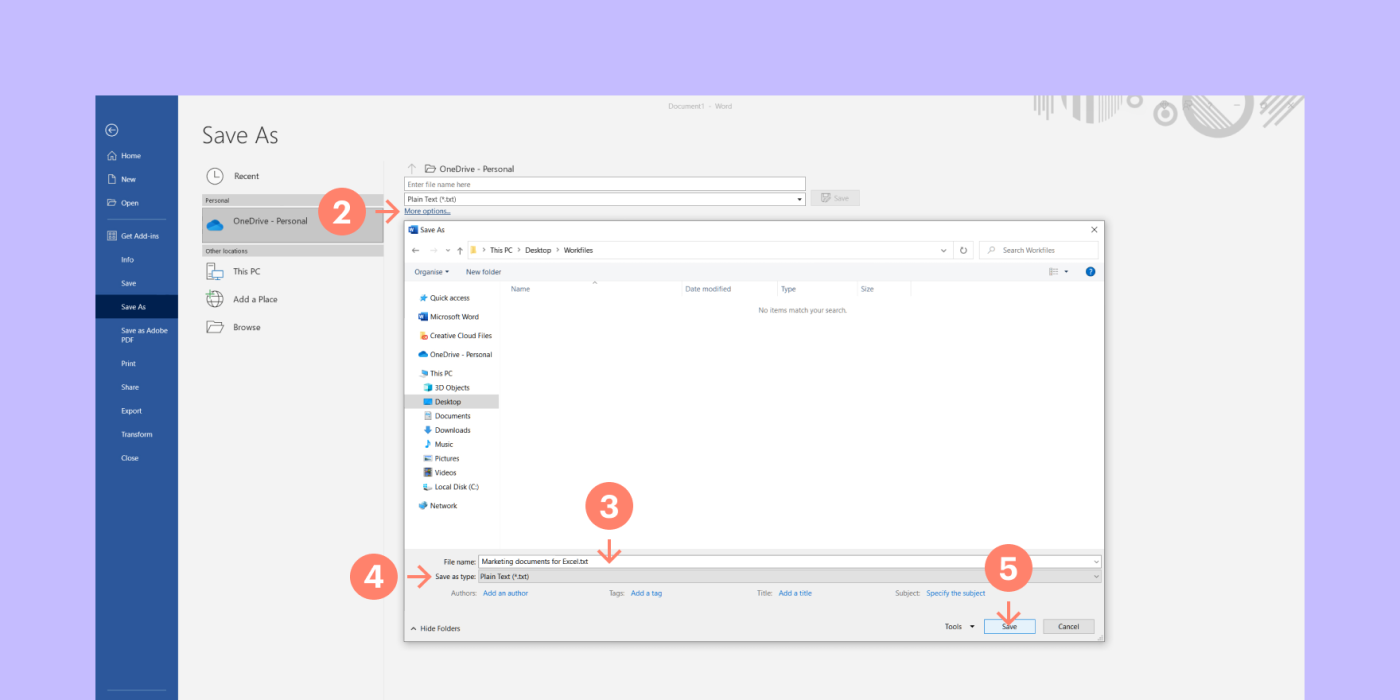 3. Open up your Excel Sheet and select 'Data'
Head over to Excel, open it up, and click on 'New'. This will open a new spreadsheet. Next, click on the 'Data' tab at the top of the screen.
4. Choose your Word document from "From Text/CSV"
After you've clicked on Data, you'll open up a menu. From this, choose "Get & Transform Data" then "From Text/CSV".
File Explorer will then open up. You must select the Word document you saved earlier and click 'Import'.
5. Make adjustments
You'll now get the chance to change your data if you want to.
The box that pops up will have the tab 'Delimiter'.
This simply enables you to alter the character that separates your data in the spreadsheet.
For example, you might prefer a comma or a space.
There are two other tabs in the window, File Origin and Data Type Protection, but you don't normally need to alter these.
6. Load your spreadsheet
Now simply click 'Load' for the converted Word document to appear on your screen as an Excel spreadsheet.
If you're happy with the result, make sure you save it as soon as possible. Saving files regularly is essential for tracking documents and keeping everything organized.
How to convert a Word table to Excel
You might need to convert a Word table to Excel for better workflow management, for example. Here's how to do it:
Open up your Word table, along with your Excel spreadsheet where you want the table placed.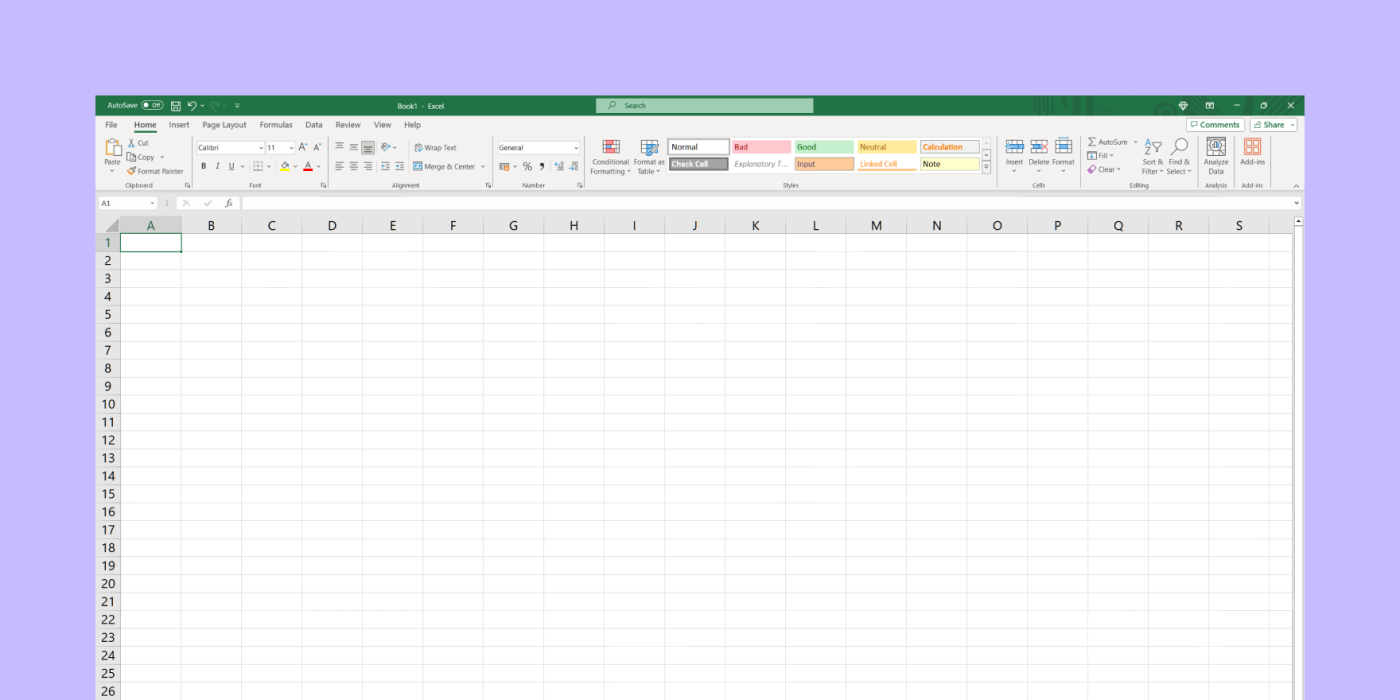 Select the parts of the table that you want converted. Copy these by pressing CTRL + C.
Head back over to your spreadsheet and click on the place you want the data to be, such as the upper left-hand corner. Ensure you click on an area that's blank because this will replace any existing data in the cells.
Press CTRL + V to paste the data. All the data will paste into a single cell.
Now you have to distribute the data across different columns. To do this, first select the cell.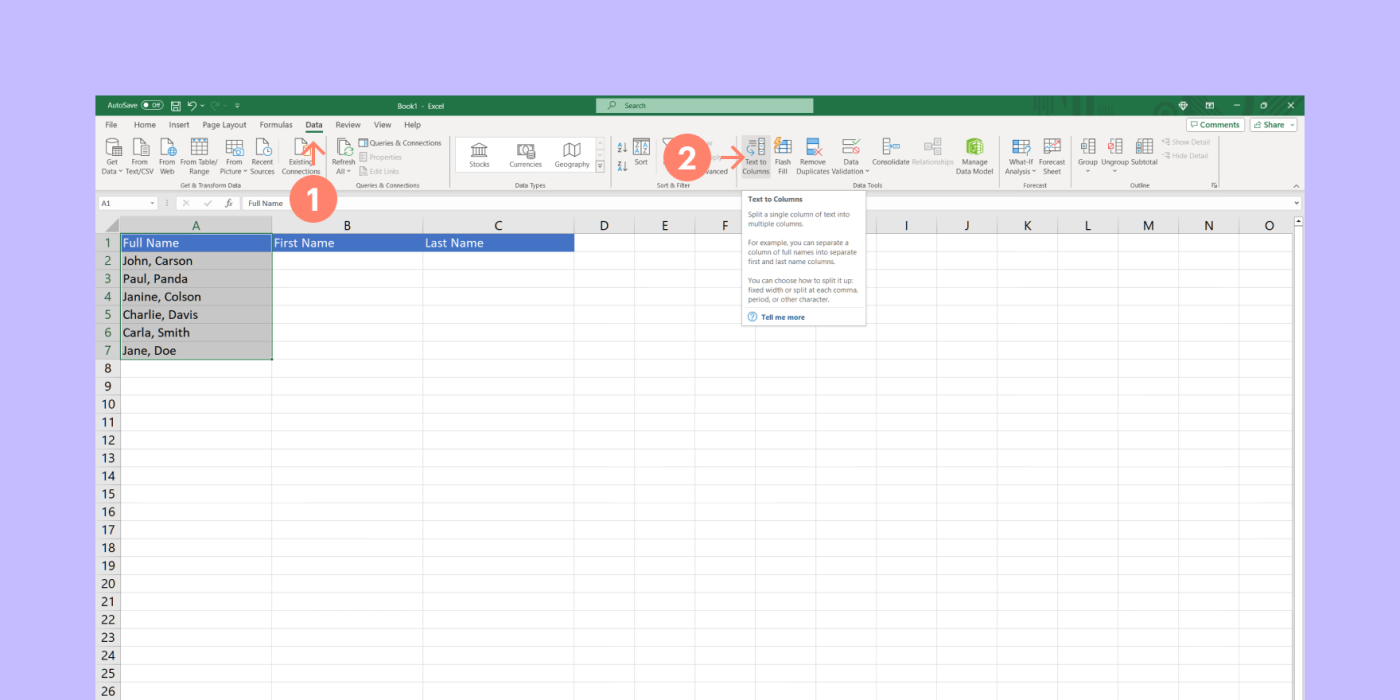 Select the 'Data' tab at the top of the screen. Go to 'Data Tools' then click on 'Text to Columns'.
Go through the instructions and select your desired formatting. Then click 'Finish'.
Make your life easier by learning these simple Microsoft Office tricks
Microsoft Word and Excel can make your life considerably easier.
There are lots of tips and tricks to help you simplify your office processes.
These are just two examples that can transform your work projects and enable you to get the most out of the software.
Knowing a few document hacks is on thing, but your company can ensure overall smoother workflows and simpler processes with PandaDoc's document management software.
Why not request a demo or start a free 14-day trial today?