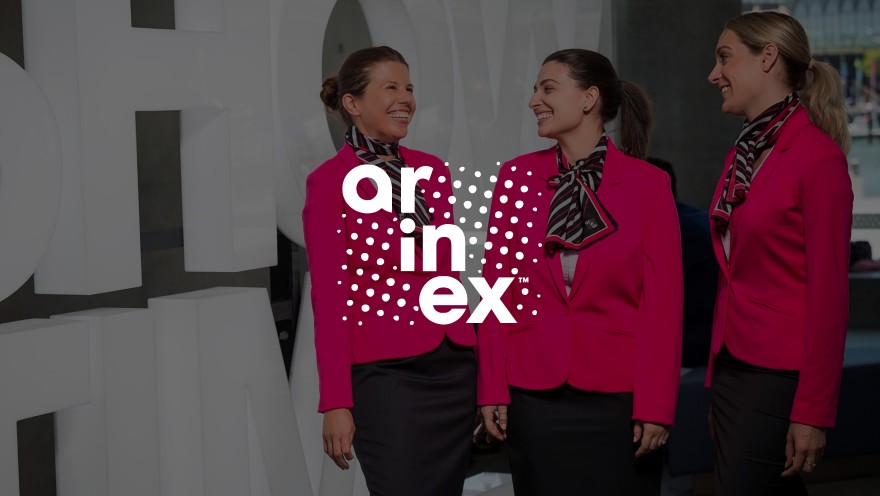 Arinex is an event management company based in Australia. Encompassing all areas of event management ranging from sponsorship to conference coordination and delivery to accommodation, Arinex has been servicing clients around the world for over 40 years.
32% Increased close rate
10% Increase in average sale price
25% Reduced proposal creation time
The problem – An inefficient process
As a leading event management company crucially dependent on a successful sales cycle, Arinex realized that their previously clunky method of compiling and designingPowerPoint proposals was antiquated, time-consuming and ultimately, costing them time and money.  
Their old method in the proposal-building process required a tedious search through countless folders and disorganized hard drives for images, videos, and other various information. This process became more dreaded and unproductive as time went on, resulting in costly errors and delays in the sales cycle.
Furthermore, Arinex's proposal-sending methods were impossible to track.  With no way to determine whether their recipient had even viewed their attachment, they simply were not achieving maximum productivity.
The solution – A seamless system
Arinex is in a high-velocity business and needed a quick solution to their inefficient methods. So when Kylie DeClifford, Manager – Incentives & Special Events, discovered PandaDoc, she did her due diligence quickly.
With the help of the PandaDoc Onboarding Team, we were promptly able to get Kylie's team up and running. Now, thanks to their custom-built content library, finding interactive content like images and videos to build their custom proposals is effortless. The PandaDoc Onboarding Team also helped Arinex create custom-branded templates to help save time. These templates ensure that they are sending out consistent, reliable content for every proposal.
Lastly, Arinex is particularly thrilled about the detailed document analytics feature. Now that they can see when their proposals are being opened and viewed, including how much time was spent on each page, they've increased their responsiveness and turnaround time.
The results – Quicker sales
Thanks to PandaDoc, the Arinex proposal creation process went from days and hours to mere minutes. They reduced their document creation time by 25%. By utilizing custom templates and a custom-content library, they can now build proposals consistently and efficiently.
"PandaDoc has solved a number of pain points from our old styled PowerPoint proposals.  We love that we have an entire library of destination information in one easy to access location, we love that it delivers beautiful proposals consistently, we love that it provides us with valuable analytics post sending, oh and don't forget the videos that help us sell our destinations!" -Kylie DeClifford
In addition to saving a ton of time, Arinex's favorite PandaDoc feature is the document analytics we provide. Receiving valuable feedback from their clients has allowed them to continue tailoring their proposal process to win even more business. Because of this feature, they increased their close rate by 32%.
"It is so much quicker to pull together a proposal, and we have received and continue to receive great feedback from clients about our proposals. Going forward we will be rolling out PandaDoc into other areas of the business, we haven't looked back," said DeClifford.