WEBINAR: 6 Ways To Slow Down Your Sales Cycle and Lose Your Deals (Just Kidding)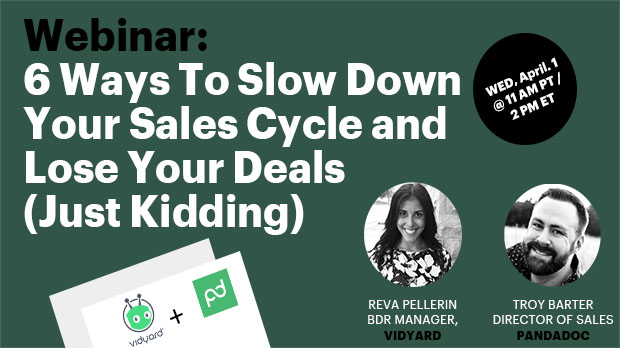 Our speakers
PandaDoc and Vidyard are tag-teaming a webinar where we describe six ways to slow down a sales cycle and lose prospective business with absolutely terrible advice that you shouldn't take. Here are a few of the topics we'll discuss.
Send Videos Of People Screaming Loudly To Break Through Inboxes
Snail Mail Bulky Proposals W/Glitter Bombs to Surprise Prospects
Create Demo Videos Without Sound So Reps Can Practice Miming

Just kidding.
We toss out the awful advice and replace it with proven tactics and strategies on how to speed up a sales cycle and close more deals with video & document automation tools. We cover the entirety of the sales cycle from prospecting to payment. Here are a few of the REAL topics we'll cover.
Get creative with prospecting videos with lead capture tech and CTAs
Build, send, track, and eSign docs in minutes to say goodbye to PDFs and wasted time
Create demo videos that help and impress with screen captures and personalization