Why PandaDoc is better than NiftyQuoter
Switch to PandaDoc from NiftyQuoter and enjoy more integrations, better analytics, and a more intuitive document editor.


More integrations
Optimize processes across all of your existing tools with more than two dozen PandaDoc integrations. PandaDoc is the most connected digital document solution on the market. We've built seamless integrations with popular platforms like Salesforce, HubSpot, Pipedrive, and more to help you save time creating, sending, and eSigning documents without leaving the tools you're using today.
Better analytics
PandaDoc analytics offer visibility into what happens after you hit send. You'll receive instant notifications anytime someone opens, views, or signs your document. PandaDoc is giving you a top-down view of your document statuses by allowing you to see who viewed each page of your document and for how long.
A more intuitive document editor
Creating a stunning proposal or detailed contract in PandaDoc only takes minutes. Whether you're drafting a quick quote or a complicated agreement, our editor makes things a breeze. Drag and drop text blocks, photos, pricing tables, videos, and attachments to create a custom branded document in minutes.
Security protection
We take protecting your data and content seriously. PandaDoc is designed to keep your documents backed up and secure at all times with our SOC2 Type 1 certification. Our investment in the Amazon AWS ensures your documents, communications, and credentials are safe.
What you get when you switch to PandaDoc
Simple, secure eSignatures
You and your customers can sign business documents from any computer or mobile device. And your customers won't need to create a PandaDoc account to sign.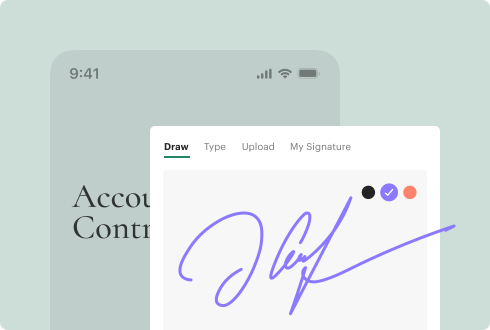 Dedicated content library
Upload legal terms, product information, videos, and more into your very own content library inside PandaDoc. Access the library to drag and drop relevant content into any document in seconds.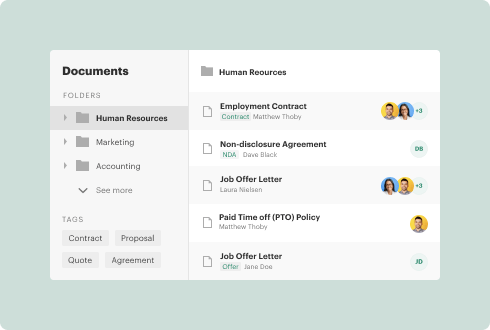 Automatic data merge
Connect PandaDoc with your CRM to automatically populate contact, product, and opportunity data inside your documents with a single click and without leaving your CRM platform.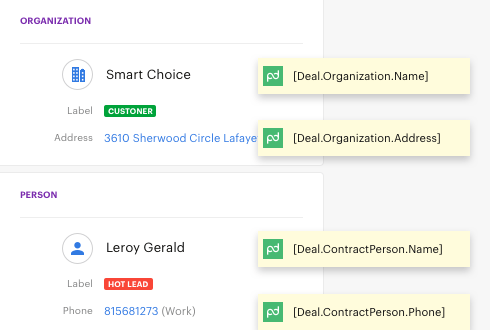 Built-in commenting
Bye bye, long and annoying email threads. With built-in commenting feature, you can ask questions and provide answers in secure commenting threads right inside your documents. You can even send public comments to everyone who received the document or a private comment to one specific recipient.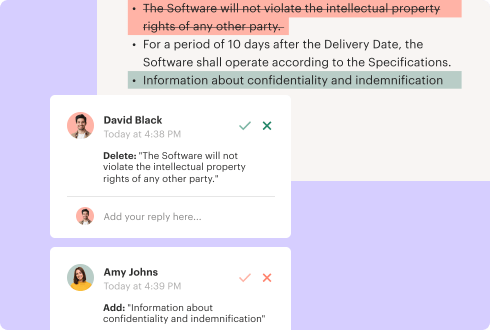 Interactive pricing
Give your customers exactly what they want and potentially increase your deal sizes with editable item quantities and optional line items inside PandaDoc pricing tables.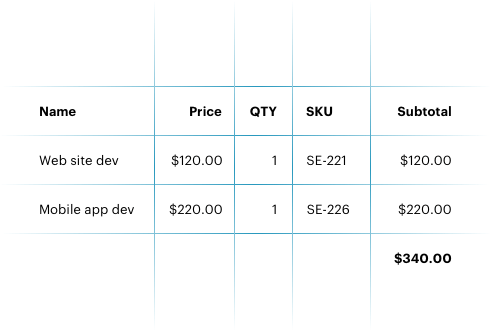 Multiple department use
Many departments within one organization can use PandaDoc at the same time. Set up multiple teams with their own PandaDoc workspace and control which content and document privileges they see and even configure their user roles and permissions.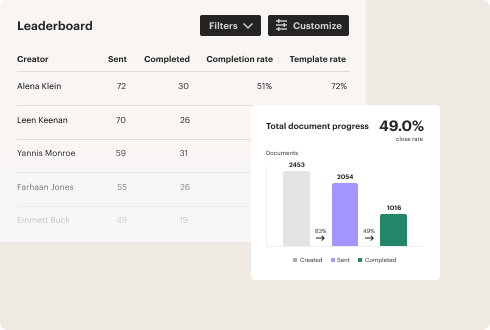 Find the perfect PandaDoc solution for your business