Looking for an alternative to Attach.io?
Exchange Attach.io for PandaDoc to enjoy robust integrations, better proposals, and more content usage.
More integrations
PandaDoc improves the way sales teams create, send, track, and sign documents from inside the tools you use every day. Whether you're a sales team using Salesforce, Authorize.Net, or Xero you'll benefit from the seamless out of the box integrations offered by PandaDoc. Using another platform? Odds are your tools are among the 20+ platforms that PandaDoc integrates with.
Better proposals
We've created a better sales proposal process. Use PandaDoc to transfer data from your CRM to your proposals automatically. Customize your documents via an intuitive drag and drop interface. Make proposals truly stand out with custom branding, electronic signatures, and embedded media and collateral.
Better content usage
Want to use marketing content and collateral to drive sales success? PandaDoc makes this easier than ever. Sales reps can access relevant content from their CRM via a custom library. Marketing can manage content while gaining insights into how sales uses it to close deals.
What you get when you switch to PandaDoc
A full-fledged digital document solution
PandaDoc fully supports the documents that keep your business running. More than 14,000 companies use PandaDoc to automate sales proposals, quotes, contracts, invoices, and work orders every day.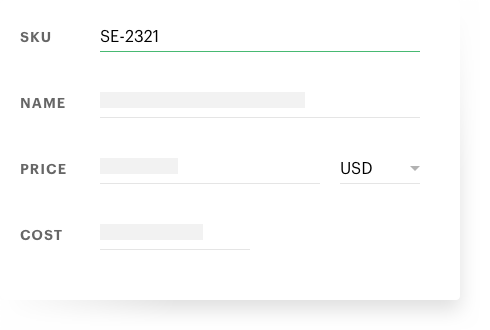 Detailed document analytics
Track when and how recipients interact with every document you send, so you know exactly when to follow up with prospects. If you're a sales manager or executive, you'll love using PandaDoc to improve forecasting accuracy thanks to real-time data on every proposal and contract in your team's sales funnel.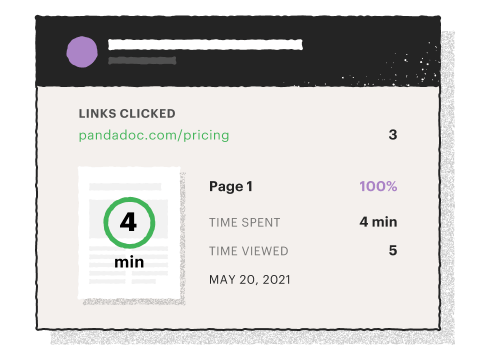 Superior support
We're proud to offer one of the most accessible support teams in the industry. Our custom support options allow you to select the support level that's right for your business, and our product team is constantly improving the PandaDoc platform from your feedback.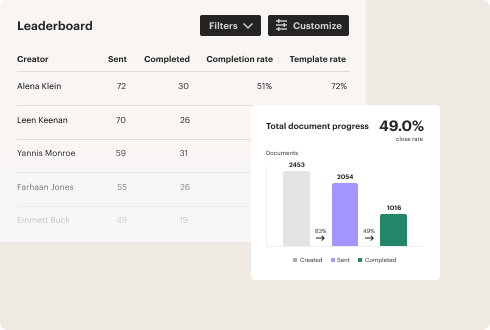 Frustration-free deployment
Getting PandaDoc deployed in your organization is a quick, painless process whether you prefer to do it yourself or take advantage of our white glove options. In fact, most companies can start sending documents within a week of signing up.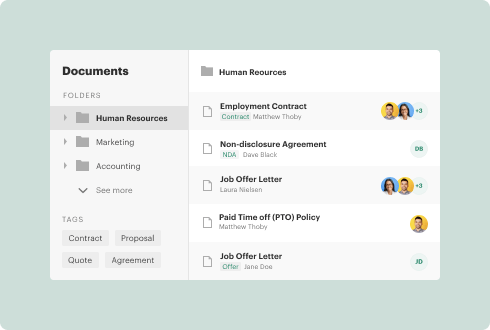 Built-in tools for online collaboration
PandaDoc makes it easier to work together thanks to our built-in online collaboration tools. You'll be able to keep relevant conversations right inside their associated documents. Private and public commenting options enable internal collaboration and external communication from a single centralized location.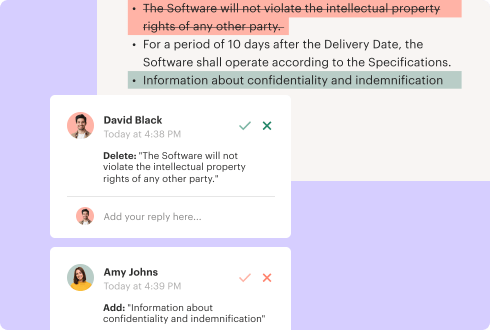 Custom document templates
Every PandaDoc account includes custom templates which allow you to pre-configure custom branded proposals, quotes, contracts and more. Upload existing documents to use them as templates, or use the drag and drop document builder to make your own templates from scratch.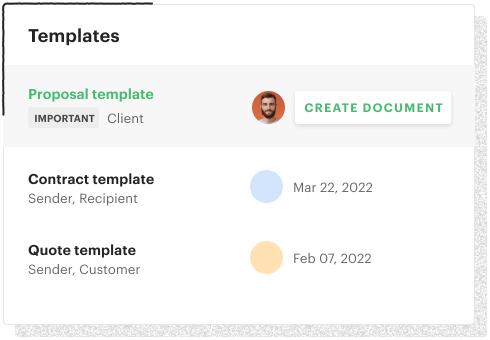 Find the perfect PandaDoc solution for your business