How to add signatures to PDFs
There are many tools you can use to add electronic signatures (also called eSignatures) to PDFs.
Favorite tools like Adobe Acrobat Reader, Apple Preview, and others include this feature with varying degrees of additional functionality.
However, things start to get complicated when you try to get multiple signers to sign documents.
You'll need to create multiple signing fields for your recipients and use a signing order or workflow to ensure that everything goes as planned.
This document will guide you through the process of handling a multi-signer document — from the first signature to the final signoff.
Let's get started.
How to add multiple signatures to PDFs using PandaDoc
PandaDoc comes equipped with all the tools you need to quickly send documents and receive signatures from multiple signers.
If you are creating a document, use the following steps to add multiple signers to your document:
Create your document using the PandaDoc online editor or by uploading your PDF using the upload tool.
Using the PandaDoc editor, select the Fields tab on the right of the screen, then drag and drop a signature field into the required area.
When you place the field, a popup will prompt you to assign the recipient to the signature field.
Repeat Step 2 and Step 3 for each signer.
If required, you can also set up a signing order for your document by clicking on Manage > Set Signing Order.
When you've finished preparing your document, click the Send button to send an email to all signers.
Recipients will click the button in their email to be redirected to the document, where they can fill in the signature tool by drawing, typing, or uploading their personal signature.
After the document is signed, a signature certificate will automatically be generated and included at the end of the document.
The document will certify the authenticity of each signer and should be stored with the document in the event of a dispute over document credibility.
How to use Adobe Acrobat Pro DC to add multiple eSignatures to PDFs
With Adobe Acrobat Reader DC, you can add signatures to PDF documents using the Fill and Sign tool.
Here's a closer look at how that works:
1. In Adobe Acrobat Pro DC, open the PDF document in Adobe Reader.
2. Navigate to the Tools menu, then to Request E-signatures, and follow the signature workflow to designate your recipients.
3. Add signing fields to your PDF form using the Fill & Sign tools.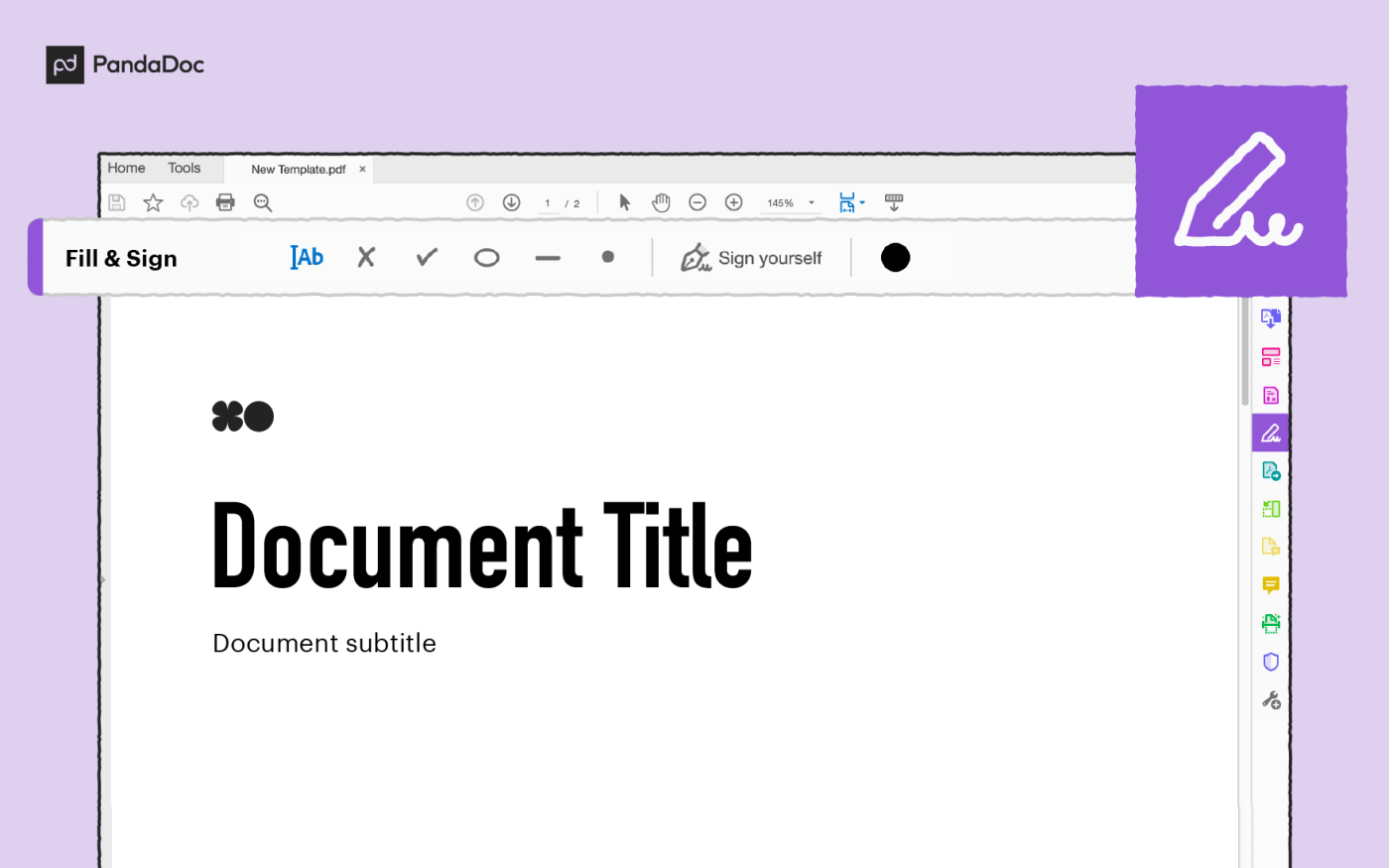 You'll need to configure one form field for every signer.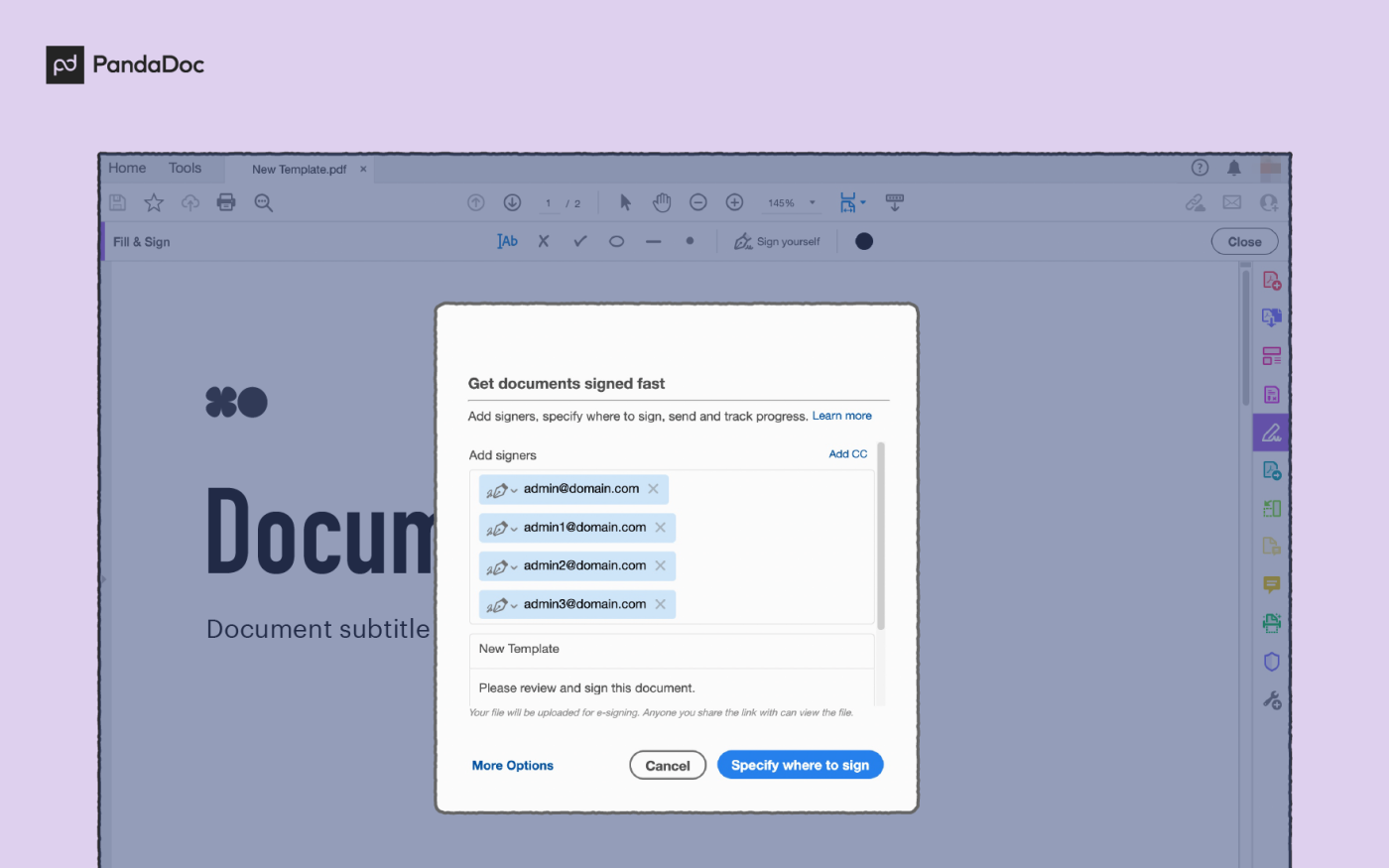 4. When all digital signature fields have been placed in the document, click Send to email your document to the proper recipients.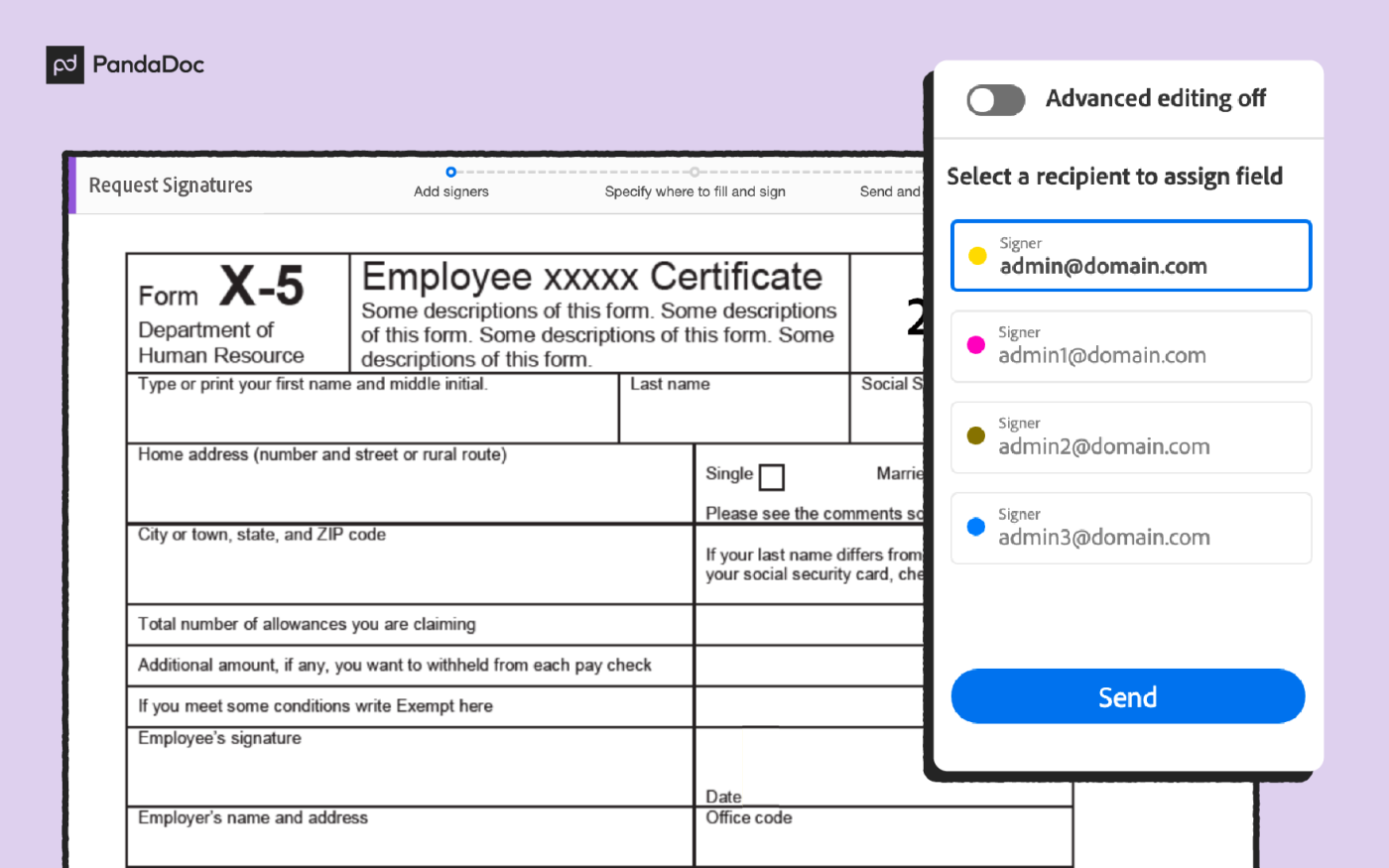 Adobe offers other tools, like Adobe Reader, which is an industry standard when it comes to reading PDFs. However, the company's e-signing software tools have gone through some changes in recent years.
It's still possible to use Acrobat Reader for (very) limited signing, but the majority of the signing tools are locked and the upgraded version of these software tools are now linked to Adobe Cloud for fast and easy signature capture.
Frequently asked questions
Why should I use an e-signing platform to gather my digital signatures?
For reasons that will quickly become clear if you've ever tried it, desktop signing tools can be a major challenge when it comes to multi-signer documents.
The reason for these headaches is that only the most recent version of the document is most valid.
You'll need to send it to one person at a time, wait for them to send it back with their signature, then send it to the next person.
Especially if you're using tools like Microsoft Word's Digital ID tools for authentication, you won't be able to consolidate the signature into a single document.
You have to send the document to one signer at a time and, if anything goes wrong, you'll have to start over again.
That's why digital signature platforms like PandaDoc are vastly superior to desktop software for multiple signers.
Can I sign using desktop tools like Mac Preview, Microsoft Office, etc.?
It's possible, but it's tedious.
With tools like Apple Preview, you won't have the ability to designate signing fields in your PDF files. (You won't find that option in the toolbar dropdown menu.)
Additionally, when you send your document, signers will have to find their own way to sign and return your document.
With Microsoft Office and similar tools, it's possible to sign using a Digital ID, but everyone needs to have Microsoft Office and be able to sign.
If anyone is using a Mac, or if they're opening the document on their Android or iOS device, they may not be able to sign at all.
How many signatures can I place on a PDF document?
Theoretically, there isn't a limit to the number of individuals you can request to sign your PDF documents.
Some service providers may place signature limits on a document (PandaDoc limits signers to 50 per document), but it's rare that you'd have a single document with so many signatures involved.
Pick a signature tool that works for you
Your own needs should be the most significant consideration when picking a signature tool.
If you only want to sign PDFs, or you only need to send them to one other individual, then tools like Microsoft Office or Apple Preview will suffice.
For any functionality beyond this, you'll need to opt for a solution with a greater number of features.
Smart tools like PandaDoc, Adobe Sign, and DocuSign can drastically reduce the amount of time you spend both providing and collecting signatures, adding a further layer of security in the process.
Sign up for a free 14-day trial and see how PandaDoc can make it easier than ever to sign PDF documents and fillable forms.