How to create a fillable form to send via email
Businesses and individuals alike seek an intuitive solution to create fillable forms that can be seamlessly attached to emails.
This article will familiarize you with the most convenient tools you can use to do just that. Specifically:
How to create and email fillable forms with PandaDoc
How to create and email fillable forms with Microsoft Word
How to create and email forms with Google Forms
How to make forms mobile-friendly
How to create a fillable form using PandaDoc
Our online document management platform will help you easily create, e-sign, send, and track professional-looking forms and pdf documents.
1. Go to PandaDoc and sign up or log in to your account. Once you're there, click on the New Document button or the + sign to create a new document.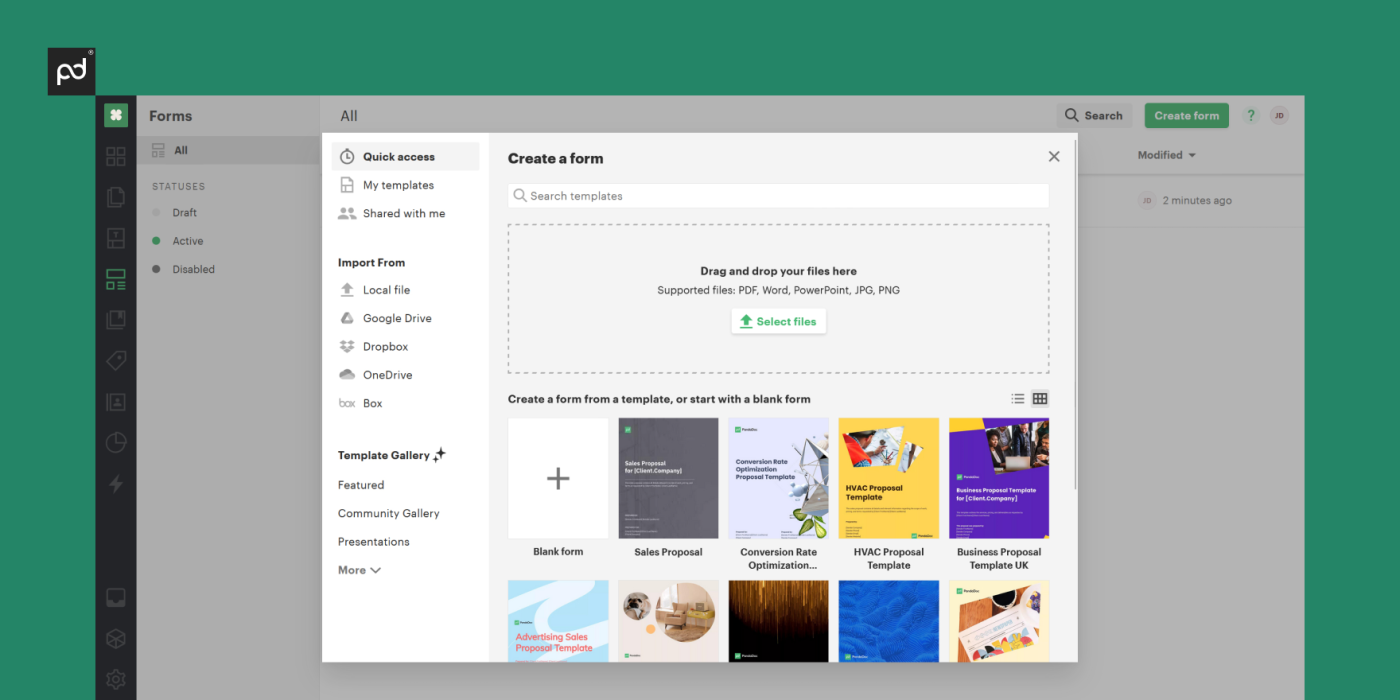 2. Choose from a wide variety of form templates, start with a blank document, or use your existing PDF forms. After that, choose roles that will help you assign fields automatically.
3. Add the fields you need and then edit and customize the content. The intuitive drag-and-drop interface will simplify adding text fields, checkboxes, radio buttons, dropdown menus, and more.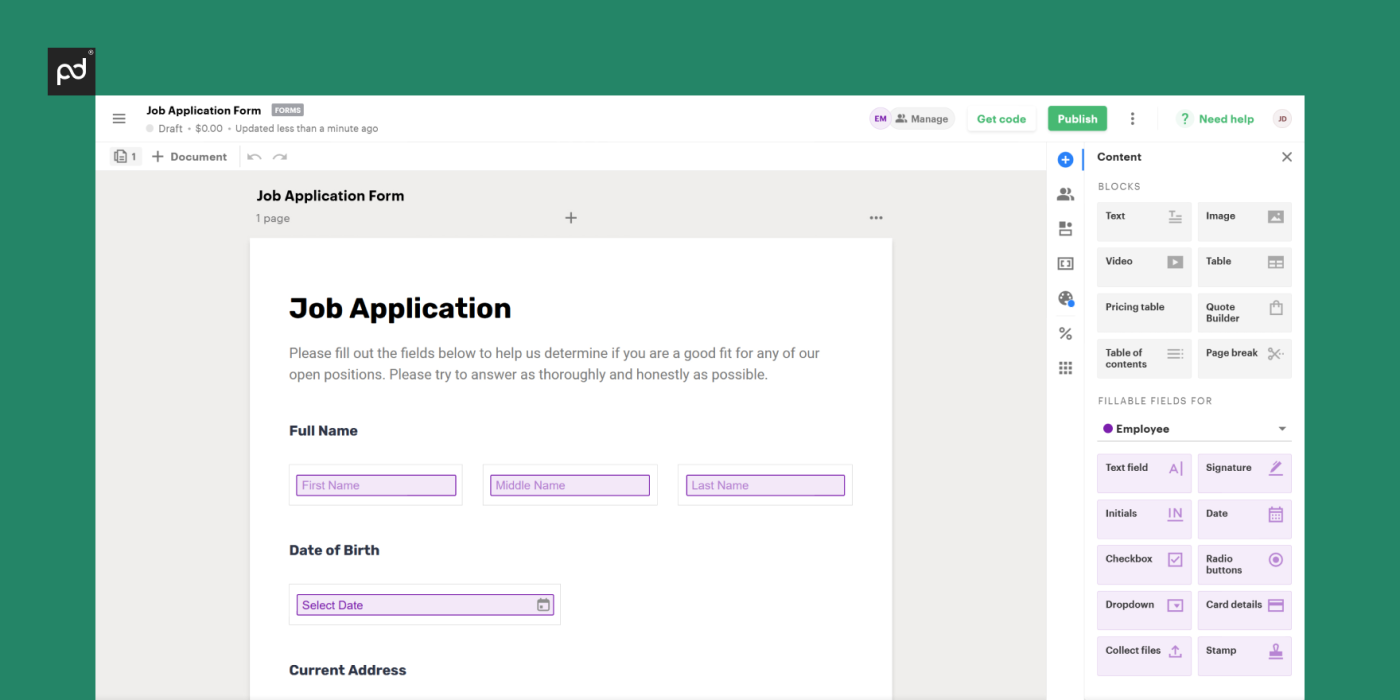 4. Personalize your form by adding a brand logo, changing colors, and modifying the layout to align the form with your brand identity. You can also add an e-signature field to ease the document signing process for responders.
5. Preview the form to make sure everything looks as you want it to be. Save the form in your PandaDoc account and choose when to send the form via email.
As respondents fill out the form, you can track responses and receive notifications when they interact with the form.
How to create a fillable form using Microsoft Word
Whether you're using a Mac computer or a Windows system, the steps are largely similar, with a minor variation in the initial step.
For Mac users: click on Word in the top menu bar, then choose Preferences — Ribbon & Toolbar. Check the box next to Developer to enable the Developer tab in the Ribbon.
For Windows users: start by launching Microsoft Word and enable the Developer Tab. Go to File — Options — Customize Ribbon. In the right-hand corner locate and check the box Developer and then click OK.
Add text, labels, and also text boxes, checkboxes, drop-down menus, and other controls. To add these form fields, click on the Developer tab and find the right option for your form.
Format and style your form by adjusting font sizes, colors, and alignment so it looks visually appealing and easy to use.
Protect your PDF from accidental changes to the form's structure and content that users might make while filling out the form. To apply editing restrictions and password protection, click on the Developer tab, then click Protect Document and choose Restrict Editing.
When your form is ready, save the Word document and fill it out to make sure all the fields work as intended. Test form filling on various platforms to make sure it's cross-platform compatible.
Choose Save as a word template (.dotx) to retain your form structure for future uses.
Now you're ready to attach the saved form template (.dotx) or the filled-out form (.docx) to an email and send it to your recipients.
How to create a fillable form using Google Forms
You can access cloud-based Google Forms through various web browsers by typing forms.google.com in the address bar.
Signing in to your Google account or creating a new one.
Create a new form by clicking + icon or the Blank template. Embed needed form fields, such as multiple-choice questions, text fields, checkboxes, and so forth.
Customize your form by adding the title, description, and relevant images, as well as changing the visual look of the form.
Using form settings, let users edit responses and can also limit responses and collect email addresses if you need.
When your form is ready, preview and test it to make sure everything works as it should.
Click on the Send button in the top right corner and choose to share the form via email.
As the respondents fill out and submit the form, the submissions will automatically organize in your Google Sheets.
How to create a fillable PDF form using Adobe Acrobat
With a few clicks, you can create fillable forms using Adobe Acrobat, save them, and email them when desired.
Launch Adobe Acrobat on your computer and create a new PDF form or open an existing PDF file you want to convert into a fillable form.
Use the Prepare Form tool to automatically catch form fields or add them manually to the document.
Set custom form field properties, such as field name, tooltip, default value, and formatting. You can also use the Edit PDF tool to rearrange form elements as needed.
After testing the form, choose save as PDF form to retain interactive features.
Now you can attach your fillable PDF form to an email and share it with your recipients.
How to create mobile-friendly forms for on-the-go users
Some of your users are likely to prefer filling out forms via iOS and Android mobile devices that they always carry along with them.
For smooth interactions with your form, consider these design and usability tips:
Keep the form layout plain with a single-column design
If you have images and media in the form, reduce their sizes to improve loading time
Steer clear of Flash or Java video and interactive elements that some mobile devices may fail to support
Opt for mobile-friendly form controls, such as drop-down menus, checkboxes, and radio buttons that will be simple to interact with on touchscreens
Enlarge form fields, buttons, and other interactive elements to make them more accessible for tapping with fingers
Choose clear and legible fonts that are large enough for comfortable reading on smaller screens
Test form filling on various mobile devices to check if it functions consistently
Tap into your best online form creation tool
You may find it practical to use Word's familiar interface, or opt for the cloud-based collaboration offered by Google Forms, or choose Adobe Acrobat to create fillable pdf forms.
Alternatively, you can explore PandaDoc's all-in-one solution.
Our platform provides professional templates, which you can brand and style, as well as tracking capabilities and an e-signature option to automate your document workflow.
Whichever option you choose, factor in the specific needs of your audience, the complexity of the form you require, and the size of your business.
Prioritize a user-friendly interface and a variety of customizable templates that seamlessly adapt to mobile devices and are available at affordable pricing.
Schedule a complimentary demo or start a free trial today!